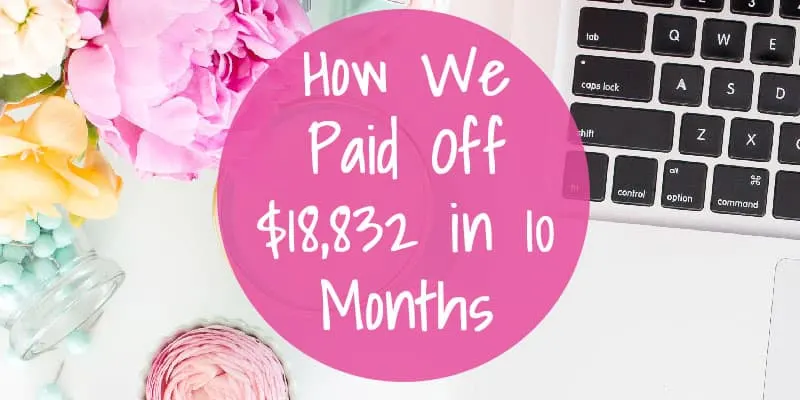 Y'all. WE'RE DEBT FREE!!! You'll find me jumping around the house and celebrating! Even if you're reading this years later, I'm probably still celebrating!
I am completely thrilled and honestly, shocked that we paid off so much money in 10 months! From a family that used to live off of $1500 per month, I can hardly believe it. To have an average of almost $1900 extra to put towards debt each month is absolutely mind-blowing.
To make our story extra-helpful for you, I analyzed what we did to make it happen. I'm sure your income, debt, and numbers are totally different from ours, but I think the things that we did to become debt free are applicable to anyone. So here are our best debt payoff tips.
If you want to catch up on our entire debt-free journey, take a look at these posts:
How We Paid Off $18,832 in 10 Months
Set the Goal
Let me tell you, I had wanted to pay off our debt for a while. I had pondered it, made some efforts toward it here and there, but we never made any real progress until we set our big crazy goal and officially said "We want to be debt free by the end of the year".
Whatever it is that you want to accomplish, make sure that you actually set the goal.
When we set the goal to be debt free by the end of the year, it was an impossible goal. As our income stood in January, there was no way to make it happen! However, we knew there was potential for my income to increase and for Austin to get a raise. We set the set the goal, knowing that it would make us use any extra money to pay off more debt.
Make It Visual
Do not skip this step. It might feel childish and like you're back in grade school, but it actually does make a difference.
It is so important to stay motivated when you're working on a big goal and making it visual is really helpful. I've had my debt payoff thermometers stuck to my office wall all year and they have kept me motivated! I would look at them and be proud of the progress we've made and see the work yet to be done. During the last few months when we were so close to being done, I would get so excited to color them in a little bit more!
I also kept a bullet journal page where I would check off each debt as I paid on them.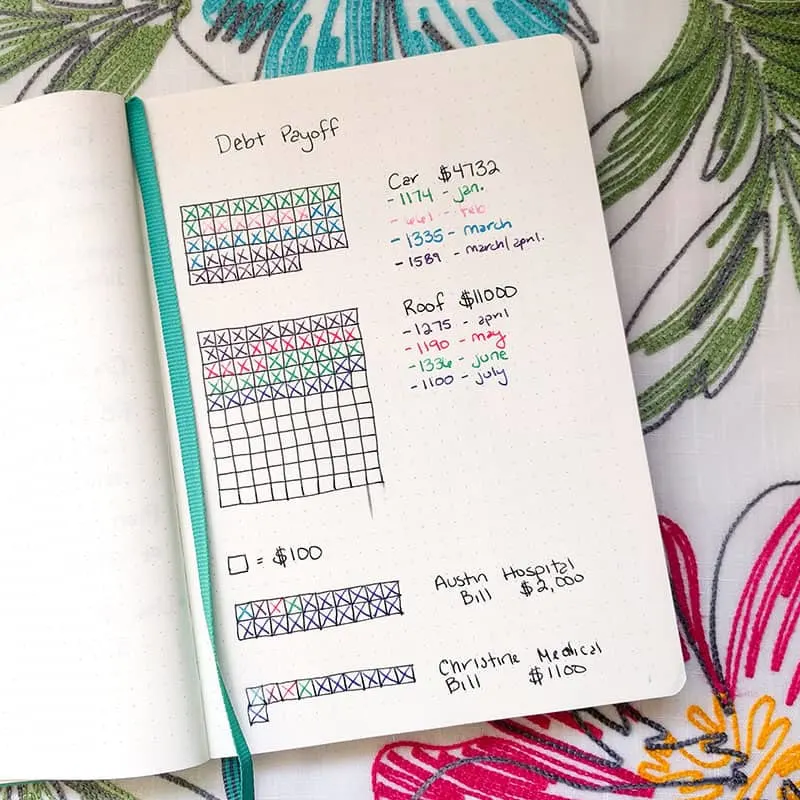 Whatever works for you, find a way to visualize your goal.
If you want to use my debt payoff thermometers, you can download them by entering your info below:
[convertkit form=834534]
I printed off one thermometer for each separate debt, plus one for keeping track of the total.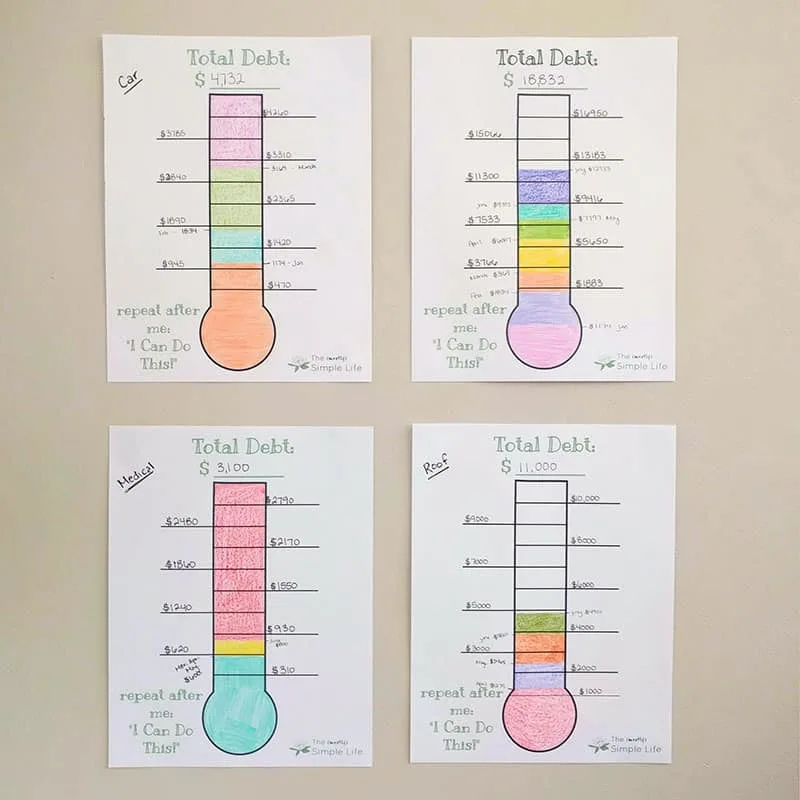 Set Monthly Budgets
You need to be on a budget! How else will you know how much money you have coming in, how much money you have going out, and keep the "money going out" part under control so that you have extra to pay toward your debt?
Budgeting is very important. And I don't just mean creating a budget at the beginning of the month and letting it sit until next month. I mean setting your budget and tracking your spending to make sure you stay within your budget.
If you're new to budgeting, it can feel a bit overwhelming. I remember struggling through creating our very first budget 8+ years ago before we got married. We didn't really know what our income would be and I had nothing to go on to estimate what our expenses would be. I felt like I was guessing at everything.
Budgeting is rarely perfect. It's not a matter of doing perfectly. It's a matter of doing your best to create the budget, doing your best to stick to the budget, and then learning what you can to do better next time!
If you need some help creating your budgeting, I've got some posts that will help:
One of the very best things you can do to start getting a handle on your finances is track your spending! You can download and print my free spending tracker printable and take action today!

[convertkit form=980628]
Check In with the Budget Daily
I mentioned this above, but I want to be extra clear because this made a huge difference for us in paying off debt. It's not just about creating a monthly budget, it's about sticking to that monthly budget. Those are actually two different things.
When we set the goal to pay off our debt, I tried to think of what would make the biggest impact in allowing us to accomplish it. I decided sticking to our budget would be the best thing we could do because it would ensure that we had as much extra money to throw at our debt as possible. But what could I actually do to make sure that we stuck to our budget? My answer was that I could set a goal to record our spending daily.
I used my PowerSheets Goals Planner from Cultivate What Matters to track this daily goal. It worked wonders! You can see my daily goal to "Record Expenses" in the bottom section: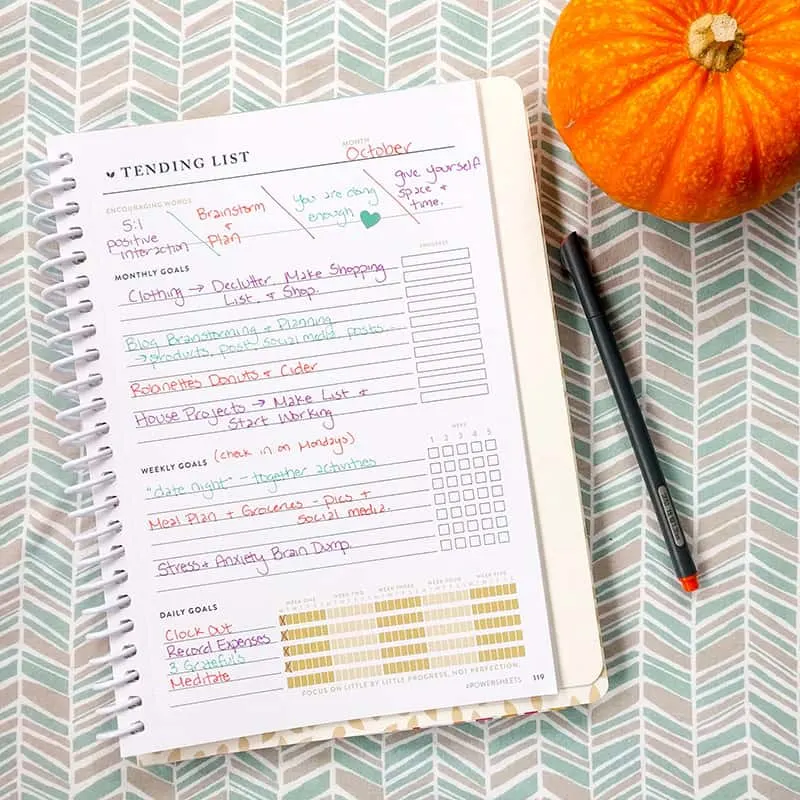 There were still months where we overspent, but I knew exactly where we stood and how much we had overspent by. I could cover the overage with money from other categories or decide that it was ok that we overspent. It kept me from loosing track, getting overwhelmed, and letting things slide for the whole rest of the month, which usually causes us to go way over budget.
Anyway, I would really encourage you to check in with your budget regularly. Weekly at least, if not daily.
Even if you use an app or budgeting software that keeps track of things for you, get in the habit of logging in and looking at what you're spending and where. You can keep yourself from going over budget if you know where you're at with your spending at all times.
Live on Less
We have lived quite frugally for our entire marriage, so we kept on doing all of the frugal things we're used to!
Some of them are big:
We are used to living on one income. Any money I made was extra and was used to pay toward debt.
We only have one car. Yes, it's a pain sometimes but it saves us a ton of money!
We have not traveled in a very long time.
Some of them are small:
We eat at home for almost every meal. Austin packs lunches for work four out of five days. Our eating out budget stayed at $100 per month.
We don't shop unless we absolutely need something.
I've got a whole lot of posts about living frugally that may give you some money-saving ideas:
Earn More Money
I saved the big one for last. This is truly how we paid off almost $19,000 in 10 months.
Like I said, with our incomes what they were in January, this goal was impossible. And with our incomes and expenses what they were, we could not be frugal enough to save that much money. There was not that much extra to be saved even if we went "extreme frugal".
How Did We Increase Our Incomes?
Austin got a promotion. He is very good at his job and pushed for a promotion. With his skills and experience, we knew that he could move to another company and get paid more. This gave him a little leverage to tell his company that he wanted to stay working there but it didn't make sense unless they could pay him more. We are incredibly grateful that it all worked out for him to stay!
I worked my buns off 🙂 I work from home as a full-time blogger and I got very strategic about what I could do to increase my income. It's so cool to me that there is no cap to my earning potential, but there is also no bottom. After years of making very little, I finally started earning more this year than I didn't while working full time in an office. Since we were used to my income being small and inconsistent, it was a huge blessing for me to earn more and be able to contribute in a huge way to our debt payoff!
So how can you earn more money to become debt free?
If you're not being paid what you're worth, ask for a raise or apply for a higher-paying job.
Ask for more hours or overtime if you're an hourly worker.
Sell your stuff! I won't even get into my decluttering passion here, but I'm guessing you've got lots of stuff you don't need that could earn you some cash.
Work from home… ↓ Keep reading for ideas!!!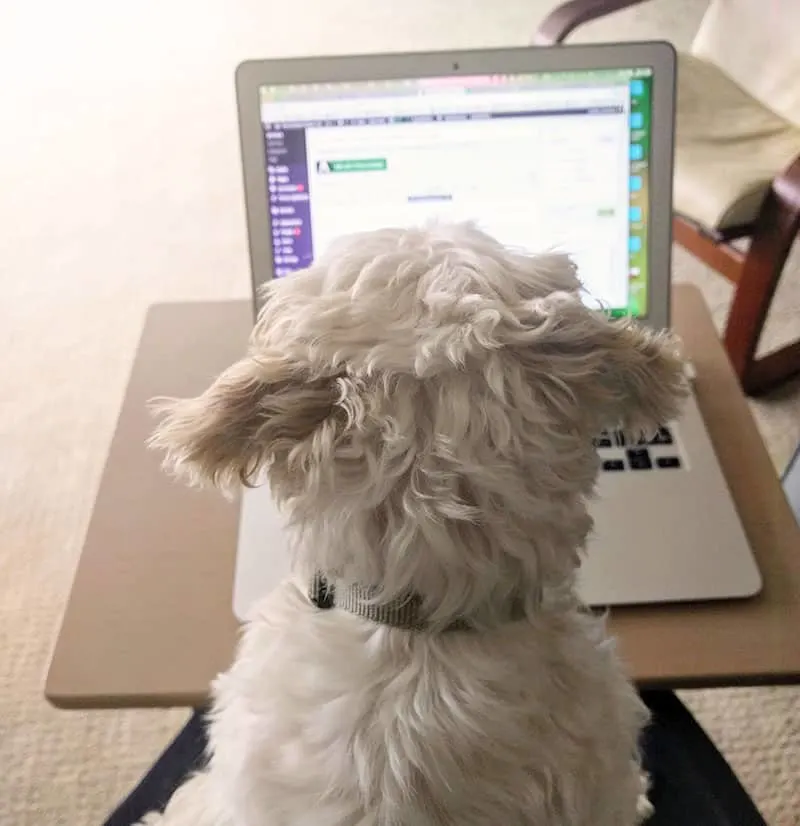 Ways to Work from Home
You know I could just drop "Work from home" in there without some ideas and details.
Blogging:
Yes, I make a full time income from my blog. It is not necessarily a fast way to start earning money from home though.
If you want to pursue blogging, I highly recommend that you do it because you want to blog and not purely for the money because the money might take a little time. If you are interested in blogging, I have a few posts I've written about what I've learned the best courses I've taken:
Proofreading:
Before I started blogging, I trained as a proofreader! The reason I didn't pursue this career is because I wanted to create more than I wanted to proofread other people's content, but I highly (HIGHLY) recommend a proofreading course by my friend Caitlin.
It's called General Proofreading: Theory & Practice and it will literally teach you how to proofread, give you hours of practice, and show you how to start your business.
She has put together a FREE 76-minute workshop where you can learn more to see if proofreading might be a great option for you.
In the workshop, Caitlin will share:
More about herself (get to know the teacher).
More about proofreading as a profession — including one great place to find work.
A free introductory tutorial on how to use the most popular proofreading tool on the market.
Virtual Assisting:
You can make money online from anywhere by becoming a virtual assistant. This can mean a lot of different things based on the services you want to offer. You very well might have some skills that you could use to get started right now in the world of virtual assisting. Here are just a few services a virtual assistant might offer:
Customer Support
Transcription
Data Entry
Website Design
Social Media Management
Work at Home Summit:
If you are interested in working from home, but you don't know what to do, how to do it, or where to start, go sign up for the FREE Work-at-Home Summit right now. It is a virtual conference of sorts, where you can watch talks given by people who are already killing it working at home.
Work-at-Home Summit Covers:
Where to start.
How to build your confidence.
Dozens of legit ways to earn an income from home.
Time management and productivity when you're working from home.
Landing your first client.
Dealing with taxes and health insurance.
And tons and tons more.
When you sign up for the Work-at-Home Summit, be sure to watch the interview with Eileen Wilder. It's one of my favorites. 🙂
I've got a few other posts about ideas for making money from home that I think you'll like:
Setting a goal to pay off debt can feel super daunting. Our goal was literally impossible when we set it in January! However, this whole process has really shown me how much we can accomplish when we're focused and motivated.
I know that your numbers are going to be different than mine (income, debt, monthly expenses, etc.) but I think these debt payoff tips can be applied no matter what your situation is. It may take you two months or more than two years to pay off your debt, but I can already tell how worth it the journey is!
⇒ Are you currently trying to pay off debt? What has helped you make progress in your debt payoff? What is holding you back from setting the goal if you haven't yet?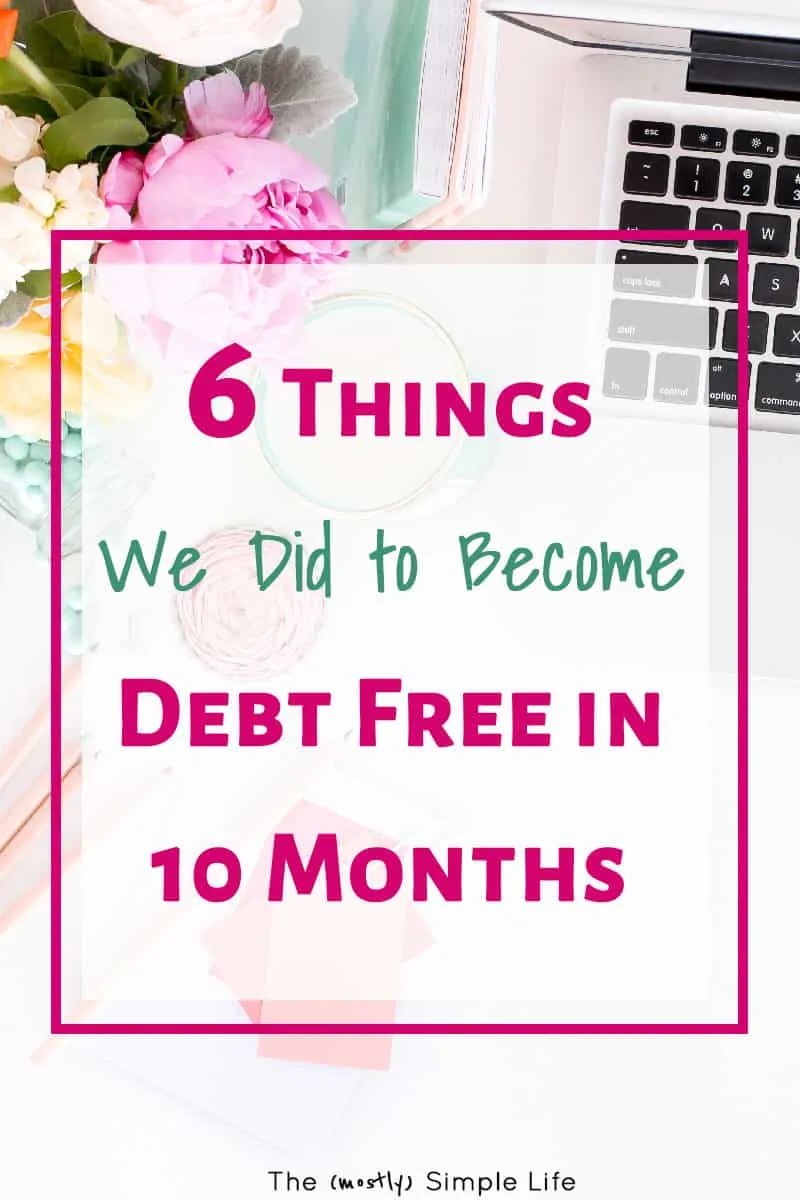 If you find this page helpful, please pin or share it :)