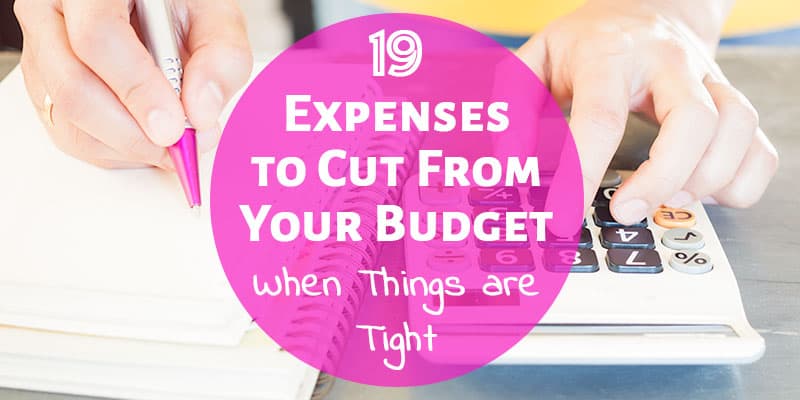 Whether you're saving money for a special vacation, need to pay for expensive car repairs, or are facing a job loss, you'll probably end up trying to find expenses to cut from your budget. It can be hard to know where to start.
There are some areas where you can cut an expense out completely. There are also sneaky ways you can save a lot by cutting back instead. We'll look at both!
19 Expenses to Cut From Your Budget When Things are Tight
Since we all have different hobbies and priorities, we each have a unique budget and way we spend our money. This is why it's important to decide what works best for your family.
It's also helpful to remember that cutting back or cutting out isn't permanent. Just because you give something up doesn't mean you'll never have it back. Tightening your budget might be necessary for a time, but that doesn't mean it will always be like this! Short term sacrifices will help you reach your goals.
If you want to see the spreadsheet that I use to create our budget and track our expenses, enter your info in the form below and I'll send it over:
Free Customizable Budget & Spending Tracker Spreadsheet
Stress less about your finances today with the spreadsheet I use each month to create our budget and track our spending!
Cut Back
Eating Out: When our budget was at its tightest, we only budgeted $25 per month for eating out. We usually ordered pizza and breadsticks from our favorite restaurant as a once-a-month treat. All other meals were made at home. I don't think I could ever cut out eating out completely, but it's one of the first places we cut back when we need to.
Netflix, Hulu, Amazon, Sling TV: There are so many great options that allow us to watch TV without paying for cable. However if you pay for multiple TV streaming services, you could probably cut back to just one. Since these services don't have a contract, you can easily cancel and then subscribe again later on. Or you could even alternate which service you subscribe to each month so that you can stay caught up on your favorite shows.
Kids' Activities: Cut back on kids activities by only having each kid in one activity at a time, or one activity per year. Make sure you understand the costs of each activity you sign them up for, especially if you have to purchase gear or supplies.
Clothing: We actually didn't budget for clothing at all for a very long time. We would set aside how much we truly needed when we got our tax return each year. Simply cutting back is a great option. Lower your budget for clothing and only purchase what is absolutely necessary. Only buy new after you've checked thrift or consignment shops. My favorite online consignment shop is swap.com.
Alcohol: Decide to only have one or two drinks at home on the weekend to cut back. Spending money on alcohol adds up in a big way, so it's smart to have rules about how much you'll buy and when/how much you'll drink.
Christmas: There's nothing wrong with cutting back on Christmas spending. Focus on fun family activities, homemade gifts, and shopping the deals to stretch your money further.
Birthday Gifts: For a very long time, we only spent $10 on birthday gifts for people. When you give thoughtful gifts or make things yourself, people truly don't care how much you spend.
Allowance/Fun Money: Cut back on how much you budget for allowances (or blow money/fun money — whatever you call it). Most financial experts recommend that you don't cut this out completely so that you don't feel deprived, though we went without for years when there was no extra money.
The Salon + Haircuts: Haircut, hair color, nails… Those services add up fast! Go a few extra weeks in between getting your hair colored or try to do it at home. You can do your nails at home or try going to a cosmetology school. I've cut Austin's hair at home with a set of clippers for our entire marriage!
Cell Phone Plan: You might be paying a hefty cell phone bill for the unlimited everything plan. It's worth checking what other plans might be available or checking with less expensive providers. We use Google Project Fi and only pay $55 per month for two phones.
You Might Like These Posts Too:
How to Make Birthdays Special When You're Broke
Live on $2500 Per Month: Our Actual Budget
How to Have Fun While You're Paying Off Debt
Cut It Out Completely
Cable: This is old news, right? Try Sling or PS Vue or one of the streaming services available, like Hulu. Cable is expensive!
Yearly Memberships: Think of Sam's Club, Costco, or Amazon Prime. Do you really save enough money with these memberships to make it worth it? We're considering not renewing our Sam's Club membership this year. What about yearly memberships to the zoo, museum, pool, or amusement park? In the past year, have you gone enough times to more than pay for the price of membership? Or could you do without for a while? It's worth thinking over.
Buying Drinks When You're Out to Eat: Eating out gets far more expensive when you order drinks (alcoholic or soda). Consider a family policy of only ordering water each time you're out to eat to save some money.
Gas Station Treats: I have seen people look over their credit card bills and realize that they're spending hundreds of dollars each month on drinks, treats, and random junk from the gas station! Only buy gas at the gas station and see how much you save.
Monthly Subscriptions: What are you paying a monthly subscription for? There are countless subscription boxes out there these days. Plus, monthly fees for certain apps as well. Analyze your credit card bill to make sure you know exactly what you're paying for and consider canceling some of these subscriptions for a while.
Gym Memberships: I love exercising at home and don't miss my gym membership at all! I also don't miss the fee. With summer coming, it's a great time to cancel and do more outdoor activities for your workout.
Magazines: Skip renewing all magazines for now, especially if you don't often get around to reading them. Check with your local library. We have access to an app that allows us to browse a huge number of magazines from a mobile device for free.
Lawn Care/Snow Plow Services: We loved having snow plow service last winter, but it's definitely not a necessity. Figure out if you can do the work yourself to save a chunk of money this season on lawn care or snow plowing.
Extra Vehicle: Getting rid of an extra vehicle is a huge way to save money. There'd be no insurance costs or repairs needed. If you have a loan, that monthly payment would be gone as well. If you own more vehicles than drivers, it'd be a good idea to really think about if you need that extra vehicle and what your budget would look like without all of the costs that go long with it.
It's always a good idea to take a hard look at where your money is going when you're trying to save for something important or tighten the budget.
While some expenses can be cut out completely, it's also good to look at how you could simply cut back on others.
Take a Look at These Related Posts:
55 Budget Categories You Don't Want to Forget
When to Save and When to Pay Off Debt
How to Stop Eating Out — Break the Habit!
⇒ What would you add to this list? How have you cut back in the past?
Free Customizable Budget & Spending Tracker Spreadsheet
Stress less about your finances today with the spreadsheet I use each month to create our budget and track our spending!