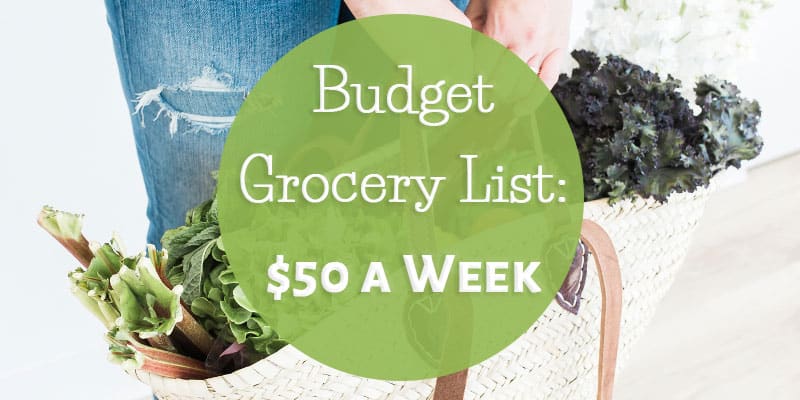 Is it possible for two adults to eat for $50 per week? Yes, if you have a budget grocery list.
Maybe you're in the middle of paying off debt and are looking for ways to cut your food budget. Or maybe you're saving for vacation and want to lower your expenses for a couple of weeks so that you can save even more. Quite possibly money is super tight because of a layoff or other stressful situation and you have no choice but to spend less.
Whatever it is, I wanted to see if I could make $50 last for an entire week, three meals per day, for two adults to give you some ideas on what you could buy and eat on a tight budget.
Now, I have to make a bunch of disclaimers about this cheap grocery list so that no one freaks out:
Yes, we live in a low cost of living area in the US
Yes, we have access to an Aldi store
No, we don't have any food allergies
No, you won't be eating organic-everything for this price. The priorities are elsewhere when you're strapped for cash. 😉
This is based on actual prices that I found in January in West Michigan. For the best deals, you'll want to swap out the produce for whatever is in season and on sale.
So with all that said, let's dive in to how to make a budget grocery list for two!
$50 Budget Grocery List:
| | |
| --- | --- |
| Coffee | $3.79 |
| Eggs (2 dozen) | $2.98 |
| Milk (1/2 Gallon) | $1.65 |
| Spread Butter | $2.29 |
| Sour Cream | $0.89 |
| Cheese (2 blocks) | $3.38 |
| Ranch Dressing | $0.89 |
| Apples (3 lb bag) | $2.39 |
| Bananas (2 lbs) | $0.88 |
| Cucumbers (3) | $1.47 |
| Baby Carrots | $0.79 |
| Potatoes (5 lb bag) | $1.99 |
| Frozen Broccoli | $1.19 |
| Frozen Stir Fry Veggies (sauce packet included) | $2.99 |
| Rice | $1.79 |
| Wheat Mini Bagels | $1.89 |
| Wheat Bread | $1.79 |
| Tortillas | $0.99 |
| Peanut Butter | $1.15 |
| Canned Soup | $1.19 |
| Refried Beans | $0.75 |
| Taco Seasoning | $0.29 |
| Salsa | $1.19 |
| Boneless Skinless Chicken Breast (2 lbs) | $3.96 |
| Boneless Ham (2 lbs) | $6.98 |
| TOTAL | $49.54 |
$50 Budget Meal Plan
Once you have gone out and bought everything on your cheap grocery list, it's time to make a meal plan! And it is totally possible to make delicious meals that last all week long.
(Honestly, I think you could probably get by with just one pound each of the chicken and ham, which would lower costs even more.)
Here's what you can eat with your cheap grocery list: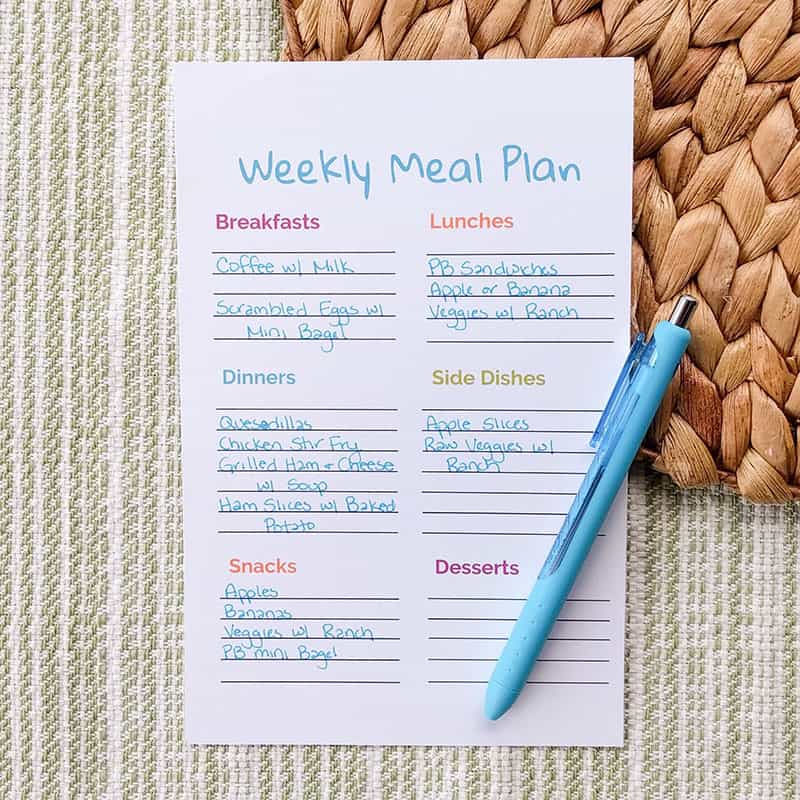 Breakfasts
Coffee with milk
Scrambled eggs with a buttered wheat mini bagel.
You could easily swap in cream for the coffee and cream cheese for the bagel if that's more your style.
Lunches
Peanut Butter Sandwich
Fruit (you've got bananas and apples)
Raw Veggies with Ranch (you've got carrots and cucumbers)
or
Dinners
Apple slices or raw veggies with ranch can be served as side dishes with each meal.
Quesadillas: tortillas, chicken, cheese, refried beans, taco seasoning, salsa, and sour cream. Eat twice.
Chicken Stir Fry: frozen stir fry veggies, chicken, rice.
Grilled Ham and Cheese Sandwiches with Canned Soup
Baked Potatoes with Ham Slices and Broccoli: sour cream, cheese, and ranch for the potatoes. Eat Twice.
One Meal Out. This could be super cheap like a Little Caesar's Pizza.
It can be done! With some planning and sticking to in season and lower cost foods, it is totally possible to eat on a budget with this grocery list for two.
Sure, you may not prefer to eat on such a tight budget long term, but having a budget grocery list could help you save money or make it through a difficult period of time.
Don't Miss These Great Posts:
What are your favorite super-cheap meals? What would you plan on your budget grocery list for two? Leave a comment on this page 🙂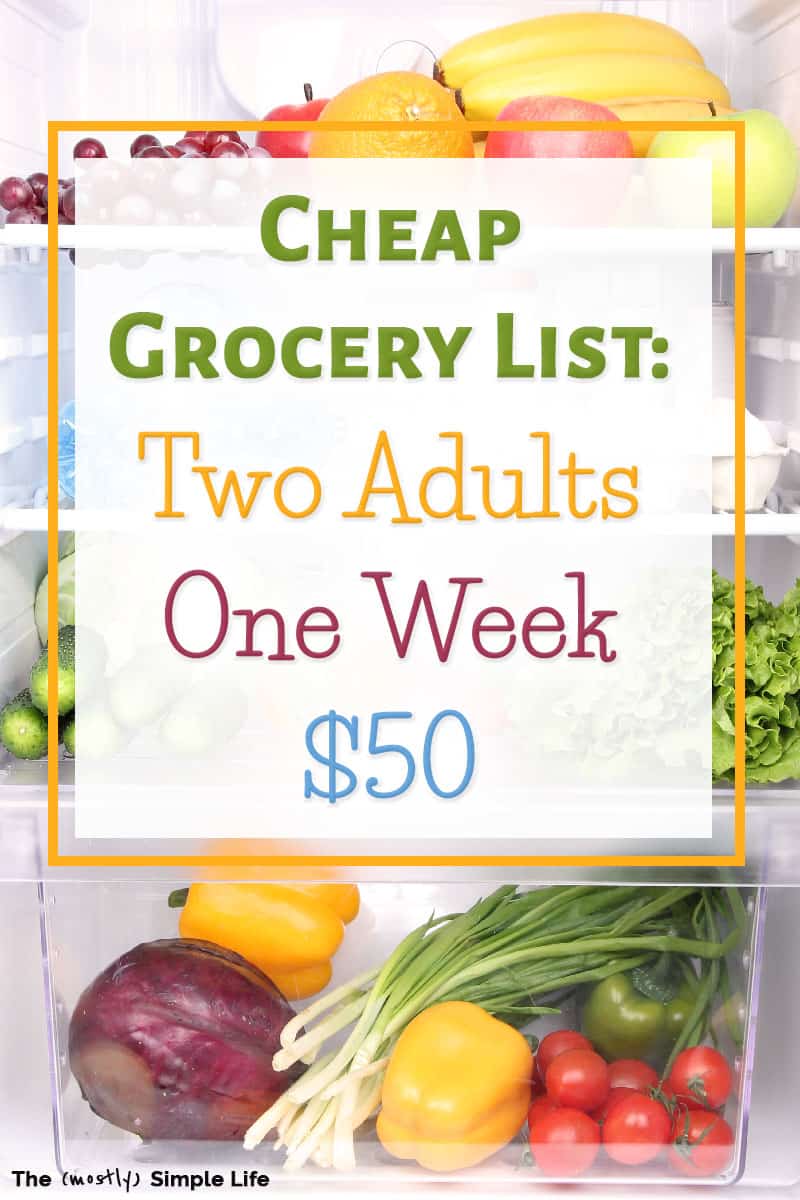 If you find this page helpful, please pin or share it :)