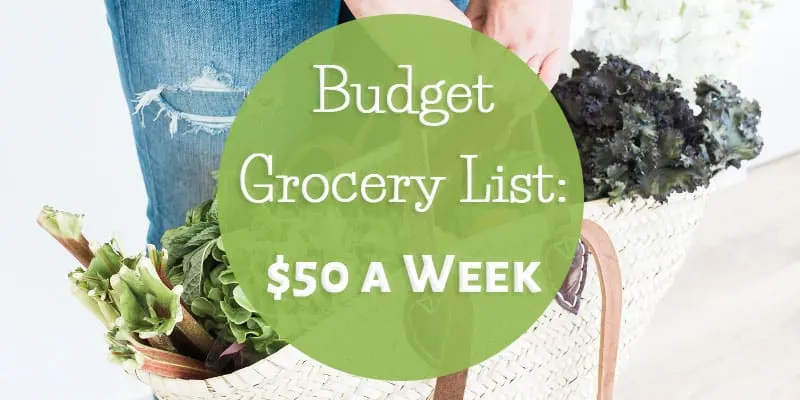 Is it possible for two adults to eat for $50 per week? Yes, if you have a budget grocery list.
Maybe you're in the middle of paying off debt and are looking for ways to cut your food budget. Or maybe you're saving for vacation and want to lower your expenses for a couple of weeks so that you can save even more. Quite possibly money is super tight because of a layoff or other stressful situation and you have no choice but to spend less.
Whatever it is, I wanted to see if I could make $50 last for an entire week, three meals per day, for two adults to give you some ideas on what you could buy and eat on a tight budget.
Now, I have to make a bunch of disclaimers about this cheap grocery list so that no one freaks out:
Yes, we live in a low cost of living area in the US
Yes, we have access to an Aldi store
No, we don't have any food allergies
No, you won't be eating organic-everything for this price. The priorities are elsewhere when you're strapped for cash. 😉
This is based on actual prices that I found in January in West Michigan. For the best deals, you'll want to swap out the produce for whatever is in season and on sale.
So with all that said, let's dive in to how to make a budget grocery list for two!
$50 Budget Grocery List:
| | |
| --- | --- |
| Coffee | $3.79 |
| Eggs (2 dozen) | $2.98 |
| Milk (1/2 Gallon) | $1.65 |
| Spread Butter | $2.29 |
| Sour Cream | $0.89 |
| Cheese (2 blocks) | $3.38 |
| Ranch Dressing | $0.89 |
| Apples (3 lb bag) | $2.39 |
| Bananas (2 lbs) | $0.88 |
| Cucumbers (3) | $1.47 |
| Baby Carrots | $0.79 |
| Potatoes (5 lb bag) | $1.99 |
| Frozen Broccoli | $1.19 |
| Frozen Stir Fry Veggies (sauce packet included) | $2.99 |
| Rice | $1.79 |
| Wheat Mini Bagels | $1.89 |
| Wheat Bread | $1.79 |
| Tortillas | $0.99 |
| Peanut Butter | $1.15 |
| Canned Soup | $1.19 |
| Refried Beans | $0.75 |
| Taco Seasoning | $0.29 |
| Salsa | $1.19 |
| Boneless Skinless Chicken Breast (2 lbs) | $3.96 |
| Boneless Ham (2 lbs) | $6.98 |
| TOTAL | $49.54 |
$50 Budget Meal Plan
Once you have gone out and bought everything on your cheap grocery list, it's time to make a meal plan! And it is totally possible to make delicious meals that last all week long.
(Honestly, I think you could probably get by with just one pound each of the chicken and ham, which would lower costs even more.)
Here's what you can eat with your cheap grocery list: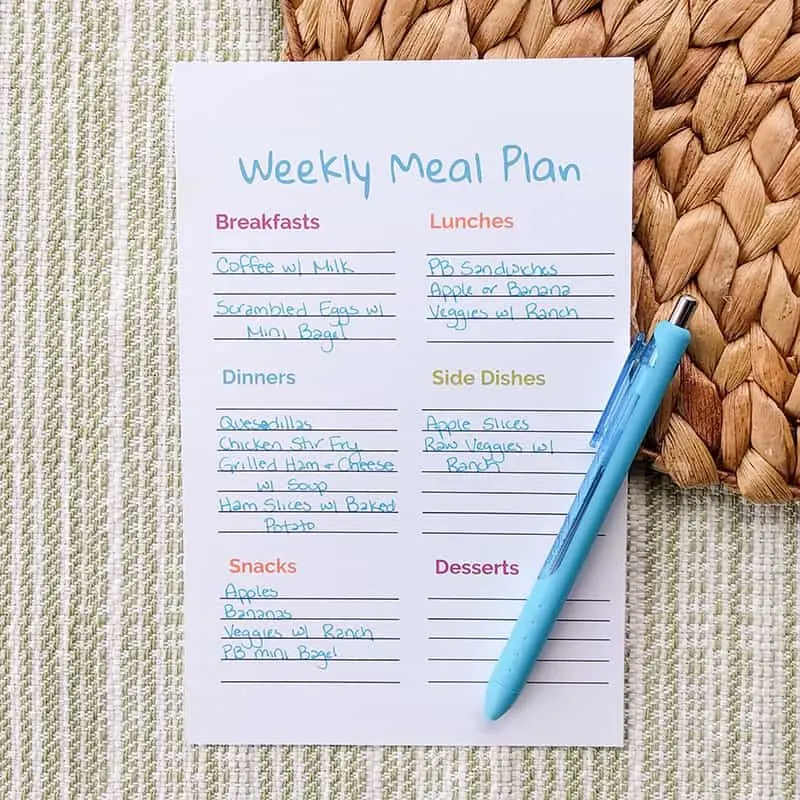 I know that meal planning sounds intimidating, but it doesn't have to be. View my 2-Step Easy Meal Planning post to find out how you can cut your grocery bills with meal planning.
Here are all the breakfasts, lunches and dinners we have prepared with our budget grocery list:
Meals Prepared with Our Budget Grocery List
Breakfasts
Coffee with milk
Scrambled eggs with a buttered wheat mini bagel.
You could easily swap in cream for the coffee and cream cheese for the bagel if that's more your style.
Lunches
Peanut Butter Sandwich
Fruit (you've got bananas and apples)
Raw Veggies with Ranch (you've got carrots and cucumbers)
or
Dinners
Apple slices or raw veggies with ranch can be served as side dishes with each meal.
Quesadillas: tortillas, chicken, cheese, refried beans, taco seasoning, salsa, and sour cream. Eat twice.
Chicken Stir Fry: frozen stir fry veggies, chicken, rice.
Grilled Ham and Cheese Sandwiches with Canned Soup
Baked Potatoes with Ham Slices and Broccoli: sour cream, cheese, and ranch for the potatoes. Eat Twice.
One Meal Out. This could be super cheap like a Little Caesar's Pizza.
It can be done! With some planning and sticking to in season and lower cost foods, it is totally possible to eat on a budget with this grocery list for two. To get more cheap meal ideas, you can also read my post listing 23 Cheap Meal Ideas, Starting at Just $0.64 Per Serving.
Sure, you may not prefer to eat on such a tight budget long term, but having a budget grocery list could help you save money or make it through a difficult period of time.
Here are some tried and tested strategies to ensure you stay on budget.
11 Easy Strategies to Reduce your Grocery Budget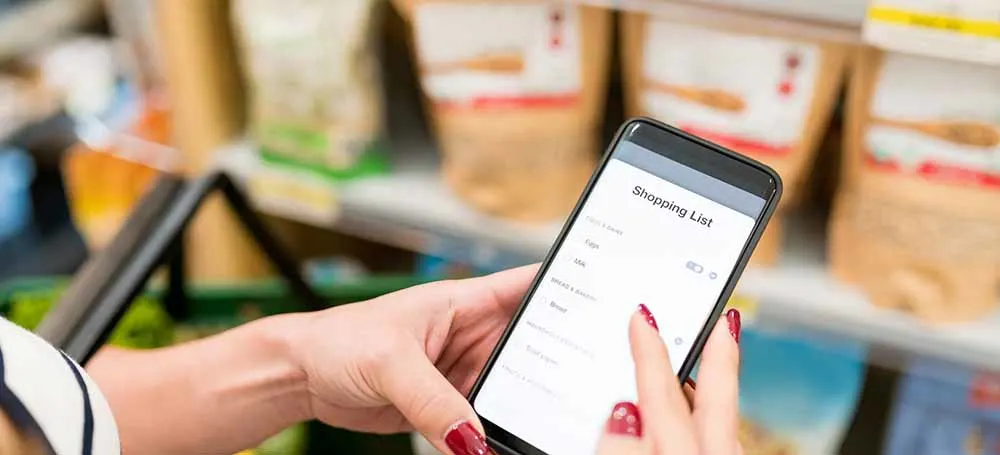 Prepare a shopping list with inexpensive items (eggs, carrots, potatoes, etc) and stick to it. See our list of the "cheapest food items to live on" at the end of this article.
Take into account what's already there in your pantry before you buy more.
Buy more (non-perishable) items in bulk to save up to 50%. For example, a 2-pound Uncle Ben's rice pack was $5.85 at my local store, but i was able to find a 5-pound pack for just $6.98 (52% less expensive by the pound).
Use coupons or get cash back on your purchases through apps like Ibotta: According to the Promotion Marketing Association's (PMA), an average family saves around $5.20 to $9.60 per week (about $2,000/year) using coupons.
Buy the "Loss Leaders": grocery stores intentionally lose money on a few featured items to draw more people in the store. Pick up a sales flyer at the store to find the loss leaders and make the most of these offers!
Plan two weekly menus and alternate them through the month
Search for discount stores near you (Aldi, Grocery Outlet, etc)
Buy only seasonal fruits and veggies
Keep meat to a minimum: meat is often the most expensive item on your money
Prep and pre-cook your meals in batches
Plant a garden and grow seasonal veggies
You can learn more about these strategies (and more) by clicking here: 15 Best Tips to Save Money on Your Groceries. Or keep reading to learn about the cheapest food items to live on (less than 50¢ per serving!).
List of the Cheapest Food Items We Live On
The best tip to reduce your grocery budget is to simply shop for food items that are healthy but cost very little per serving (anywhere from 6¢ to 50¢ per serving).
You can eat for less than a dollar with these inexpensive food items:
Eggs – 6¢ per serving
Boneless Skinless Chicken Breast – 50¢
Beans – 20¢
Sweet Potatoes – 25¢
Carrots – 20¢
Onion – 15¢
Potatoes – 20¢
Broccoli – 22¢
Cucumber – 23¢
Green Pepper – 28¢
Pumpkin – 25¢
Bananas – 22¢
Apples – 31¢
Pears – 44¢
Whole Grain Frozen Waffles – 26¢
String Cheese – 16¢
Our Favorite Inexpensive Meals Under $2 per Serving
Another very helpful tip to cut your grocery expenses while still preparing yummy meals, is to learn a few simple meals that taste great but are prepared mostly with very inexpensive items.
Here is a shortlist of inexpensive meals that cost well under $2.00 per serving:
Black Bean Tacos ($1.15 per serving)
Egg Fried Rice with Peas and Carrots ($0.98 per serving)
Chicken Lettuce Wraps ($1.64 per serving)
Shakshuka ($1.81 per serving)
Stir-Fry Cabbage ($1.14 per serving)
Mexican Cauliflower Rice ($1.46 per serving)
Mushroom Stroganoff ($1.40 per serving)
Zucchini Pizza ($1.32 per serving)
Indonesian Fried Rice ($1.88 per serving)
You can check the quick & easy recipes for these, and view more meal options (with images) by clicking here: 23 Healthy Meals on a Budget (Starting at $0.64 Per Serving).
Related Articles to Save More
Well, that's it folks! I hope you enjoyed this post. To learn more tips to cut your grocery expenses, I also recommend you read about my 15 Tips to Save Money on Your Groceries, or check out these other great posts too:
What are your favorite super-cheap meals? What would you plan on your budget grocery list for two? Leave a comment on this page 🙂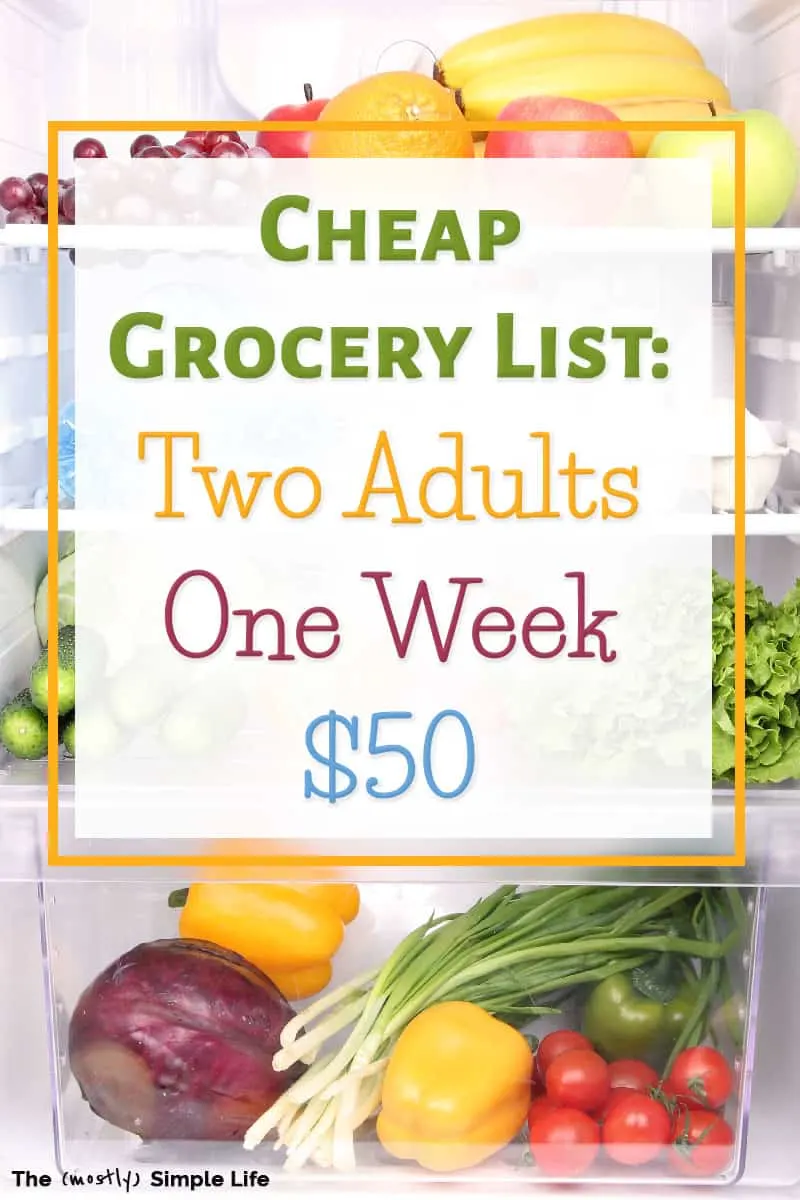 If you find this page helpful, please pin or share it :)