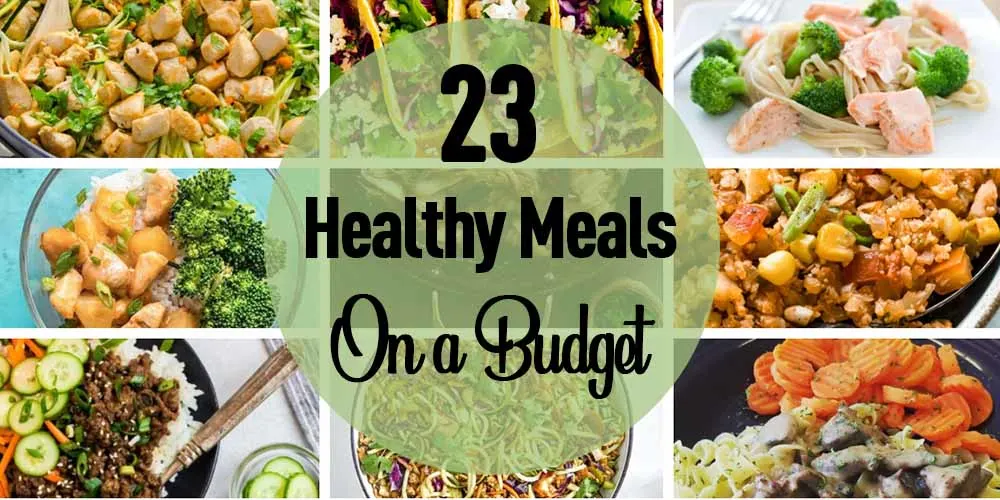 Trying to turn over a new leaf with a healthy lifestyle? Don't let excuses get in your way. I've heard them all from not having enough time to make healthy meals to not being able to afford healthier ingredients.
Eat Healthy. Save Money.
But now you can throw your excuses out along with your stretchy waistbands because this post is all about healthy meals that fit your budget and take little time to make. These meals taste so great too, you'll only regret not making them sooner!
Most of these omit those pricey ingredients we try to avoid when we're tight on finances though if you do see cheese add-ons, it's up to you to put them in or leave them out as you see fit. Each of these recipes has been hand-picked by me to give you enjoyable meals you can make in 30 minutes or less and with healthy items that fit your budget.
Meals Prepared with Inexpensive & Healthy Ingredients
How do you get healthy meals on a budget? Simply prepare them with the most healthy and inexpensive ingredients. Here is a list of the most inexpensive vegetables from my post on how to eat healthy on a budget, and a snapshot table below.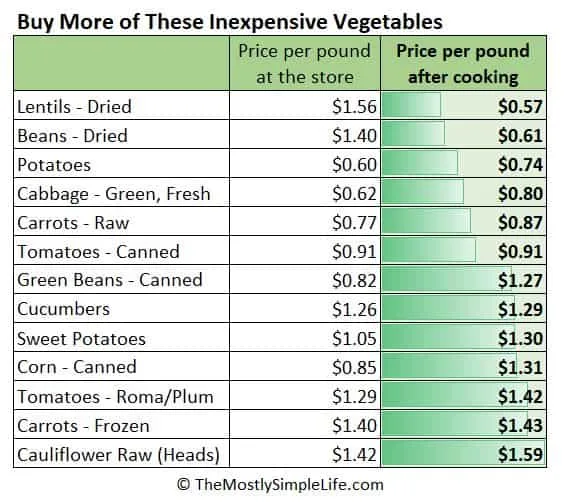 But let's have a look now at my favorite meals on a budget.
The 23 Best Healthy Meals on a Budget
1. Black Bean Tacos ($1.15 per serving)
Let's start off our list with a simple and meatless way to enjoy tacos without the guilt. Black beans are loaded with protein to power you through and… they are so cheap! Plus, with this recipe, you can customize it to keep to your budget so you'll have a win-win of tasty tacos that are good for you, and your bank account too, all in about 14 minutes. Add lots of veggies (red cabbage, tomatoes, etc) and go easy on the sauce or dressing, or use yoghurt, to make sure they are healthy for you. From Cookie + Kate. Also read my post on how to eat more beans (or get your family to).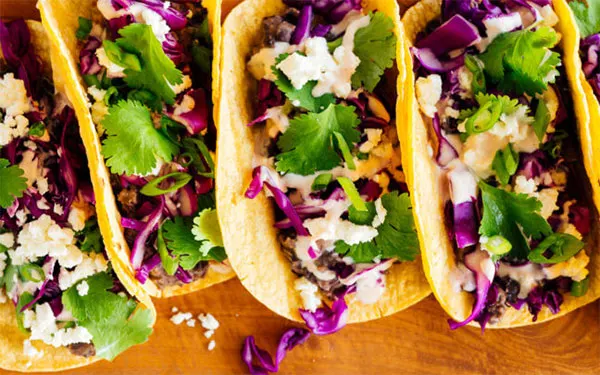 2. Egg Fried Rice with Peas and Carrots ($0.98 per serving)
I'm improvising here a little bit but one of my favorite meals to prepare is egg fried rice with a random mix of vegetables. I only use very minimal quantity of butter or oil to keep my meal healthy but still yummi. You almost can't beat the cost because egg is one of the cheapest protein you can find. Peas, carrots and other vegetables can be also super inexpensive and provide you with all the goodness you need. Here is an egg fried rice recipe from Nibbles and Bits.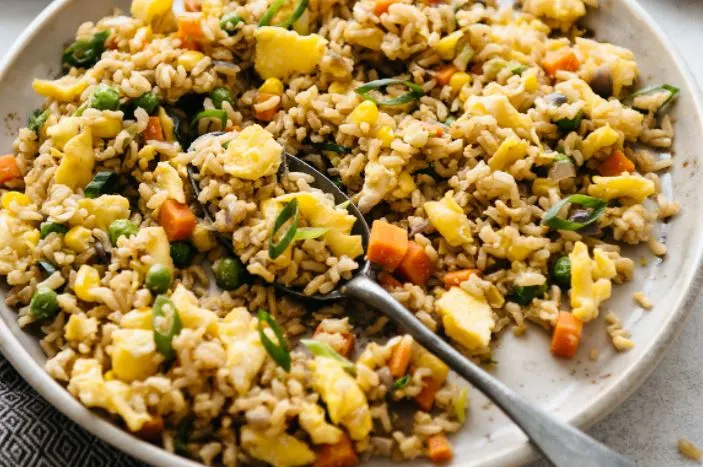 3. Skillet Chicken with Whole Wheat Penne Pasta ($1.18 per serving)
Healthy meals don't mean you need to give up on a favorite budget-friendly staple, pasta. It just means you should swap out the usual stuff with whole wheat versions. Or go for gluten-free versions. Either way, you make your own sauce here and the whole thing from start to finish hits your table in around 30 minutes. From Cookin Canuck.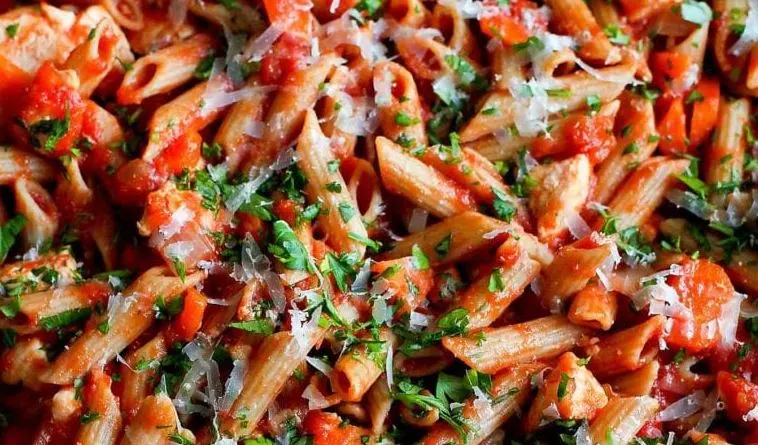 4. Pesto Salmon Fettucine with Steamed Brocolli ($2.46 per serving)
I know what you're thinking…salmon is expensive. That is, when it's fresh. A great work-around for the budget-conscious trying to stay healthy is to grab the frozen fillets, which tend to be a lot less expensive. In a recipe like this with jarred pesto, you won't even remember it started out in your freezer. Give it 20 minutes from start to finish, and you'll really start digging this healthy eating on a budget routine! From Eating Well. Alternatively, you can save by changing using chicken or pork (instead of salmon) and carrots (instead of broccoli).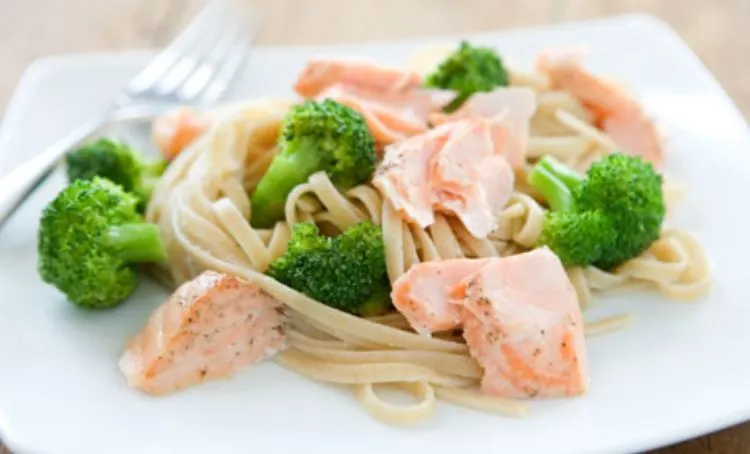 5. Easy Peasy Lemon Chicken – No Butter ($2.19 per serving)
One of my favorite dishes of all time is lemon chicken. But most recipes call for butter which makes it a little unhealthy. So naturally when I found this faster version clocking in at roughly 22 minutes total time with that zesty lemon flavor and a juicy, tender texture, I had to include it. Simple ingredients and simple preparation sometimes make for the best healthy, delicious, and budget-friendly results. From The Mediterranean Dish.
6. Chicken Lettuce Wraps ($1.64 per serving)
I think the hardest part about sticking to a budget is that FOMO of not going out to eat when you want. But if you change your mind to think of it as an advantage, then you won't feel so bad. Case in point: those lettuce wraps everyone loves from P.F. Chang's. You can make them at home on a budget and keep them even healthier because you're controlling the amount of oil you use. If you take your stash of chicken and use your food processor to grind it, you save even more than buying ground chicken. And it will only take you 20 minutes to put this epic dish on your table tonight! From Damn Delicious.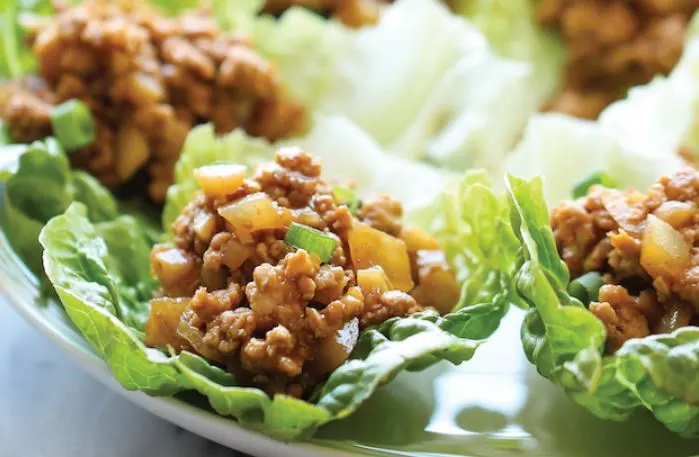 7. Shakshuka ($1.81 per serving)
If you've been under the impression that healthy meals on a budget need to be bland and tasteless, you've been making them wrong. I highly recommend making shakshuka for dinner. It's bold, vibrant, and incredibly filling. Plus, eggs make for a cheap protein in this Middle Eastern dish. From Walder Wellness.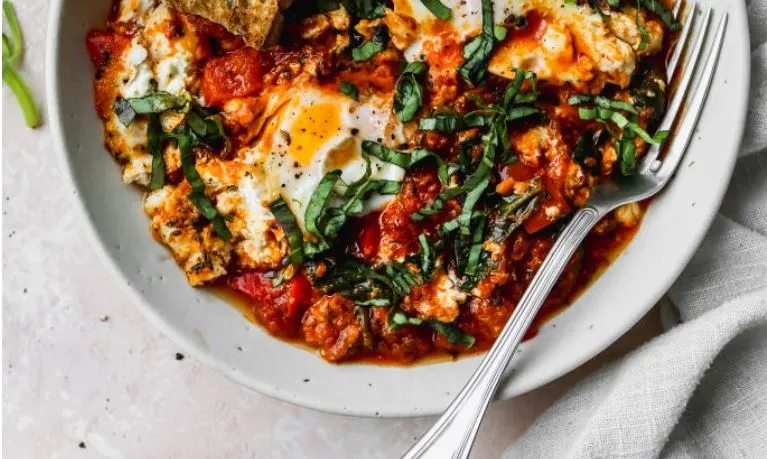 8. Tasty One-Pot Lentils ($0.64 per serving)
Lentils are one of my favorite ways to feed the family on a budget. They require no soaking time like other beans, making them ready to go whenever you are. They're hearty and filling too. Lentil soup is a fantastic option but it usually takes a little longer than 30 minutes to get ready. But this one-pot lentil creation takes just 20 minutes. You can put your favorite rice or quinoa on to serve with it and have everything come out at once. Cumin and garlic give it a great flavor and since lentils cook as they do, they make a divine sauce you'll love! From Ahead of Thyme.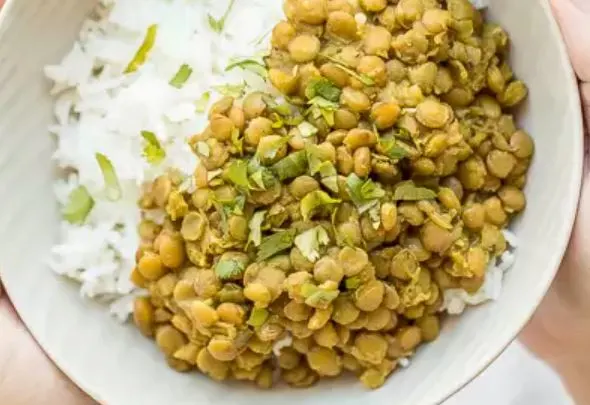 9. Chickpea Tuna Salad ($1.31 per serving)
On days that I feel too hot, busy, and tired to stand in front of a stove, even for less than 30 minutes, I love to make a salad for dinner. I hate when salads are little more than sad, soggy leaves of lettuce and dressing. Make yourself a real salad, one with satisfying crunch, flavor, and filling ingredients to power you through. Relying on canned tuna, it gives you a cheap and healthy way to get those omega-3s your body needs. Plus with the chickpeas and fresh veggies, you'll have textures and tastes that will actually fill you up. From Well Plated.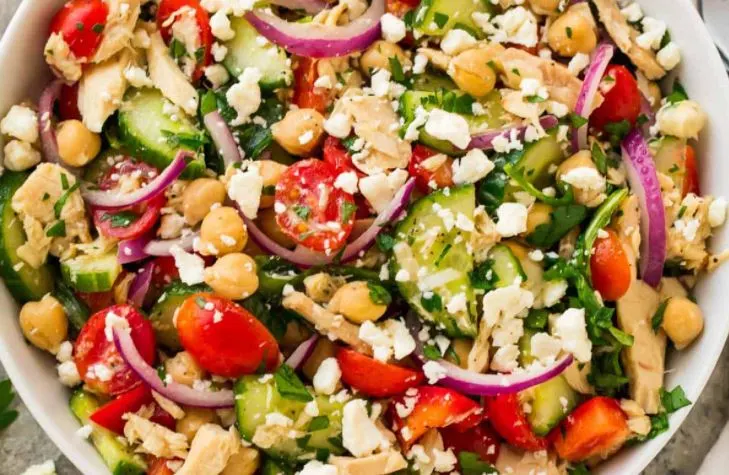 10. Teriyaki Chicken with Steamed Cauliflower ($2.22 per serving)
For those of you in the back shouting about how much you hate washing dishes, I hear you! And I raise you this recipe for teriyaki chicken and cauliflower. It's quite simple, quite delicious, and some of the ingredients are optional so if you don't have them and don't have the budget for them, no worries. Steam up your favorite brown rice or some quinoa and let it soak up this heavenly sauce. From Cooking LSL.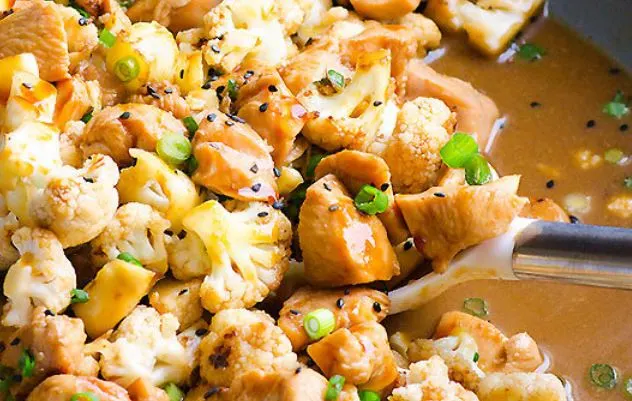 11. Healthy Korean Beef Bowl ($1.88 per serving)
If you've ever had the pleasure of visiting Korea, then you know as I do that bulgogi is one of the best dishes on the planet. Even if you've dined at a Korean restaurant, you've likely had the pleasure. But the cut of beef used traditionally is pretty pricey. Instead, use ground beef and round out the rest of the bowl with seasonal fresh veggies like cucumbers and your favorite grain to recreate these authentic flavors in the healthiest and most economical way. From Well Plated.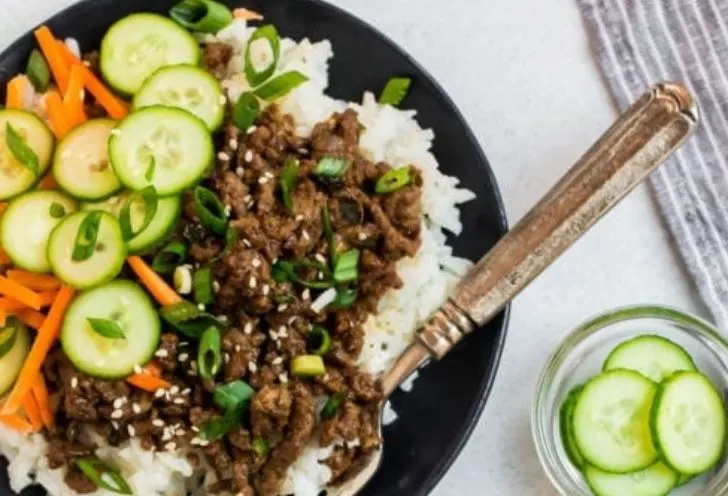 12. Skinny Chicken Salad Sliders ($2.24 per serving)
When I think of chicken salad, I think of indulgent plates of food sitting by the seaside on my vacation to luxurious Palm Beach, Florida. Yes, most people would never deem chicken salad a healthy dish. Especially served as a slider. But with some clever replacement ingredients, it indeed becomes a healthy, refreshing main dish that works as well for dinner as it does for lunch. You can choose whatever bread works for you, though whole grain is best. Leftover chicken especially from a rotisserie will work the best, though any unhindered chicken meat will do when crafting these creamy, dreamy sliders! From The Cookie Rookie.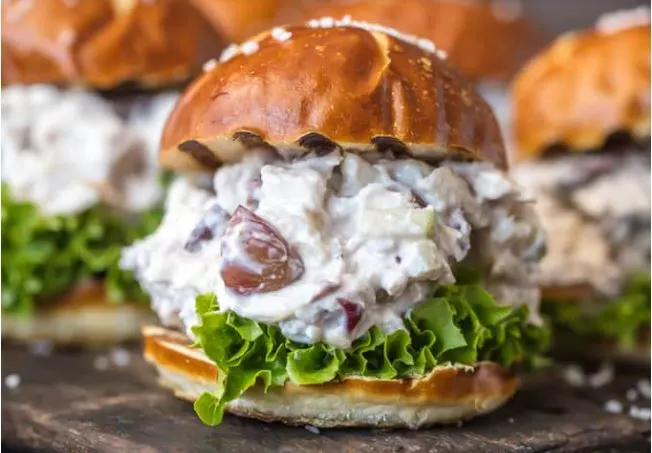 13. Stir-Fry Cabbage ($1.14 per serving)
I hate when I get those takeout cravings when I know I should behave. But when you start with something simple, it makes other types of cuisine easier to cook. That's the case for making a cabbage stir-fry with Napa cabbage and a few pantry ingredients. You can serve it on top of brown rice, quinoa, or noodles to make it more filling and inexpensive to prepare. Llet the wonderful authentic Chinese flavors whisk you away! From Omnivore's Cookbook.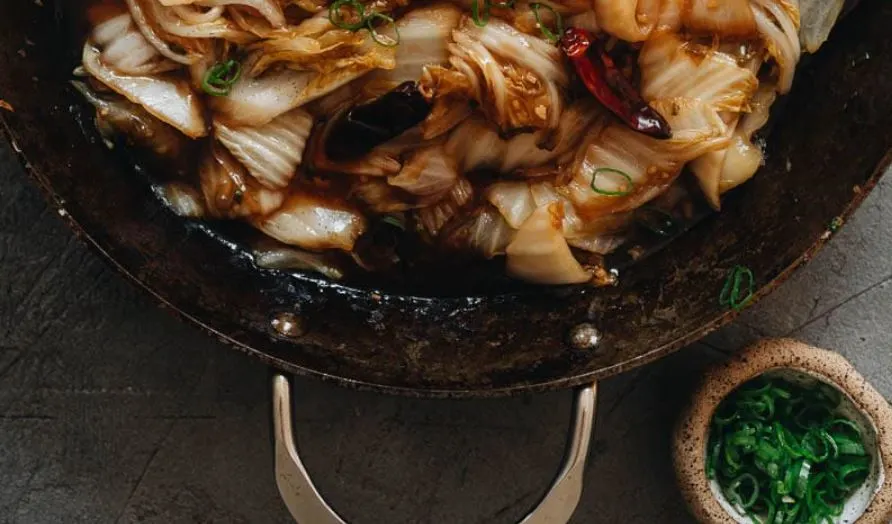 14. Sweet Chili Chicken Stir-Fry Bowls ($1.91 per serving)
A little sweet, a little spicy, a lot of perfection, and all for little coin. What could be better than that? I think this is one meal you're going to want to make again and again. With chicken and a few cheap pantry staples, you'll have bowls bursting with flavor thanks to juicy tidbits of pineapple and the sweet chili sauce that bring it all together. From Budget Bytes.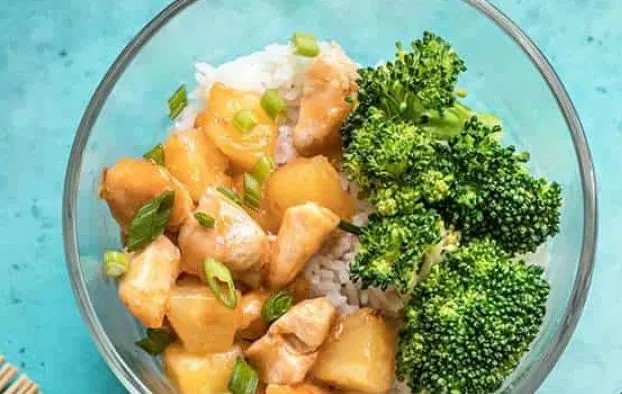 15. Mushroom Stroganoff ($1.40 per serving)
As a child, I loved when my mom made beef stroganoff. I still love it now, so rich and full of flavor. But beef can get expensive when you're minding your budget. Not to mention, eating lots of beef isn't the healthiest option. A fair compromise is making it meatless as a mushroom stroganoff. Reduced fat sour cream and fat-free, lower sodium broth make this a much healthier option without giving up that exquisite flavor. From Skinny Taste.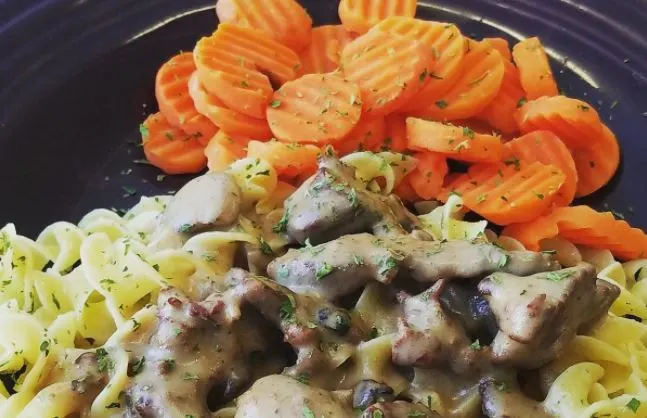 16. Mexican Cauliflower Rice ($1.46 per serving)
Why settle for regular rice when you can have it Mexican-style? Ah, but if you're weary of grains or going low-carb, how can you partake? Simple. Have cauliflower come stand in for those grains. You'll completely forget you're chowing down on cauliflower when you eat a bowl of this flavorful stuff. Keep it meatless or serve it with seared pork, chicken, veggies, or tofu as you wish. It's all ready in just 25 minutes! From No Spoon Necessary.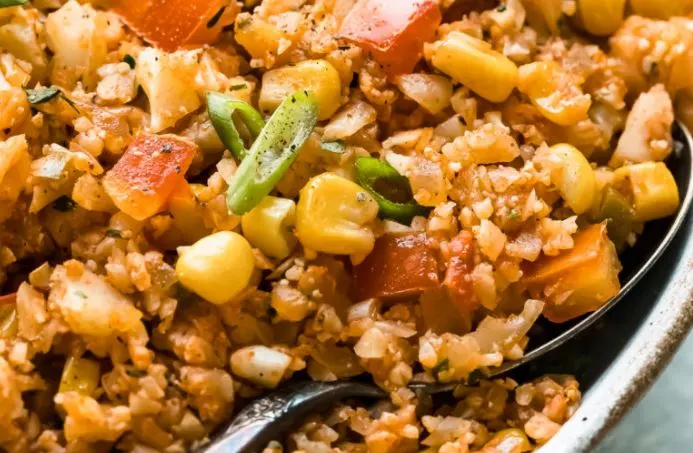 17. Zucchini Pizza ($1.32 per serving)
Has that pizza craving struck again? I get the pizza urge too. Ordering pizza these days is expensive. When did it go from $5 for a pizza to nearly $20?!? That's too much! Plus, it's not exactly the healthiest of meals unless you can eat only one slice (and really, who does that?!?). So, I present a fair compromise in the name of healthy, budget eating…zucchini pizza. The zucchini serves as the base and then you can top it any way you wish. Limiting the cheese will keep calories and budget from going overboard too. From Budget Bytes.
18. Asian Peanut Noodles, With Steamed Carrots ($1.10 per serving)
Hey, let's order Thai food! Oh, wait. That's too expensive. How to handle the cravings? Make Asian peanut noodles and you will kick yourself for not doing it sooner. It's remarkably simple and quick and takes pantry staples like peanut butter and soy sauce to make. A little lime and fresh herbs will help bring out the taste, though if you can't stock all those herbs, just grab a main one (like cilantro) and stick to that. Add the chicken or keep it vegetarian with this tasty Thai-inspired meal that's ready in about 15 minutes. From Eat Yourself Skinny.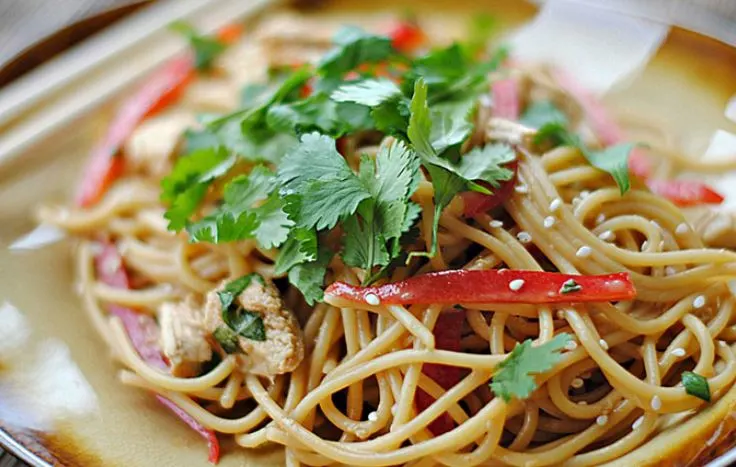 19. Zucchini Noodles with Chicken, Cilantro, and Lime ($2.25 per serving)
Break out the veggie spiralizer and turn zucchini into noodles (or 'zoodles' as they're often called). This fun dish gives you the feel of pasta and combines the bold flavors of lime and cilantro to make eating healthy truly delicious. Best of all, zoodles need little cooking time so you'll have dinner done in about 20 minutes from start to finish. What's that, you say? You don't have a spiralizer? Just chop your zucchini for a similar effect! From iFoodReal.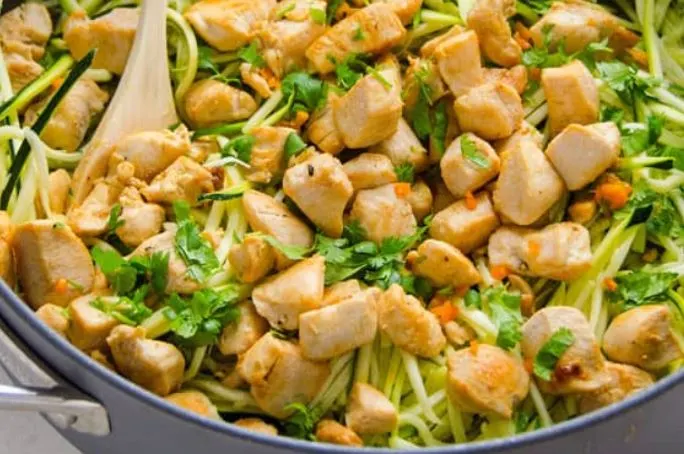 20. Pork Chow Mein ($2.48 per serving)
Chicken gets all the love but Pork is only slightly more expensive to stock up on when the price is right. Another one that incorporates spiralized zucchini is a healthy twist on pork chow mein. Grind the pork yourself in your food processor to get the texture right, or simply slice it thin. These bold flavor come together in no time at all, certainly much more quickly than takeout can arrive. And way healthier and cheaper than takeout too! From Taste.com.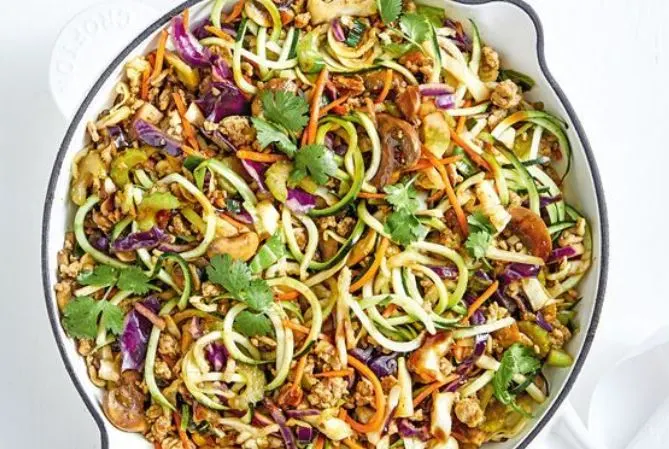 21. Indonesian Fried Rice ($1.88 per serving)
Known as 'nasi goreng,' this is the dish you need to make when you're getting tired of all the usual suspects. You know what I mean. When you're not feeling like eating everything you know and love, shake things up with this treasured Indonesian recipe. You can use any protein you wish or omit them all and simply keep the fried egg on top. It's so simple, quick, and delicious, you'll be surprised it's health and budget conscious. From Recipe Tin Eats.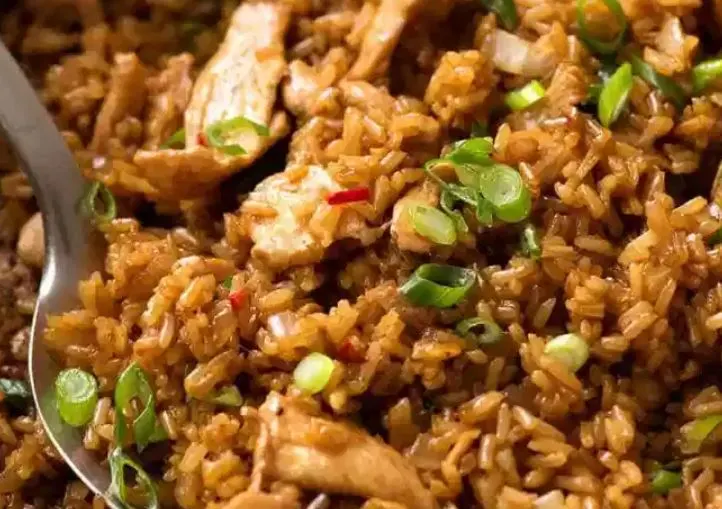 22. Curried Tofu with Green Beans ($1.49 per serving)
Tofu is one of my favorite proteins for meatless nights. It's cheap and easy to work with. Plus, it takes little time to cook with so you know you're always in for a fast meal that hits the spot. With a little curry powder, coconut milk, and frozen green beans, you can make an epic meal with a sauce you'll love smothering white or brown rice with. From Martha Stewart.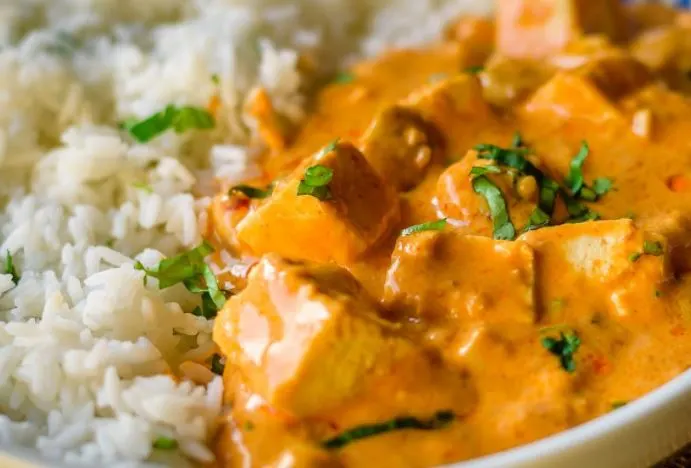 23. Coconut Noodle Soup ($1.68 per serving)
Sometimes, soup is the perfect meal in and of itself! When it's brimming with hearty ingredients, you really don't need much more to fill up. That's certainly the case with coconut noodle soup, a 15-minute creation that throws together sweet potatoes, coconut milk, and noodles for an epicurean treat you'll want to eat every night! From Omnivore's Cookbook.
With recipes like these, your excuses fall flat. You've got what it takes to stick to healthy living, even on a budget when you make these meals in your kitchen!
Related Posts to Save Money on Food: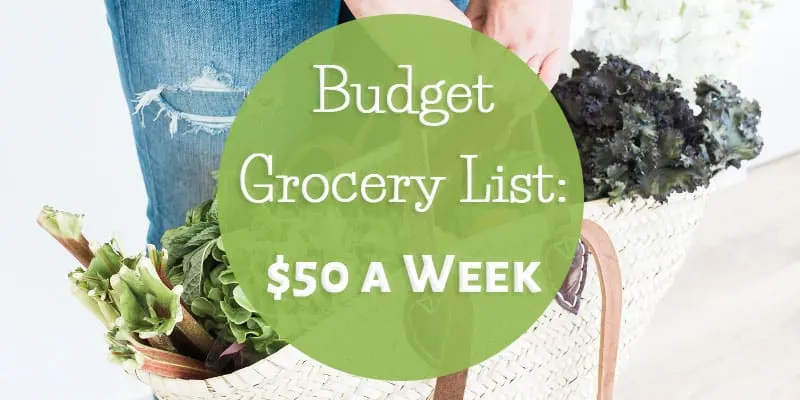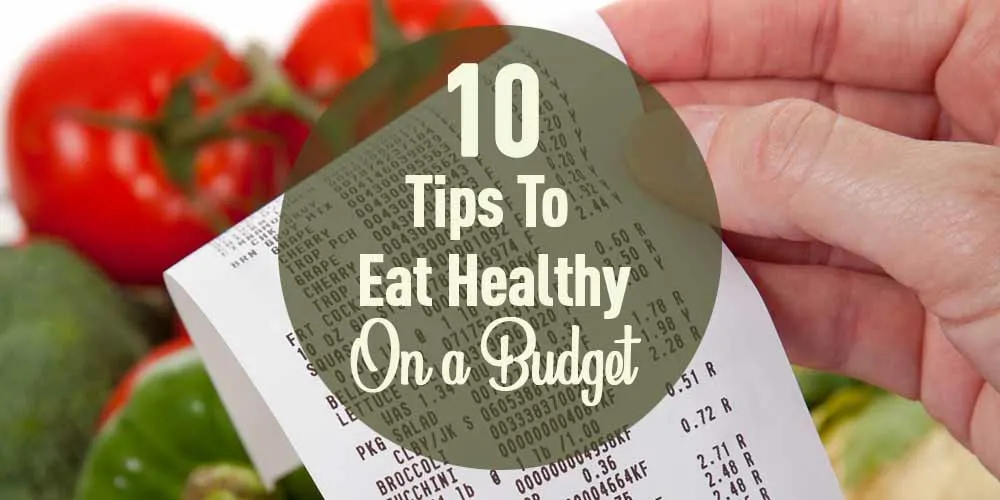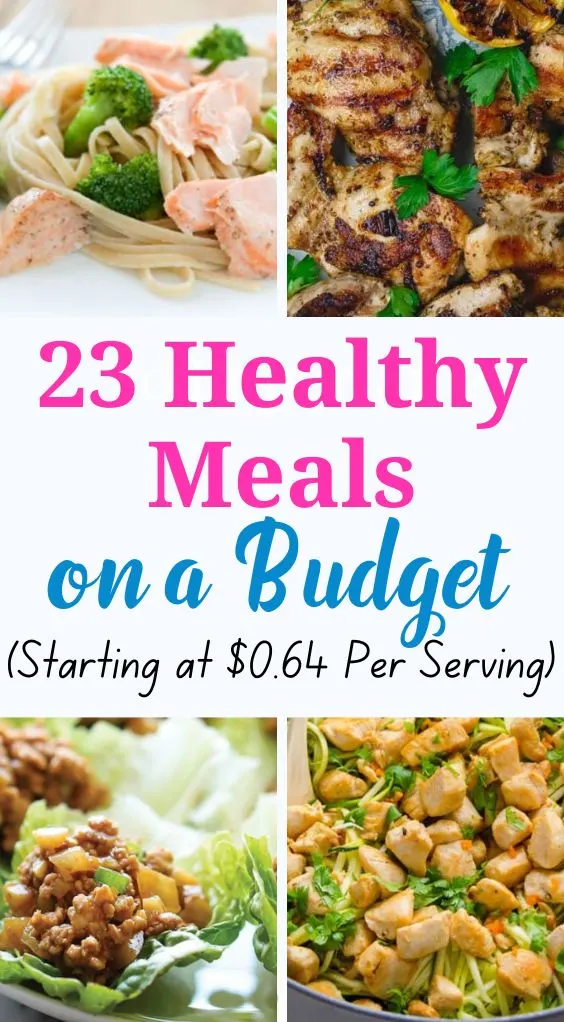 If you find this page helpful, please pin or share it :)