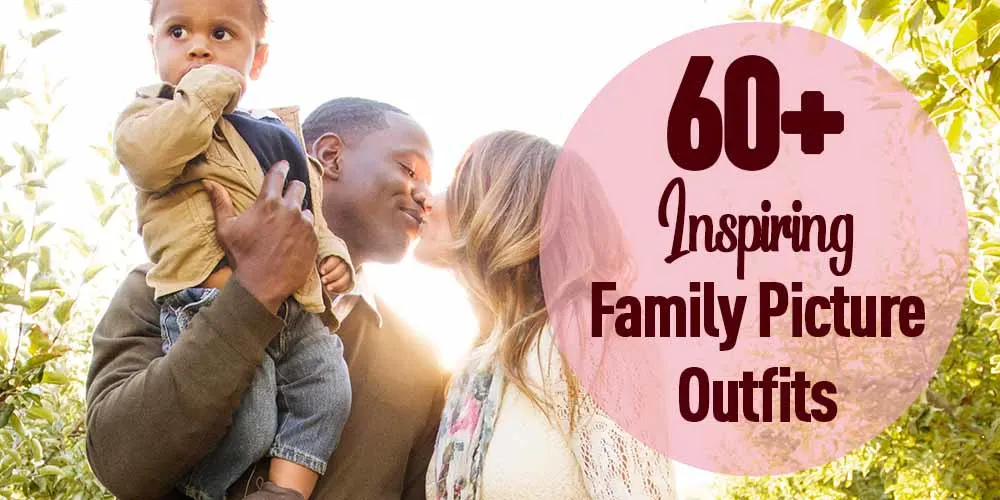 Planning a family photoshoot and unsure about what to wear? You are not alone. Choosing a photographer is hard but choosing perfect outfits is even harder. What color to pick? What theme to go with? Should you go formal or casual? A total conundrum. But all those questions are valid questions. Because after all, you are spending good time and money on creating these immortalized memories.
We've done the heavy lifting for you and compiled a large number of spectacular family picture outfits. We've also included style suggestions and fashion ideas to help you ace your family photoshoot. Let's look at different types of family outfits you may want to get inspiration from.
Family Picure Outfit Ideas
Color Coordinated Family Picture Outfits
If you're planning on wearing matching outfits, abandon that thought right away. Overly-matched outfits don't look natural and steal away that subtle candid appeal of the photos. But that also doesn't mean that you should go for drastically different colors. A better choice is to go with simple colors that complement each other. Or even different shades of the same color, as featured on the image below where a family is wearing different shades of blue.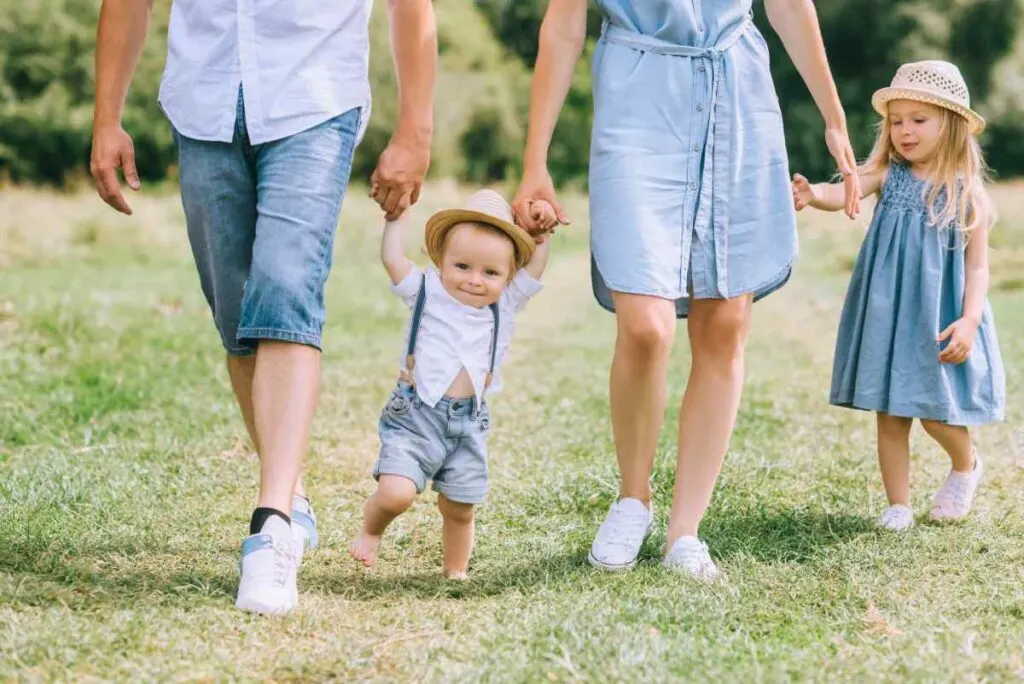 You can also get creative and use brighter colors – as long as they are in the same color family, as showcased below. The key is to simply make sure that colors go well together.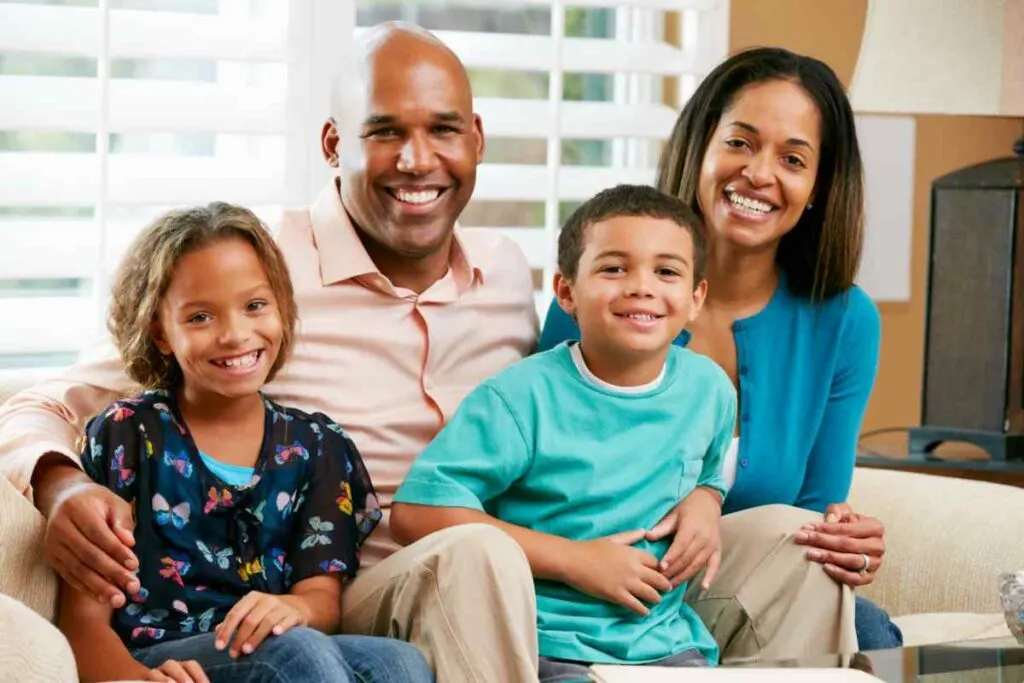 These 2 families did a great job at picking lighter colors that work well together: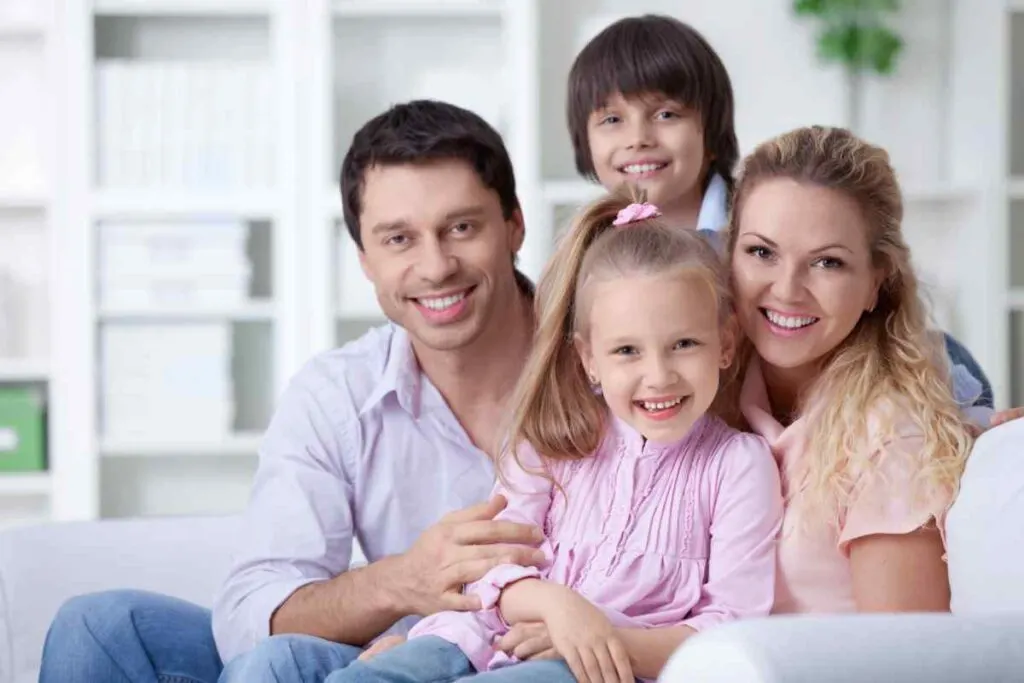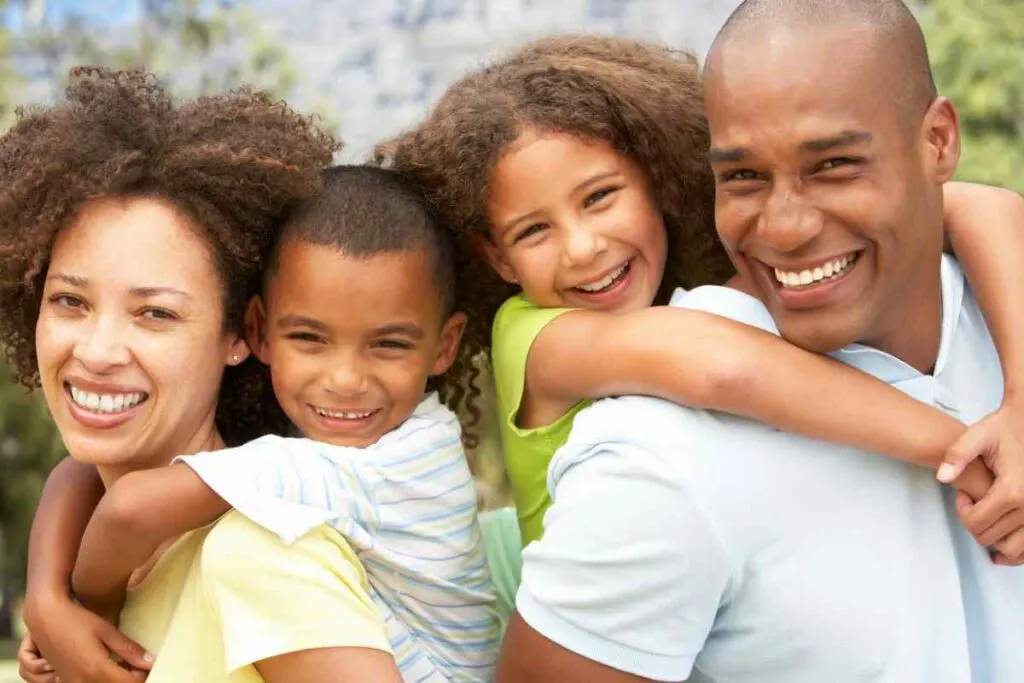 Here is another example of a family that did an awesome job at picking combinations of blue and white: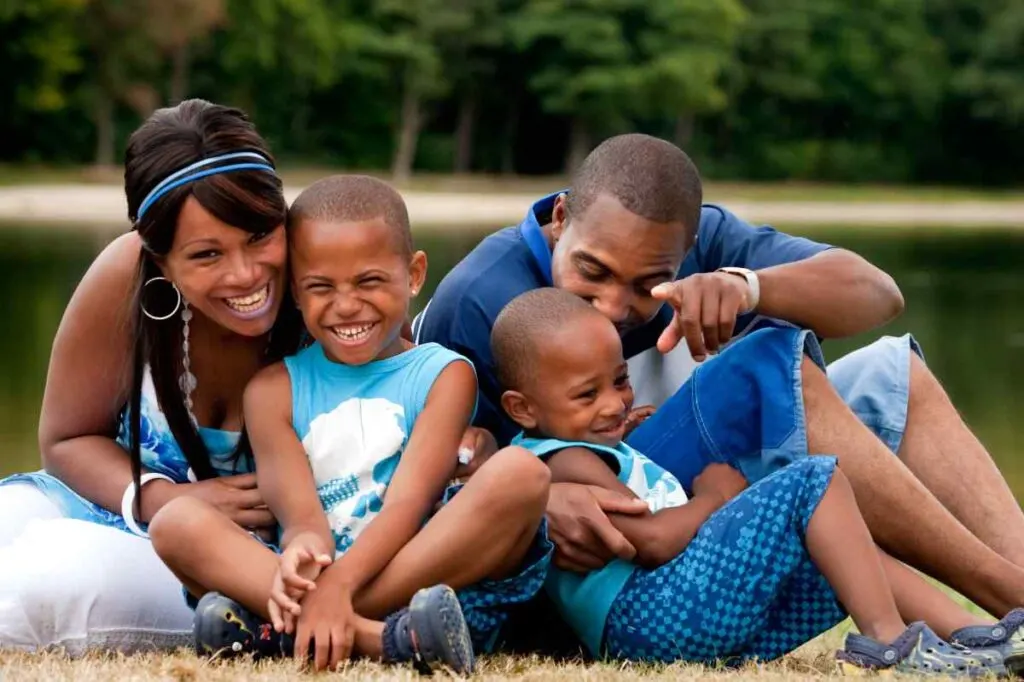 It's challenging to find the exact same colors for all family members. But don't worry – you can still use a combination of different tones of the same color for stunning results: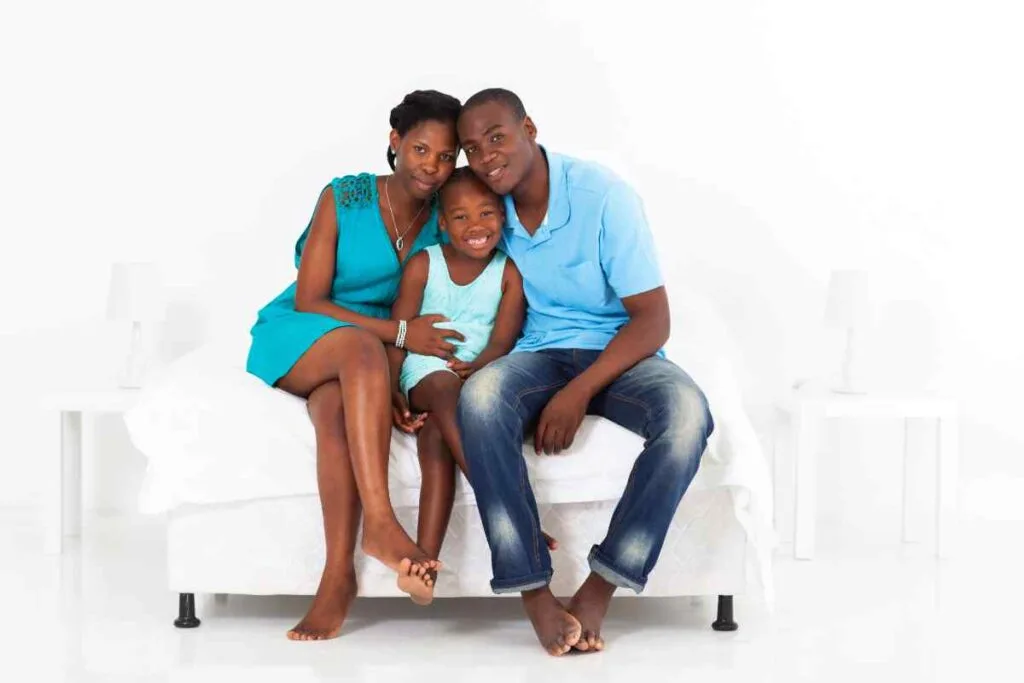 Simple color coordination can also work really well for simple family picture outfits, for example with a dark gray/light gray color combination for this mom-&-daughter portrait: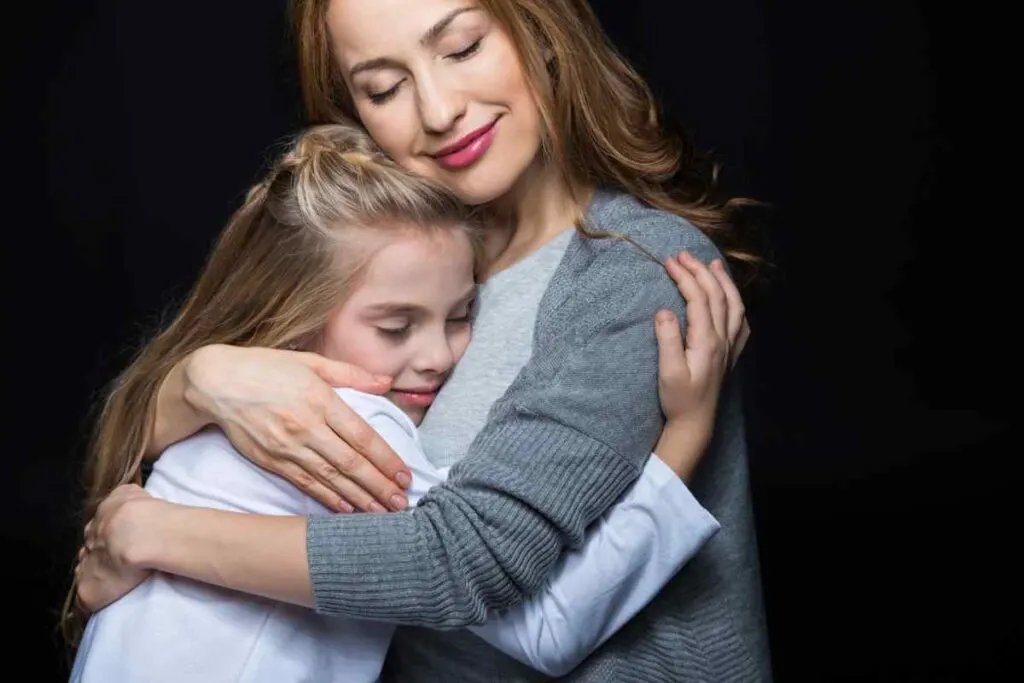 This simple pink and white combination works beautifully too: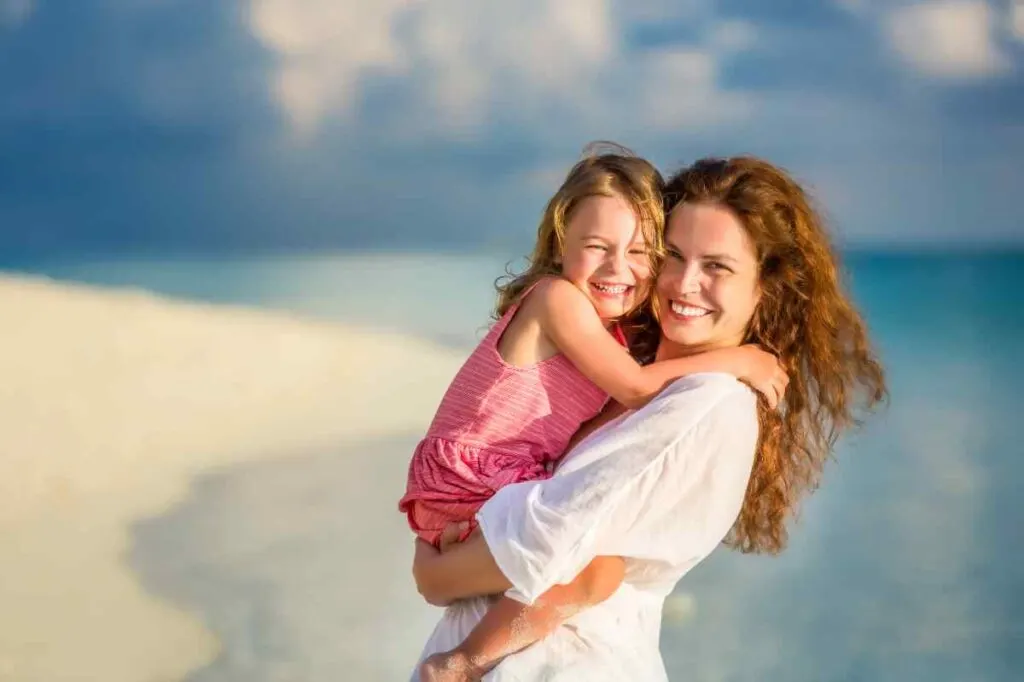 The key is to stick to a well-balanced color palette. It's easier to go with pastels.
All-White Family Picture Outfits
I know I previously said that matching outfits are a no-no but white is an angelic exception. All-white outfits can be a great choice for the best family pictures because white outfits photograph well. To make the pictures even more interesting, you can add accessories in different colors, or take the picture against a colorful background (for example, lush green trees).
However, you should keep in mind that all-white outfits work best for families that have slightly darker skin tones or hair colors. Contrast is the key factor to make this work, but the results can be spectacular.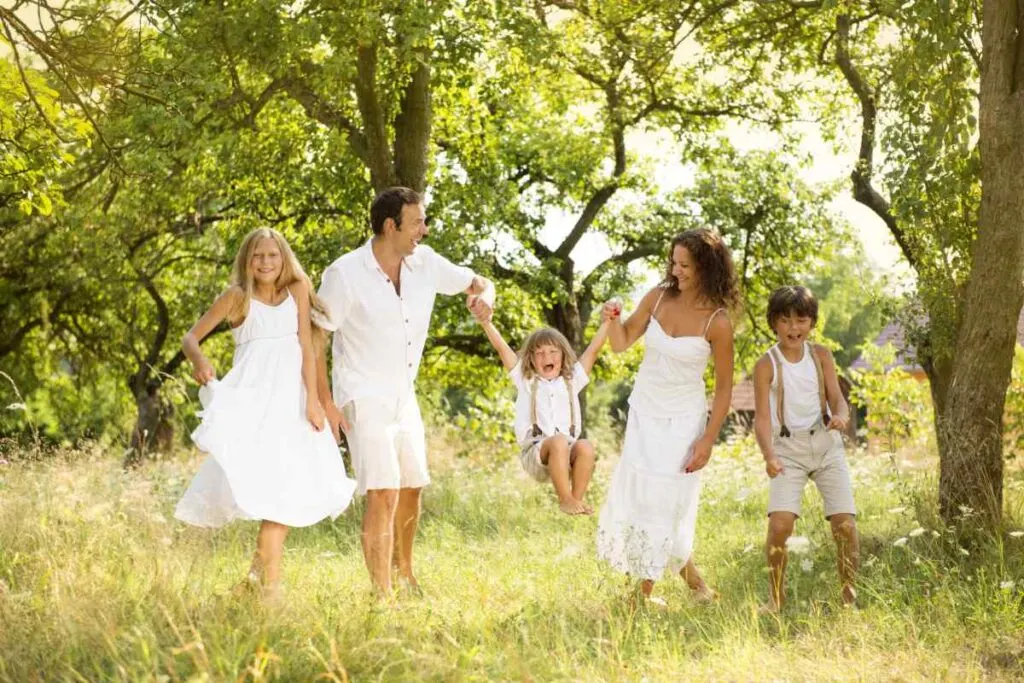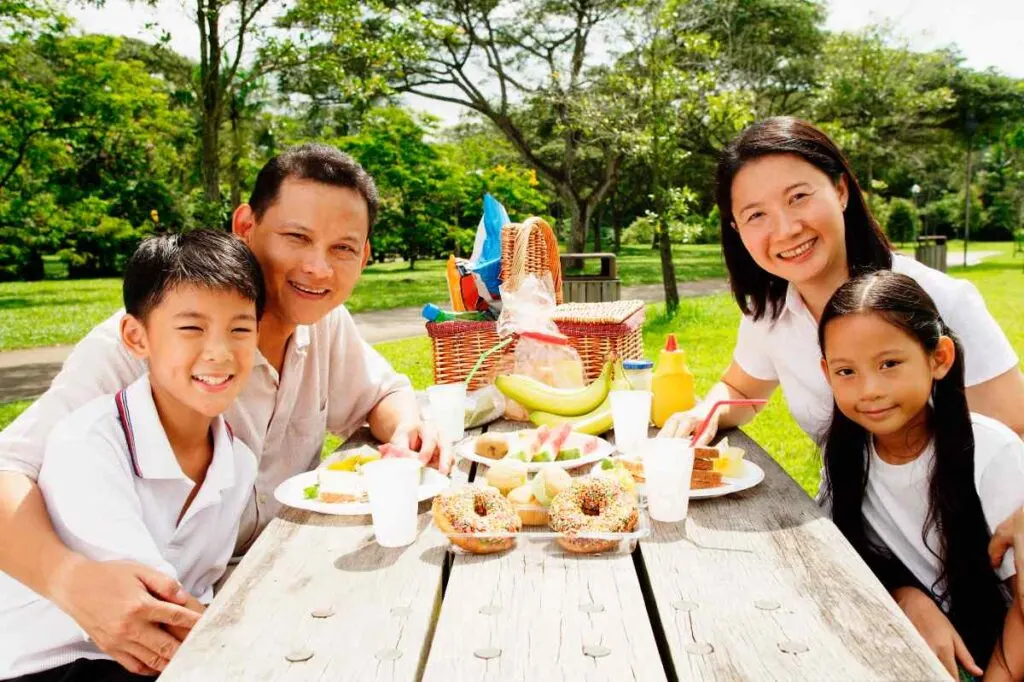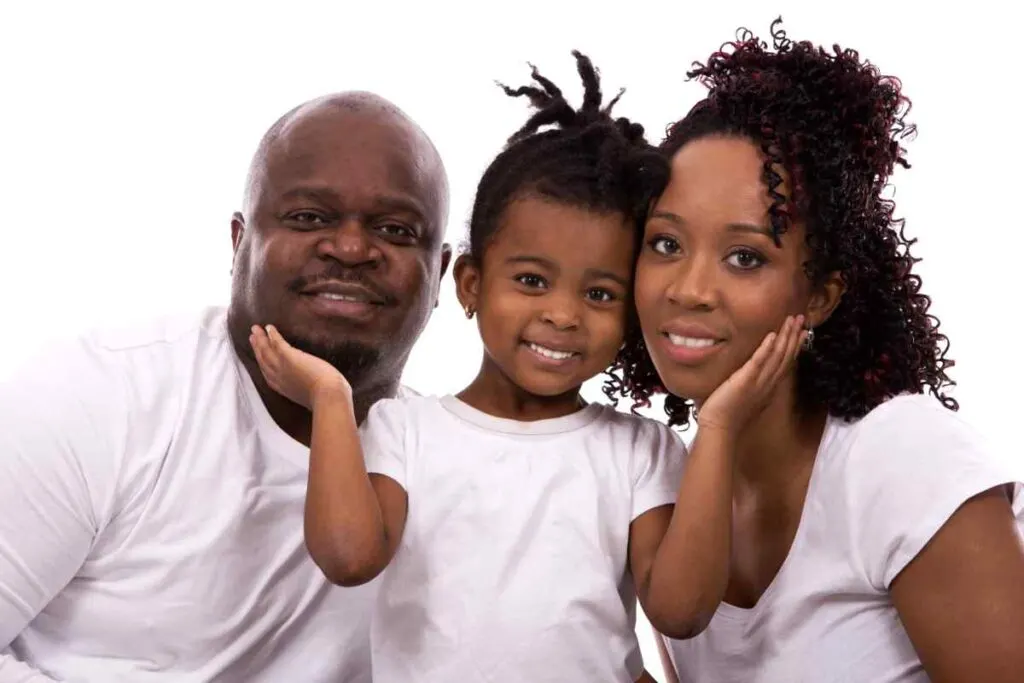 It can be challenging to get everyone dressed in white from head to toe. But there's nothing to worry about. You can use additional colors to bring more contrast. For instance, this entire family has chosen white shirts with blue jeans to keep a casual, laid-back look that looks very natural.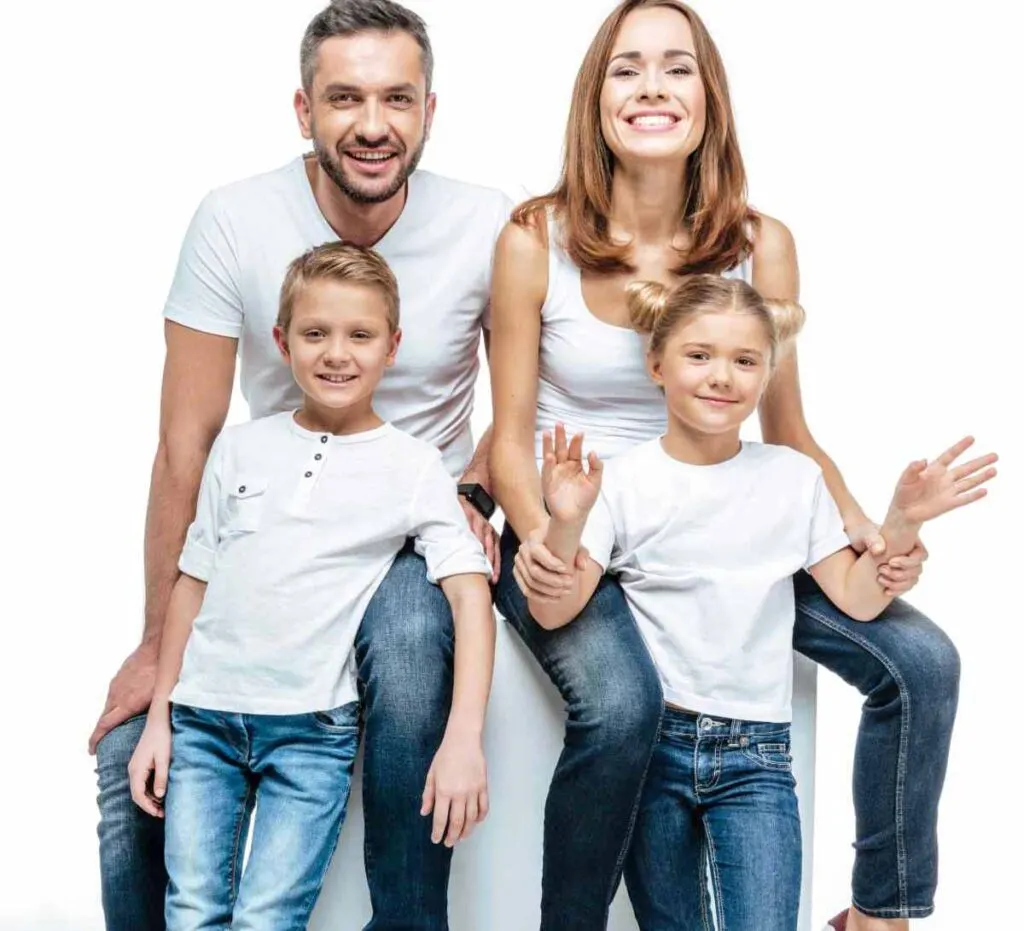 Coordinating Colors with Accessories or Backgrounds
If you have some extra time on hand and creative prowess, you can also try coordinating outfit colors with accessories or backgrounds in the photo for powerful results.
Color coordination with accessories in the photo works particularly great during the holidays!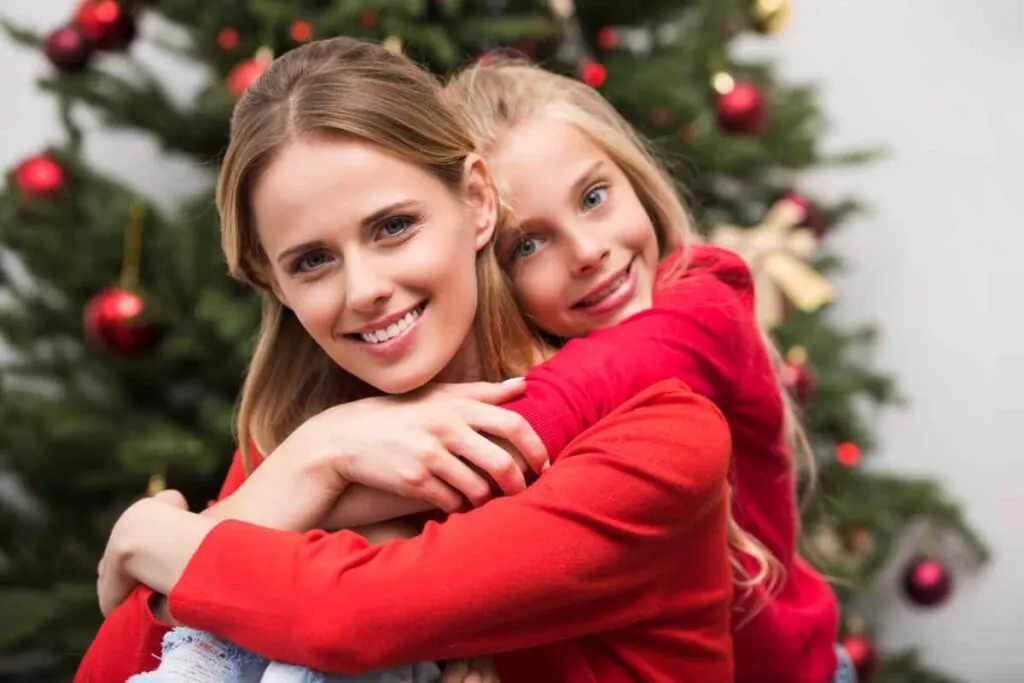 Dressy Family Outfits for More Formal Pictures
If you already have had a family photoshoot with casual outfits, why not change things up a bit this time around? Formal wear can be powerful and a statement in itself. But you don't have to go all out. You can still add that relaxed laid-back element by incorporating casual jeans or polo shirts. Not all (especially the younger) family members need to have a full dressy head-to-toe outfit. To achieve a cuter look, make sure you consider accessories for the children (for example, ties for the boys, and cute cardigans or head accessories for the girls).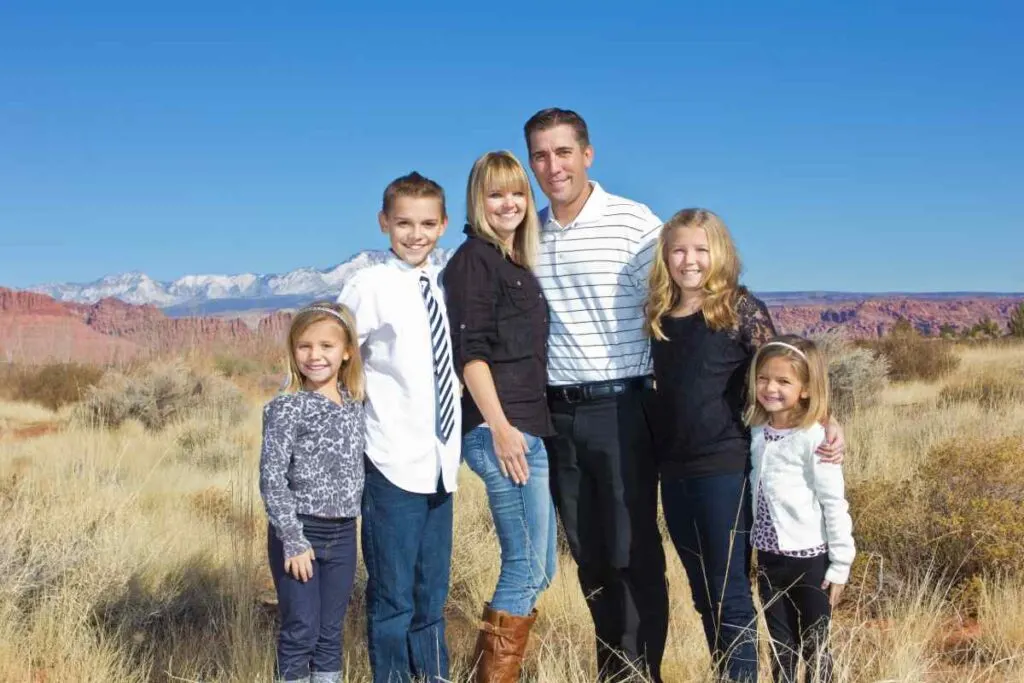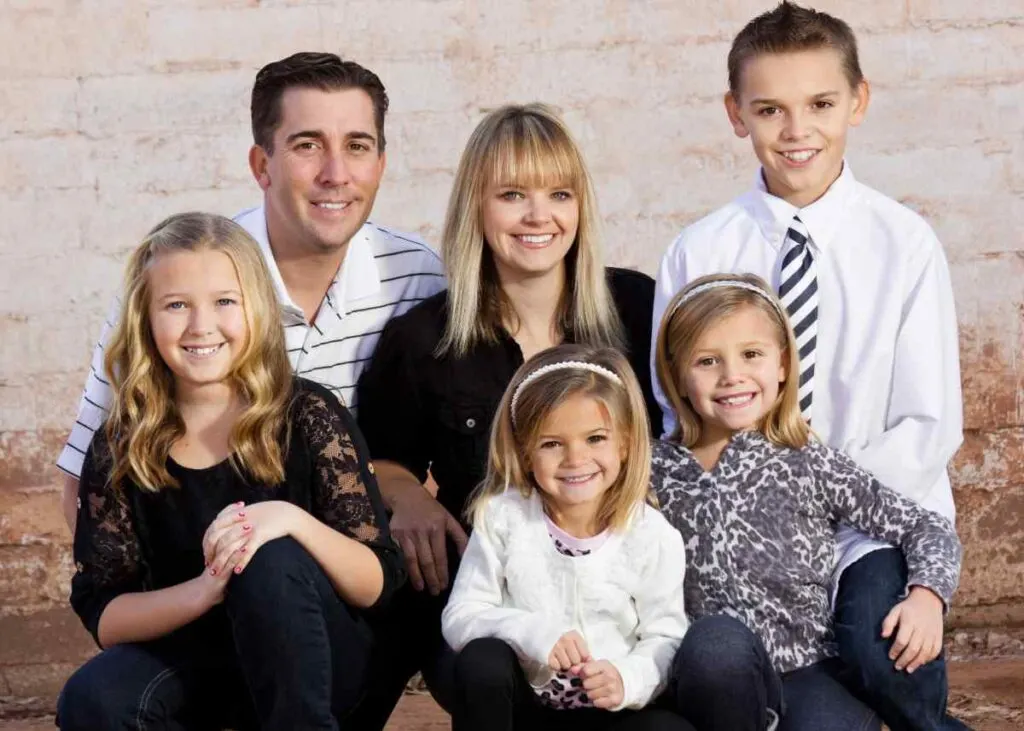 This couple did a good job at incorporating different patterns but they have stuck to the basic rule mentioned above: picking lighter and darker tones of the same color.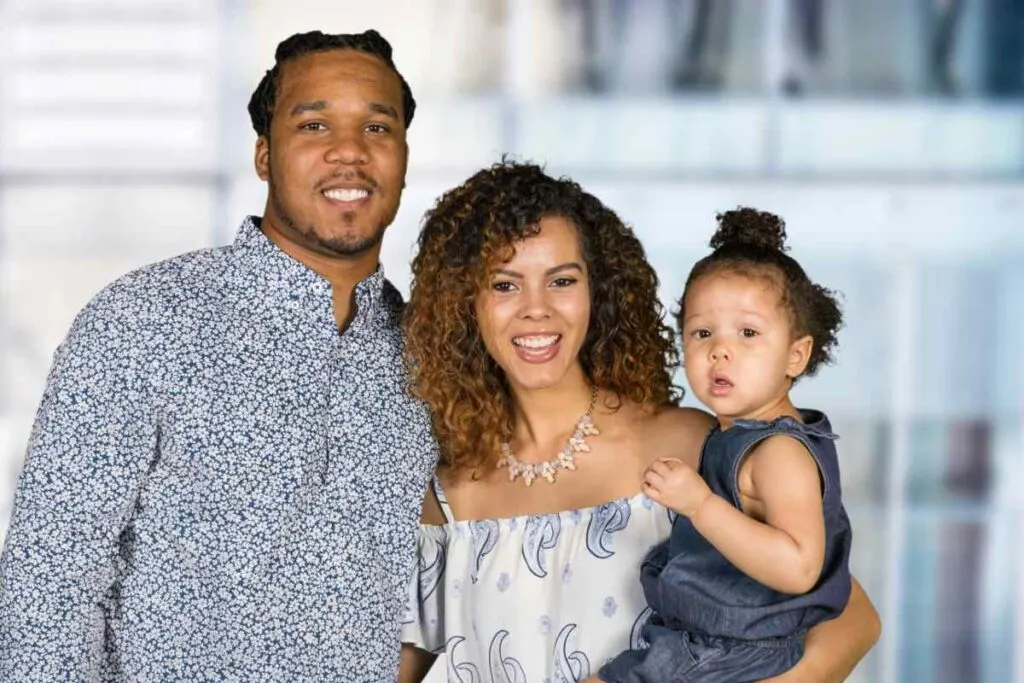 Casual Styles To Keep Things Simple
If you don't have a lot of time or simply prefer a more casual style, jeans and comfy shirts work beautifully. This casual approach is, in fact, more natural and candid. It allows you to worry less about putting together complicated outfits and have more fun creating unforgettable memories.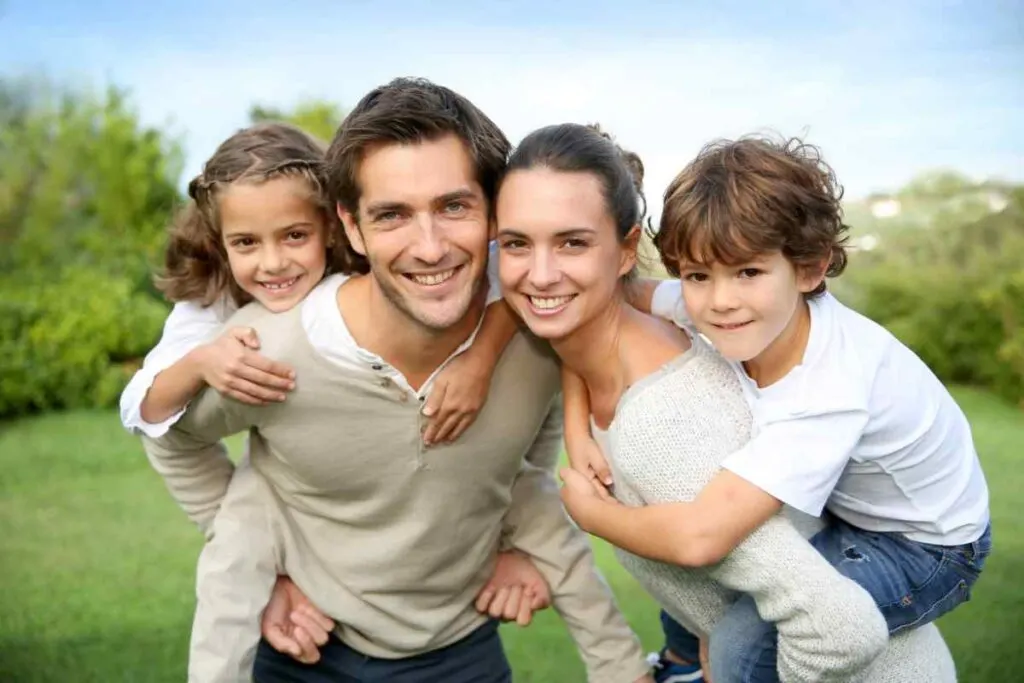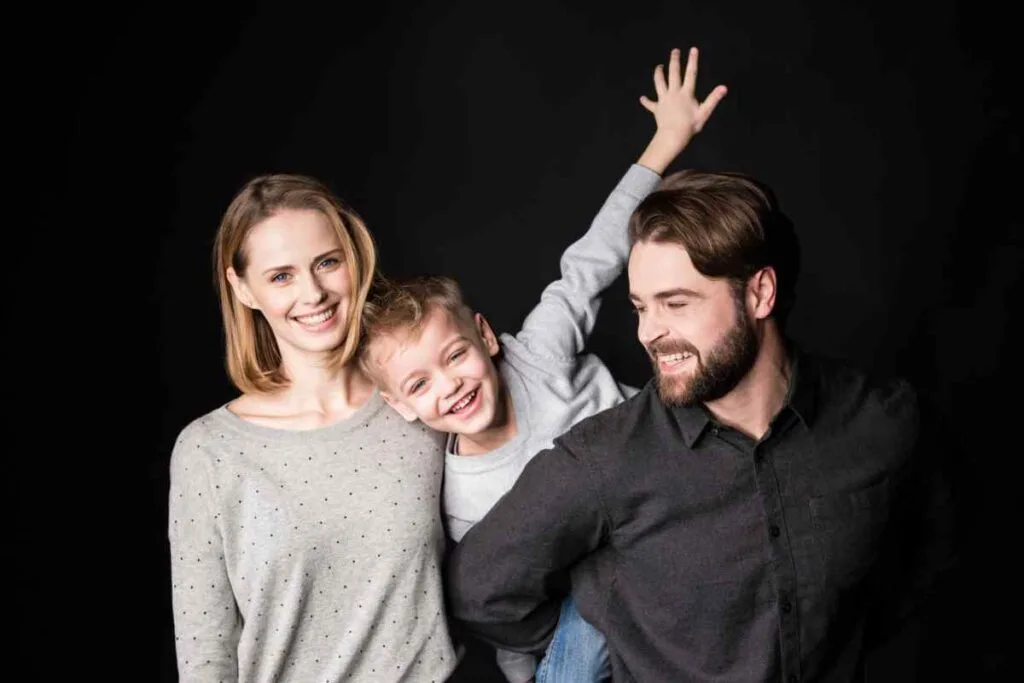 Feeling Overwhelmed When Picking Outfits? Start with the Mom!
If you are blessed with a big family, it can get quite overwhelming to choose the perfect outfit for every member. In most cases, we just don't know where to start. Simply start by selecting a great outfit for the mom, and work backward to select dad's and kid's outfits in colors that complement.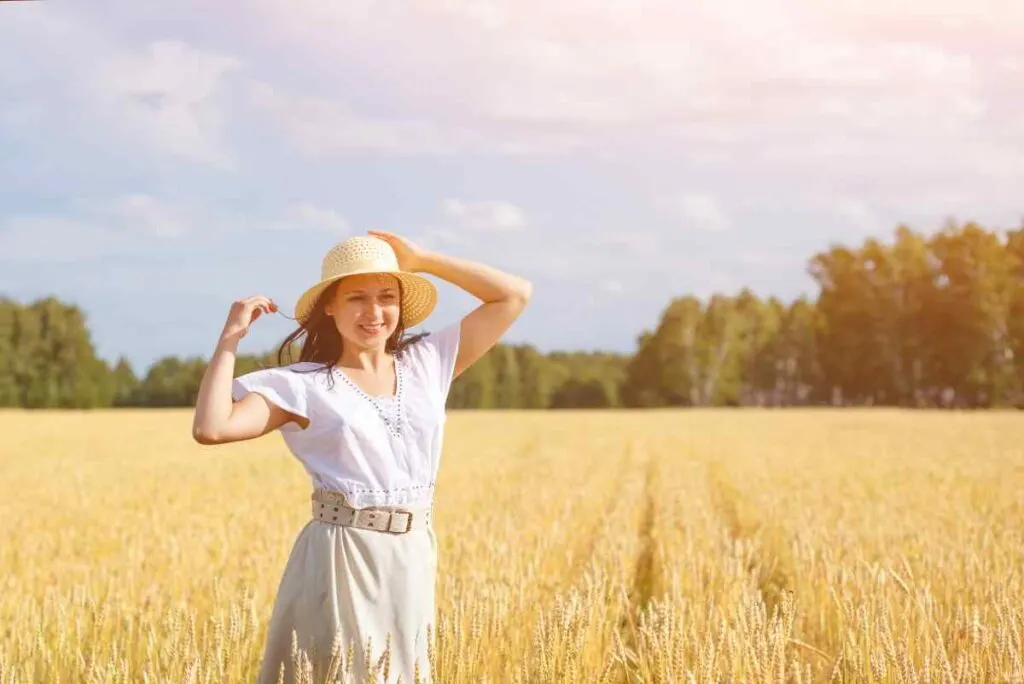 Great Family Picture Outfit Ideas by Season
Fall Outfits
Fall is a great time to gather everyone around for family pictures. The fallen leaves, golden trees, and pumpkin patches provide a wonderful backdrop for family photos that you'll cherish forever. If you are getting your photoshoot done during the fall, choosing outfits gets easier. Your choices are now narrowed down to the shades of brown, beige, green, burnt orange, and rich maroons. It's always a good idea to incorporate patterns, textures, and layering.

For great fall family pictures, you can also try adding some colors that will stand out – for instance, a little bit of red, pink, or bright blue. Not all colors have to be dark brown and dark blue!

View all Fall Family Picture Outfit Ideas with images in a larger format.
Styling tips for fall:
Go with the fall fabrics and styles such as ribbed knit, plaid, houndstooth, denim, and tweed. These styles are not only appropriate for the weather but also look stylish and elegant.
Layering is your best friend and adds dimention to your photos.
Add some flattering texture to your photos by incorporating accessories like fall boots and big scarves.
Fall outfit color schemes:
Summer outfits
Bright colors and pastel shades look great in summer. Lush trees and beautiful rich landscapes offer a wonderful backdrop for your photos. If the weather is warmer, bright dresses or thin blouses/button-down shirts can be perfect for ladies while boys can wear jeans or khaki shorts with colorful shirts.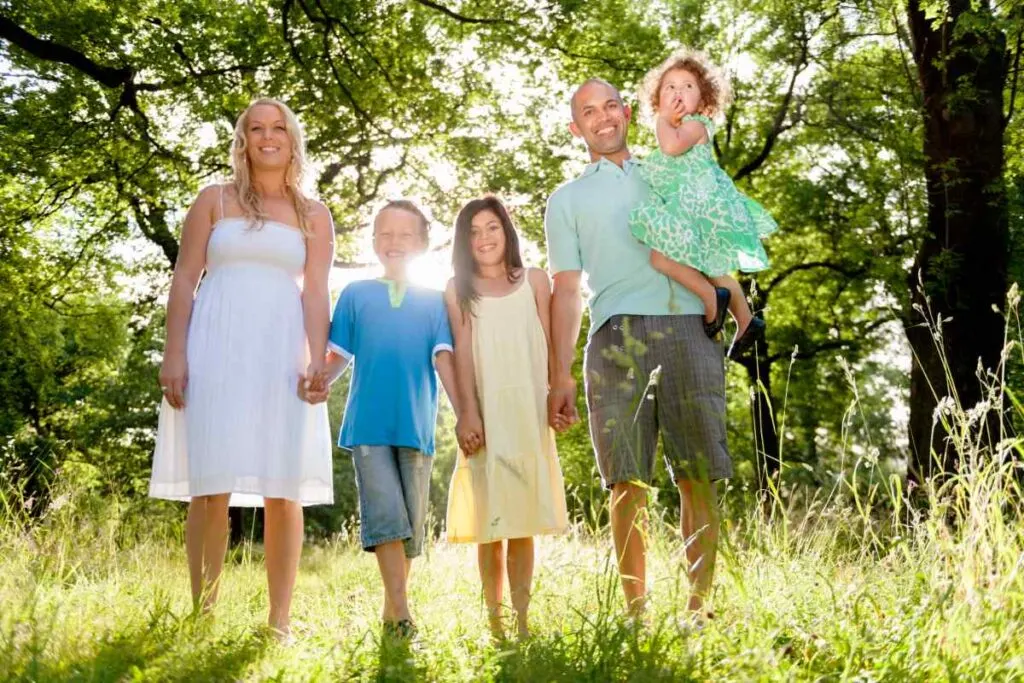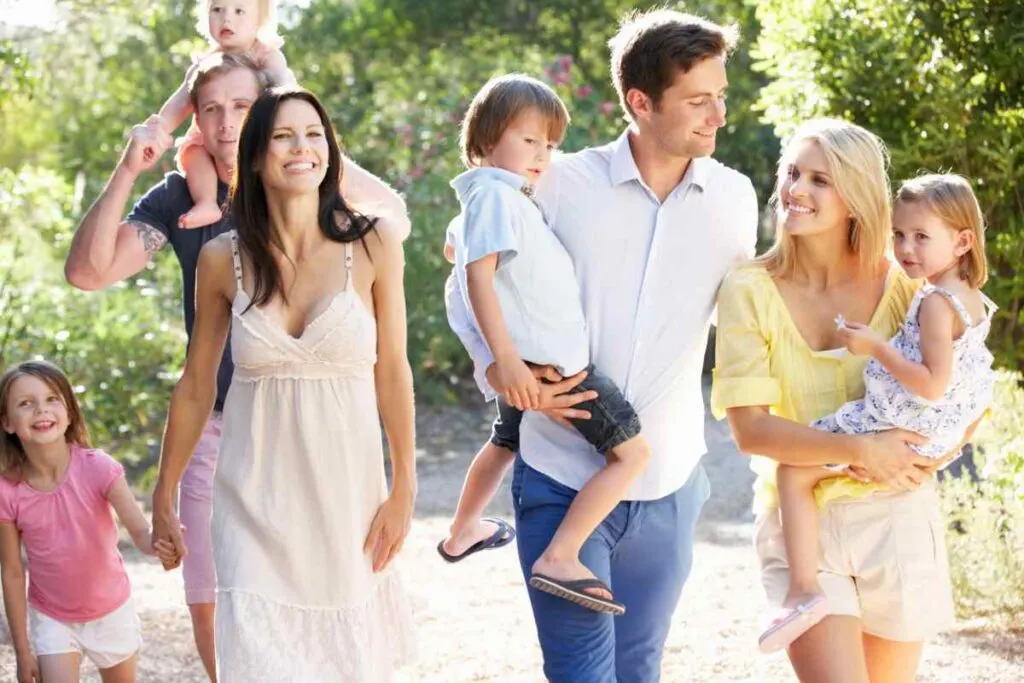 The all-white look is also a great fit for summer family pictures: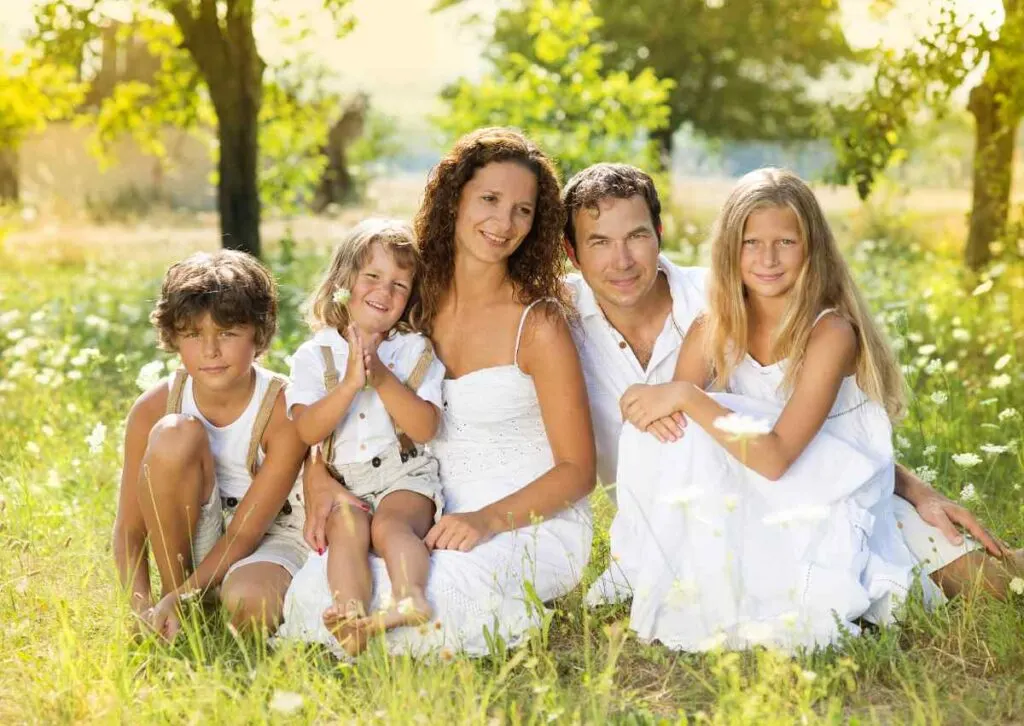 Think about introducing combinations of summer styles: for example white top for the mom and a blue marine striped t-shirt for the little one: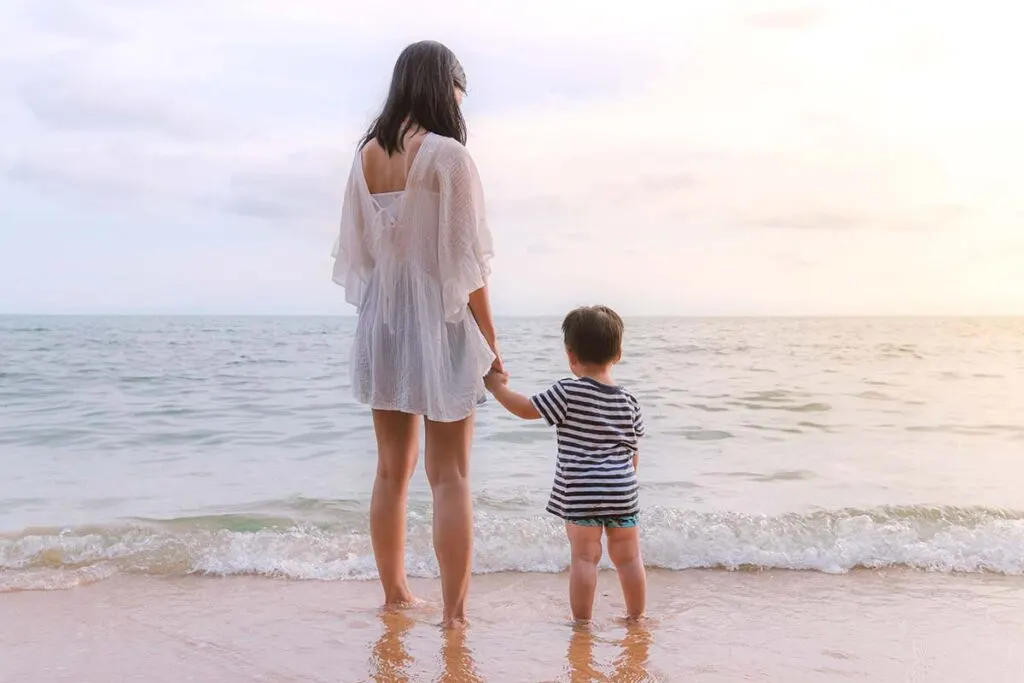 Styling tips for summer:
Go for lightweight, breathable cotton or linen fabrics.
Pick pastels or softer tones for an outdoor summer shoot. Because softer tones won't clash with the vibrant landscape.
Keep it casual. Go to a beach or a water park and get some candid photos while having fun.
Summer drinks or fruits such as watermelons can be also be incorporated as props.
Add accessories like sun hats or umbrellas to give off a fun summery feel.
Sundresses for girls and gingham patterns for the boys.
Summer outfit color schemes:
Spring Outfits
What better a time for family photos when the flowers are in full bloom and nature comes out in the prettiest colors. Spring outfits generally include whites, light blues, greens, pinks, and yellows. You can also add pastel colors, or floral prints to avoid monotony. Boys can wear jeans with lighter-colored shirts while girls can be dressed in white dresses embellished with floral prints or elegant, but simple patterns.
Spring styling tips:
Floral patterns and polka dots look lovely in spring.
Pretty bows or floral headbands for the little one will add a charming look.
Plan a picnic or visit a flower field to take full advantage of the spring season.
Ditch the skinny jeans and go for a flowy skirt or a sundress.
Use quirky accessories such as straw hats, necklaces, and belts.
Spring outfit color schemes:
Christmas and Holiday Outfit Styles
For winter family pictures, a sweater vest with a shirt underneath, or an off-white/cream long-sleeved cardigan works perfectly. If you are doing a photoshoot in the colder weather, why not make it Christmas-themed? The festive vibe, rich colors, and joyful decor will make your family photos truly stand out.
Plus, family reunions don't happen every day. Christmas would be a great time for the whole family to huddle around and take those happy photos.
Holiday styling tips:
The holiday season gives you the opportunity to add a lot of fun accessories such as scarves, fluffy winter boots, and coats.
In the merry spirit of holiday, get the whole family to wear matching pajamas or santa hats.
You can take advantages of gifts and stockings as props.
Holiday is the perfect time to add a pop of color in form of a red sweater or a red lipstick.
Layering with sweaters and coats will add more dimension to your photoshoot.
Holiday outfit color schemes:
Coordinating Kids' Outfits
Choosing kids' outfits can give you a hard time. Save yourself from the headache and create fun photos by coordinating their outfits. Choose colors that complement each other or play with patterns while sticking with the same color family.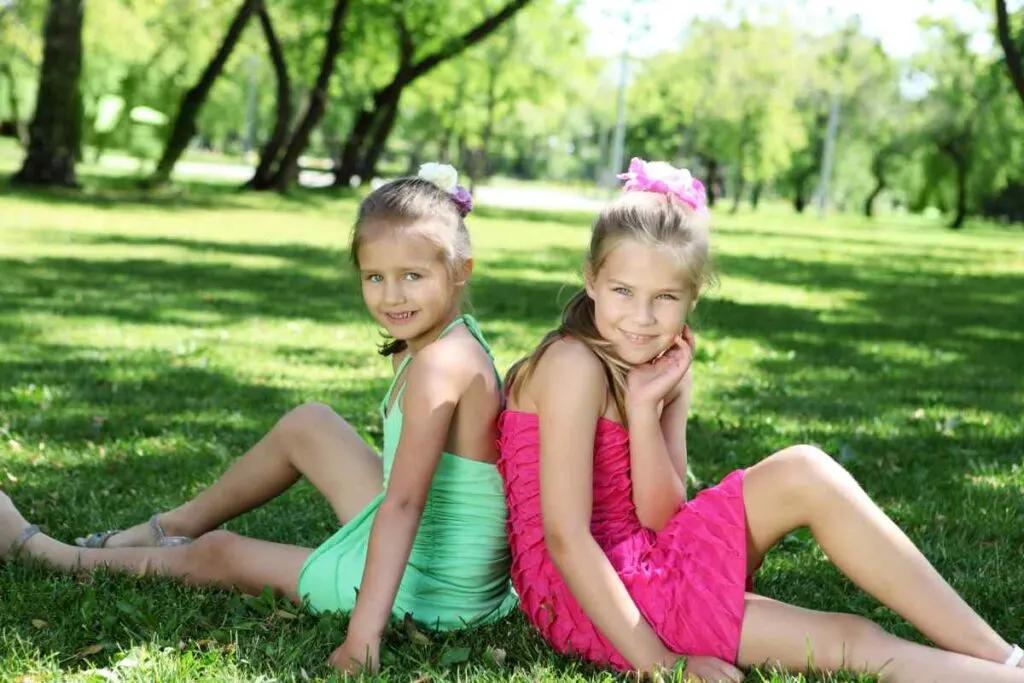 But you can also go with outfits that feature similar color patterns: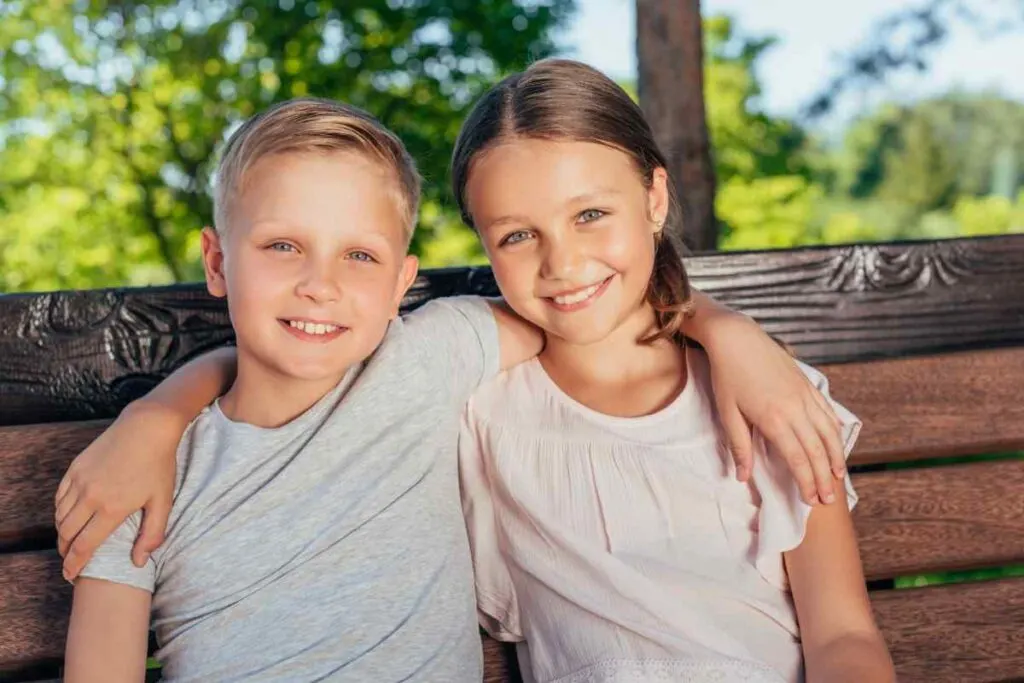 If the previous style is a little too plain for your liking, you can coordinate similar color patterns (in this case, blue), and add different colors that will fit well, such as gray or brown:
11 Quick Tips to Make Sure You Have The Best Family Pictures Ever!
Remember… Great Photo Shoot Ideas Are Just As Important as Your Choice of Outfits!
After taking your family portraits, don't forget to have a photo shoot with just the kids. Think about experimenting with the background, room environment or accessories, and ask your photographer about setting up cute sibling pictures.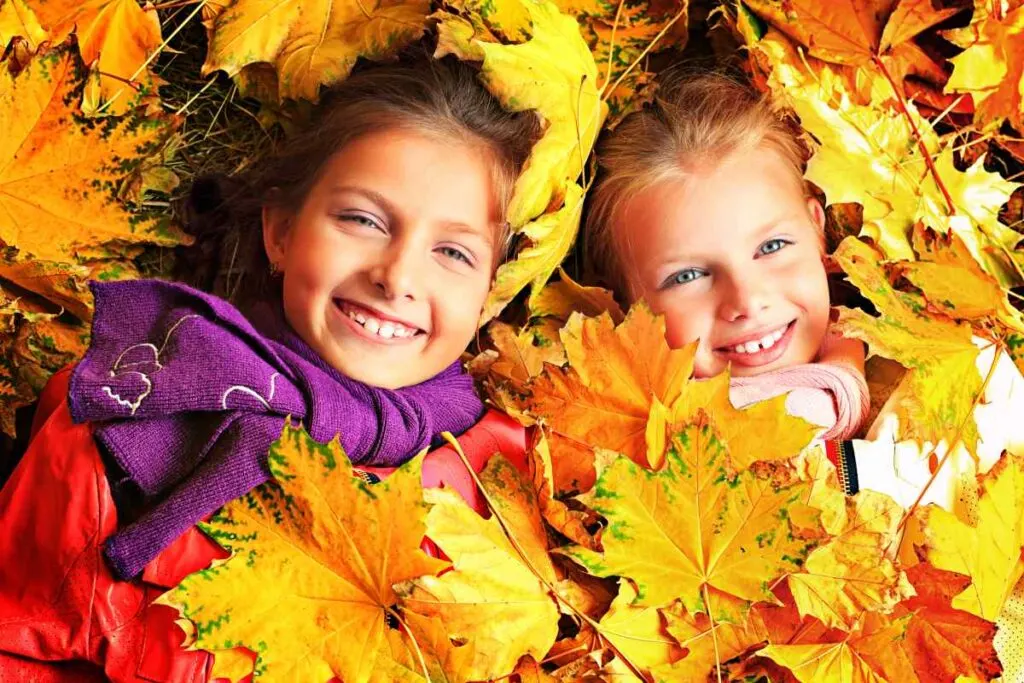 2. Spice it up a little bit with action. While you should make sure that you take standard portraits, you can also experiment with a little bit of fun!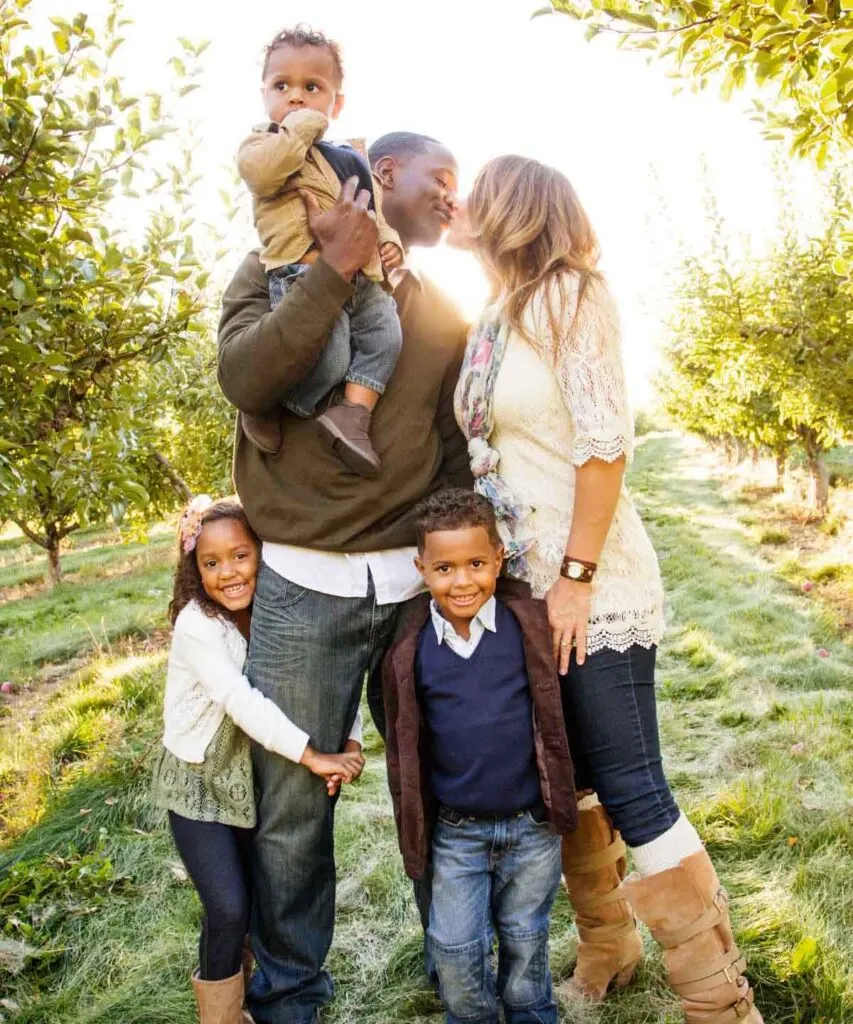 3. Keep the environment in mind. If you are going to a beach, you will be surrounded by neutral and earthy tones. So colors like white, khaki, and light blue will complement the setting. However, if you are getting your photoshoot done among the trees, floral prints and lively colors will look more appropriate.
4. Use the season as your guide to choosing color schemes.
5. Plan ahead and have a family meeting to brainstorm ideas.
6. Avoid oversized, baggy clothes.
7. Practice poses in advance.
8. Make sure the little ones are comfortably dressed.
9. Comfy shoes are your best friend. Avoid sparkly shoes and keep the kids away from the ones with cartoon characters on them.
10. Don't forget to capture natural, silly moments! These images can be just as meaningful and beautiful as posed ones.
11. Don't worry about making these moments perfect – it's more fun to catch smiles and funny faces during a casual family photoshoot.
If you find this page helpful, please pin or share it :)