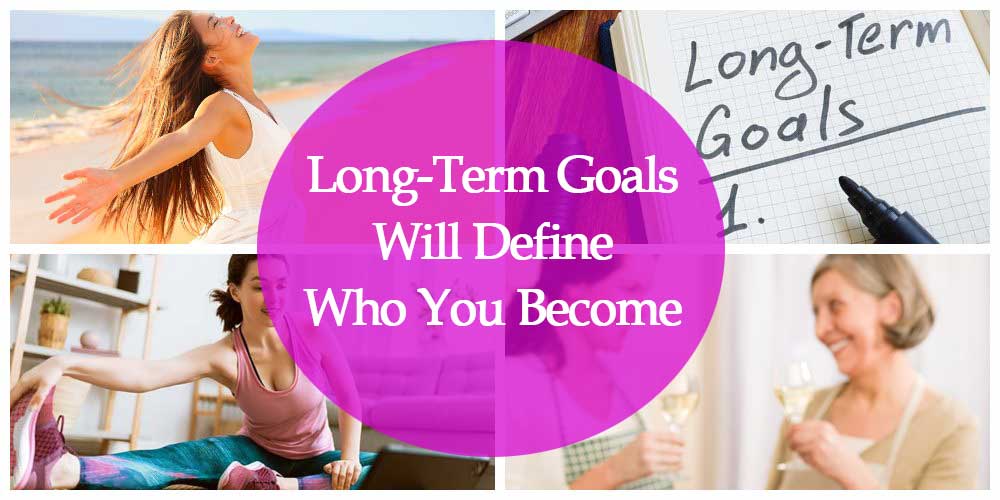 Most people setting personal life goals think about what they can accomplish in the next few weeks or months. In my earlier posts, I have outlined why it is important to think about short-term, medium-term and long-term goals. In this post, we will dive deep into long-term goals and provide plenty of long-term goal examples that you can get inspiration from.
What are long-term goals?
Most people think about setting new life goals such as finding a date, losing weight, exercising more, finding a new hobby or finding a new job, which are generally goals that you can achieve in less than a year. However, important goals take longer than a year to accomplish. Long term goals help you achieve important milestones in your life for the next 1 to 10+ years.
"Long-Term Goals Will Define Who You Become. They Will Define Your Success in Life"
Why should you be thinking about long-term goals?
Setting long-term goals is important because it gives you long-term vision and helps make sure you live your life on purpose. You want to make sure that your career, your personal life and your family life are all heading in a direction that will make you and your loved ones happy for the long-term.
It also takes hard work and planning to make big dreams a reality. You don't want to be sitting around wishing something good would happen to you when you could be making sure that it does.
For example, a career change will require you to take on new training, get a new education, or network with new people. Having long-term goals will ensure you take the right short-term actions to deliver on that long-term promise. You need to be thinking pretty far in advance to make that happen successfully.
"Set Short-Term Goals and You Will Win Games. Set Long-Term Goals and You Will Win Championships"

30 examples of long-term goals
I've provided below a list of examples of long-term goals, organized by category.
Examples of long-term career goals:
Finish a degree
Change career to find a more fulfilling purpose
Find a career you love [insert career of your dreams here!]. For example:

Work in a role that requires a lot of creativity
Become a team leader
Work outdoors
etc

Get a promotion to the next level (for instance, become a team manager)
Start a new business
Increase your salary
Mentor a friend to guide their next career decisions
Examples of long-term family goals
Find a life partner
Start a family
Decide the perfect size for your family
Organize an annual family tradition/reunion
Organize a celebration for your parents or siblings
Plan to visit 3-5-7 places on your family bucket list
Examples of long-term personal life goals:
Move to the city of your dreams
Move close to your family or friends
Be able to purchase a primary home by a lake/city center, etc
Be able to purchase a vacation home
Learn a new hobby that requires a long-term commitment (playing the piano, running for a half-marathon, etc).
Take a vacation in Paris [insert city of your dreams for a vacation]
Write a book / song / start a blog / teach a class [insert a creative achievement here]
Become a black belt in Judo! [insert your favorite sports achievement here]
Example of long-term financial goals:
Pay off debt
Increase your credit score
Purchase a house / pay off your mortgage
Invest in the stock market
Invest in real estate (income generating property)
Retire early by age 50-60
Build a retirement nest egg
Save for children to go to college
How do you come up with the right long-term goals?
Reviewing the examples of long-term goals above is a good start. You can also ask yourself:
"What do I want my life to look like in 5 or 10 years?"
By thinking about your future and what you want to accomplish in the next "however many" years, you can create goals that will get you there. Do you want to have the exact same job, house, debt, fitness level, or skills that you have now? If not, then you can set goals for how you would like to grow and change through the years.
How to achieve your long-term goals
1. Writing down your long-term goals is key to success
To get the right goals, it is important to WRITE THEM DOWN! Most people (including me!) prefer to day dream. However, research shows consistently that writing your goals down significantly increases your chances of achieving them. For example, a study on fitness by the Journal of Health Psychology examined how concrete plans would change exercise participation (2). The participation rate of people who did not write down a specific plan was only 30% but it increased dramatically to 90% for people who had written down their plan (Learn more).
This is because writing down your goals forces you to really think about your goals in depth and set an objective (not just day-dream about it).
2. Make sure your long-term goals are S.M.A.R.T
Have you heard of S.M.A.R.T. goals? S.M.A.R.T. helps guide your goal setting exercise and is pretty much the uniformally accepted best practise for setting goals – in business and life. People sometimes roll their eyes at SMART goals but it really works!
Setting goals that are Specific (S), Measurable (M), Achievable (A), Realistic (R) and Timely (T) will help make sure that you know exactly what to deliver and when to deliver it. It's a great formula to build accountability.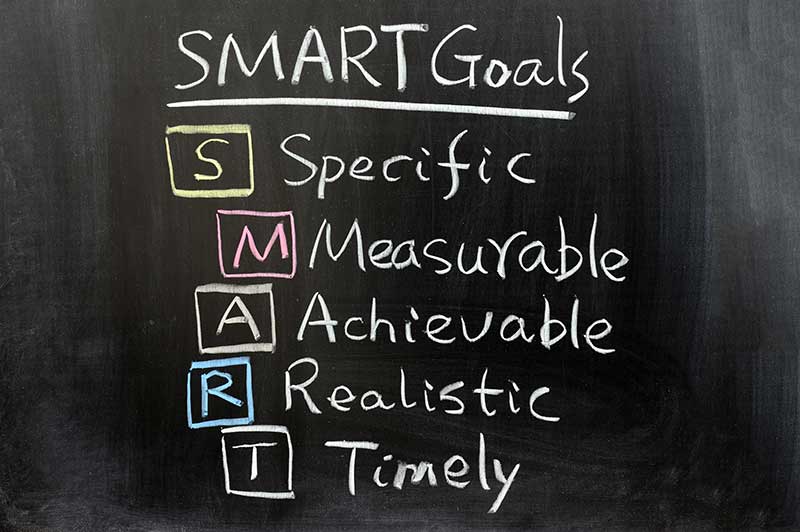 3. Create a series of milestones. This will give you a plan.
"You have to believe in your long-term plan but you need the short-term goals to motivate and inspire you"
Roger Federer
Once you have written down your long-term goals, create a series of short-term milestones that will lead to you to achieve these goals. These milestones should take a few weeks or a few months at a time. Successfully completing the milestones should lead you to successfully complete your long-term goals.

⇒What short, mid, and long term goals do you have? How are you working to achieve those goals?
Learn how to set the right goals to live a life on purpose.
Related posts:
Dive deeper into medium-term goals.