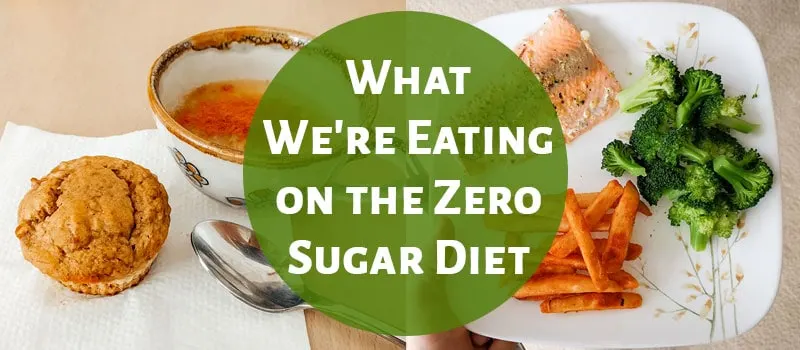 Over the last year, I've been making big efforts to consume less sugar.
My efforts got a bit more drastic in March when I read The Zero Sugar Diet by David Zinczenko. It's an awesome book. Seriously, go read it.
I don't ever go on diets. Despite the title, The Zero Sugar Diet is actually more about a healthy eating plan that you can follow for life. We've been following the rules (with occasional exceptions) for a few weeks now without any plans of stopping.
The Zero Sugar Diet
What Are The Rules?
There are two basic rules for the zero sugar diet:
Eat minimally processed foods that don't have added sugar.
If a food does have added sugar, it must have at least as much fiber as well.
It's all about added sugar, so fruit and milk are fine because those contain natural sugar.
No artificial sweeteners are allowed. The book does a lot of explaining on why you should stay away from these.
I highly recommend you read the whole book to understand all of the details (buy it here). There are a ton of helpful food lists and ideas of what to order at restaurants. Plus, Zinczenko explains tons of research results in an easy to understand way.
I love how simple the rules are. The tricky part is that there is added sugar in sooo many foods that you would not expect!
We've found added sugar in:
Almost all condiments: ketchup, BBQ sauce, salad dressing…
Spaghetti sauce
Yogurt
"Healthy" cereals
Restaurant Salads
Brats
Basically, we eat a ton of sugar without realizing it even if we're not eating donuts and cake. It's really eye-opening when you start looking at nutrition labels on absolutely everything.
In the US, it is required that by July 2018, nutrition labels have an extra line under sugar content that shows how much added sugar is in the food. A lot of foods are ahead of the game and already show this, which makes it much easier to see if a food follows the rules. I can see if something has had sugar added to it or if the sugar content is naturally occurring. (more info on that here)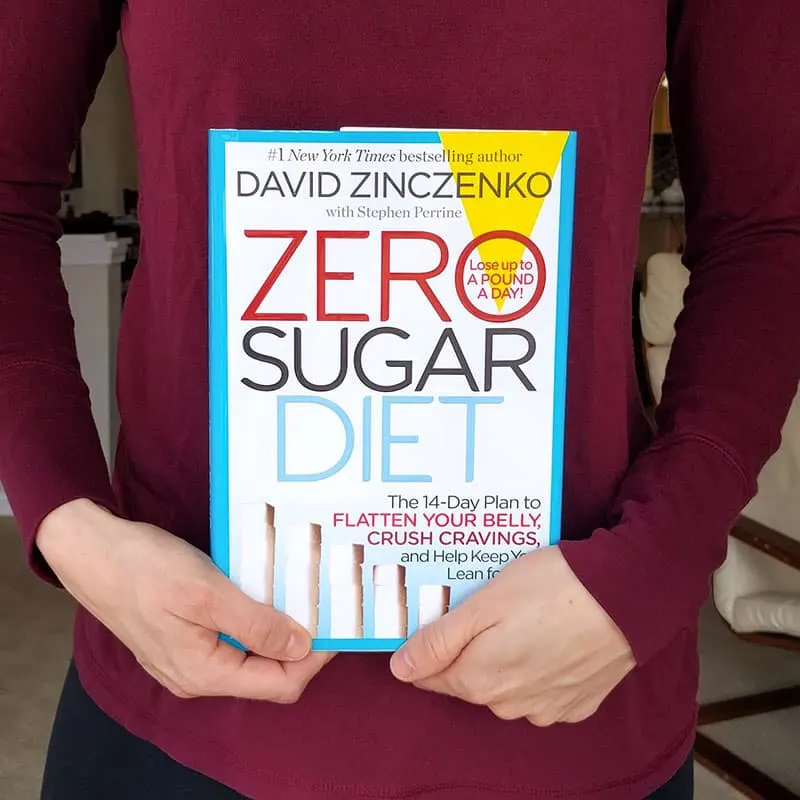 Our Results
As someone with a major sweet tooth, I thought this would be really hard. It wasn't!
I'm not tracking calories or worrying about how much I eat with this plan. I'm at a healthy weight, but I did still lose a pound and my belly is a lot flatter. I haven't had crazy cravings, I think because all of the fiber keeps me full.
When I do eat something sugary, I notice that I don't feel very good afterwards. I get tired and my belly gets painfully bloated, which I guess used to just be normal.
The most important change for me is that I've had decreased inflammation in my body. I have a bulging disc that we were about to have to meet with a surgeon about. I was in a ton of pain in December and January. I have had very little pain since cutting out most sugar and I am not meeting with specialists anymore!!!
The difference is pretty crazy. If I eat some super sugar-y foods (which I still do about once a week), I can feel my disc pain flaring up — it's that instantaneous and noticeable!
Austin has been feeling great with this eating plan. He usually gets shaky if he doesn't eat consistently and has crazy blood sugar fluctuations. This is almost completely gone for him! It's an exciting improvement.
What Are We Eating With a Zero Sugar Diet?
I know, most diets tell you what you can't eat and then you wonder what you can eat!
Oddly enough, we haven't changed what we eat drastically. We've made adjustments. If you check the nutrition labels, you can find cereal, yogurt, condiments, and bread that comply with the rules.
It took us a little longer to grocery shop the first week we tried to stick to the plan because we had to look at the nutrition labels on everything. We're getting the hang of what works and what doesn't now though.
What's really helpful is that the back of the book has a huge section where it tells you what brands and specific foods you can get at the grocery store that have no added sugar, or at least equal fiber. There is also a guide that helps you choose what you eat at certain restaurants so that you know what to get when you're out to eat. (I'm glad I bought this book instead of rented it, because I keep referring back to it for these helpful sections.)
So what are we eating? Austin and I both don't mind eating the same thing over and over again, so there's not a ton of variety.
Breakfasts
Coffee
Scrambled Eggs
Whole Grain Mini Bagel (or bread or english muffin) with Butter or Cream Cheese
Breakfast was the biggest change for me. I had to give up my favorite cereal and the cream in my coffee! Now I add whole milk to my coffee and sometimes a few drops of vanilla extract. I love eggs and toast, so that wasn't too hard.
You have to do some searching to find cream cheese without added sugar by the way. Some varieties add it, some don't.
Weekday Lunches
Christine:
Each week, I make a batch of Greek Turkey Burgers that last me most of the week. Austin doesn't like them so they're the perfect lunch for me! I leave out the sun dried tomatoes and used whatever shredded cheese I have instead of feta. I put them on half of a ciabatta bun (no sugar in these!) with the sauce. So good!
Austin:
Chopped Raw Veggies
Hard Boiled Eggs
Leftover Chicken
Multigrain Tortilla Chips with Guacamole
Sparkling Water (Aldi's version of La Croix)
A Banana or Orange
Nuts
Austin takes a few of the options listed above for lunch at work each day — whatever we have on hand.
Dinners
Main Courses:
Salmon Filets or Salmon Burgers
Grilled Chicken
Baked Chicken Tenders (from the freezer section – a total convenience meal)
Quesedillas
Chicken Wraps
Homemade Pizza (I will never stop eating pizza!)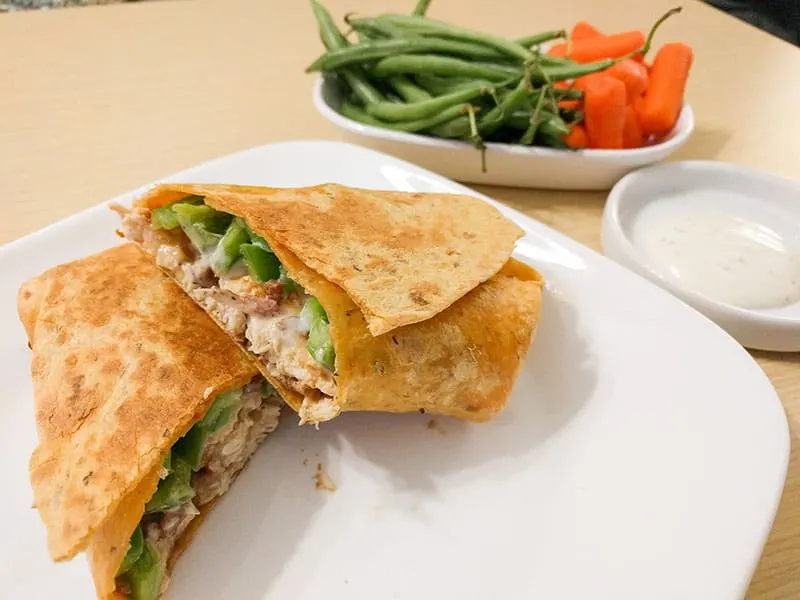 Sides:
Steamed Veggies (lots of them!)
Raw Veggies
Raw Fruit
Baked Fries
Garlic Bread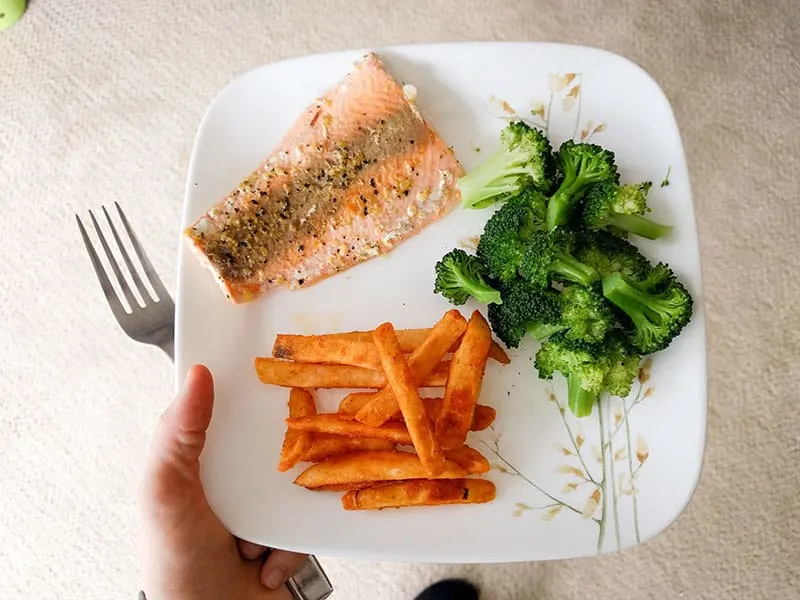 I try to make sure we eat a lot veggies at dinner. I'm a big fan of microwaving frozen veggies because it's so easy. We also eat them raw or I'll steam raw broccoli.
The baked fries technically don't have sugar, though they're quite processed so we don't have them super often and I watch the serving size.
For garlic bread, I've found ciabatta and sourdough breads that don't have added sugar.
Condiments:
Mustard: Yellow or Dijon
Homemade Ranch Dressing
Olive Oil
Balsamic Vinegar
Real Mayonaise
As I mentioned before, most condiments and salad dressing have a lot of added sugar. I've been making my own ranch dressing with a bit of seasoning, mayo, sour cream, and balsamic vinegar. Plus, we've been dipping fries and chicken in mustard. It's just a small change and we got used to it quickly.
Snacks
Hard Boiled Eggs
Applesauce
Bananas
Banana Muffins (I leave out the honey in this recipe)
String Cheese
Popcorn (made on the stove and topped with a little butter and salt)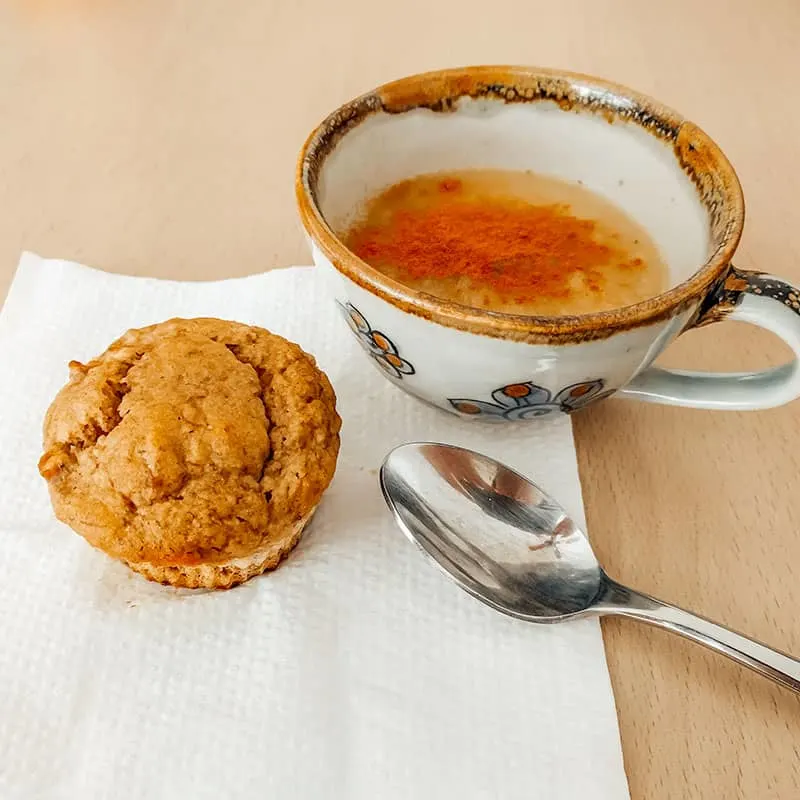 Desserts
If you buy really dark chocolate, it actually has equal or more fiber than sugar! We're talking the 85% dark chocolate. It tasted a bit bitter to me at first because I was used to regular dark chocolate, but now I love it! I eat a little chocolate after lunch and after dinner everyday.
Avoid these sneaky foods high in sugar
According to the US Department of Health and Human Services, the average American takes about 17 teaspoons or 71.14 grams of added sugar each day. This amounts to 57 pounds of added sugar a year. 57 POUNDS. That's some insanely unhealthy amount.
Even the foods that we think are light or low fat have added sugar in them. I have now made it a rule to avoid these sneaky foods high in sugar:
Ketchup
BBQ Sauce
Salad dressing
Pasta Sauce
Yogurt
Raisin Bran Cereal
Honey Bunches of Oats Cereal
Granola or Protein Bars
Oatmeal
Jam
Almond Milk
Tomato Soup
White Bread
Crackers
Canned Tea
Canned Fruits
Spaghetti Sauce
Flavored Coffee
Code names for sugar
Just because a food product is labeled 'natural' or 'healthy', does not mean it won't have added sugars. Manufacturers sometimes also try to be extra sneaky and use different words for sugar on ingredient labels. Although FDA does require labels to display sugar content, I like to be 100% sure.
Here are some common alternative words used for sugar:
Fructose
Glucose
Lactose
Maltose
Sucrose
Ethyl maltol
Agave Nectar
Syrup (maple, rice, corn, malt, golden, buttered syrups)
Caramel
Cane Juice
Fruit Concentrate
Panela sugar
Dextrin or Maltodextrin
Sucanat
Molasses
Tips to get started with Zero Sugar Diet
A zero sugar diet is basically a well-balanced diet containing limited or no added sugars, proteins, healthy fats and a whole lot of fiber. If starting the zero sugar diet feels overwhelming or confusing to you, here are a few handy tips.
Start gradually. First few weeks of limited sugar instead of no sugar
Limit sugary foods in breakfast
Cut back on desserts and sugary snacks (pastries, cookies, cake)
Start reading food labels (and lookout for codenames of sugar)
Avoided sauces (did you know 1TBS of ketchup has 1TSP of sugar, 29% sugar)
Eat full-fat foods
Eat whole foods
Eat more protein
Go for the unsweetened version
Avoid artificial sweeteners
Foods with zero (or low) sugar
Lean meat (turkey, chicken, lean beef, roast pork)
Avocado
Eggplant
Green beans
Kelp noodles
Kale
Celery
Broccoli
Bell pepper
Cucumber
Asparagus
Tomato
Mustard
Zucchini noodles
Mushrooms
Spinach
I love how simple The Zero Sugar Diet plan is. More than that, I love how I feel when I'm not eating added sugars! We plan to continue to eat this way for a long time to come because of it.
You Might Like These Posts Too:
6 Ways to Use Meal Planning to Eat Healthy
9 Reasons Your Grocery Bill is Too High + How to Fix It
24 Healthy Foods Under $1 Per Serving
The Ultimate Guide: How to Eat Healthy on a Budget
⇒ Have you read The Zero Sugar Diet? Do you follow a different kind of eating plan? I'd love to read about it in the comments!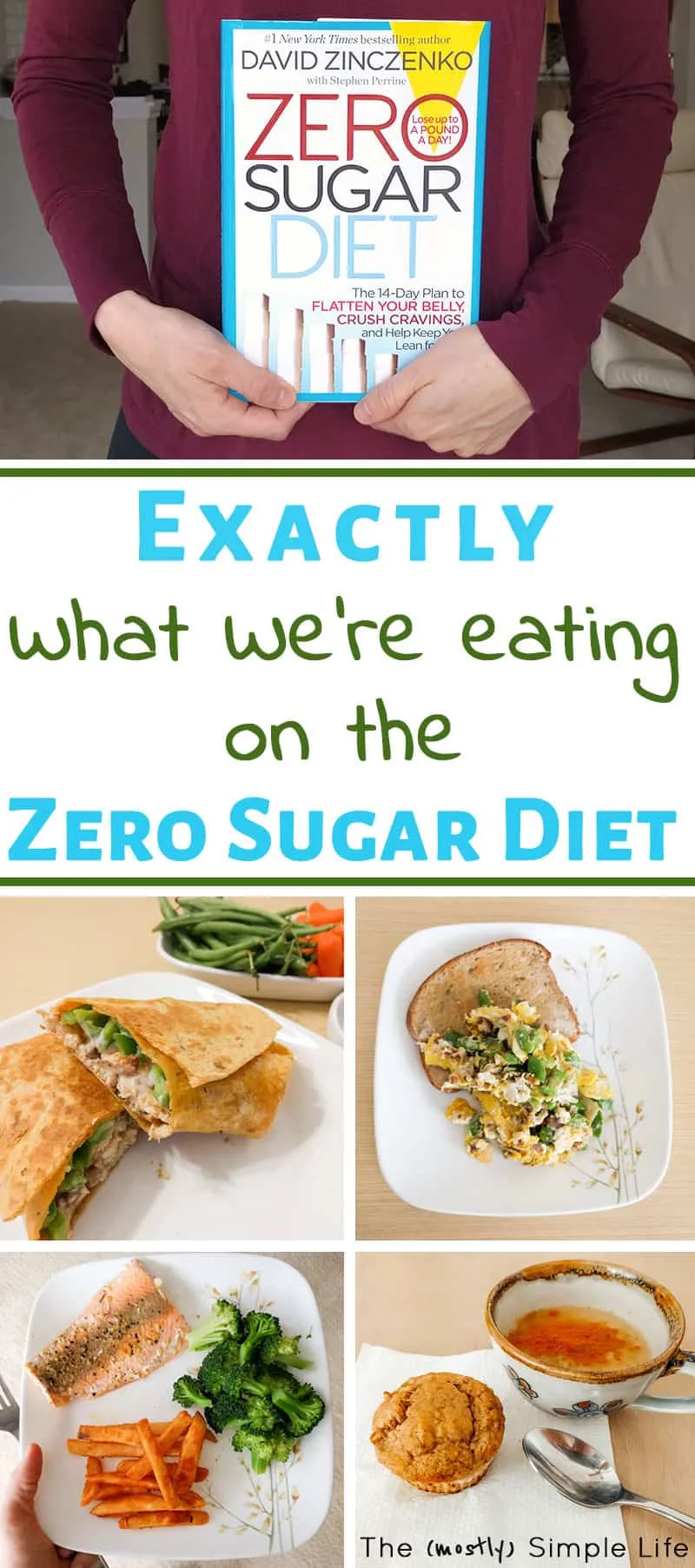 If you find this page helpful, please pin or share it :)