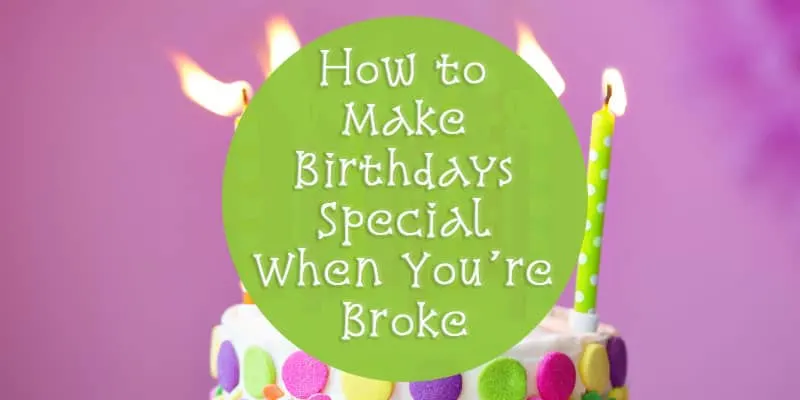 Birthdays are kind of a big deal at our house. Austin's birthday was a few weeks ago and it basically turned into a whole weekend of birthday celebrations!
Birthdays can be a very expensive event but they usually aren't with us.
The end goal is to make the birthday boy or girl feel extra loved and special. If you get a little creative, it doesn't have to cost a lot!
Here's what we're going to cover:
Free or Cheap Birthday Decorations ($11 or Less)
We decorate for birthdays whether there's going to be a birthday party at our house or not. Decorating is so inexpensive and easy. Plus, it's a fun way to make a birthday visually more exciting than a normal day.
A lot of times, if it's Austin's birthday, I'll stay up late for a few minutes the night before his birthday to decorate so that he gets to wake up to fun decorations! He does the same for my birthday.
Decorations can be very inexpensive. The dollar store is the best place to find supplies.
We usually buy a few colors of streamers to hang, twist, and drape all over. The big rolls last for multiple birthdays. You can also buy a Happy Birthday sign from the dollar store that can be reused. And don't forget a pack of balloons.
You can get a big set of birthday decorations on Amazon without spending much. This set looks great!
To spend even less, you can use craft supplies already on hand. It can be as simple as making signs with markers and printer paper. One year, I even made a Happy Birthday sign from a pile of paper plates (one letter on each plate) and stuck them to the wall.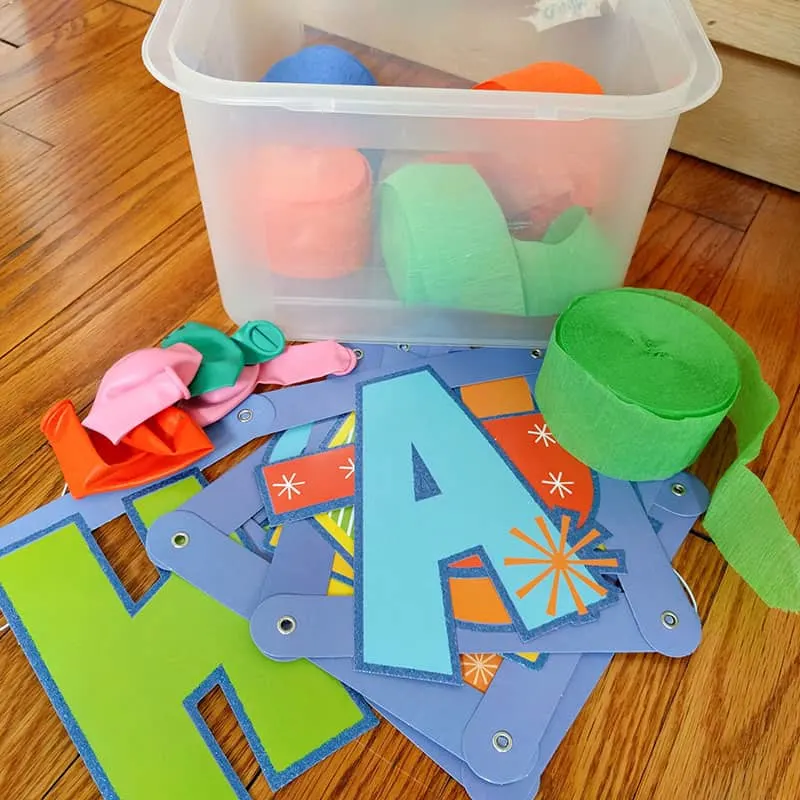 Cheap Birthday Food
Instead of going out to eat for a birthday, it's much less expensive to make a meal at home. To make it extra special, let the birthday boy or girl pick their favorite meal.
If you're having a birthday party, here are some easy and inexpensive foods to serve for a crowd:
Baked Sandwiches: I love this recipe and it can be made ahead of time
Grilled Brats or Hotdogs
Lasagna: This can be made the day before and put in the oven before people come over (my cheater lasagna is even easier)
So, you need cake, right? Or at least a birthday dessert. It's super cheap to make your own cake and you don't have to be a fabulous baker.
Make a Boxed Cake Mix Fancy:
Just a simple boxed cake mix looks great if you bake it as a layer cake. I've also discovered a delicious secret.
You can adjust the basic boxed cake mix recipe to make it even better. Here's how:
However many eggs the recipe calls for – add one extra
Replace the water with the same measurement of milk
Replace the oil with the same measurement of melted butter
These three adjustments make a boxed cake mix more moist and rich, like a cake made from scratch or bought from a bakery.
Again, a homemade cake can be even more special if you let the birthday person pick what kind of cake they want.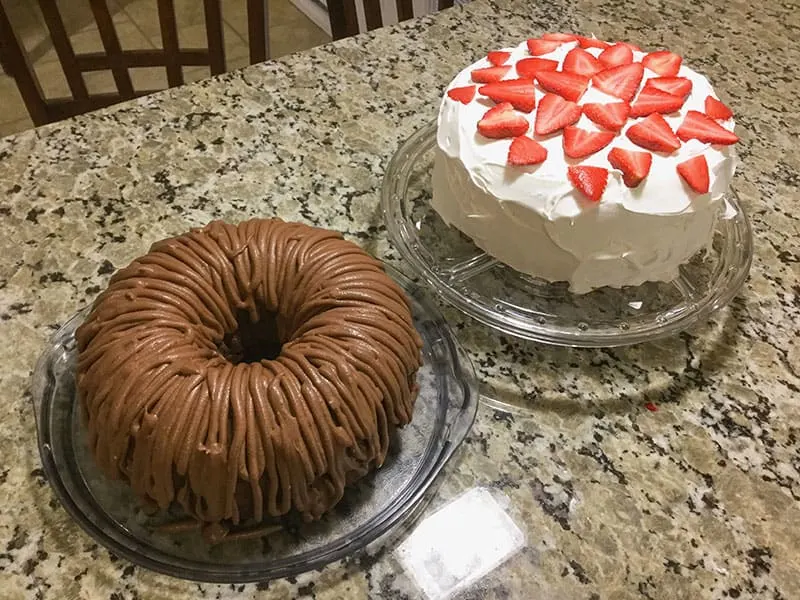 Inexpensive (Almost Free) Birthday Party Activities
Birthday activities don't have to be expensive or over-the-top.
Here are some of the free or cheap activities we've done for our birthdays or family birthdays:
Play Board Games
Beach Day
Scavenger Hunt
Play Charades
"Just Dance" Party
Play Video Games
Go Kayaking (if you or a friend has a boat)
Play Yard Games or Camp Out in the backyard
Do a Craft (I taught everyone how to make candles for a party once)
Pool Party (if you or a close relative has a pool)
Three-legged race
Charades
Tug of War
Arts and Crafts
It usually works best to keep birthday activities simple. Just make sure that the activities focus around the birthday boy or girl and what they like to do.
Cheap Birthday Present Ideas
Of course, gifts are where birthdays can get pricey. If you've previously spent a chunk on gifts, you might think about telling the birthday person that you're doing things differently this time.
If you don't have much to spend on a birthday gift, don't skimp on the card. You can create a homemade card for free. Write a long heartfelt note in the birthday card. Kind words mean so much and most people don't take the time to write a great note.
Gifts don't have to break the bank! I've already written a list of gifts that are $15 and under, so be sure to check that out.
Here's a quick list of inexpensive gift ideas:
A treat, like fancy tea, coffee, beer, or chocolate
Print and frame a favorite photo of you with them
A flowering plant that they can enjoy for years
Gift card to an ice cream or coffee shop
Supplies to do a craft or project
Homemade cake mix with a cupcake decorating kit and candles
Print out favorite photos of them and make a collage / photo collage of the year for them to hang up at home
Kids: A sticker activity book or brain quest (we got these for a niece and nephew recently and they loved them)
Also check out my top Gift Ideas Under $10 That People Will Love!
16 FREE birthday gifts ideas for kids
Homemade playdough or slime
Movie night with the movie and snacks of their choice
Game night with board/video games of their choice
Cook their favorite meal
Re-purpose a dress or re-gift
Make a new pillow case or blanket (with their name on it!)
Make bath bombs or bath salt with their favorite scent
Take them to the park to play special games, have a picnic or swim (and bring a frisbee)
Visit a free local attraction that's fun for kids (beach, free outdoor concert, etc – Google "free events near me" for ideas).
Create a fun figure out of cardboards
Fun socks or hosiery
Have a hot dog party with special toppings / make a homemade pizza with their favorite toppings
Make them breakfast for dinner (with pancakes, strawberries and whipped cream?)
Get your kids to write, illustrate or create a story together then publish it
Fill their pillow case with "treasures" you collect from around the house… stickers, buttons, string, ribbon, paperclips, rubber bands etc…
Fun free activities with stuff you already have in the house but haven't used in a while. For example, write special messages on balloons and let them go out the window of your house
Read more at: Cheap Gifts for Kids: Fun & Unique Ideas.
Another good way to get a great gift is to go in together with a few other people so that you can afford a nicer gift, so don't forget about that option.
6 Easy Tips to Celebrate Birthdays on a Budget
Set a baseline budget and stick to it

Cook your own food

Go with snacks instead of a meal

Keep the guest list short

Stick with the BYO drinks mantra

Use a free venue or celebrate at home
---
You can absolutely make someone feel extra loved and special for their birthday without spending a fortune.
Inexpensive decorations, homemade favorite foods, fun activities, and a thoughtful gift can all add to a fun birthday celebration!
Don't Miss These Posts:
⇒ How do you make birthdays special at your house? What is one of your favorite birthday memories?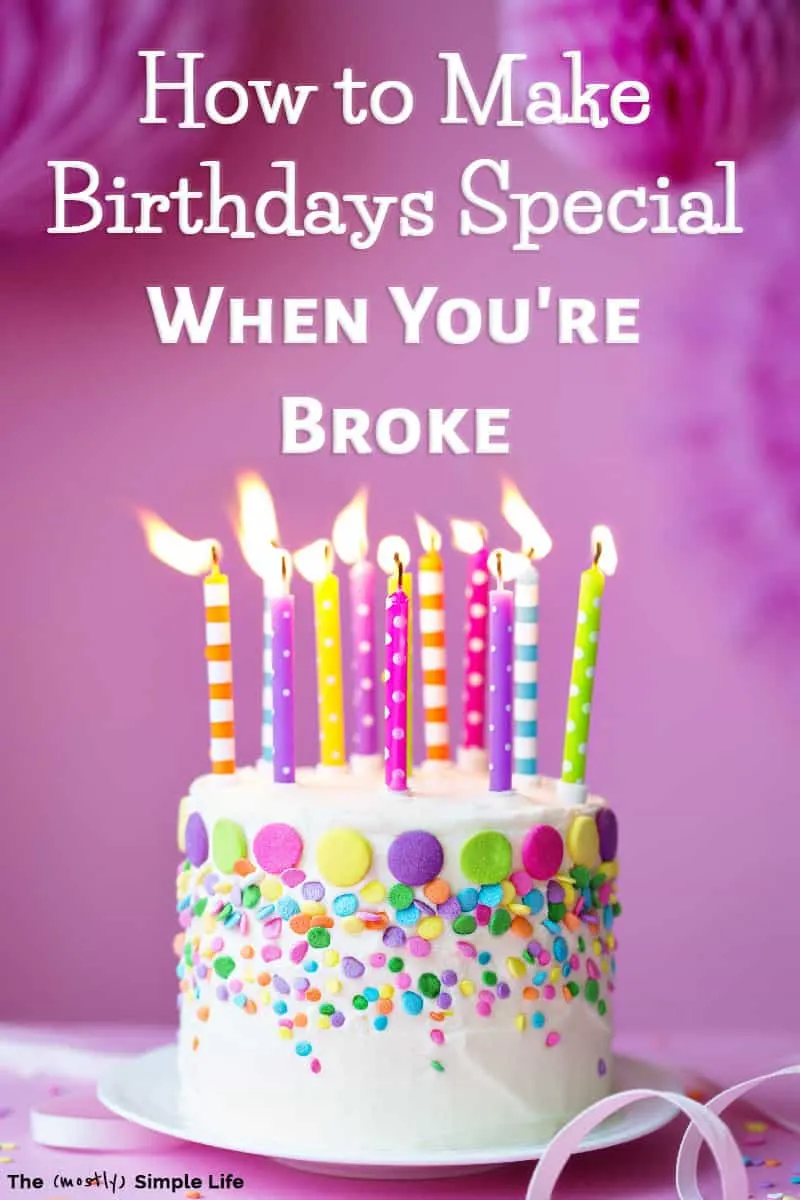 If you find this page helpful, please pin or share it :)