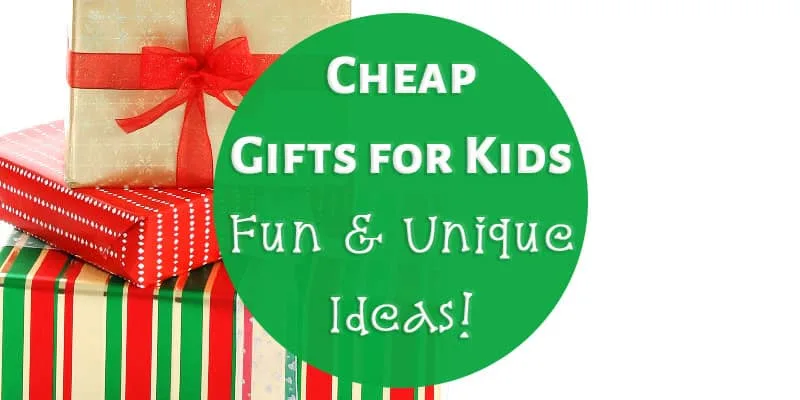 Kids are so much fun to buy gifts for! My problem is always narrowing down my ideas because there are so many things that kids find fun and exciting!
The really great news is that you don't have to spend a ton of money. It's not too hard to find cheap gifts for kids that they'll love!
Whether you're shopping for Christmas gifts, stocking stuffers, or something little to give for Valentine's Day, Halloween, or Easter, or maybe you've got a lot of little kid birthday parties to attend… Whatever the reason, there are plenty of options.
Most of the ideas in this post are under $10. I think the little people in your life will love opening these presents!
Need More Great Gift Ideas? Take a Look at These Posts:
Cheap Gifts for Kids: Over 20 Unique Ideas
Slime Kit: Slime making has been so trendy in kid-world! You can buy cheap kits or just pick up all of the supplies.
Glass Prism Suncatchers: If you hang these on a window, rainbows shine everywhere in the room when the sun hits it!
Watercolor Pencils: These are a whole lot of fun to use. The little artist in your life will think they're amazing.
Glow in the Dark Crystal Experiment Kit: Such a fun activity!
Lip Balm: When my niece was a toddler, she considered chapstick to be makeup, which made it very exciting.
Sticky Notes and Other Office Supplies: There's something exciting to kids about adult stuff like office supplies! Get them their own set of supplies. (Bonus: sticky notes are much easier to remove than stickers)
Short Handle Tools: Instead of buying toy tools, get the real thing (with discretion, of course 🙂 ). Short handle tools are perfect for little hands.
Harmonica: Encourage some musicality for your favorite little one!
Building Kit: You get 500 pieces with this kit and it has great reviews.
Headphones: For when you don't want to listen to your child's favorite songs or shows anymore 🙂
Water Beads Set: I've heard a few people recommend water beads and they look like a lot of fun to play with.
Hidden Pictures Books: We purchased these for nephew's birthday!
Rock Painting Kit: I would have loved this as a kid.
Blank Comic Book: Kids can create their own comic book with this special blank book.
Doctor's Kit: Doesn't every kid need one of these??
Toy Story Matching Game: I was a big fan of matching games as a kid… and I'm still really good at them! 🙂
Wooden Teris Puzzle: This will get the brain working. Great price and great reviews too.
Splash Pad: I had no idea that you could have a splash pad at home for so cheap!
Magic 8 Ball: If you want to give a classic gift, this is the one.
Stretchy Fidget Toys: Ok, I don't really know what these are, but I bet they'd be fun to play with.
Learn to Draw Book: Encourage artistic ability!
Emoji Bracelet Kit: Enough beads to make five emoji bracelets.
Jenga: A classic, exciting family game.
---
Are you Looking for a Gift for a Child with Special Needs?
Lisa from ADayInOurShoes.com asked her son's Board Certified Behavior Analyst for the best toys for kids with special needs such as autism, intellectual disabilities and developmental delays. See blog post below for her recommendations:
Final Words
Cheap gifts for kids are not too hard to find! Toys, activities, books, and even grown-up stuff can all make great gifts that kids will love using.
Do you have any ideas to add to the list? Leave a comment and let me know.