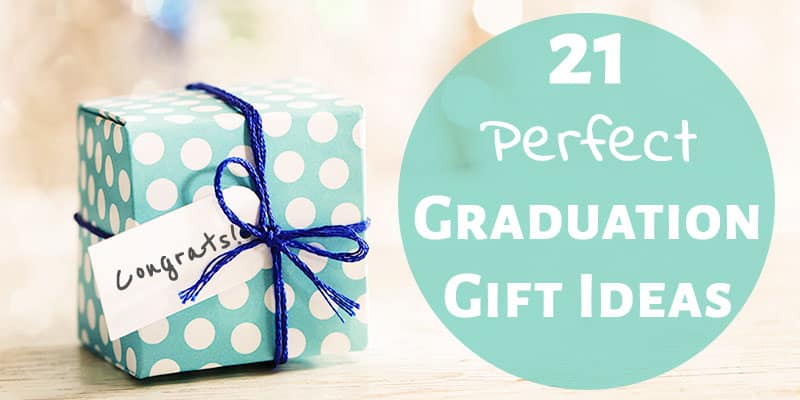 Finally reaching graduation is a crazy-big deal to every high school senior.
I remember that excited, hopeful, "I'm finally a grown-up and the world is my oyster" feeling even though it was — errr, a while ago. How can it possibly be so long ago!?
Anywho. I love coming up with gift ideas that are thoughtful, fun, and useful, so I rounded up a list of ideas that I think any high school graduate would love. Most of them are very affordable as well.
21 High School Graduation Gift Ideas
Making New Friends & Memories
If your high school grad is going off to college, they'll have plenty of opportunities to make new friends and make amazing college memories. Help them break the ice and capture those memories with these super fun items.
1. An Instant Camera. With everything digital these days, people hardly ever print photos. The new instant cameras are like the old Polaroids — instant pictures that you can enjoy. Add in these wall mount clips so that they can decorate their dorm room with photos of their new college friends.

2. Exploding Kittens Card Game. We got this game for my mother-in-law for her birthday and all died laughing playing it. It'd be perfect for getting to know new people in between studying.

3. What Do You Meme Game. This is another funny party game that would definitely break the ice when you're trying to meet new people. Games are also a fun gift for someone leaving home because they probably don't have their own. Up until now it's all been family stuff, and it's kind of exciting to have your own board games or card games for the first time.

Need to Know
Yes, when you graduate high school you think you know everything. (Ahhh, the confidence and fearlessness of youth 🙂 ) However, these books might come in handy!
4. 1001 Things Every College Student Needs to Know: Like Buying Your Books Before Exams Start. Great bits of practical advice!

5. Side Hustle: From Idea to Income in 72 Days. If you don't want to be a broke college student, making money is important. Learning to start your own side hustle would be the perfect way to spend the summer building up a business you can do through college. I'm not sure if blogging existed when I was in college. It certainly wasn't on my radar, but it would have been an awesome way to make money through school!

6. The Total Money Makeover. Ok, this one isn't super fun, but a great deal of costly money mistakes are made in college: tens of thousands of dollars in student loans, first credit cards, etc. Every high school grad should have solid financial knowledge.

7. Whatever You Are, Be a Good One: 100 Inspirational Quotes. This book is so darn cute and everyone can use an inspirational quote here and there.

8. How to Boil Water. If your high school grad is moving out on their own, they might need some basic cooking help. This book has a whole bunch of basic recipes with hundreds of tips.

9. 150 Things You Need to Know Now That You're a Grownup. This book has great reviews and contains advice covering all aspects of life.

Dorm Room Must-Haves
If your high school graduate is moving into a dorm, be sure they're stocked up with the right stuff!
10. Organizers. Every college dorm room I've ever seen is seriously lacking on storage space. Go for over the door, hanging closet shelves, and hanging closet pockets to make the most of the space.

11. Bath Robe. I actually still use the same bath robe that my mom bought for me when I moved into a dorm room. Walks to the bathroom and lots of people around all the time means it got a lot of use through college! My favorites are the waffle weave kind.

12. Shower Caddy. I also remembering having to lug all of my shower supplies to the bathroom down the hall. A shower caddy is a must have. Look for one that's collapsible, has drain holes, and is durable!

13. Outlet Expander. With all of the tech that needs charging, there are never enough plugs in a dorm room. It's a very practical gift (aka, not that glamorous) but it will get constant use.

14. Laundry Hamper. I have distinct memories of hauling my laundry all over the place in college. A good, extra durable, laundry hamper is a must. I also like ones that are tall and skinny so they take up less floor space. It's good if it stands up on it's own too. The bag ones make a mess of all of your folded clothes.

Grown-Up Gear
15. Portable French Press Coffee Maker. Fresh brewed coffee on the go.

16. 2020-2021 Academic Year Planner. Sometimes it's nice to keep track of things "non-digitally". A day planner is a great gift.

17. Snazzy Laptop Backpack. I'm in love with the stylish backpacks around these days. It would be such a nice upgrade for a new college student.

18. Wireless Earbuds. These are nice and small and would be perfect for listening to lectures or music on walks to class. You could also go for a portable speaker so they can be the life of the party.
19. College Gear. If your high school grad knows where they're heading for school, a college T-shirt or sweatshirt would make a great gift.

20. Water Bottle. Every college student I see is carrying a water bottle. Hydration is important when you're walking all over campus to get to class.

21. eReader. You can get a lot of textbooks digitally these day! With the Kindle Paperwhite that I have, you can search books to find the terms you're looking for. Plus, you can make highlights and notes and then it will email those highlighted passages and notes to you. Considering the weight of textbooks I dragged around through college, it would have been amazing to have an ereader!
⇒ Do you know some students graduating this year? What are some other great high school graduation gift ideas? Leave a comment and let me know!
You Might Like These Posts Too:
6 Ways to Make Gifts More Meaningful
Paying Cash for College as an Adult (It Can Be Done!)
5 Steps to Creating the Life You Want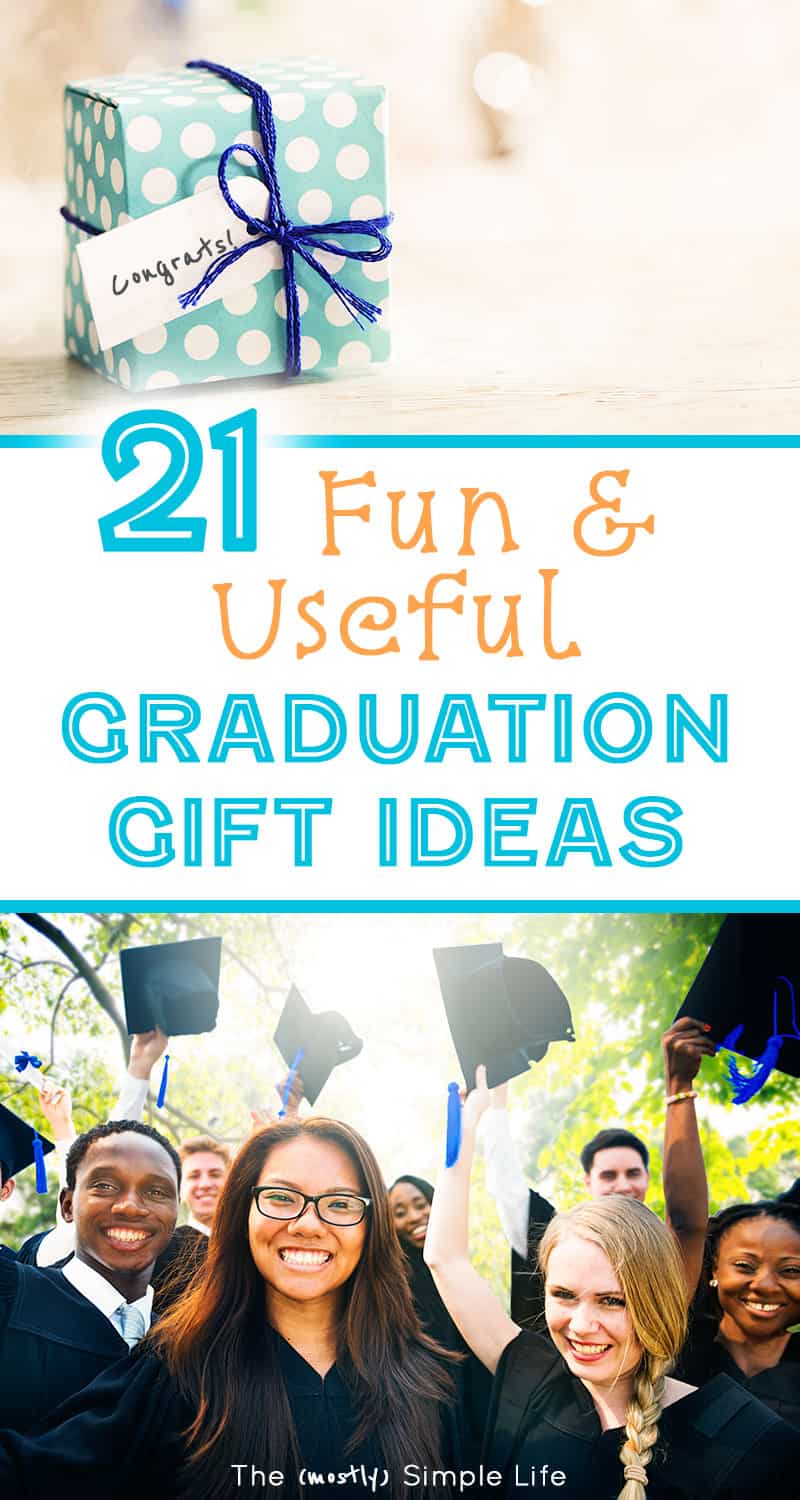 If you find this page helpful, please pin or share it :)