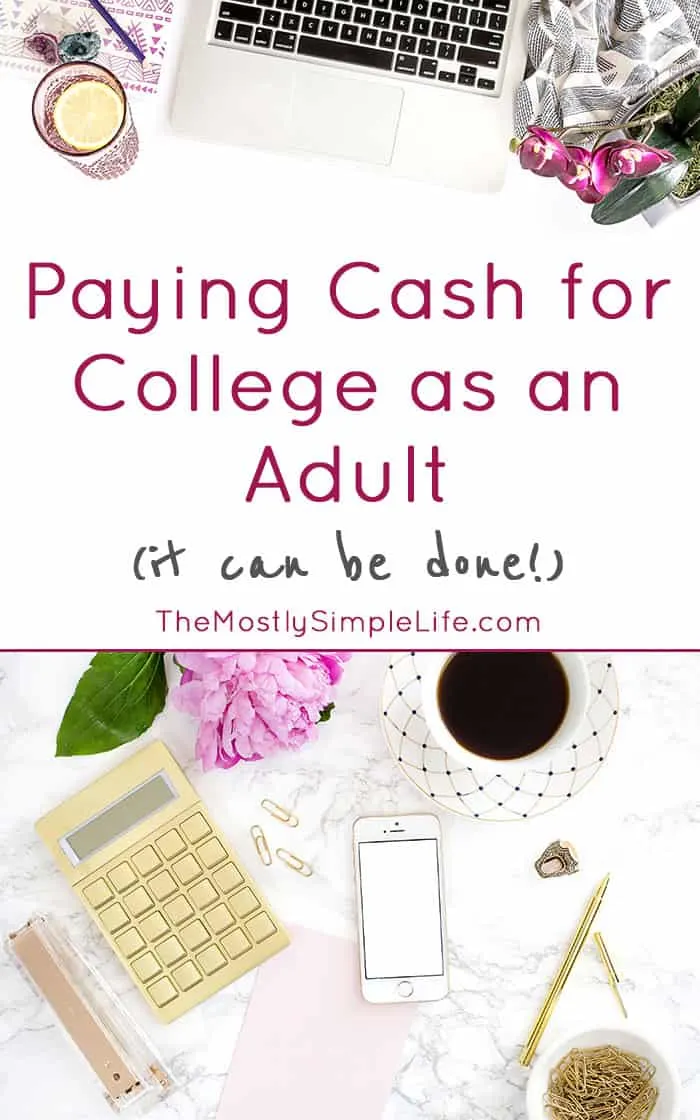 Austin graduated from college two months ago and we paid CASH!
That's right, we made it through his degree without taking out any student loans.
We honestly never really considered taking out a loan. We decided that we would find a way to pay cash or else it wouldn't happen.
In case you're new around here, I don't want you to think that we have a super high income that made all of this easy. I got all teary-eyed when his diploma came in the mail because it has been such a long, hard journey for us to make this happen.
We have lived on $1500 per month or less for our whole marriage. There have been times that we made more than that, which is when we were able to save money to pay for tuition.
People often refer to college loans as "good debt" because a college degree can help you get a better job and have a better future. But here's the thing: Debt is still debt. Having to make payments can severely limit your options in the future, even if there is a good reason for those payments.
Some people have such huge student loan debt that their great income hardly matters because most of it goes to making payments. We didn't want that.
Anyways, here's how we paid for a college degree in cash!
Paying Cash for College as an Adult
Be Smart About Choosing Your Degree
I went to college right after high school, changed majors no less than three times, took enough classes to get a bachelors degree, and ended up with an associate of arts (the least practical degree ever).
I was young and hardly had any bills to pay. I had no idea what adult life would be like. I wish I had done things differently.
We spent a lot of time researching degrees before Austin started classes. We wanted to make sure that if we were going to spend the time, money, and energy towards a college degree that it would for sure get him a good job that he wanted.
We researched growing job markets and average incomes while taking into account what Austin was interested in. We even looked at current job listings online to see what kind of experience and education employers were looking for.
We also took into account what kind of degree he would need to get a job.
Austin wanted to go into software development, but we realized that most software development jobs required a bachelor's degree (which = more time and money). We switched gears to web development, which is still programming, but of a different kind and it was acceptable to have an associates degree.
As a adult with bills to pay and family to think about, it's important to be very practical. You don't want to get to the end of your degree and fall short of the right skills and experience needed to actually get the job you've been working so hard for.
I will also mention, that we found that a lot of careers don't require a degree these days as long as you have the right knowledge and experience.
The most valuable knowledge Austin learned wasn't from his classes. It was from his internship and extra web development courses he took on Udemy.com.
I would definitely look into some less expensive learning options depending on what career field you're interested in.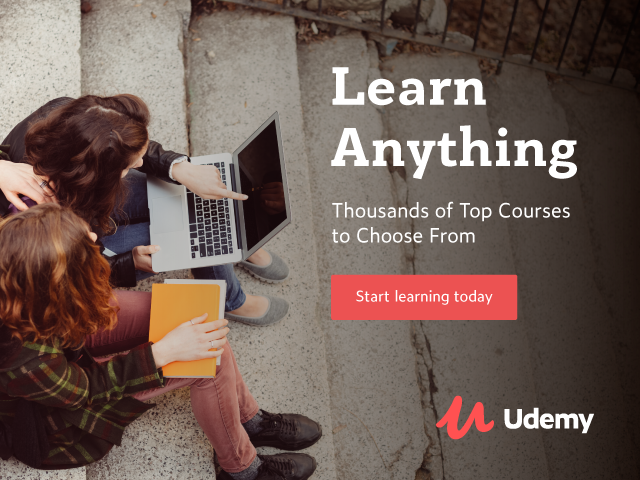 Choose Your School Wisely
Not all schools cost the same! Not by a long shot.
We looked for schools with low tuitions and high employment rates after college.
As an adult student, it's probably not the time for a liberal arts education where you have to take multiple classes that have nothing to do with your degree. Austin went to a career college that only required courses important to his future.
He also opted for to do his entire degree online. This made it easier for him to keep working.
I do think that he would have learned more if he had taken certain classes on campus and had the benefit of being face to face with other students and the professor, but online was the best option for us overall.
Related Posts:
How & Where to Cut Your Budget
Plan Ahead Save Up
If you want to get through your degree without any debt, it's going to take some planning.
It can't be a spur of the moment decision unless you have loads of money sitting around waiting to be spent.
We set some major savings goals to sock away a huge chunk of money. For most of our marriage there has only been one of us working at a time. We're used to living on a tight income.
For a while before Austin went back to school full time, we both had decent full-time jobs. Instead of spending the extra money, we kept living on as little as possible and saved the rest. This resulted in significant savings over a short period of time.
If you or your spouse is going back to school, it might be worth it to have both of you work really hard (maybe get second jobs) for a year to save up a big chunk of money.
Take One Class at a Time
For a few years, Austin just took one class at a time. We were able to save enough money to pay for the next class since the bill wasn't too high each semester.
It was frustrating because it was such a slow process, but at least we were moving in the right direction. He was able to keep working full time which was very helpful for our income.
It's not ideal, but it's very possible to pay cash for school if you're only taking one class at a time.
Apply for Local Area Scholarships
I've been frustrated before by looking for scholarship opportunities online. There are so many, but it's overwhelming and everyone in the country can be trying to get these scholarships.
We did apply for a local scholarship though, and got it!
It's absolutely worth it to spend time looking for local scholarships. Search for non-profits, community foundations, county programs… A lot of these places offer special scholarships for adult students and there is far less competition for the money.
Related Posts:
Our Unemployed Budget: $1200/Month
The 5 Biggest Ways We Save Big Money
17 Expenses You're Forgetting to Budget For
Save Significantly to Go Full Time
We eventually wanted to move things along faster so that Austin could get his degree and start earning a better income and enjoying his job.
This called for significant savings and significant planning.
I researched and estimated how much money we would need to pay for the rest of his degree. We both worked full time and we saved the bigger of our two incomes to pay for tuition.
We set a huge savings goal and marked our progress on a fun chart and everything.
I kept working full time and we lived off of my small income so that Austin could go to school full time and finish his degree quickly. He had a part time job for a while but then had to quit so that he could do an internship.
Of course, for the summer we were both unemployed, but it all worked out well.
We made a lot of sacrifices to pay cash for a college degree. It certainly wasn't easy, but it was possible and we are so glad that we did it.
Austin got a job in his field before he even graduated, and with zero debt, we feel like we are living the dream (even on an entry-level salary)!
⇒ Have you gone to college as an adult? How have you avoided or limited student loans?
---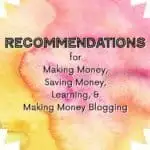 Be sure to click over to my Recommendations Page to see some of the ways I save money, make extra money, learn new skills, and make money with this blog.
If you're interested in starting a blog, click over to read why I think you should do it! Plus there's a tutorial to get you started.
---
[convertkit form=4908806]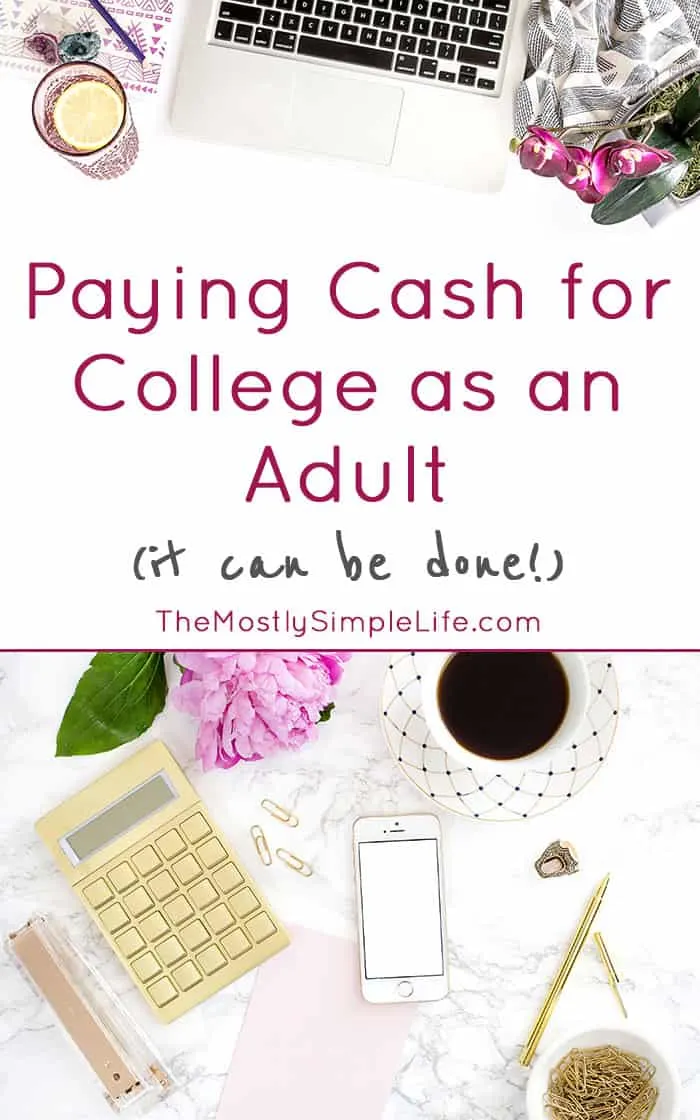 If you find this page helpful, please pin or share it :)