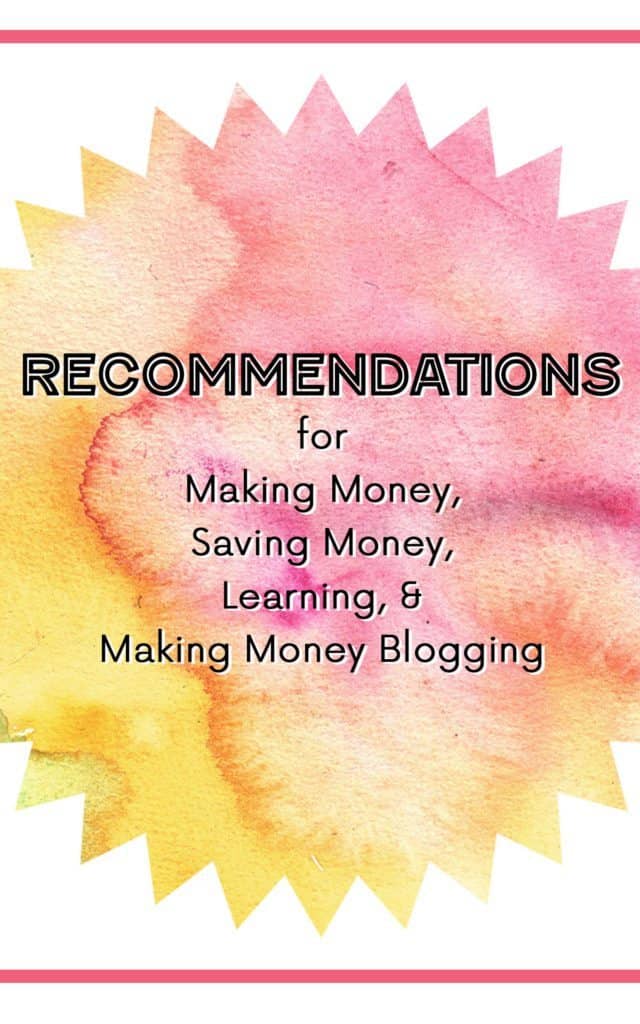 This page is where I spill all of my secrets. Just kidding.
It's where I share the products and services that I use and have had great experiences with.
I don't usually like to try something new unless I know that it has a good reputation, like good reviews on Amazon or a recommendation from someone I trust.
So here are the products that make this blog possible, that help me make a few extra bucks on the side, and that I love.
Disclosure: Some of the links below are affiliate links. You will not pay any extra for using these links (in fact, you may get a better deal), and I may receive a commission.
I am including each of these companies on this page because I use them and have had good experiences with them.
---
Money Making Recommendations
I've been trying all kinds of programs to make some extra money on the side. Some of them are a major waste of time. The ones below are ones that are actually working for me. Hopefully, over time, I'll be able to add some more to this list as I'm continually trying them out!
Ibotta
There are quite a few different apps out there now where you scan your receipts to receive rebates or money back on grocery or home purchases. I've been trying a few of them for a few months, and I have done the best, by far, with Ibotta. Ibotta has a lot of rebates for fruits and vegetables or basics like milk and eggs that aren't brand specific. To find these, I click the store I'm going to shop at and type "any" into the search area. This pulls up things you can buy in any brand and still receive money back. If you use my link (click here to sign up) you will get $10 added to your account when you redeem your first rebate. You might even have a receipt in your wallet right now that you could use. Plus, if you invite your friends to use Ibotta, you will get $5 when they redeem their first rebates. Click here to view my Ibotta Tutorial.
You earn points on Swagbucks by doing surveys, watching videos, using their search engine, playing games, and shopping. Just by watching videos and doing a few surveys, my points are adding up. You can redeem your points for gift cards, which might be an awesome way to pay for Christmas presents or even part of a vacation. You can also earn points for every dollar you spend at an impressive range of stores that you probably already shop at, like Amazon, Groupon, or Old Navy. If you're ordering from those stores anyway, this is a great bonus! Sign up here for FREE.
---
Money Saving Recommendations
When we've got money to spend, I want to make sure that we get the best deal possible. Stretch those dollars, you know? Here are some of the websites we use to make our money go further.
6pm.com
If you're not shopping on 6pm.com, you're seriously missing out! I've shopped there for years and have gotten some awesome deals on shoes, clothes, and accessories. Basically, 6pm sells name brand items for a big discount because they are left overs from last season or discontinued styles. Columbia, North Face, Keen, Coach, Relic… Hundreds of big brands up to 70% off (sometimes more!). There are new sales almost every day for certain brands or types of items, so it's good to check back often. Because 6pm gets closeout items, you'll want to buy if you find something you like. They might not get restocked it they run out of something. Click here to see what 6pm.com has to offer.
Groupon
Groupon is one of my new favorite sites. I am completely amazed at all of the things you can get a huge discount on through Groupon. We've mainly used Groupon for saving money at restaurants. Even living out in the country, we've found some great deals for local restaurants. There are discounts for going to attractions in your area or if you're traveling. There are discounts for things you might want to buy or services you might need to have done. Seriously, just go get lost on their website for a few minutes and you'll be amazed. Click here to visit Groupon.com.
---
Learning Recommendations
Lifelong learning is SO important to me. Learning new skills can open so many doors and improve your life in huge ways!
Make Over Your Mornings
After some big life changes (quitting my job, working from home, getting ready to move, and Austin starting a new job), I found that so many of my routines were completely messed up. What used to work for me wasn't anymore and it was so frustrating. I was just feeling unmotivated and like I couldn't get my day started right. I went through the Make Over Your Mornings course and it has made a huge difference in my whole day, not just my mornings. This course really helps you think through the frustrating parts of your day so that you can come up with great solutions and get more done. I wrote a full blog post about why I loved this course if you want more info.
Udemy
I seriously adore Udemy. They have tens of thousands of courses made to teach you anything you want to learn. The courses are excellent quality and can include videos, slideshows, practice assignments, and other resources. We have been extremely satisfied with courses on photography, dog training, blogging, and web development/programming. My husband has supplemented his college classes with Udemy classes to sharpen his skills and give himself an edge in the job market. If you homeschool, I can't help but think that Udemy would be an awesome way to let your kids learn something they're interested in that they wouldn't learn in their basic education. You can read reviews for each course and they are seriously affordable. You really need to check Udemy out. There are classes for everything from business to languages to music to art to IT.
---
Blogging Recommendations
Blogging can feel really overwhelming because there is almost too much advice out there about what you need to do and how you need to do it. In my quest to keep things simple, here are the main resources that I have found worthwhile:
Bluehost
This blog is actually the second blog that I have created, and I have used Bluehost for both. Bluehost makes setting up a blog and getting it running so easy. They are very affordable too. Plus, if your site goes down or you have any problems, you can get on a chat with them and get things fixed. You can also install WordPress to your site from within Bluehost. I honestly have no complaints about Bluehost, so if you are thinking about starting a blog, Bluehost is definitely the way to get started. If you're on the fence about starting a blog, you should read my post about why I think you should it, including a step by step tutorial on now to get up and running with Bluehost. 
Making Sense of Affiliate Marketing Class
Michelle, from Making Sense of Cents, created this class (Making Sense of Affiliate Marketing) to help other bloggers make affiliate income. Let me tell you, if there's one person you want to learn this from, it's Michelle. She earns over $50,000 per month (!!!) from affiliate marketing. The class is very thorough and I learned a ton about the best strategies to use and the proper legal disclosures. Seriously, good stuff. And my blogging income has been increasing since I took the course, so that's awesome! You can check out the infographic below to see more of what Michelle teaches in the course. I think the course is worthwhile for every blogger looking to make some money from their blog. Click here to learn more about Making Sense of Affiliate Marketing.

Strategies Worth Sharing ebook
Facebook is really tricky to figure out. It can feel like Facebook is hardly showing your posts to anyone and growth is super slow. Strategies Worth Sharing is written by Brittany, the blogger behind Equipping Godly Women. She grew her Facebook following from 2,000 people to 100,000 in five months, so she clearly knows what's up. She shares all of her strategies, which can all be done without paying for ads or to boost posts. I've learned a lot from this book. You can purchase the workbook to go along with it, which I definitely recommend. It really helps you apply everything you learn. Click here to learn more.
FlexOffers.com

FlexOffers.com is an affiliate network that helps bloggers make money. They work with thousands of different advertisers that want to pay you for advertising their products. It's super simple to apply to be a publisher with FlexOffers. Once you're approved, you just have to click a button to be approved by whichever advertisers you want. They supply the links and banner ads, and you can start making money from your site. FlexOffers.com has a very simple and easy to use website that doesn't over-complicate things, which is awesome. So far, FlexOffers is my favorite affiliate network.
ShareASale
ShareASale is the other affiliate network that I use. I find their website a little trickier to navigate, but they do have thousands of advertisers to work with, and different ones than FlexOffers, so it is worth it to use both.
Board Booster
I

use Board Booster to schedule most of my pins on Pinterest. It helps bring a lot more traffic to my blog. Once you get it set up, it's really easy to keep up with. I can set my pins to go out at certain times of day when I know they'll be seen by more people. Board Booster is also that most affordable Pinterest scheduler I could find. You get your first 100 pins free in their trial, and then the pricing is based on how many pins you want to schedule each month. They have a $5 plan that lets you schedule 500 pins per month, which is awesome! That's the plan I'm currently using. Using a pin scheduler is a really great way to boost traffic to your blog, and Board Booster is affordable and easy to use.