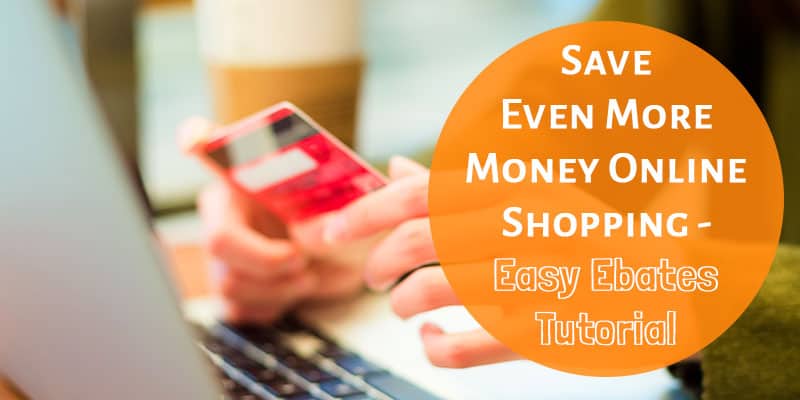 My true talent in this world: online shopping. I love it. I'm good at it. It doesn't require leaving my couch. There's no downside really.
In fact, I got even better at it last year when I found a way to save even more money while online shopping.
I had heard of Ebates for a while and didn't ever get around to checking it out. I truly don't spend that much money shopping, so I didn't think it was worth my time. Now I'm kind of mad at myself that I didn't start using it earlier!
It's so (so) easy to use and I literally earn money when I shop – they send me a check for shopping!
I made this tutorial so that you can get started using Ebates, because if you're anything like me, the next few months before Christmas will include a solid amount of online shopping and I don't want you to miss out on any deals!
The Secret to Saving Even More Money Online Shopping – Easy Ebates Tutorial
How Does Ebates It Work?
Basically, any time you go through Ebates to shop online, Ebates gets a commission from the store for sending them a customer. Then Ebates shares that commission with you. You earn a percentage of cash back for your orders.
You don't get a discount right away, like with a coupon code. The amount you earn in cash back gets sent to you in a check from Ebates.
The percentage that you earn can be anywhere between 2-15% (I've seen more and less, but I'd say that's the average) depending on where you shop. The percentages change all the time and sometimes there are double cash back deals for certain stores.
You're not going to get rich with Ebates, but it does add up and why leave free money on the table? I've earned over $100 this year with it and I don't spend all that much money online.
Some of my favorite stores that usually have cash back available:
Amazon (it's not for everything – there are different categories this works for)
Kohl's
JC Penny
The Container Store
Barnes and Noble
Old Navy
Gap
Banana Republic
Lowe's
Ebay
There are over 2,000 (!!!) stores that they offer cash back for, so chances are, you'll be able to get cash back wherever you're shopping.
The Hardest Part of Using Ebates
I absolutely love Ebates because it's so completely easy to use. It's usually as simple as clicking a button. That's it.
The hardest part is just remembering to use it. We'll get into the ways to use it in the easy ebates tutorial below, either with your computer or the mobile app, but the trickiest thing for me is to make sure that I'm going through the app to shop or using the web browser that Ebates pops up on. It really is so simple!
Sign Up
Click Here to Sign Up for Ebates. You'll enter your email address and create a password (or you can go through Facebook or Google).
Right now, you can get $10 in bonus cash for signing up once you make your first $25 purchase.
The Button
I highly recommend that you use the Ebates Button on your computer. This is for people who use Google Chrome as their web browser.
The Ebates Button is a Google Chrome extension that will put the little Ebates icon in the top right corner of your browser.
There are two reasons this is awesome:
When I go to a website that has cash back available, a small pop up will show up that immediately lets me activate the cash back. This will turn the little Ebates icon green, and now if I end up making a purchase, I'll automatically get the cash back. I don't have to check to see if there's cash back available, Ebates will tell me (which helps with the hardest part: remembering to use it).
When I go to check out, Ebates will search for any promo codes available and apply the best one so that I can get the beat deal possible.
You can find "Ebates Button" page at the very bottom of the Ebates website: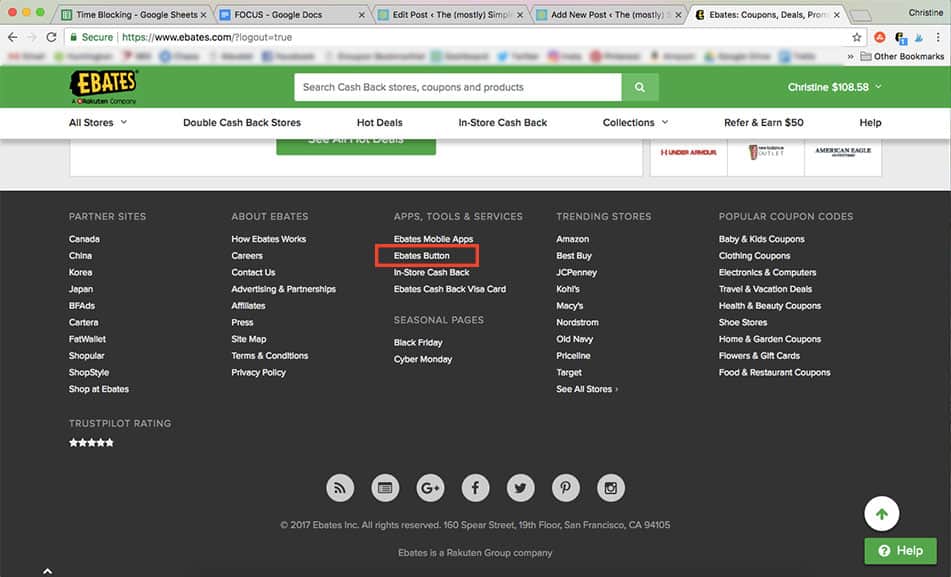 From there, you can click "Get the Button" and then "Add Extension" to install it on your web browser: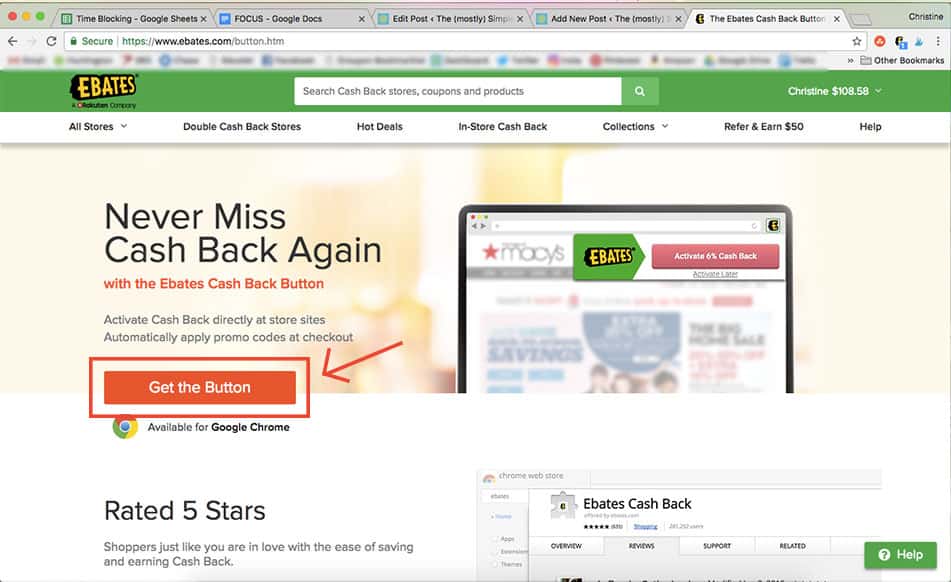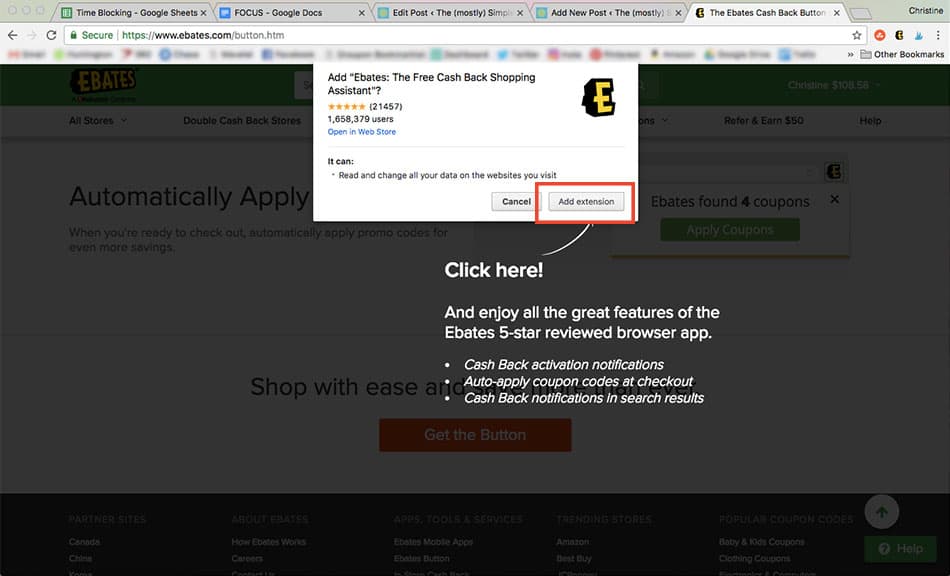 This is what it will look like if there is cash back available on the site you're shopping at: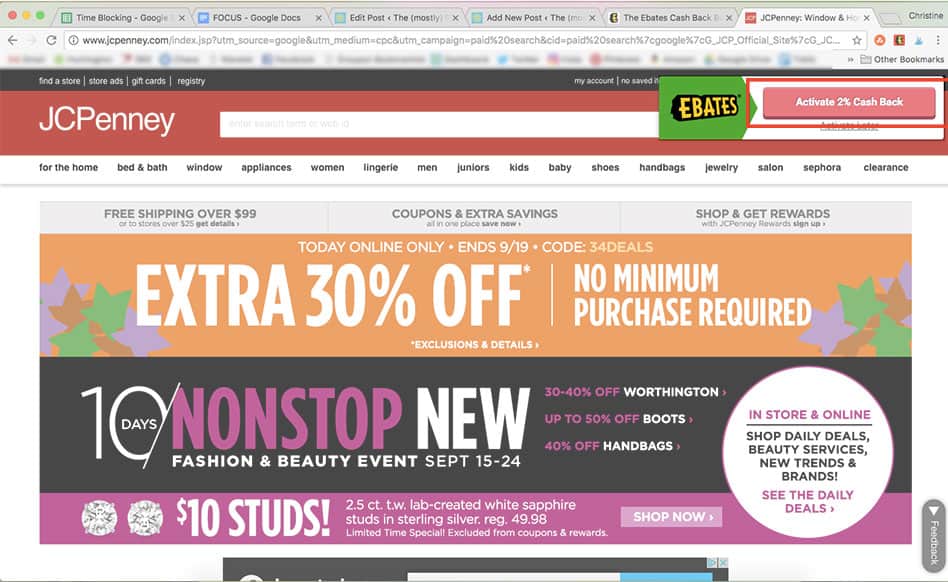 You just click to activate cash back and it will automatically route you through Ebates and back to the store's website where you can keep shopping. I recommend clicking to activate the cash back even if you're just browsing because if you do end up making a purchase, you're good to go.
The App
If you often shop on your phone or tablet, download the Ebates app and sign in.
Click Here to Get Signed Up for Ebates
This is where you need to remember to use it! Instead of shopping on a web browser on your phone, go into the Ebates app and shop through there instead.
You can browse which stores have cash back available or search for the store you want to shop at.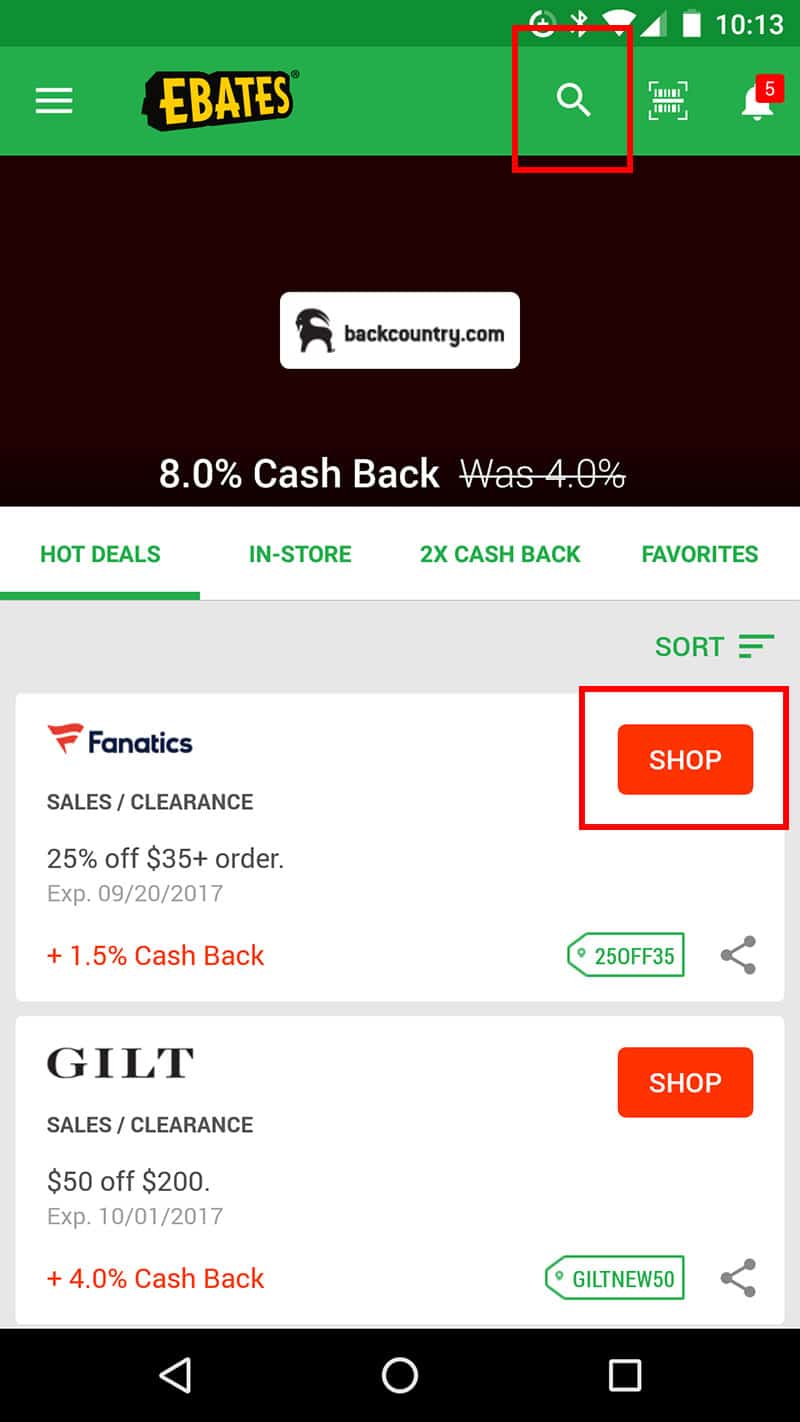 Click "Shop" or "Shop Now" and it will send you to that retailer's website within the app. This will activate the cash back if you end up purchasing and you can see all of the special deals available.
You can see in the screenshot below that cash back is activated and there are 18 deals going on.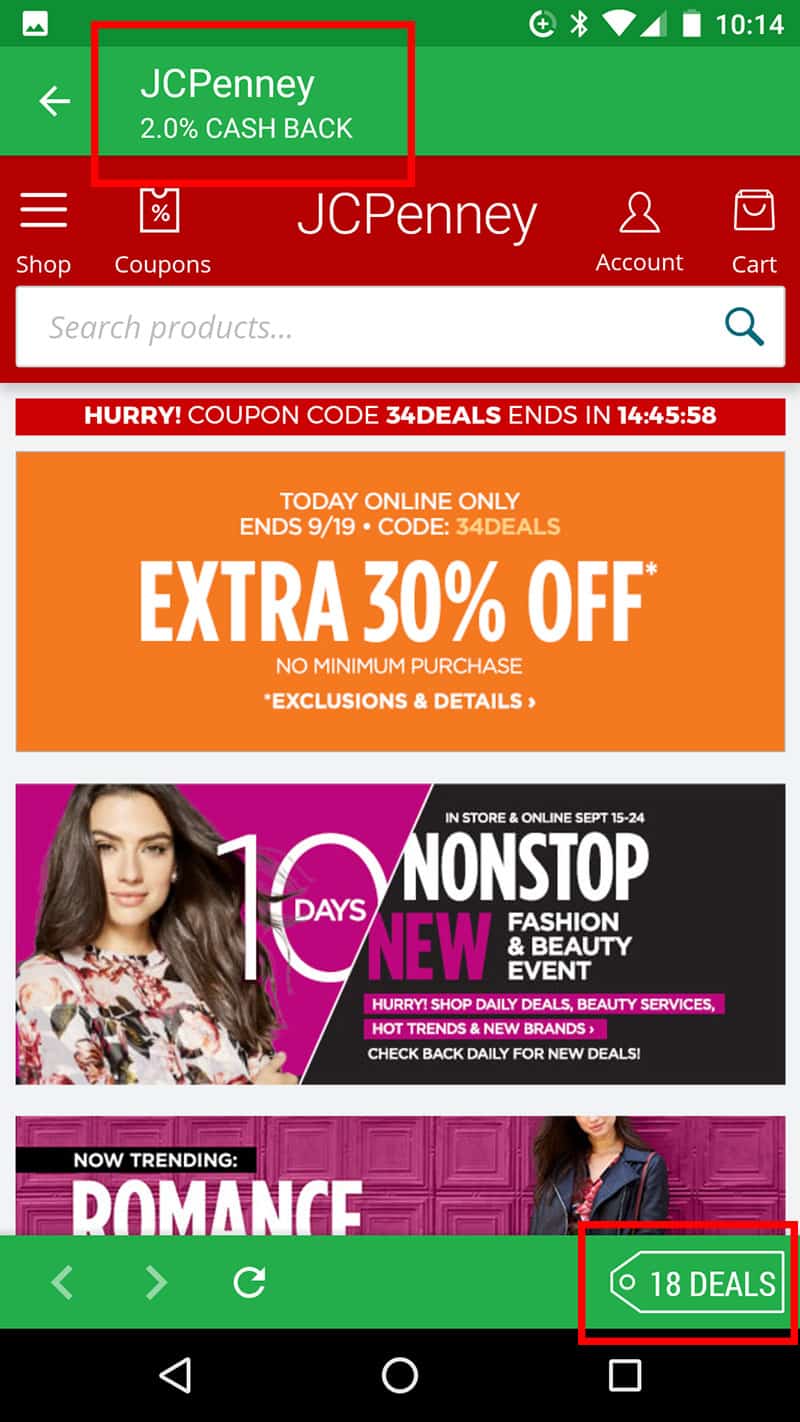 The app is really easy to navigate and once you're on a retailer's website within the app, everything works just like normal.
Now that you're all set up with Ebates, don't forget to use it! Just the other day, I ordered shoes from Amazon and shirts from JC Penny on my tablet without going through the app! Such a bummer because I know I would have gotten cash back for all of it.
Make sure to shop from the Chrome browser on your computer if you installed the button or put the app in a prominent place on your phone so that you are reminded to check it. It really is so easy to use and it's super exciting to get a check in the mail for the cash back you've earned.
With Christmas coming up, we will be doing a whole lot of online shopping. Ebates has become my secret weapon to saving even more money when I shop!
Click Here to Sign Up for Ebates and Get Started Earning!
⇒ Have you used Ebates yet? What are your methods for getting better deals when you shop online?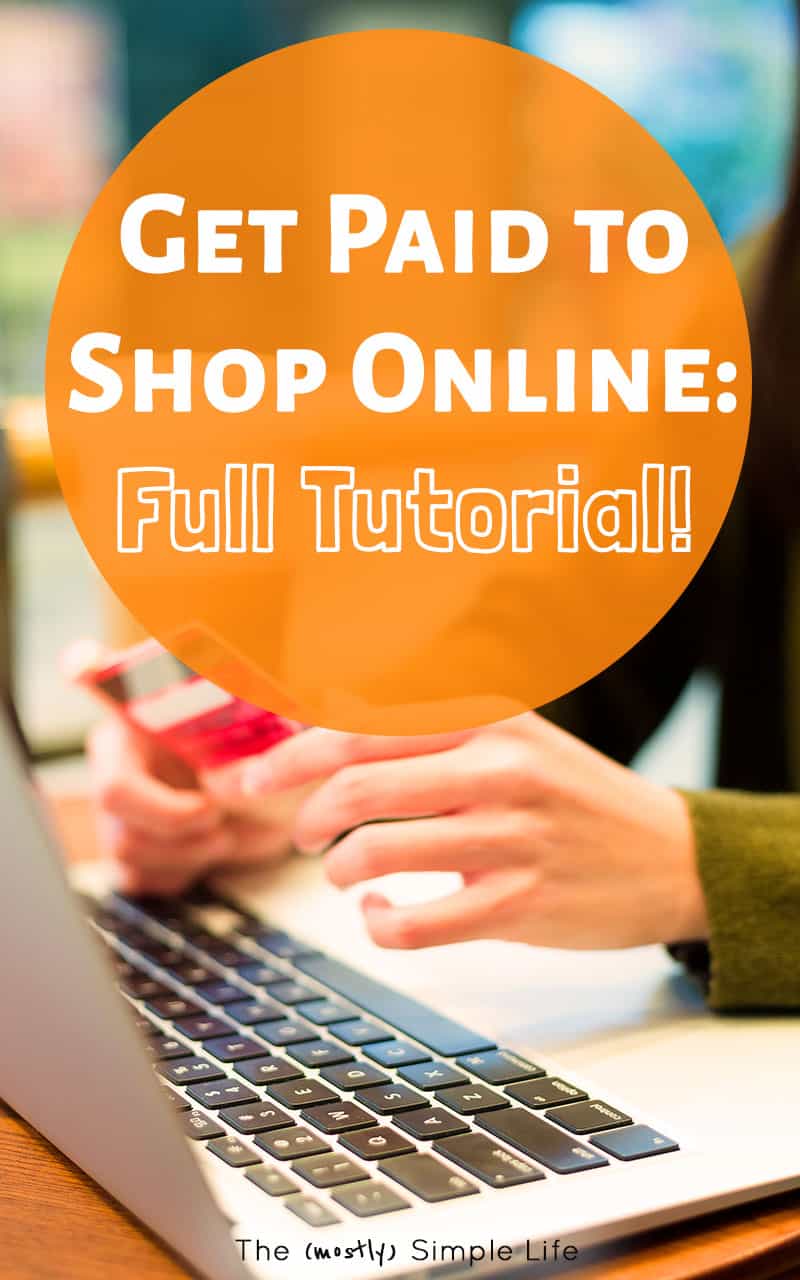 If you find this page helpful, please pin or share it :)