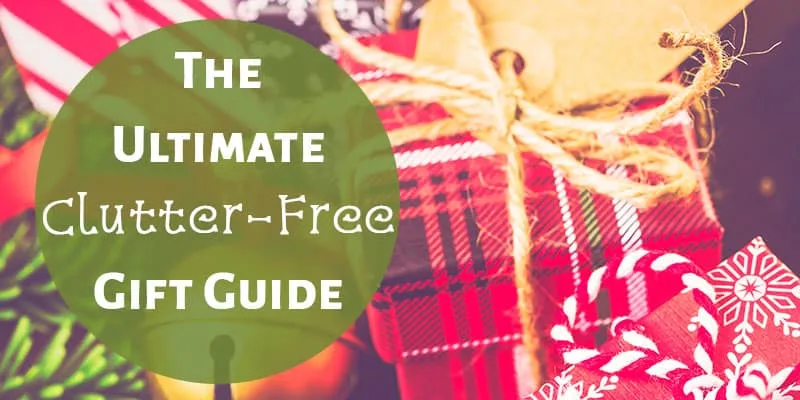 I'm pretty anti-clutter (understatement of the century). I don't like clutter in my own home and I also don't want to be a cause of clutter for anyone else.
When we're giving Christmas gifts, I try to make sure that (1), I know that I'm buying exactly what someone wants/needs, or (2), whatever I'm buying them won't cause clutter in their home.
Below is a great big list of gift ideas that won't fill up someone's home. It's also a great list for getting ideas of what you yourself could ask for for Christmas.
Sidenote: I'm defining a clutter free gift as one that doesn't take up any space, is consumable and will eventually go away, or is needed.
The Ultimate Clutter Free Christmas Gift Guide
Gift Cards
I know some people frown on the idea of giving a gift card, but I've never been disappointed in receiving one!
First of all, they don't have to be for shopping. I can see not wanting to give someone an Old Navy gift card when you could have bought them something from Old Navy yourself. You can give a gift card that allows someone to have a fun experience instead (you'll see lots of example below).
Secondly, a lot of people like to shop but don't always get the chance. We never budget a ton of extra money for fun stuff. Austin loves getting a video game console gift card because he gets to browse and pick out something he wants which is part of the fun for him. Maybe someone has a favorite boutique that they don't often get to shop at. They'd probably love a gift card to that shop so that they have an excuse to browse and get themselves something fun.
Tip: This works great for family and friend out of town. I've ordered gift cards to restaurants or museums in a different state, had them mailed to me, and then I set them in a Christmas card for a gift.
Movie Theater

Restaurant

Redbox

Museums: We get my brother's family a gift card to their local children's museum every year so that they can have a fun family outing.

Bowling

Rock Climbing

Ice Skating Rink

Coffee Shop

Bookstores

A Favorite Thrift Store

Amazon: It will never go unused – they sell everything!
Video Game Console Gift Card – Playstation / Nintendo / Xbox / Steam

Nail Salon for a Manicure/Pedicure

A Favorite Boutique
Activities
If someone is wanting to take lessons, would love to go to an event, or has fees associated with their sport (kids especially), that can make a great gift. You can write a card explaining what you're giving them or see if the location has a gift card that can cover the cost.
Sports Fees

Dance Lessons
Tickets to a Concert: Don't forget to check Groupon for deals
Art Lessons
Swimming Lessons
Tickets to a sporting event
Music Lessons
Membership
So many fun places offer yearly memberships so that you can go as often as you want. This makes an awesome family gift.
It can work even for someone who lives in a different state. Just research places near them and see if you can purchase online or over the phone as a gift.
Zoo

Museum (especially a children's museum)

Botanical Gardens

Pool

Amusement Park/Water Park
Clothing
I often ask for clothes or sometimes shoes for Christmas or birthdays. It's nice because I usually need clothes, so they don't go to waste.
Amazon Wish List: Buying someone clothing usually works best if you know exactly what they want or at least what size they are. Ask them to create an Amazon wish list of exact items with sizes.

eShakti Gift Card: This is a perfect gift for any fashion lover! eShakti makes custom clothing and you can get someone a gift card just click this link, scroll to the bottom of the page and click "Gift Card"). They take your measurements, allow you to customize things like sleeve length, neckline, and more, and then send you your perfect piece. It's surprisingly very affordable and would make an awesome gift! You can read my full review of eShakti here.

Sports Equipment: Things like soccer cleats, ballet slippers, or other gear.
Food
Food gifts never go to waste! You can do homemade or store bought. A lot of people don't buy themselves nicer treats, so this is a fun gift.
Baked Goods

Fancy Chocolates, Teas, Coffees, Popcorn…

Jar Mixes: Spice mixes, drink mixes, baking mixes… They're very affordable to make!
Freezer Meals

Fancy Wine, Beer, or Soda
Supplies
These are the things that will eventually get used up. Some of these ideas are more for kids, but a bunch of them work for adults too!
Bubbles
Painting Supplies
Tie Dye + Clothing to Dye: My sister-in-law and I did this while Austin was out of town and had so much fun!

Sidewalk Chalk

Fancy Office Supplies: Pens, sticky notes, a desk organizer…

Monogrammed Note Cards

Personalized Address Stamp: Etsy has great options for these!
Random:
Alright, so some of these don't fit into the other categories but are worth mentioning!
Plants

Car Detailing: Do it yourself or bring their car to a shop.

Donations: We've done gift donations to World Wildlife Fund. For certain donations you can get a shirt or a stuffed animal if you'd like.

Magazine Subscriptions

Candles: I make homemade candles (tutorial here) and people love getting them as gifts. Store bought ones are great too. The Woodwick candles are amazing because they crackle while they burn!
Semi-Permanent Hair Dye: I got pink and purple hair dye for my birthday. It's super fun and will wash out after a while.
I am a huge fan of giving and getting clutter free gifts. I've gotten great responses from people who I've given these kinds of gifts to as well – no one wants all kinds of extra stuff filling up their homes!
I would LOVE for you to leave a comment of other clutter free gifts you've given or received!
Other Posts You Might Like:
Debt-Free Christmas Planning Guide + Free Printables!
16 Ways to Simplify Your Life Today (in 15 minutes or less)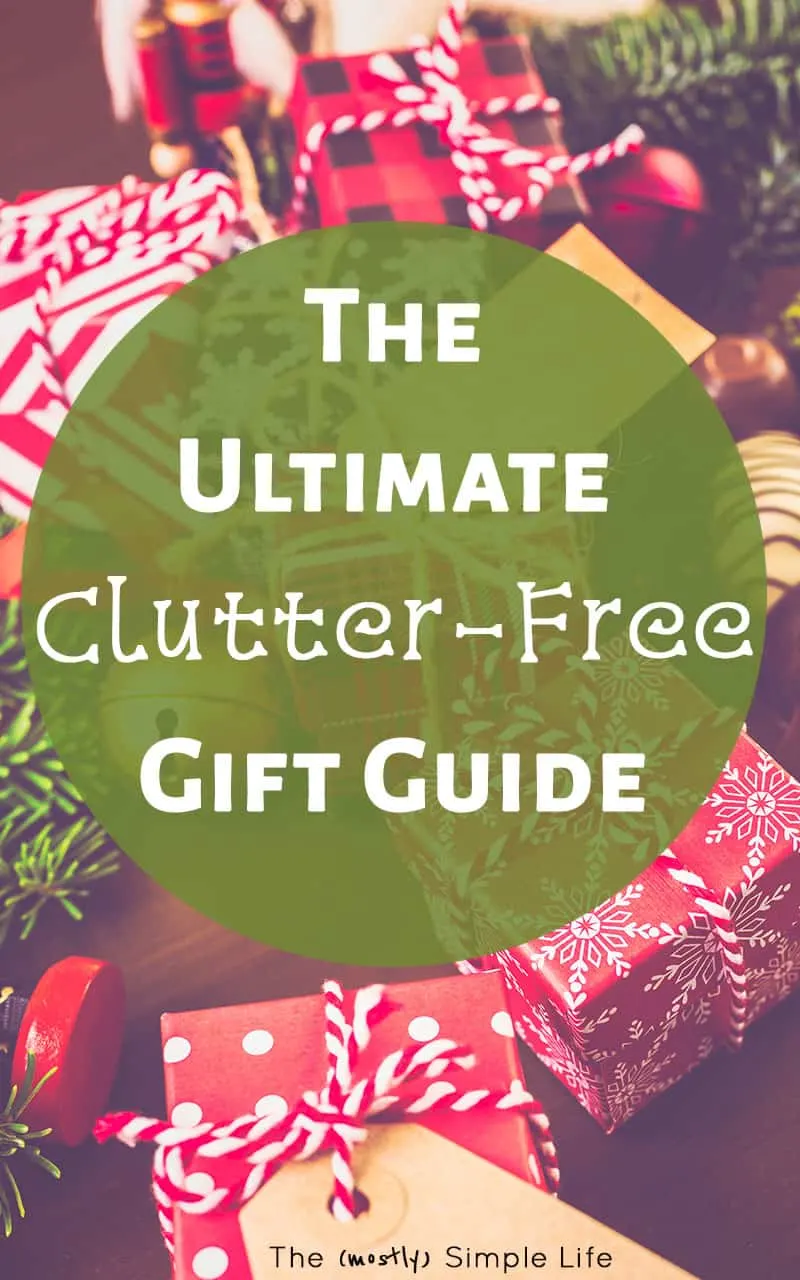 If you find this page helpful, please pin or share it :)