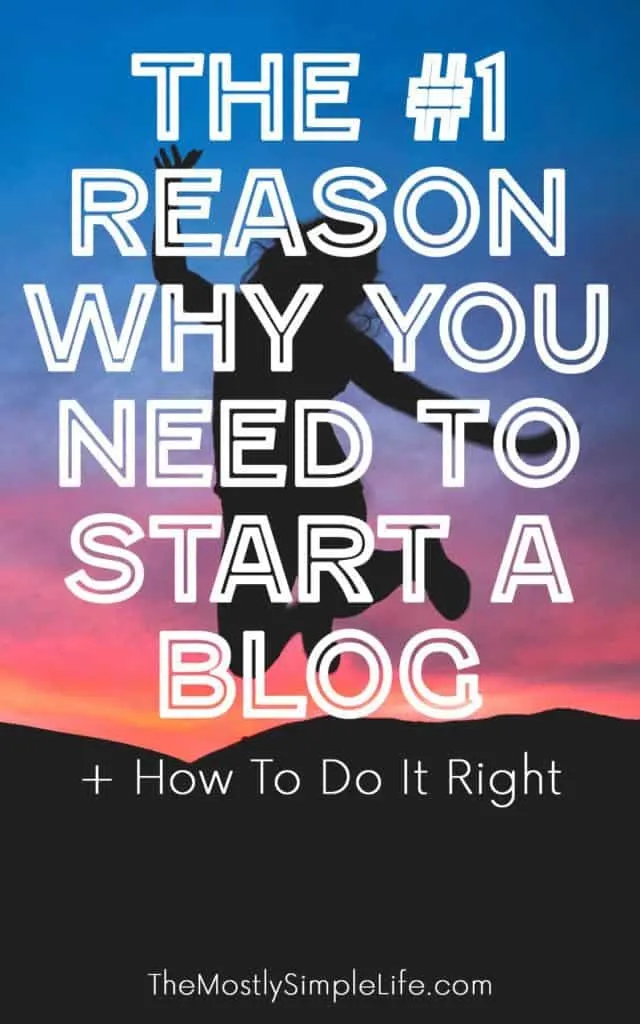 No, blogging isn't everyone's cup of tea, but there's one very important reason why you need to start a blog.
The #1 Reason Why You Need to Start a Blog
Because You are Unique!
You are special. No one has lived the life that you have lived and no one has experienced what you have experienced.
You Have Something to Say
This was my biggest struggle before I started this blog, and is still a big struggle for me.
There are so many amazing writers and bloggers out there producing amazing content and advice. Why should I bother adding myself into the mix? Because I have something to say, that's why!
Blogging gives you a voice and a way to express your thoughts and knowledge. It is kind of shocking to me that people read what I write, but I have something to say, and I am using this blog to say it.
Blogging is my way of making the world and simpler and more positive place.
You have something to say. Blogging can give you a voice.
You Have a Unique Point of View
Even though there a ton of simple living and personal finance writers out there writing amazing content, I still feel like I have a place in the blog world.
I have a unique point of view because of my life experiences, and you do too.
There are thousands of fashion bloggers out there, but none of them has your style.
There are many, many food bloggers, but none of them cooks how you do and does things the same way.
Some bloggers share their struggles with chronic pain and illness, or their dating stories and advice, or their travel adventures.
There is room for all of us because we are all unique and we are all saying things in a different way because of our special point of view.
You Are an Expert
The things that you do automatically, the things that are habits so ingrained in you that you don't even know you're doing them, those things are important.
Everyone is an expert at something.
The trick is to believe that you are an expert and to see that the things that come naturally to you don't come naturally to everyone. That gives you something to share!
Meal planning, budgeting, and keeping a tidy home come naturally to me and make me happy. It took me a while to realize that not everyone is the same way, but maybe they would like some advice on how to get better at those things.
You need to start a blog because you are unique, and the world needs to hear what you have to say.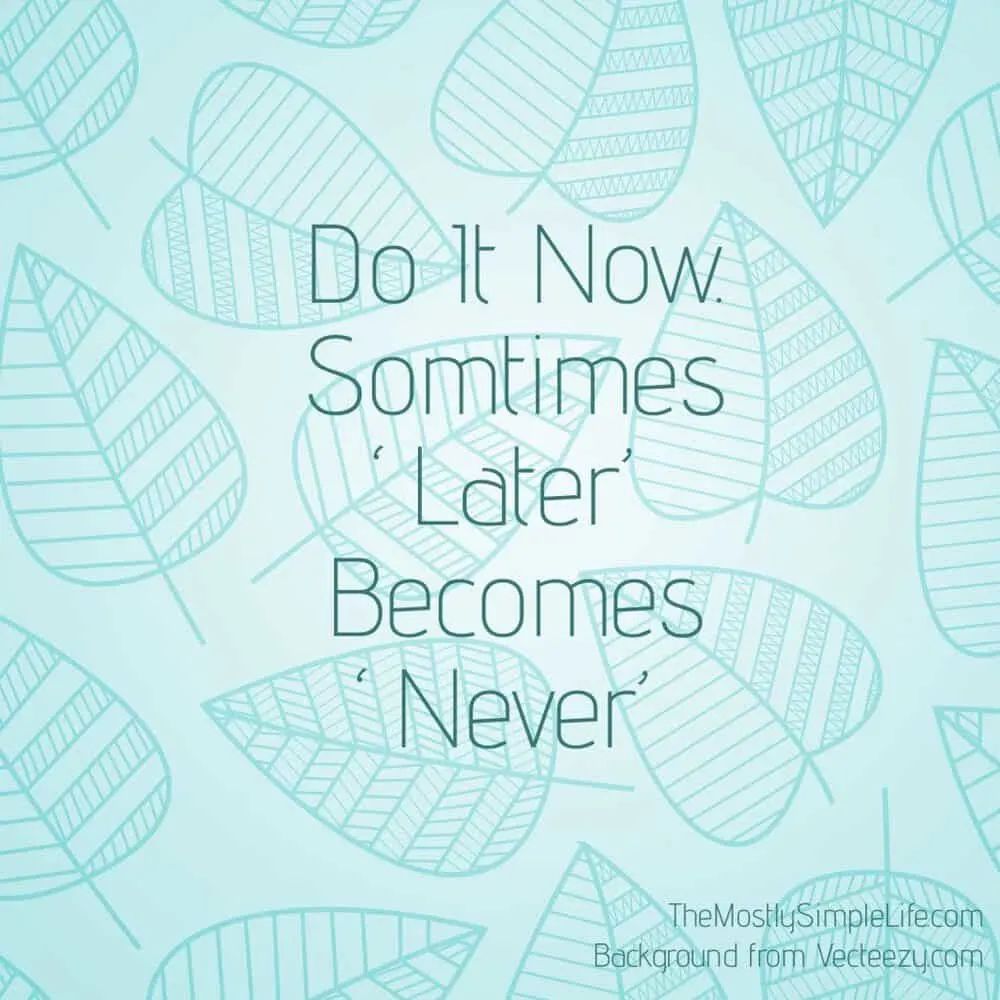 A Few Reasons Why You Shouldn't Start a Blog
Like I said, blogging isn't everyone's cup of tea. While I truly believe that everyone could have their own blog, here are a few reasons why maybe you shouldn't start a blog:
You Hate Writing
Blogging does involve writing. If you really, really hate writing it might not be for you.
I say "might" because there are some spectacular blogs out there that are 95% pictures and 5% writing, so there is a way around it. Something to think about, though.
You Don't Want to Spend Time on It
Blogging takes up some of your time. It's up to you how much time you want to spend on it.
I would think you could spend about 2-3 hours a week on a small blog that posts new content fairly regularly. If you have big goals for your blog, you'll probably spend more time.
You Only Want to Do It to Make Money
You absolutely can make money blogging, but it is not the fastest way to make money.
If you're only in it to make money, you're going to be disappointed at first.
How to Start a Blog
If you want to start a blog and share your voice with the world, here's a quick tutorial to get you started:
I highly recommend using Bluehost to get your blog started. They make everything super easy and can help you every step of the way. This is the second blog I have used Bluehost for, and I have been very satisfied with their services.
My website goes down occasionally, and I know I can quickly get on a chat with someone at Bluehost and they resolve the problem immediately. They take care of the frustrating parts of running a website so that I can focus on the fun parts!
Here are a few reasons why to start with Bluehost:
You get a FREE domain
Bluehost gives you 24/7 support
Bluehost makes it incredibly easy to install WordPress, which is the easiest blog creation tool to use
Bluehost is affordable; just a few dollars per month is all
Your blog will be self-hosted, which makes it look professional to your readers and easier to make money with
Tutorial
Click Here to get started.
Select Your Plan
The first thing you need to do is select your plan.
There are three options. I recommend choosing the least expensive "basic" plan.
You can always upgrade to a different plan later on. I'm still on the basic plan.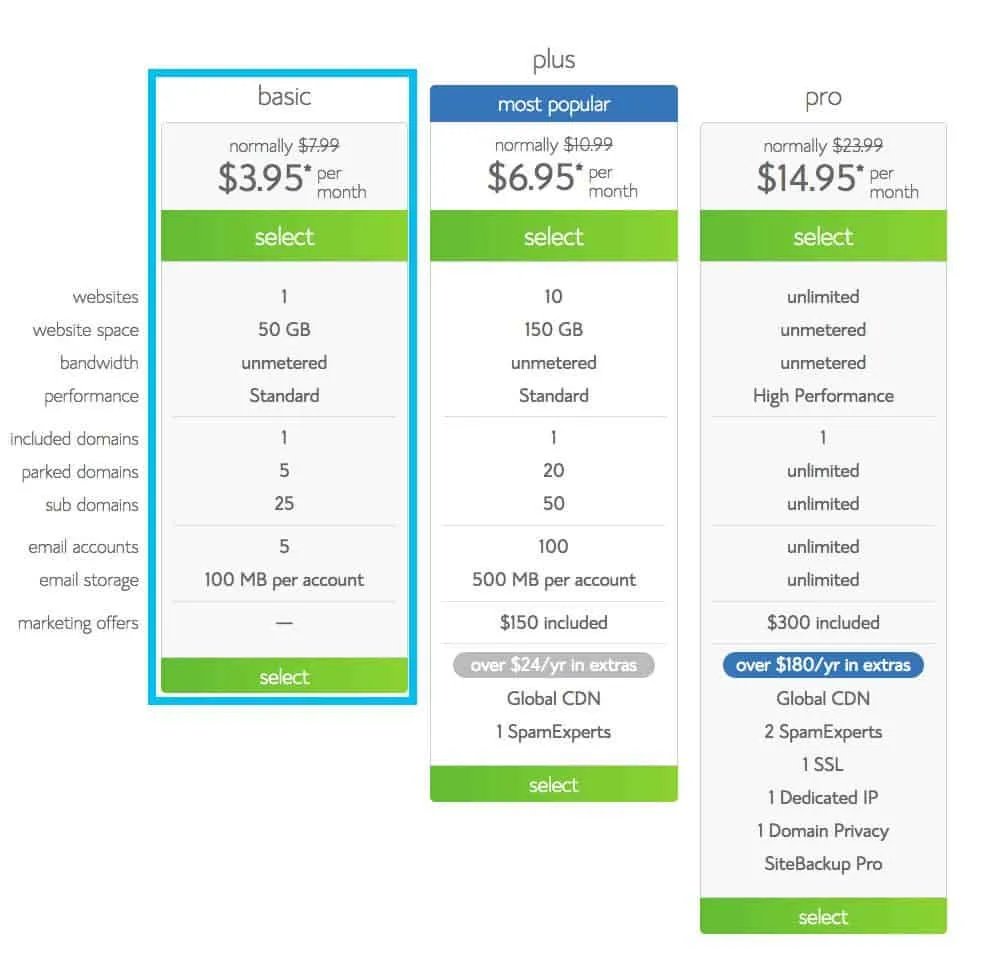 Get Your Free Domain
When you sign up for Bluehost, you get a FREE domain.
Whatever you choose is permanent, so put some thought into this.
I chose TheMostlySimpleLife.com because I knew I wanted to blog about simple living, but I didn't want to narrow my scope too much by picking a name that would lead to a very specific niche.
On Bluehost's website, the screen will look like this: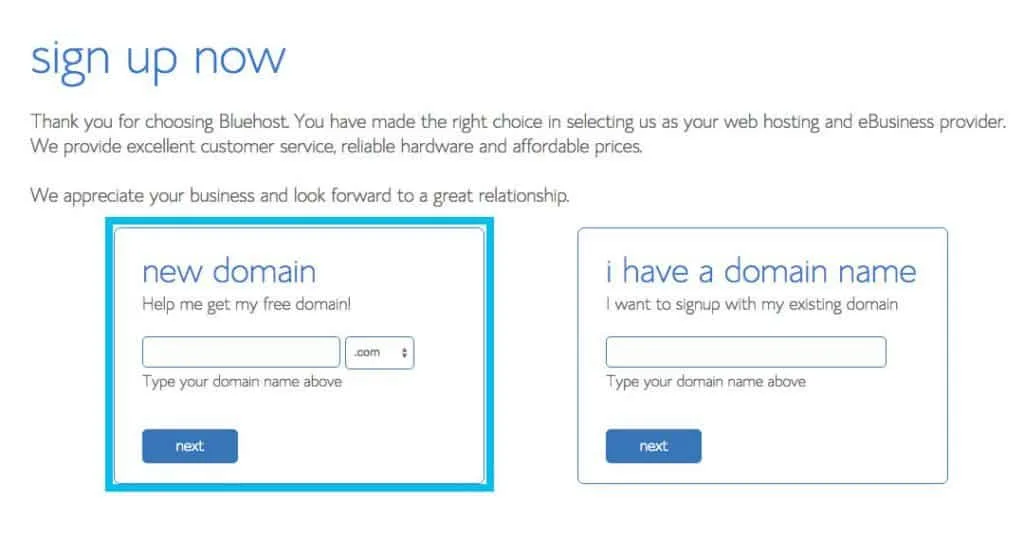 Start typing different names you like to see if they're available. It might take a few tries to find a name that's available. You have to get a bit creative.
Don't forget to triple-check the spelling on your domain name. You don't want to purchase it and realize later that it's spelled wrong! #embarassing
Choose Your Package Options
Next, you'll enter your name and address to create your account with Bluehost.
Before you pay, you will need to look through a few package options.
The price is lower per month if you choose a longer hosting plan. Choose whatever you feel comfortable with. I purchased a year of hosting when I started because I wasn't ready to commit to anything longer.
The 12-month plan is only about $60, so it's very affordable. Plus, you can ask for a full refund within 30 days. If you want a refund anytime after that, your refund will be prorated.
I would uncheck all of the other boxes except for Domain Privacy Protection. Domain Privacy Protection keeps your contact information safe, so it's totally worth it. (Note: prices do change from time to time)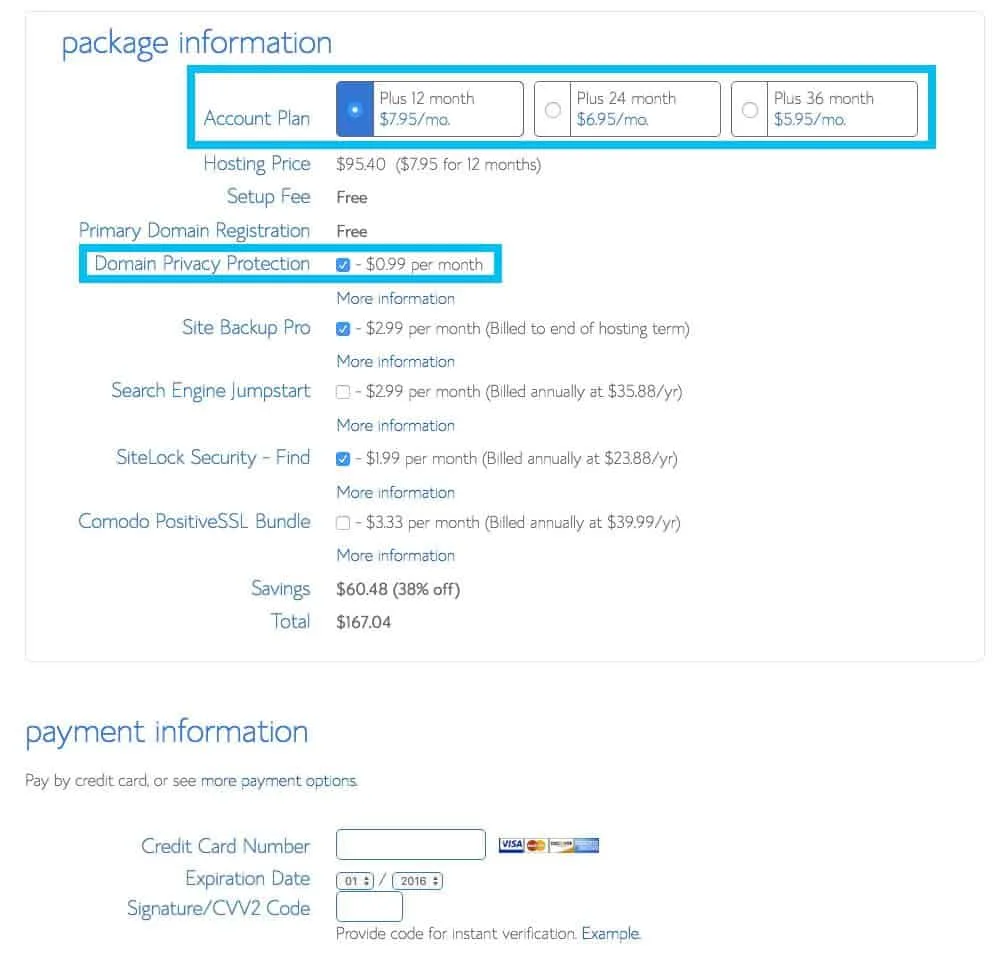 Connect to WordPress
That last step before you get started is to connect your site to WordPress. Bluehost makes this super easy.
Once you're logged into your cPanel (control panel) on Bluehost, look for the "website builders" section. Choose the icon that says "Install WordPress." This will bring you to the Mojo Marketplace where you can click the install button.
Click Here to watch a great video tutorial showing each step.
You did it! Feel free to contact me with any question you have.
Now you can start creating posts, choose a theme to change the appearance of your blog, and share your unique story with the world.
If you haven't yet, click here to start your blog with Bluehost.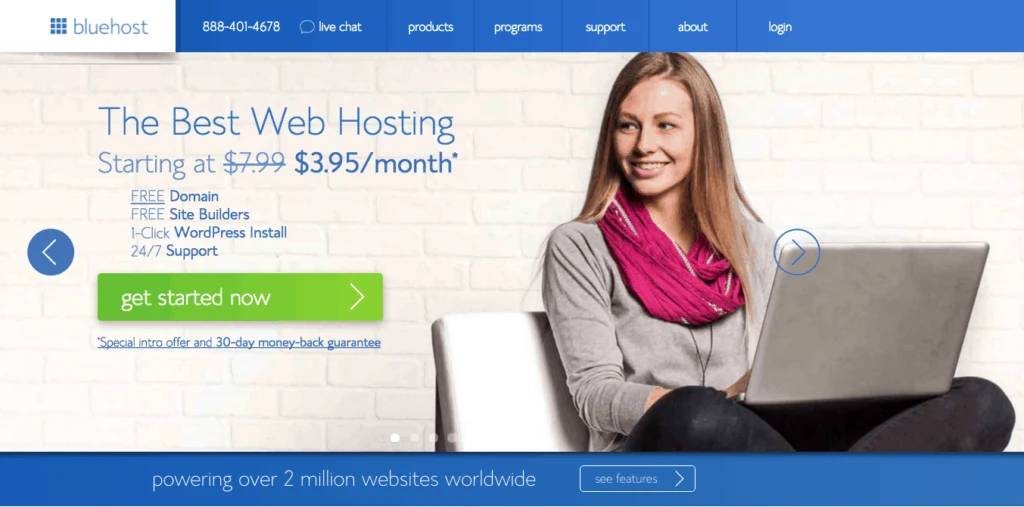 ⇒ If you don't have a blog yet, what do you think you might like to write about? If you're a blogger, how did you get started? And what are you most proud of about your blog?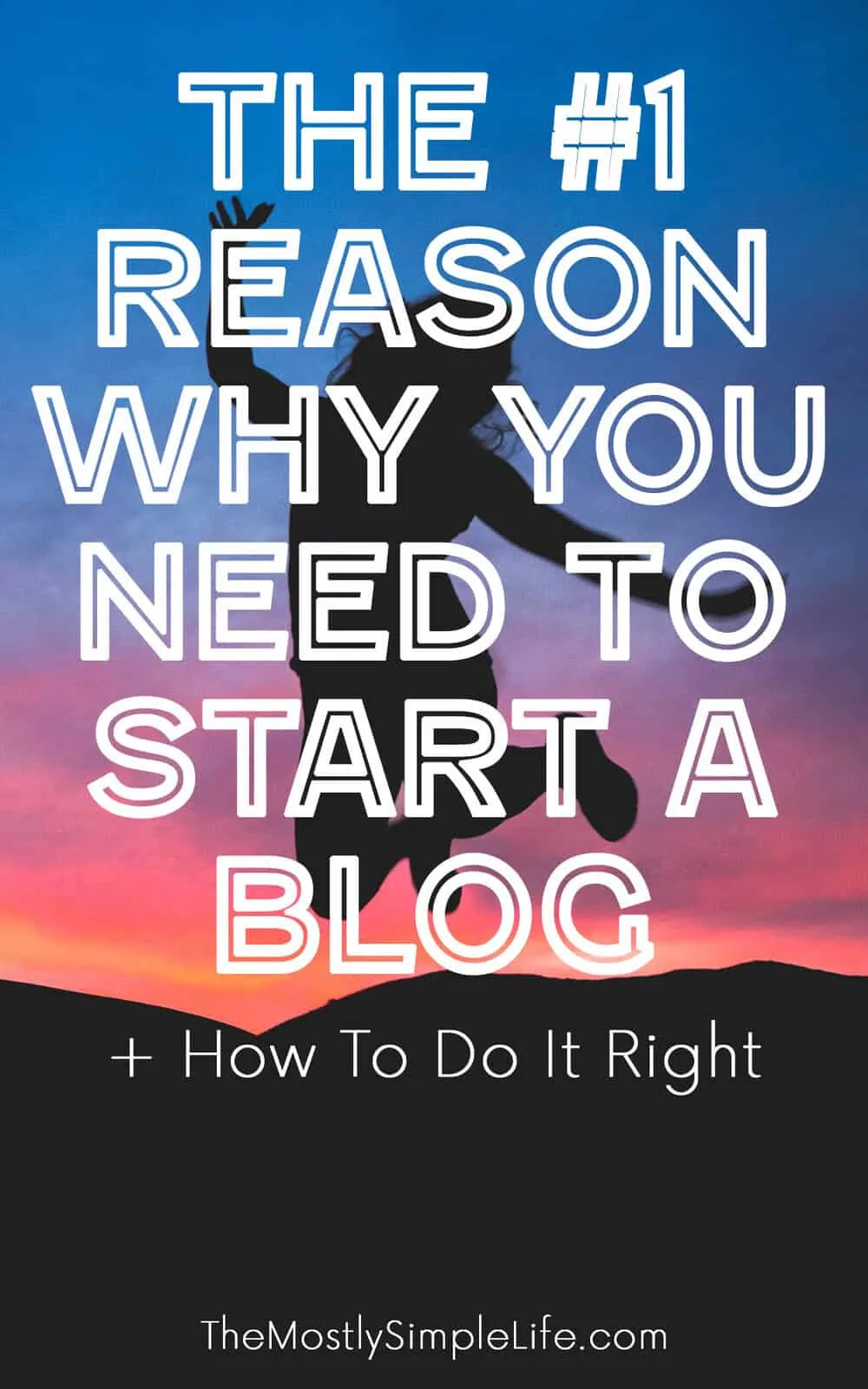 If you find this page helpful, please pin or share it :)