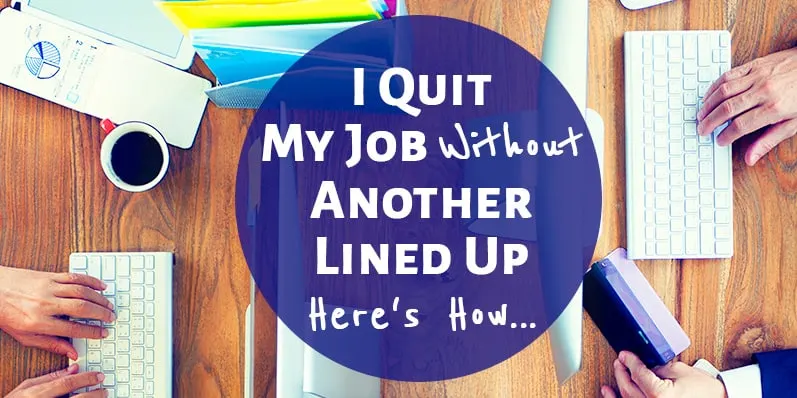 I've kept a pretty big secret for most of the summer. I quit my stable job at the end of April without having another job lined up!
To make things even more interesting, my husband Austin was in the last two semesters of his degree and was also unemployed (because that unpaid internship didn't help pay the bills!).
It was a pretty crazy jump to make and we wondered many times through the summer if we made the right decision, but it really was the right choice for us.
I quit my job for a whole bunch of reasons. I had been dabbling with various freelance and blogging ideas for the past year and felt like I didn't have the time to make it happen and turn it into a full-time income.
Sidenote: Check out my first blogging income report here.
My job was going well. I really liked the small team of people that I worked with, but there was a lot of other drama and frustrating things happening. I've got some anxiety that was starting to come into play and was making me not a nice person to be around at home.
Austin and I started talking about what would need to happen so that I could quit my job. After a few months of saving some extra money and thinking about this idea, I gave notice at my job.
So here's how we survived the last five months and got ready for me to quit my job without having another lined up.
I Quit My Job Without Another Lined Up! Here's How:
Savings
Obviously, money was a big concern if I was going to quit my job.
We keep an emergency fund of at least 6 month's worth of expenses, but quitting my job wasn't an emergency and I didn't want to rely on that money. Because of our low income over the last six years, it literally took me years to save up our emergency fund to that point and I didn't want to spend it unless we absolutely had to.
For the few months before I quit, we started saving up as much extra money as we could. That, along with the fact that we always budget a month ahead of time, meant that we had enough money for at least two months before we had to even think about dipping into the emergency fund. And that was assuming that we didn't make any money at all, which we were definitely hoping to.
If you want to quit your job without having another one lined up, I think it's important to have a solid chunk of money built up. The amount probably depends on how much you need to live on and how quickly you would be able to get another job if it came down to it.
We basically had enough money for eight months of expenses and though we were anxious about our situation at times, we were pretty confident that we would be able to work out a new income well before we used all of that money.
I'll also mention that we get our health insurance through the government marketplace, so that wasn't a concern. If your health insurance is through your employer, you'll definitely want to do some research to understand your options.
You Might Like These Posts Too:
The Only 3 Blogging Courses You Need to Take
The Secret to Achieving Your Goals No One Tells You
34 Great Goals to Set to Change Your Life
5 Steps to Getting the Career You Want
Make Plans
I made tons of lists of projects to work on and ways to try to make money before I quit. I wasn't quitting to stay at home, I was quitting so that I could create a full-time income from home.
On days that I felt overwhelmed and questioned my decision and didn't know where to start, I looked at my lists of plans and got to work.
I treated making an income from home like it was my new full time job. I tried all kinds of freelance work, up'd my blogging game, and Austin and I took on some local clients.
Part of our plans included selling a bunch of extra stuff that we didn't need. I was serious about avoiding dipping into the emergency fund and we sold a bunch of video games, furniture, and other stuff to help bring in some immediate money.
If you're thinking about quitting, make a list of what you plan to do. List individual projects, marketing ideas, things to sell… really anything you can think of. It will help you prepare and will get you excited about all that you can do.
If you want to make money from home, take a look at these 5 ideas.
Plus, here are some great work at home courses:
The Selling Family offers courses on how to do retail arbitrage. Basically, they teach you how to buy things at a great price and sell them on Amazon for a profit. We've dabbled in this at times and I can see the income potential here is huge. It's all a little tricky to get the hang of at first, so one of the Selling Family's courses is the perfect way to get started!
I took one of the Proofread Anywhere courses before I started blogging. It teaches the skill of proofreading, both technical knowledge and plenty of practice, along with how to work from home and find freelance work. It is very thorough! If you're curious if this might be for you, there's a free workshop that explains a lot and helps you decide.
It also helped me a ton to go through the Make Over Your Mornings course after I quit. Going from working every day to being home every day changed all of my routines and I had a hard time getting going in the mornings and finding a new routine.
Tighten the Budget
When you don't have to be at work for 40 hours a week, you'll find you have a lot more time to spend money 🙂
Seriously, we wanted to stick to a tight budget, but it was really hard when all of the sudden we had time to do a bunch of activities (that cost money) that we normally wouldn't have time for.
Of course, it wasn't the best time to spend extra money. Our normal monthly budget is just under $1500 per month. After I quit my job, I cut back our expenses each month until we were spending more like $1200 per month (see our $1200 unemployed budget here).
You want the money that you have to last as long as possible, so if you're thinking about quitting your job, it's also good to think about where you can trim (or hack) your budget.
Have a Backup Plan
This question is what gave me the confidence to quit my job: What's the worst case scenario?
So here was the plan: If I couldn't make enough money online, we knew that Austin would graduate in the fall and would most likely be able to get a decent paying job pretty quickly. And that's what has happened. I've started making a pretty good income online, but not quite enough to replace what I previously made. Austin applied for jobs all summer even though he wasn't quite done with classes yet. He got a job a few weeks before the end of his last semester and it has worked out well.
Our worst case scenario plan: If I couldn't make enough money online and Austin couldn't find a job, we planned to sell our house and move out west to live with my parents until we could make something work. Honestly, it wasn't a bad backup plan. I'd love to live out there and we knew our house would sell quickly in the area we're at.
When we talked through the backup plans and our worst case scenario, we realized that even if nothing went as we had hoped, we would still be ok.
If you want to quit and you're scared and unsure, think through multiple different backup plans. Figure out what you'd do if nothing goes right. Find your worst case scenario.
Is your worst case scenario something you're ok with? If not, then keep planning and saving until you can make it work. If you're like us, your worst case scenario might not be that bad.
⇒ Have you ever quit without a plan? Would you like to?
If you find this page helpful, please pin or share it :)