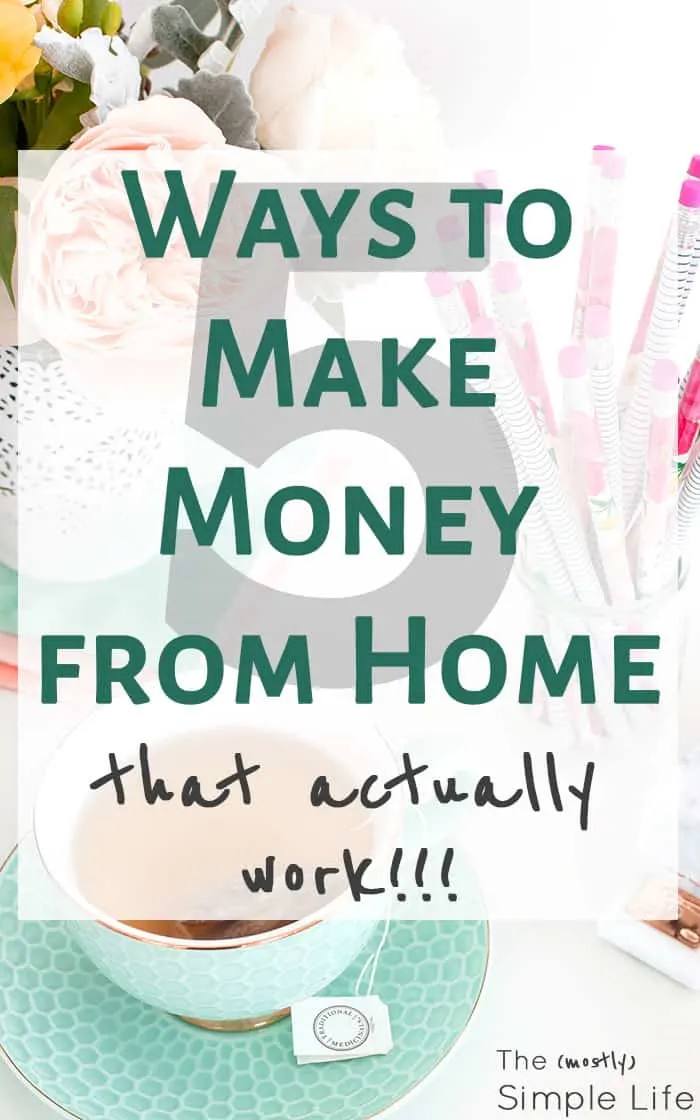 I have tried countless ways to make money from home in the past 5+ years. Most of them didn't work.
I hate to think of the hours I've wasted reading lists of ways to make make money from home and attempting to make them happen.
Most online money making opportunities I've tried didn't work at all (and believe me, I have tried SO MANY), or would have paid so little per hour that it wasn't worth it. The two exceptions are selling on FBA and blogging, which I'll explain.
So while this list of ways to make money from home isn't super long, it is made of things that have actually worked for me.
You might also want to look at my list of ways to Make Money Fast.
5 Ways to Make Money from Home that Actually Work
1. Selling
We have made a decent amount of money here and there by selling either our own stuff or buying things for cheap and reselling them for more money.
For most household items and stuff we want to get rid of, we sell on Craigslist or a local Facebook selling group. I prefer local Facebook selling groups because you know who you're selling to (which makes it seem safer), and I've gotten better prices for things.
For books (especially textbooks) or brand new items, we've done well selling on Amazon FBA.
The "FBA" means Fulfilled by Amazon. When you buy something on Amazon and it come from another seller, but is still shipping from Amazon, that's FBA. Basically, you tell Amazon what you have to sell, you set a price for it, and then you ship it all to Amazon. They store everything in their warehouse and they ship it out when it sells so there's not much to worry about.
You can find things to buy on clearance while you're out shopping and then sell them for a profit with Amazon FBA. There are many details that I'm not going to attempt to explain because I'm not a pro, but if you're interested, do some research on "Amazon FBA Arbitrage". You can also look at classes to take on Udemy about the subject.
2. Saving
One of the biggest ways I've "made money" for our family is by finding ways to save money.
This might not seem important when you're looking for ways to earn more, but every dollar that you don't spend is a dollar that you can save, which is kind of like earning more money.
I spent the first few years of our marriage not working. I did everything that I could to save money so that we didn't need to earn as much.
Honestly, I treated saving money like it was job. I read books about it, cooked from scratch, meal planned, thrift shopped, budgeted, saved on utilities and much more.
If you really focus on saving money, you'll have more options on how to use your income.
Some of my favorite money saving books are America's Cheapest Family, Suddenly Frugal, Be Thrifty and Dining on a Dime. These books have some great money saving tips that you don't always hear about.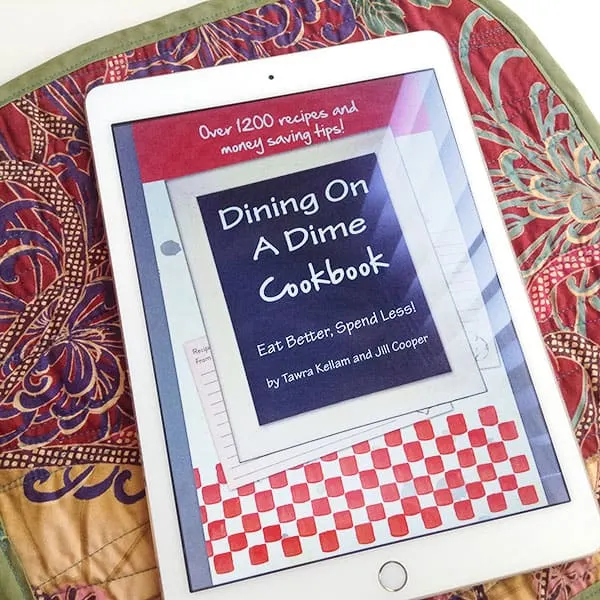 Related Posts:
13 Secrets to Saving Money on Food (while still eating healthy)
3. Sitting
You can make money from home by babysitting or pet sitting/dog walking. I'm more of animal lover, so I've taken care of dogs for people when they go on vacation.
If you advertise and tell people you're available, people will think of you when they need someone.
This can be a one time thing or turn into consistent income.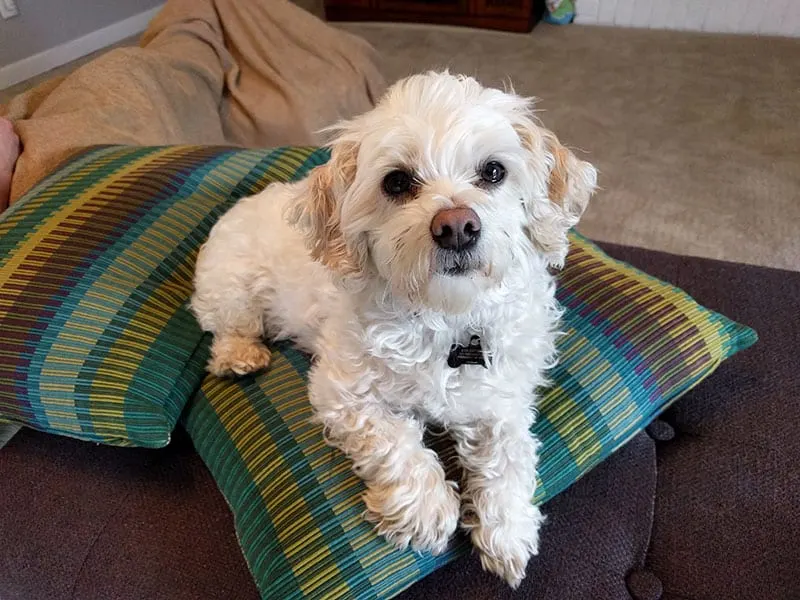 4. Teaching
Do you know how to do something that others would like to learn? If you put yourself out there and offer to give lessons, this can be a great way to make money.
I used to give art and writing lessons to a family member who was homeschooled. It was a great way to make some extra money and provided an important service for their family.
Here are some teaching ideas:
Tutor kids who need help in school subjects
Teach one-on-one or group weekly classes for homeschoolers
Do a one-time seminar on ways to save money, how to make a budget, baking, cake decorating, making a special meal…
Give lessons for a musical instrument
Offer a ladies night where you teach everyone to make a craft and provide snacks
You can advertise your services in local newsletters, Facebook groups, mom groups, homeschool groups and more. Just start by telling your friends and family about your teaching thoughts and they might have some ideas on how to get you started.
5. Blogging
I love blogging! It's how I make money from home and I'm working on turning it into a full-time income.
Even though I've made more money blogging than doing anything else on this list, I hesitated a bit to put in on the list only because it's not guaranteed money. It takes a lot of time and effort to make money blogging.
I've done well blogging in a fairly short period of time because I've always treated blogging as my job. I make time for it and work hard at it. If you're willing to put in the work (and you enjoy doing it) blogging is an awesome way to make money!
If you want to make money blogging, these are my two favorite resources that are worth spending money on:
Traffic Transformation Guide: This ebook has practical tips for building your traffic. There is SO much packed in here. I'm on my second read through and I'm finding all kinds of ideas I haven't tried yet. You can also start with a short free guide by the same author.
Making Sense of Affiliate Marketing: This ecourse teaches you everything you need to know about affiliate marketing, including the legal stuff and how to make money without being sales-y at all. This course is the best investment I've made for my blog to date.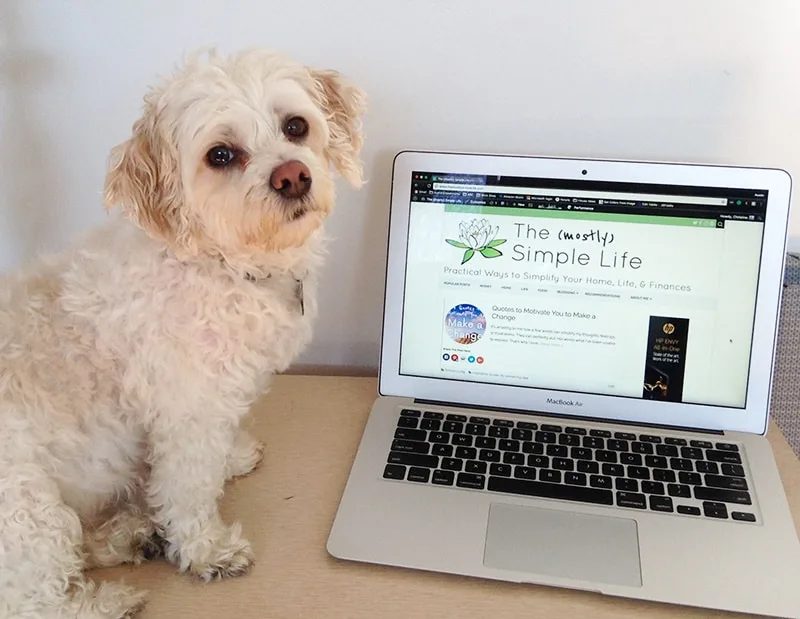 Bonus Money Making Idea: Become a Proofreader!
Before I started my blog, I went through intense training to become a proofreader. There is a huge demand online for proofreaders, which means you can work from anywhere!
The author of the course I took has a new course out that teaches you the skills you need to know. Even though I decided that proofreading wasn't the job for me, I know a lot of people who make money doing it from all over the world!
If you think you might enjoy proofreading, there is a free online workshop that you can sign up for to get more details (it includes an introductory tutorial on how to use the most popular proofreading tool on the market)!
Related Posts:
5 Things I Wish I Knew When I Started Blogging
The #1 Reason Why You Need to Start a Blog
Of the many (MANY) ways I've tried to make money from home, these are the five that have worked well for me.
I still look at lists online that share ways to make money from home and I'll probably still give some of them a try, but these are my "tried and true" ways to earn money without having to go in to a traditional job.
⇒ How have you tried to make money from home? What has worked and what hasn't?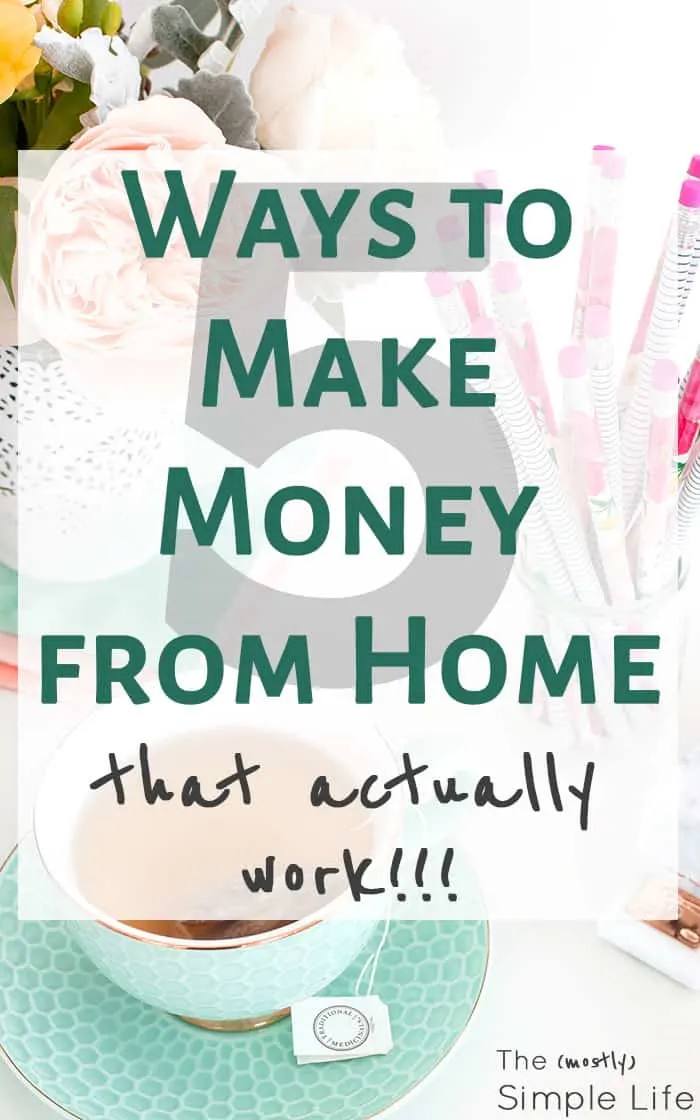 If you find this page helpful, please pin or share it :)