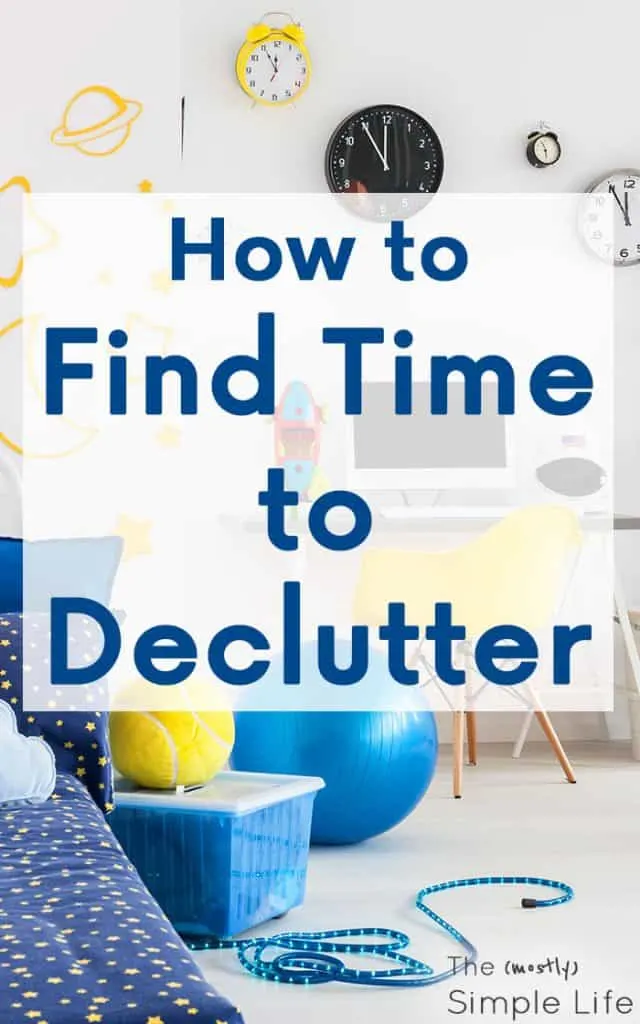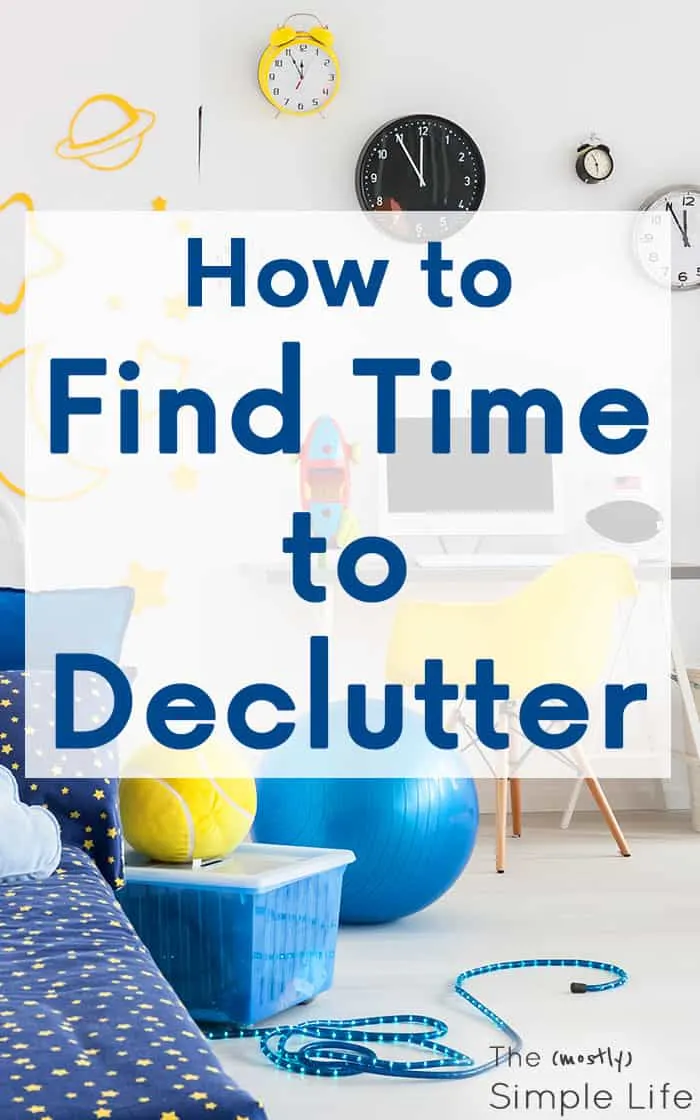 I think everyone would like to live in an uncluttered home, but how on earth do you find the time to declutter?
There are plenty of guides (many on this blog even) on how to declutter clothes, books, or family heirlooms, but those guides only work if you can find the time to do the actually decluttering.
Decluttering can be one of those "it looks worse before it gets better" kind of things, so it can be really discouraging to squeeze out a chunk of time to work on it, only to feel like your closet exploded and made everything look worse.
You can absolutely declutter your home even if you're busy. Small, consistent efforts will give you a wonderful payoff in the end.
These are my tips for making it happen:
How to Find Time to Declutter
Make it a Priority
Honesty time: We all have the same 24 hours in a day. We don't find time for what's important, we make time for what's important.
If you're extremely busy, decluttering isn't just going to happen unless you make it a priority.
It may seem less important than all of the other activities and obligations on your calendar, but a clutter-free home has so much value.
You will be able to get out the door easier and find what you need faster if you make the time to declutter and organize your home. You will probably be more relaxed when you come home and you will be able to spend time on what matters to you instead of tripping over stuff and digging through piles.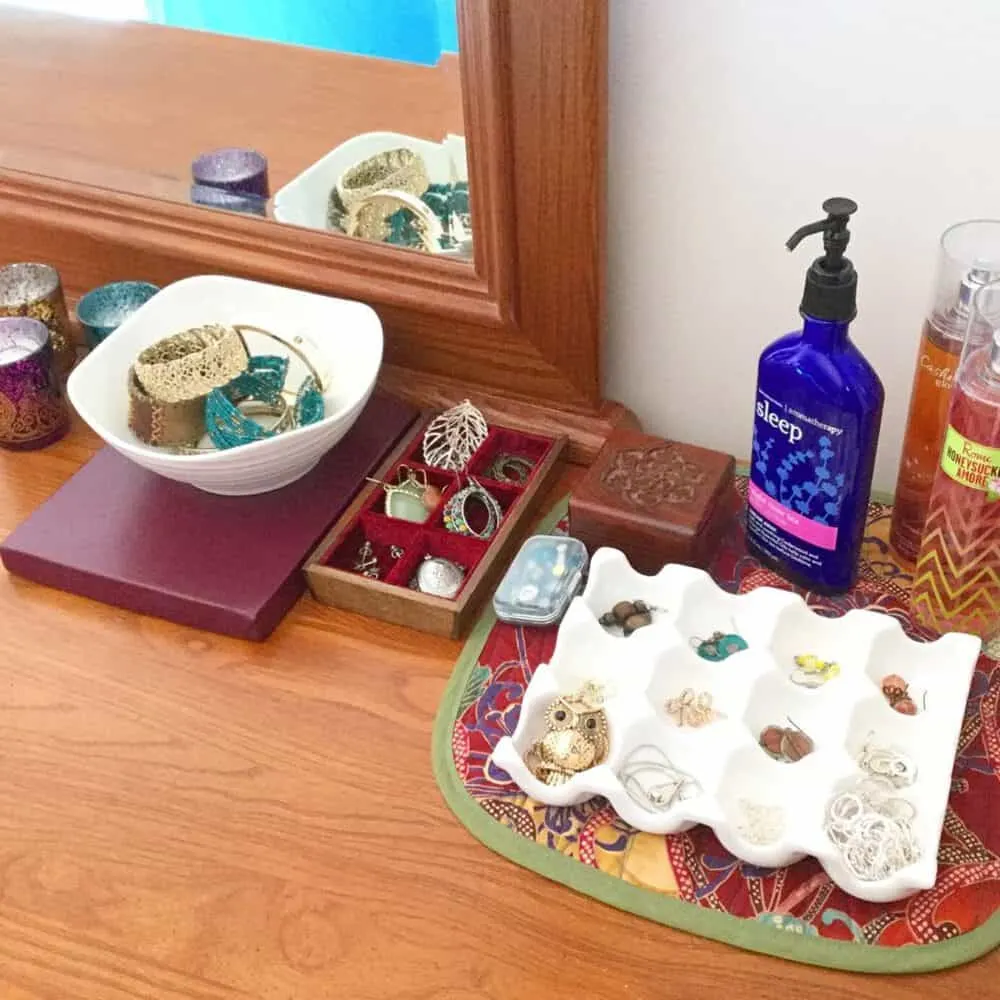 10-15 Minutes at a Time
Small consistent efforts are important. In 10-15 minutes, you can get through a pile of papers, a drawer or two, or a bin of toys.
It's easy to want a big "before and after", one-day transformation, but when you're busy it's probably just not going to happen. If you spend a few minutes working on a drawer or cupboard each night, you'll begin to see a transformation after a few sessions.
So where do you find that 10-15 minutes?
When you're watching TV at night: Pull out a storage bin and sort through it while you watch a show.
While you're preheating the oven: Sort out the pile of paper on your kitchen counter.
As you're putting away laundry: Look at the clothes that didn't get washed and pull out the ones you never end up wearing.
Put it on your to do list! Remember, you don't find time, you make time.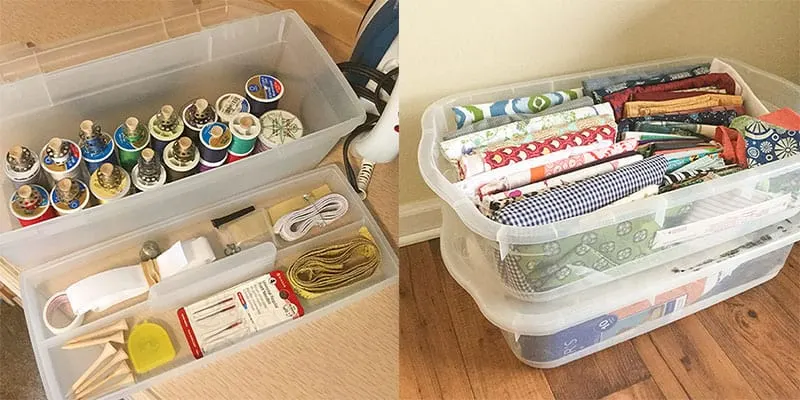 Schedule a Chunk of Time
You can go through your whole house little bits at time and make huge progress. If possible, it is nice to schedule a few hours to get through a larger area all at once.
To make the best use of your time, make sure to really focus on decluttering and eliminate distractions. If you have young kids, try to have someone care for them for this time.
Don't Explode Everywhere
When you're pumped and excited to get rid of unnecessary crap, it can be hard to keep yourself focused on one project. You might find yourself pulling clothes out of closets, dumping out drawers, and just generally exploding stuff everywhere. Tell me it's not just me 🙂
If you make a mess of everything all at once, you might get discouraged when you realize that it looks so much worse than before. If you're busy and don't have time to finish what you just started, it's going to be frustrating living in a big mess until you can get it all back in order.
Try to focus on what you can start and finish in whatever amount of time you have. If you only have 15 minutes, declutter a drawer completely and then be done until you can work on another area in your next bit of time.
Don't Forget About Cleanup
When you declutter, you usually end up wth piles that need to be taken care of. Don't forget to leave yourself with some time to clean up.
These tasks might need to be done at the end of a decluttering session:
Take out the trash
Put items to donate in your car
Put items to sell in a box and schedule a time to take care of them
Move items that didn't belong in that space into their proper home
If you don't take a few minutes to take care of the cleanup, you haven't finished the job. You won't get the full, wonderful effect of your decluttering efforts if you leave a mess behind and don't remove what you're not keeping from the area.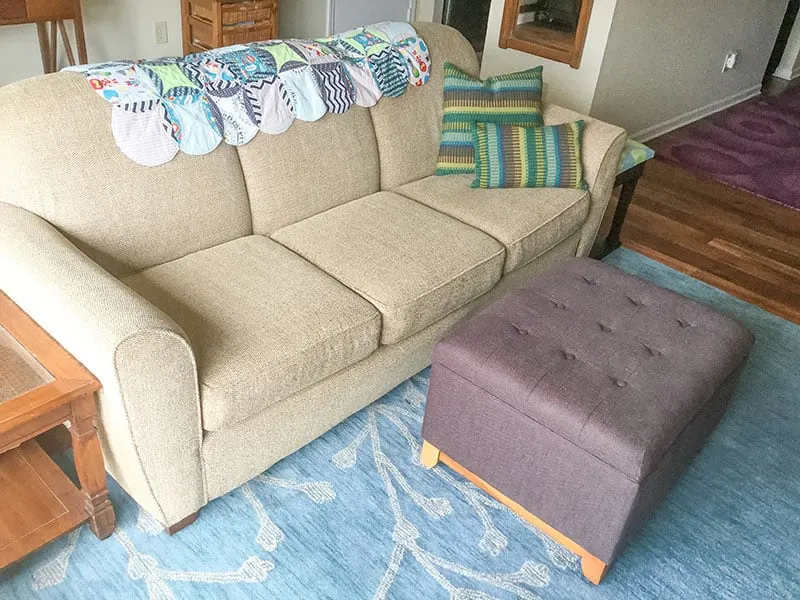 You can declutter your home even if you don't have much time! If you make it a priority, short (consistent) chunks of time will pay off faster than you think.
If you avoid pulling apart the whole house and make time to clean up after each decluttering session, you won't be living in a disaster zone while you slowly declutter each area of your home.
If toy clutter is your nemesis, you might need The Toy Detox. It's a short course to help you declutter toys and benefit your child's development (it's created by a mom with a Ph.D in child development!). "Over 80% of families who complete the Toy Detox report that children play more creatively and innovate more as a result." Plus, image your home without toys covering every inch of it 🙂 Click here to learn more about The Toy Detox.
Related Posts:
Guide to Decluttering Your Home
How Many Clothes Should I Have? The Real Answer.
Decluttering: How to Get Your Spouse On Board
How to Create a Year Round Decluttering Routine
⇒ When do you make time to declutter? What area of your house needs to be decluttered right now?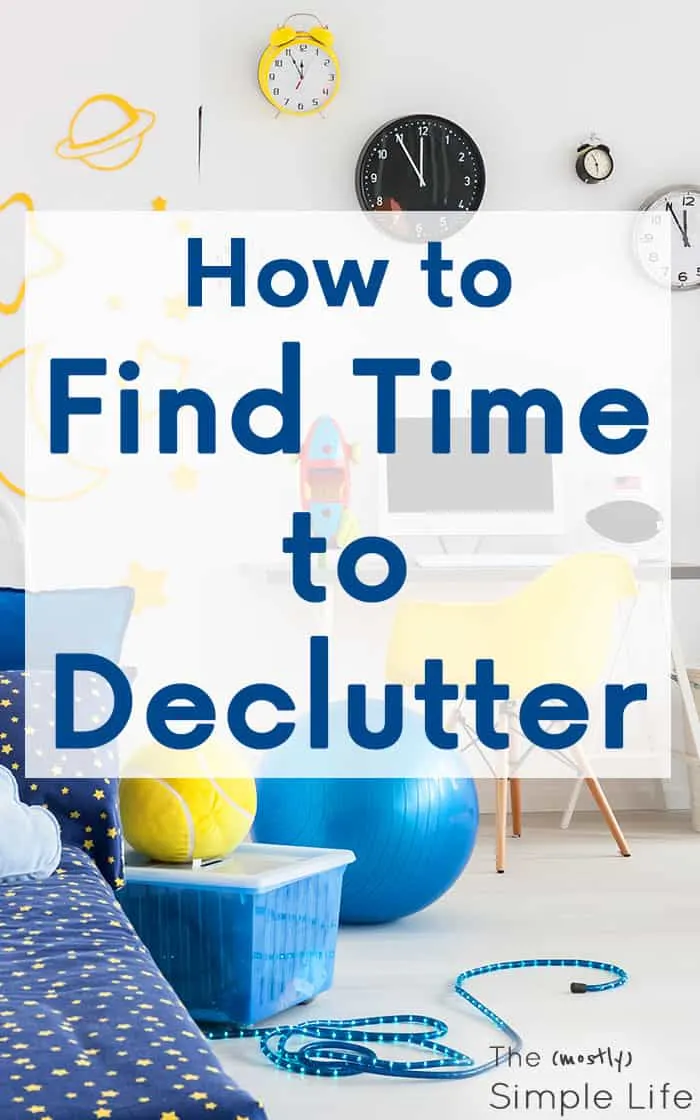 If you find this page helpful, please pin or share it :)