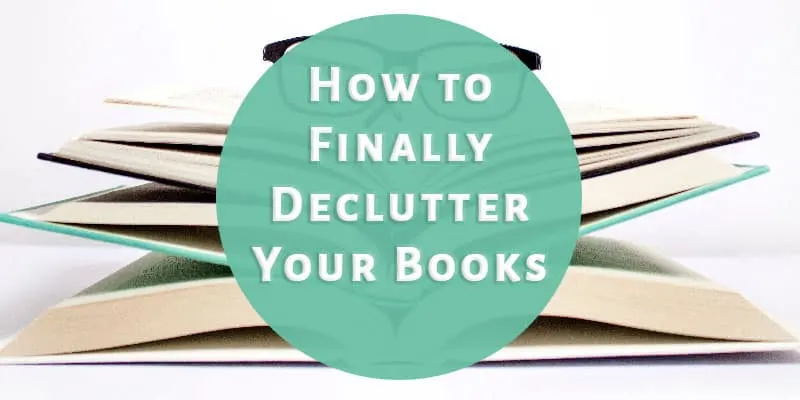 Update: This is a repost of one of my very first blog posts from back in 2016! The topic of decluttering books comes up all the time, so I wanted to update this post and share it with you again.
As an avid declutterer, I have to admit that like most people, I still have a hard time decluttering books.
They're just so hard to get rid of! I like seeing them on the shelf and remembering when I read them. I like knowing that I'm surrounded by so much knowledge (It sounds so ridiculous, but it's true!).
Book collections can take up a lot of unnecessary space and clutter up a house so quickly, though.
If you have a hard time decluttering books, this post is for you. These are the questions I ask myself when I'm debating whether or not to keep a book.
General Questions to Ask
Am I really going to read this again?
To declutter your books, you need to be completely honest with yourself.
Look at each book and think of if you're really and truly going to read it again. If you say yes, ask yourself when. When do you see yourself reading that book again? If you can't think of when you'll want to reread it or when you'll have time to do so, you might be able to let it go.
I liked my art history class in college, but I finally parted with my 50lb textbook because I've hardly glanced at it since.
There have been some excellent novels that I've enjoyed, but I can't see myself reading them again because the thrill was in figuring out the mystery.
99% of the time, if I'm not truly going to read a book again, I know that it can move on to a new owner who will love reading it.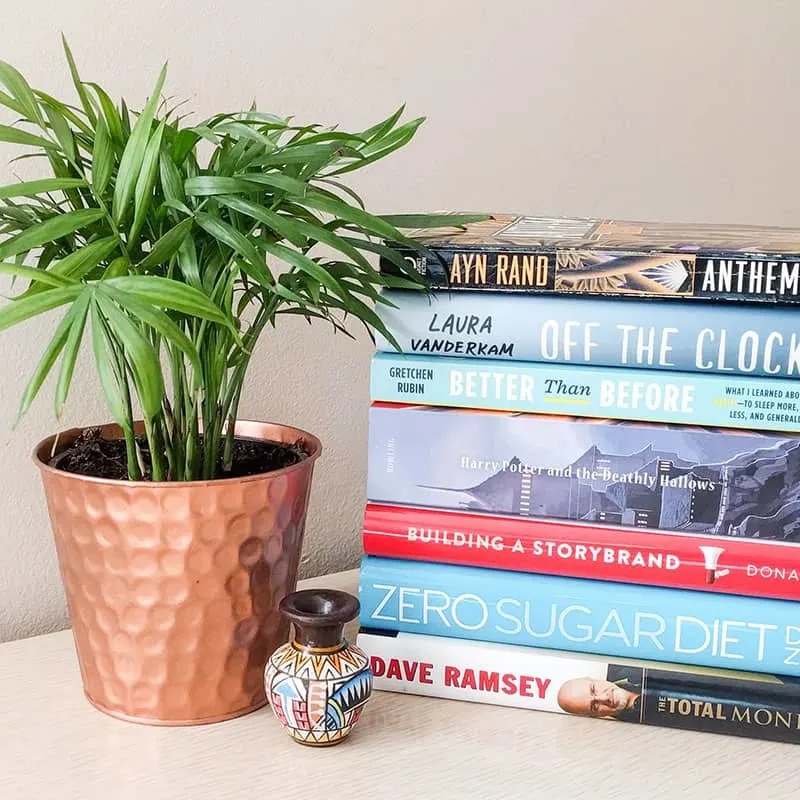 Can I get it from the library?
Your local library has thousand and thousands of books. If they don't have what you're looking for, they can get it from another library nearby.
If there's a book I'm tempted to keep, I think about if it's a book I could easily obtain from the library. Let them store the books.
Can the information be found online?
I've gotten rid of many health and medical books. When one of us got sick, I never looked in the book. I looked online!
Most information found in reference books is easier to find online and it's more up to date.
If I haven't read it yet, what's my time limit for keeping it? If you really want to read it, will you read it in the next six months?
We acquired a bunch of interesting looking books from my parents when they moved. After a while, I realized that we hadn't touched them. So I set a time limit on those books. I told Austin that if neither one of us had looked at those book in six months, we'd get rid of them.
We sent them to live at my in-law's house a few months ago. Just because they were interesting books, didn't mean we were actually going to read them apparently 🙂
If you have books you haven't read yet, set a time limit on them. It could be six months or a year, whatever you think. If it's really a book you want to read, you'll read it. If not, it will sit on the shelf.
Special Kinds of Books
Some books feel trickier to declutter. Here's how I deal with some of those:
Coffee Table Books:
I'm a sucker for a good coffee table book. Those huge books with gorgeous pictures of castles or wildlife, I can't resist!
With coffee table books, I ask myself if I often look at it or have it on display. If not, it's not worth keeping.
Gifts:
Gifts feel tricky, but unless it's exceptionally sentimental, like your grandmother's bible that she handed down to you, I say stick with the general questions above.
You don't need to hang onto a book that you're not using just because someone gave it to you.
I would never expect someone to keep a book I gave them just because it was a gift.
Childhood Books:
Austin and I both read a lot growing up. Our parents had huge book collections for us and have asked us if we wanted those books now.
With childhood books (either yours or your children's books), I think it's best to only keep the true favorites. Don't keep every book you remember reading or that you liked. Keep the books that you read over and over for years; the truly special ones.
We have a very small collection of our favorite childhood books. We keep them so we can read them to nieces and nephews and maybe kids of our own someday. Sometimes we still pull one out and read them to each other just for fun.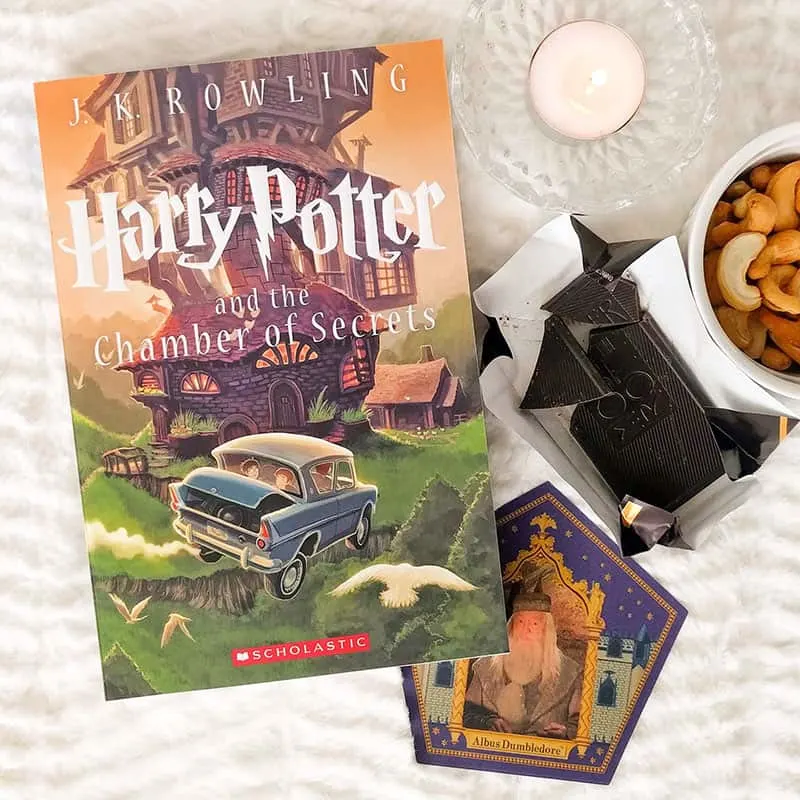 Cookbooks:
I've pared down my cookbooks a lot. I realized that it was kind of silly to keep 20 different cookbooks when I only used one or two recipes out of each.
I only keep the cookbooks that I use for multiple recipes, many times a year.
For the rest, I have copied out the one or two recipes I use (either by hand or copy machine) and put them in a recipe binder. They're now easier to find and don't take up extra space.
There are some cookbooks that you may want to keep because there are recipes that look good that you've been wanting to try. With all of the billions of recipes online now, you're probably more likely to try a new recipe from Pinterest than from that cookbook. I know I am, at least.
I'd copy out the recipes I want to make sure to try and let the book go.
---
Books can be one of the hardest areas of your home to declutter, but for the most part the same decluttering rules apply! If you're not using something, why not let it find a new home where it will be used and enjoyed?
⇒ Do you find it difficult to declutter your books? What kinds of books are the hardest to let go of?
Don't Miss These Related Posts: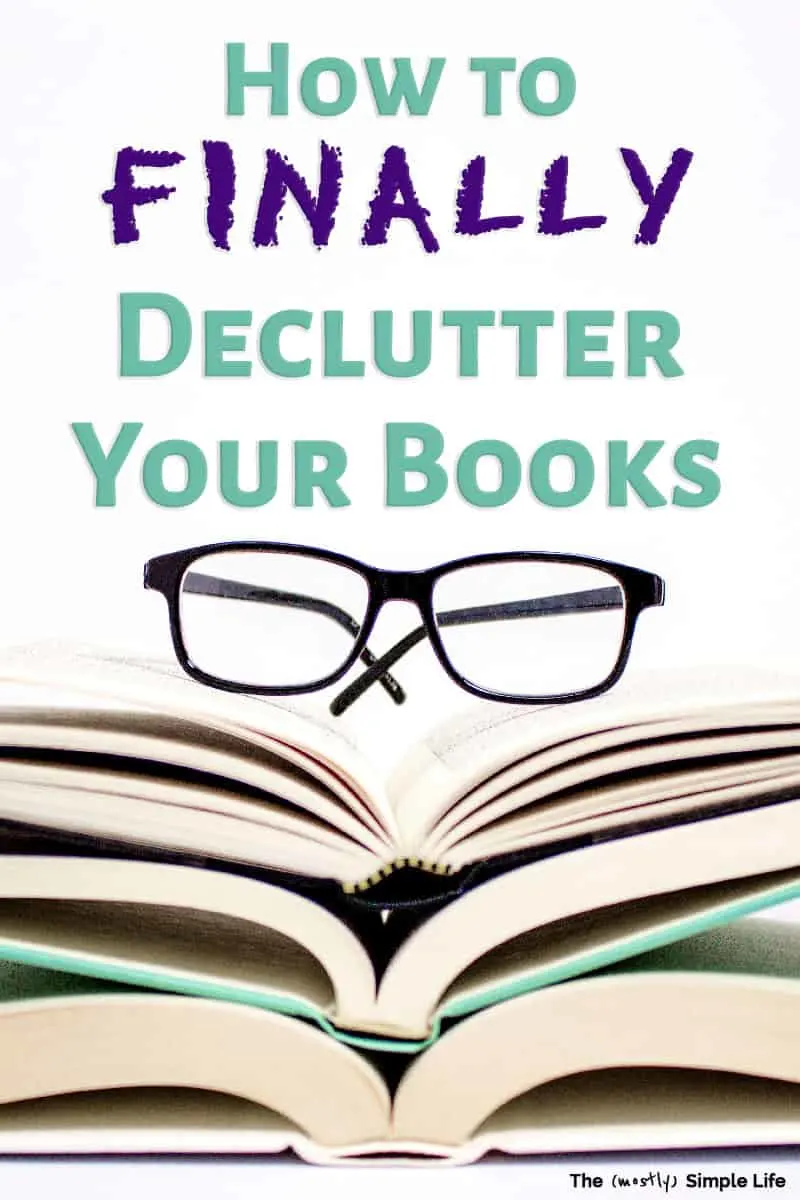 If you find this page helpful, please pin or share it :)