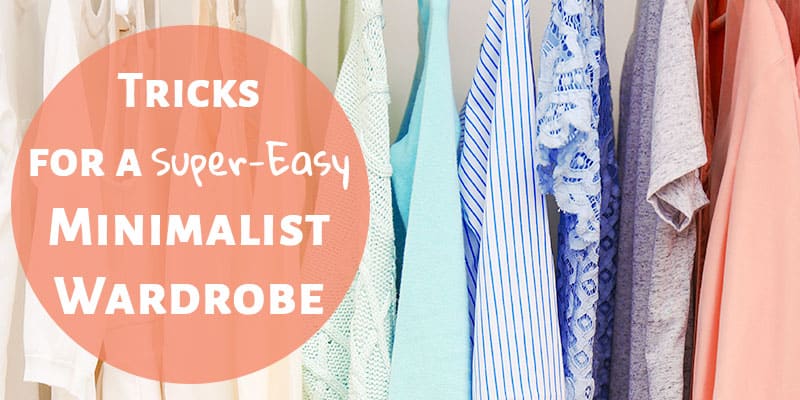 Getting dressed should not be difficult, amiright?!
But trying to simplify my closet so that it all fits and works together is not as easy as it seems like it should be. Plus, once you get your closet to a good place, it can easily get out of hand again if your weight changes, clothes wear out, or you find a great sale.
One of my big life dreams is to be able to get rid of everything I own and create a full wardrobe from scratch, where everything is made well (will last for years) and mixes and matches. It sounds like it would be amazing! Until finances allow for such an event (#possiblynever) I'm working with what I've got.
I had my closet at a really great place last summer, but then I needed lots of winter clothing because things didn't fit or were worn out, and it all got out of hand again.
So I'm reviewing my "rules" and figuring out what to do to make it all better! I'm not gonna lie, being the organization nerd that I am, I kind of love the process!
Purge the Closet
You saw this coming, right? If you're going to have a more streamlined and functional closet, some things gots-ta-go. Let's do a quick run down of what to think about while you purge so that you have a wardrobe that makes you feel confident!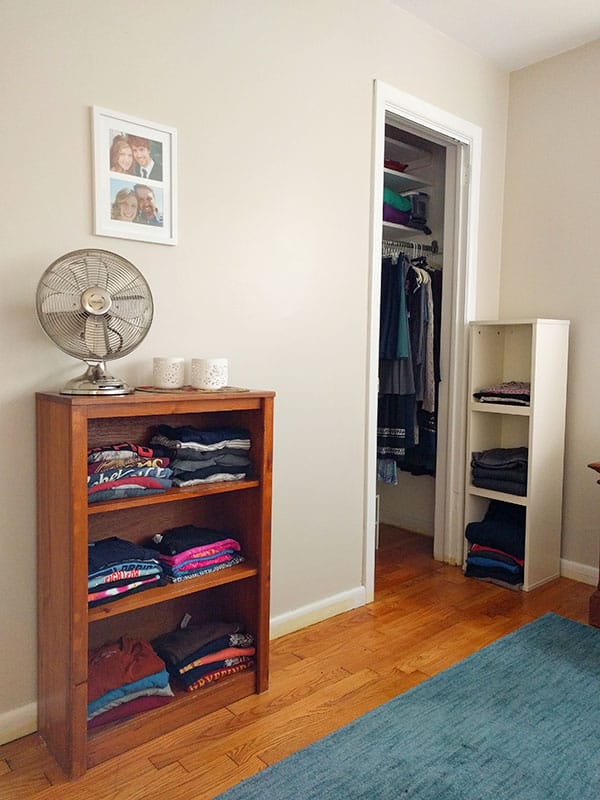 Does It Fit?
If no, it goes. Why keep something that doesn't fit well? It probably isn't that flattering and probably doesn't make you feel good in it.
Do I Feel Good In It?
I had this skirt that was so cute, but every time I put it on, I would change into something else before left the house. I just didn't feel good in it. As cute as that skirt was, I let go of it. I want to feel confident in my clothes.
Get rid of clothes that don't make you feel good. They're just getting in the way of the clothes you do want to wear.
Did I Wear It in the Last Season?
Sometimes there is clothing in your closet that fits well and you feel good in it, but for whatever reason, you just don't wear it.
If you're sorting through sweaters, think about if you wore each one last fall/winter — prime sweater wearing season. If you never put it on, you probably don't need it.
Think through if you actually wore each piece of clothing in it's prime season. If you didn't wear it last time, you most likely won't reach for it this time.
Special Circumstances:
Formal Wear: Most years, I have no reason to wear fancy clothing. I keep one very nice black dress in my closet for just such an occasion. It goes with anything and can be switched up with various accessories. Honestly, no one but me will ever notice that I only have one fancy dress because it gets worn so little. If you occasionally need fancy clothing (like once a year or less), I recommend keeping one formal outfit.
Messy Clothes: I keep one set of junky clothes to wear for messy yard work or when we paint a room. Even if we do messy work for a few days in a row, I just keep wearing the same gross set of clothes so that I don't get anything else dirty.
Weight Fluctuations: If your weight fluctuates or you just had a baby, it can make sense to keep different sizes of clothing. However, if you're keeping jeans from college six years ago that you swear you're going to fit into again someday, let them go. They probably make you feel bad about yourself when you see them in the closet. Plus, when you get older and lose weight, you lose weight differently. I weigh the same as I did five years ago, but clothes don't fit the same. Store clothes that don't fit if you have a goal date for when you'll be wearing them again (probably a year or less). If it doesn't work out, don't worry about it. When you lose weight, you'll want to buy new things, and things might fit differently than they did before.
Expensive Clothes: No matter how much you spent, if it doesn't fit, if you don't feel confident in it, or if you haven't worn it, don't keep it! Try to send it to a consignment store (like swap.com) or sell it on a Facebook resale site if you will feel better getting some money back for it. Don't let it take up space in your closet, though.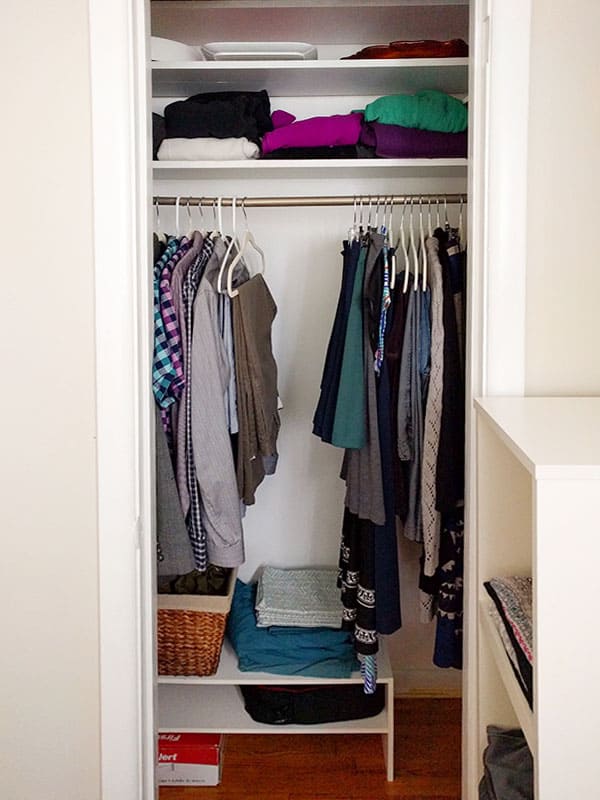 Pick Your Neutral
This is the most important tip!! Once I figured this out, it got so much easier to get dressed!
Pick a neutral color to work your whole wardrobe around.
I used to have this problem where I would have a cute dress that only went with brown dress shoes. Well, I only had black dress shoes so I never wore it. Or my whole outfit would look great with black sneakers, but my sneakers were navy.
I had three times as many clothes as I do now but could make half as many outfits because hardly anything went together.
Eventually, I decided that black was my neutral. Everything I own goes with black — my tops, pants, shoes, dresses… All of it. If I find something cute at the store that wouldn't go with black, I do not buy it.
This might seem super restrictive, but it makes pulling an outfit together so darn easy!
Pick a neutral to create your wardrobe around: Navy, Black, Brown, Khaki… Whatever it is, purge your closet of everything that doesn't go with your neutral and don't buy anything new that won't work with it.
Honesty Time: I have a super-cute silk summer dress that only goes with brown as well as some brown riding boots from years ago that I've never been ready to part with. Do I have anything at all that goes with them? Nope. I have not worn either of them in years. Maybe it's time to let them go.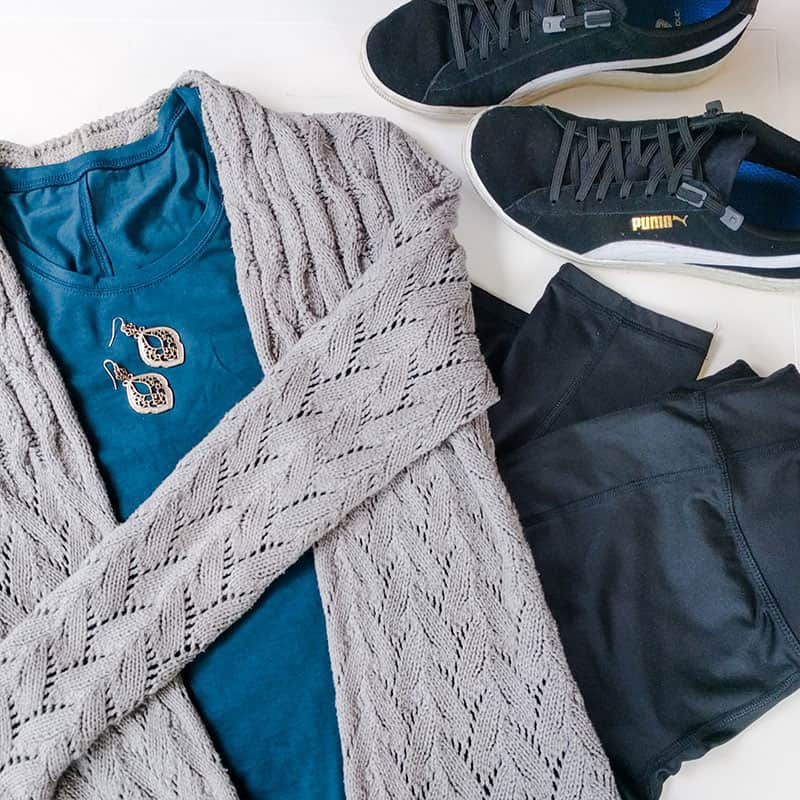 All "your neutral" on Bottom
This takes the last tip one step further. Have all of your bottoms: pants, shorts, capris, shorts… be in your neutral color.
I tried this last summer and it was awesome. I needed a lot of new summer clothing and I only bought shorts and capris that were black. Game changer. I could literally pull out any bottom and any top and they worked together. Plus, all of my sandals were black or went with black, so I could slip on any pair and be good to go.
Why had no one ever told me about this?
Once the weather got cold, I stopped following this rule as closely and it has been a lot harder to pick out an outfit this winter.
Obviously, you have to be a lot more ruthless about purging and what you buy to stick to this tip. If you want to have a matching outfit in seconds each day, this will make it happen for you.
Socks
I no longer pair most of our socks. After getting all rage-y about how hard it was to find a pair of socks in the morning (something that should not be difficult), I got rid of our socks!
Then, I bought multiple packs of the same socks. Austin has a drawer for his normal socks and a drawer for his dress socks. I have a drawer for my socks. When I fold laundry, I open all three drawers and throw the three different kinds of socks into the proper drawer. To find a matching pair of socks, you just have to open a drawer and pull two socks out.
There's no matching up socks or folding them or having socks who can't find their mate. It's the best.
Shoes
A great thing about picking a neutral is that you don't need to own as many pairs of shoes. If my boots go with everything, I don't need multiple different pairs (Unless I want to. And I do 🙂 ).
Since black is my neutral, most of my shoes are black. I've also found that white and metallic work with everything, which adds some pizzaz to an outfit.
Some of the most versatile shoes I have are:
I've found that flats are much more versatile than shoes with a heel, so I don't have heeled dress shoes or sandals. Flats can work well with dressy clothes or casual clothes. (I have back problems that make heels a bad idea for me anyway)
Choosing Accessories
Accessories are where things can get really fun! Still stick to accessories that will work with your neutral. Most scarves hats, and jewelry can go with almost anything, so that's hardly a restriction.
Personally, I know that I always gravitate to the same few pieces in my collection, so I don't buy many new things. Why keep five different gold necklaces and buy more all the time when nine times out of ten I'm going to wear that one favorite one?
But if you wear it all, go for it!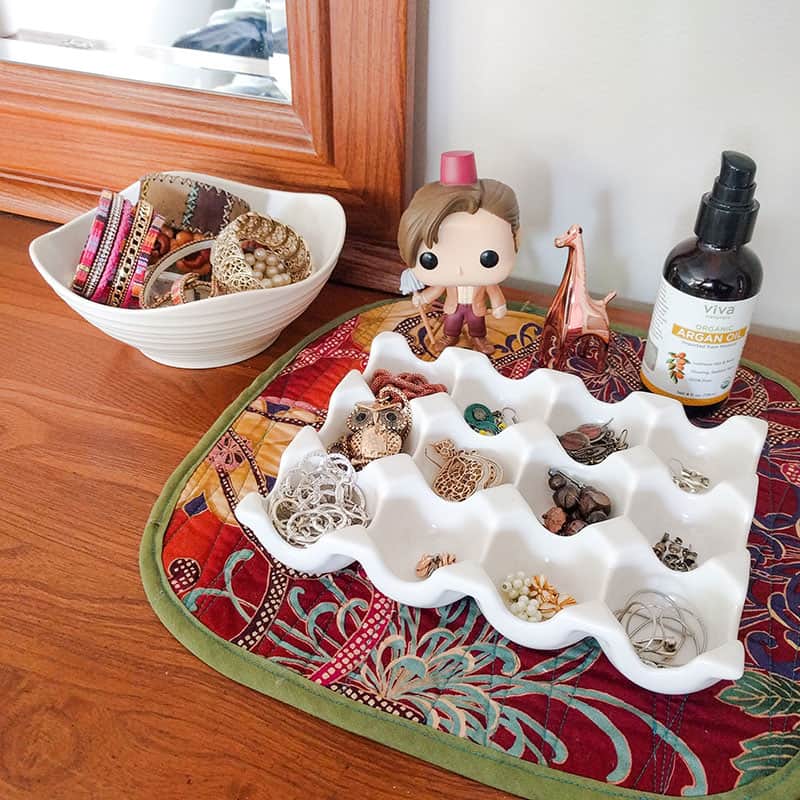 Keep a List of What Your Wardrobe Needs
I like to keep a running list of specific clothes, shoes, or accessories to be on the lookout for.
I don't want to waste my money on a cute black top when I already have three. I do, however, need to find some sandals for this summer because the ones I wore last year are worn out.
If you keep a list of what you really need, you will save money by not buying stuff that is unnecessary. You will also keep your wardrobe simpler because it won't get filled up with extra clothes and shoes.
Bonus Question: Is this something I'm going to reach for first?
I ask myself this before I buy something new. Is this something I'm going to reach for first?
How often have you bought a cute jacket only to wear it twice and have it get pushed to the back of your closet? Why did that happen? Because you have two other jackets that you like more or that fit better or that make you feel better in them.
Just because something is cute doesn't mean it needs to come home with you. Ask yourself if that top is really going to be what you reach for first, or will it end up as a backup for when the tops you like better are dirty.
Sidenote: I've had great luck shopping at Swap.com lately. They're an online consignment store where you can get nice, name brand stuff for a good deal. They have a good return policy too if something doesn't work out.
Ideally, everything in my closet fits, makes me feel good, and can mix and match. This ideal closet doesn't just happen though. I've found that by following the tips laid out in this post, I can make it possible.
It takes being willing to let go of a lot and making careful shopping choices. It's totally worth it! Being able to reach into my closet and put together an easy outfit in a minute is so amazing! It saves me time and boosts my confidence — win-win!
You Might Like These Posts Too:
⇒ What is the current state of your closet? Do you have any simple wardrobe tips?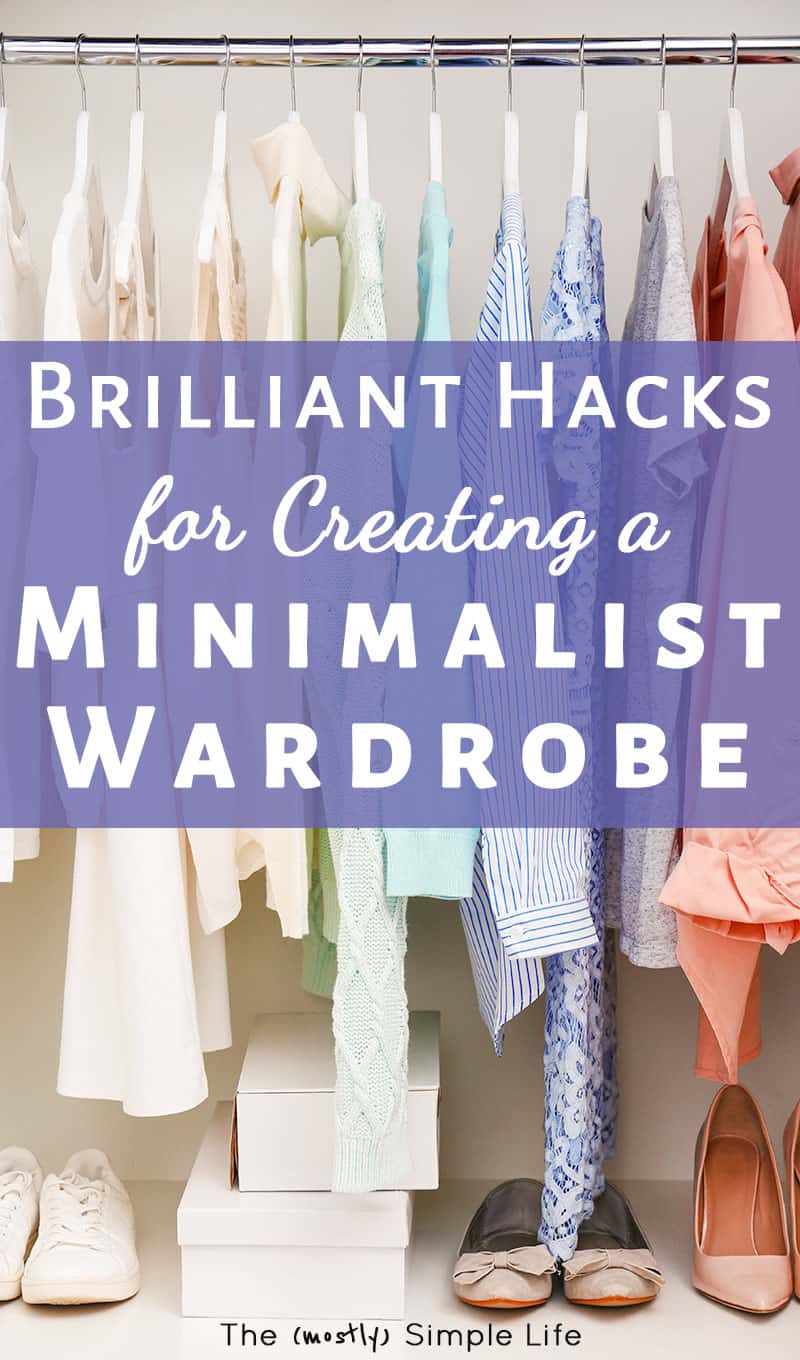 If you find this page helpful, please pin or share it :)