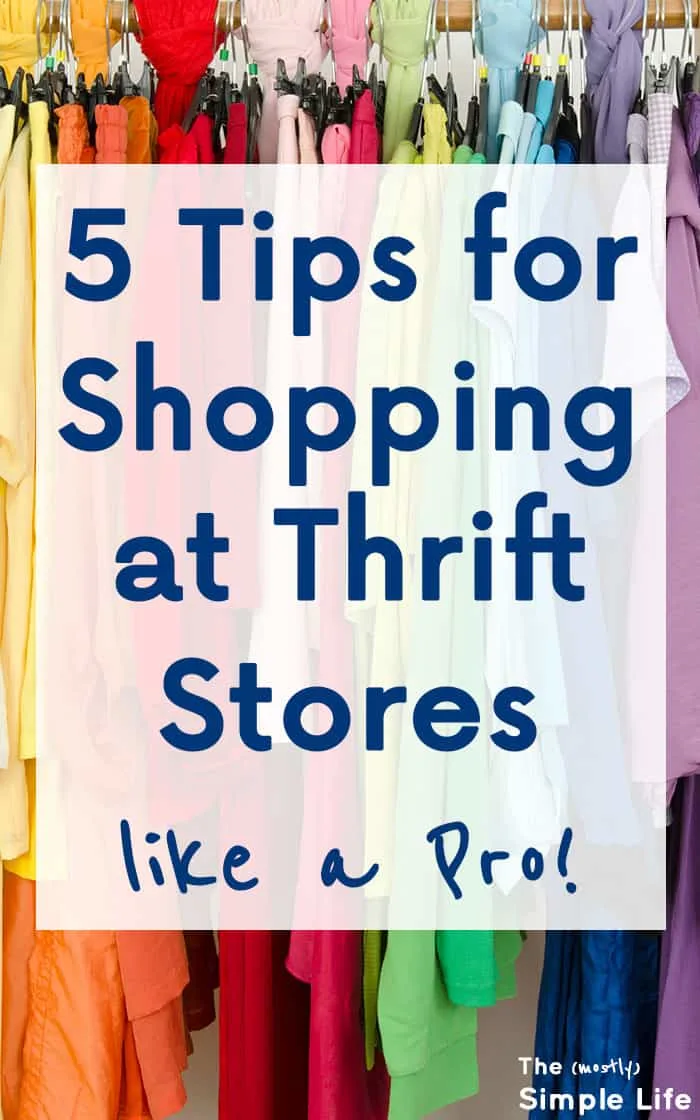 As someone who blogs about saving money, I have a big confession to make…
I don't often shop at thrift stores. Or I didn't until recently when I figured out how to truly rock thrift store shopping.
You can definitely save huge amounts of money by shopping second hand, but there have been a few things holding me back:
I don't enjoy shopping just to shop. Thrift store shopping can take a lot of time and you often have to really dig through a lot of junk to find good stuff.
I've had better luck at some consignment stores but I felt like I could buy new things on sale for a similar price.
Allergies. Thrift stores usually have a very distinct smell and can be very dusty. This bothers me a little and bothers Austin a lot, which meant he would never go with me.
Well when we moved, a friend took me to her favorite thrift store and it got me hooked! I've been finding some great deals and enjoying the hunt. So I wanted to share the tips I've learned for being a more successful thrift store shopper:
5 Tips for Shopping at Thrift Stores like a Pro
1. Find the Best Stores
This is by far the most important tip of them all. Not all thrift stores are the same.
Around here, whenever I've gone to a Goodwill, I've had to dig through piles of junk and their prices aren't that great.
I found a local thrift store that only stocks high quality items and has great prices. It has made all the difference! It's also super clean, so I can bring Austin so that he can pick out clothes he needs too.
Ask your friends, post a question on Facebook, and do a Google search for the best thrift stores in your city.
2. Pay Attention to Specials and Sales
A lot of thrift stores have certain items marked down even further, so don't forget to glance at those.
You can also ask if they have any regular sale days. There might be a day each week where you can get a percentage off if you're a senior or a student.
3. Look for Quality Brands
I check brands while I shop at thrift stores.
Just because something is inexpensive doesn't mean I don't care if it falls apart.
Clothes from stores like Forever 21 and Target are usually not made very well. They get worn out quickly and don't wash well. If I find something super cute and 'like new' in a brand like that, I'll pick it up but I try to pay more attention to clothing built to last.
Brands like Banana Republic, LL Bean, or Ann Taylor are more durable and will last longer, especially considering that these things are already on to their second owner.
4. Shop with a List (kind of)
It's easy to shop somewhat carelessly at a thrift store and buy tons of stuff you don't really need just because it's cheap. I know a lot of people with closets overflowing but "it's ok because it was only a few bucks each".
In my efforts to maintain a simple wardrobe, I only buy what I need and love when I shop at thrift stores. To do that, I shop with a general list of what I need.
It doesn't always work to look for super specific items because you never know what you'll find. I make more of a general list of what to look for, and also make a mental note of what I don't need.
The last time I went, I knew that I needed to find a few pairs of shorts or capris of the summer. I also knew that I didn't need any more pants or skirts, no matter how cute or cheap they were. In fact, I didn't even look in those sections.
If you're shopping for your whole family, make a list of general items each person needs and in what size:
Velma needs a few summer dresses in size medium.
Shaggy needs shorts and dress clothes in size 3T.
Scooby needs something to wear for family pictures in size large
You get the idea.
5. Look it Over
Always take a good look at the items you want to buy. Even at my favorite thrift store, I've come across clothing with stains and snags.
Since a lot of thrift stores don't have good return policies, you want to be extra sure that what you buy is in good shape.
Now that I've figured out some of these thrift store tricks, I enjoy thrift shopping! We have found some great clothes at amazing prices.
I definitely think that tip #1 is the most important one, though. Finding a good thrift store can make a huge difference in what you can find, how much you pay, and how pleasant the experience is.
Related Posts:
The Most Effective Way to Fix Your House on a Tight Budget
The Fastest Way to Create Your First Budget
⇒ Tell me your thrift store tips! What's the best deal you've ever found? Where is your favorite place to shop?
If you find this page helpful, please pin or share it :)