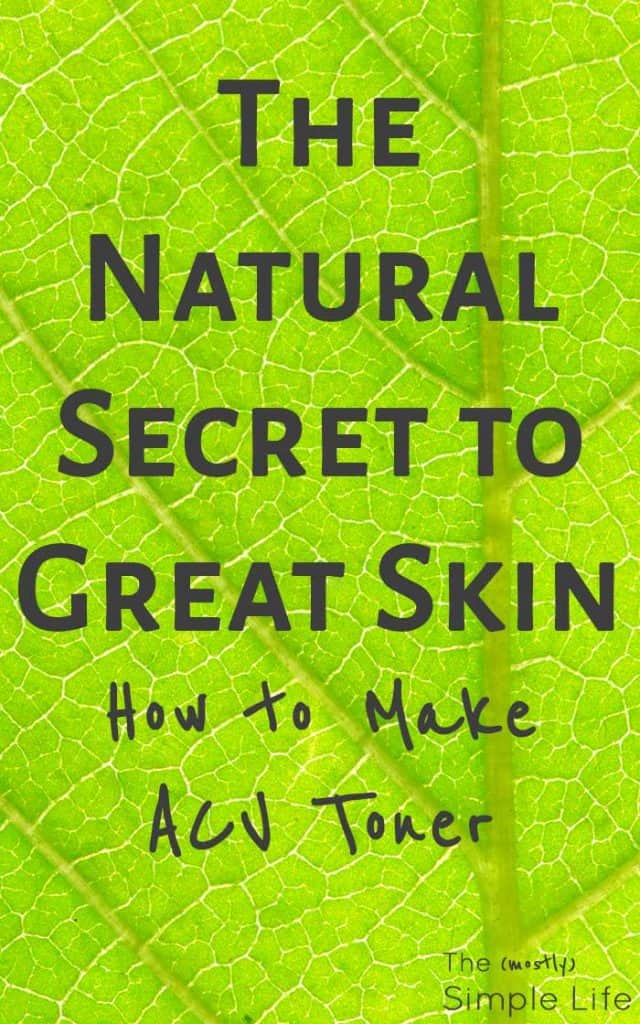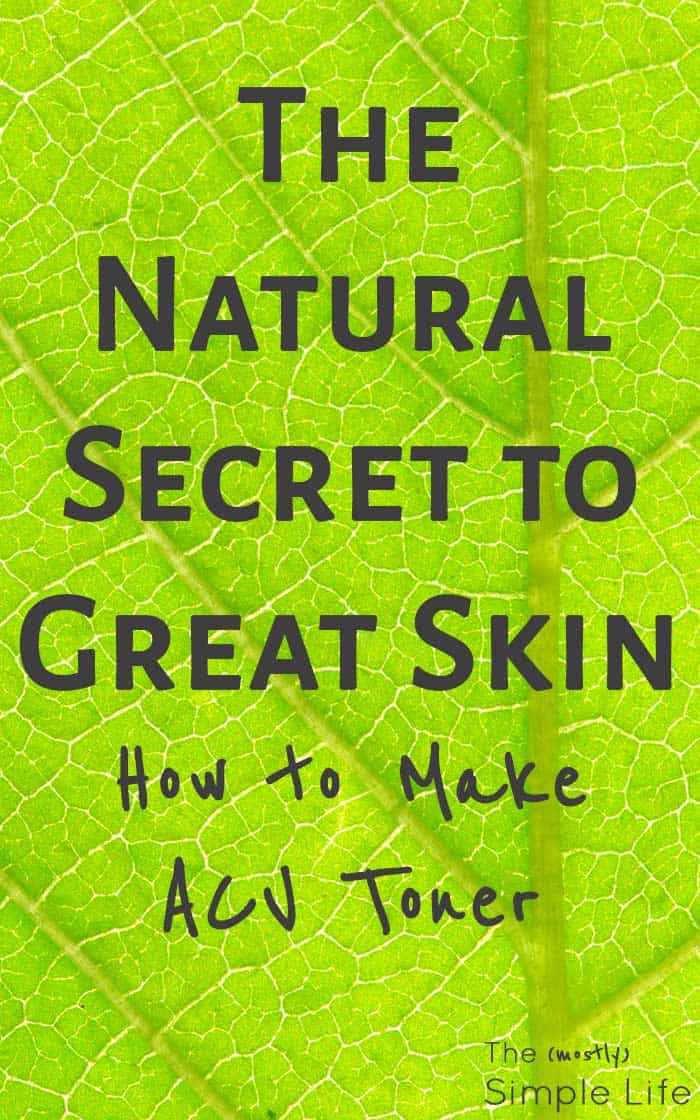 My skin has been a source of insecurity since junior high.
In fact, I can vividly remember once in my life when I was complimented on my skin. The moment stood out because it was such a shocking thing for someone to tell me. I also happened to be wearing a lot of makeup at the time.
Even as an adult, I still get frustrated with my skin. I kept thinking that my bad skin was just a teenager phase, but it didn't stop when I went to college or got married!
It totally sucks to not want to have your picture taken and to be super self-conscious about your face.
A few years ago, I was looking for an inexpensive solution since I didn't have the money to get a whole facial system like Proactiv. Internet-world showed me apple cider vinegar toner.
The Natural Secret to Great Skin: ACV Toner
I spent a couple of dollars on high quality apple cider vinegar and distilled water and gave ACV toner a try. I figured that it was pretty risk-free since I could use both of those things in the kitchen if it didn't work out.
To my surprise, after a few weeks my skin was looking better than it ever had before. My acne had pretty much cleared up! I got Austin on board and he experienced great results too.
Apple Cider Vinegar Toner Recipe
Apple Cider Vinegar: Organic, Raw, Unfiltered, With the 'Mother'. Bragg brand is easy to find at the grocery store. Shake it up good before you use it.
Distilled Water
I have oily skin, so I use 1 part ACV with 1 part water.
If you have sensitive skin, it's recommended to use 1 part ACV with 4 parts water.
If you have normal skin, use 1 part ACV with 2 parts water.
("Part" is just any unit of measure. So if you're using a tablespoon and the normal skin recipe, you'd use 1 Tbsp ACV and 2 Tbsp water.)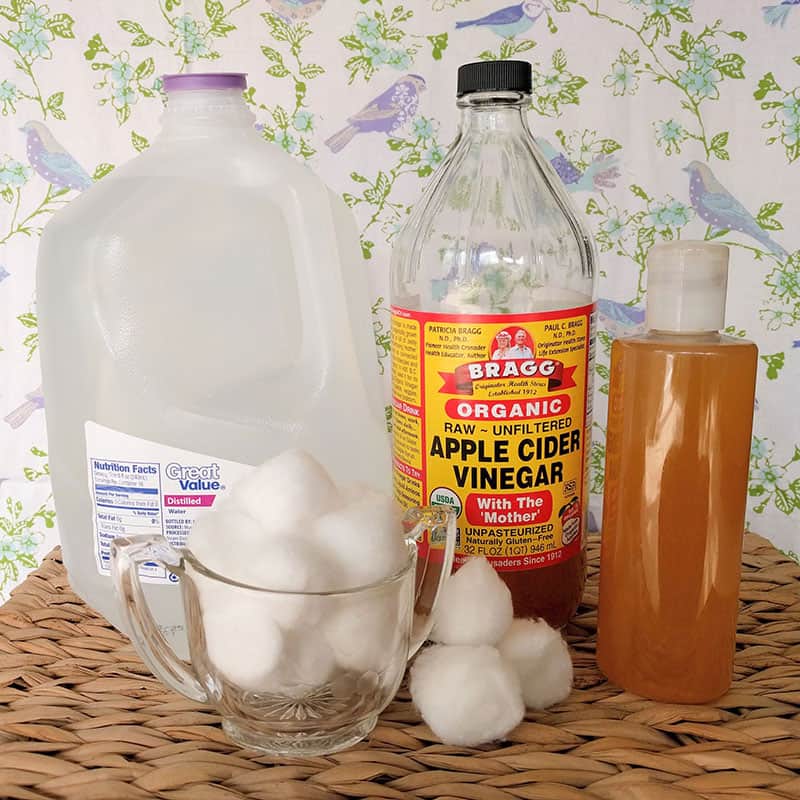 Store it in a glass or plastic bottle. It does not need to be refrigerated.
You still need to wash your face like you regularly would to remove makeup, then use this after.
Dampen a cotton ball with the toner and wipe it on your face being careful not to get it in your eyes. Do not wash it off after. It will dry in a few seconds.
Austin only uses it once a day but I do it twice a day; it just depends on your skin. I would recommend starting with just once a day for a while to see how your skin reacts.
Let's talk about the smell: The biggest concern people usually have is about the smell of the vinegar. Understandable. Vinegar has a very strong smell.
While I still don't like the smell even after using it for years, I have definitely gotten used to it. Plus, once it dries the smell dissipates, so it's not like you're going to walk around smelling pickled all day.
My skin has improved so much since I started using ACV toner. I hardly have any acne problems for the first time since junior high! It has evened out my oily skin, too. My skin never gets super dry or super greasy.
If you are frustrated with your skin or are looking for more natural options, I hope you'll give ACV toner a try. It has helped my skin more than any other facial cleaner or product I've tried.
Related Posts:
My Simple 5-Minute Makeup Routine
The Only 2 Natural Cleaning Recipes You Need
16 Ways to Simplify Your Life Today (in 30 minutes or less)
⇒ Have you tried any natural skin care remedies? What products have made your skin better?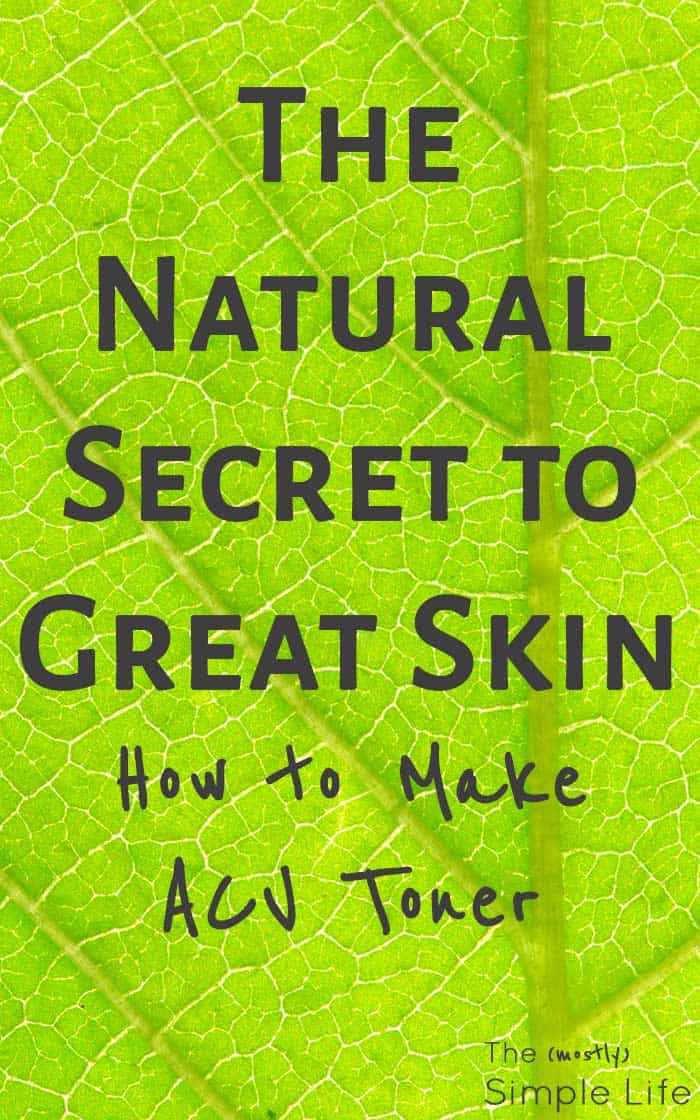 If you find this page helpful, please pin or share it :)