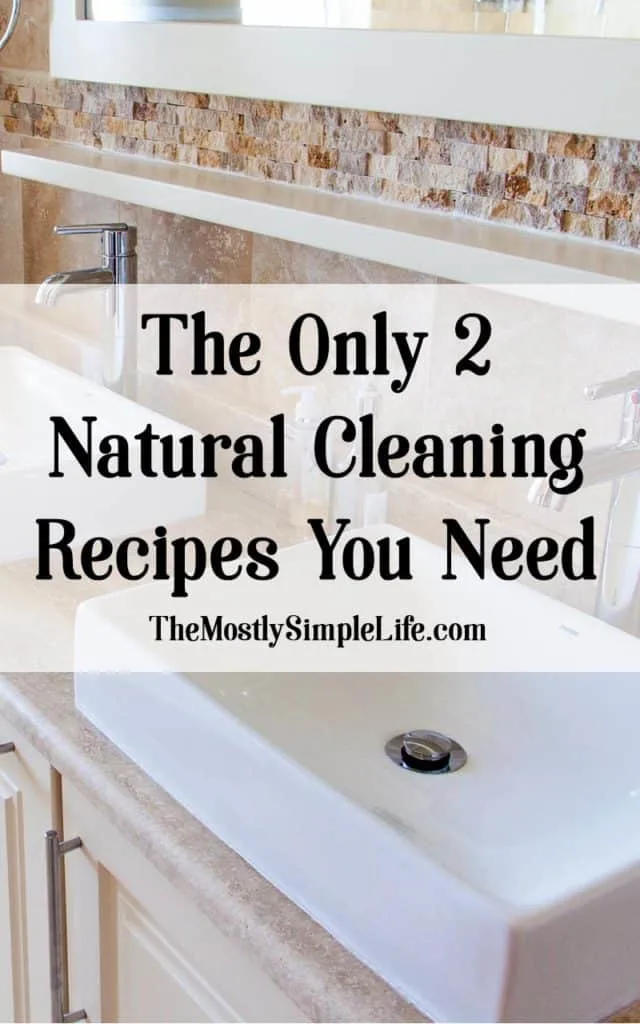 It is ridiculous how easy it is to make your own cleaning products.
One look at the warnings and hazard labels on store-bought cleaners is all the motivation you need. In case you need any more motivation to make your own cleaning products, it also saves a lot of money.
You only need a few basic ingredients to get started, and they might all be sitting in your kitchen right now.
The Only 2 Natural Cleaning Recipes You Need
All-Purpose Cleaner
You know I like to keep things simple! We use a homemade all-purpose cleaner for pretty much everything we wipe down in our house. Kitchen counters, the bathroom, hardwood floors… I even use this to clean our windows and mirrors.
It's so nice to have one spray bottle that can clean almost everything.
Ingredients:
Vinegar: it's a safe disinfectant
Dawn Dish Soap: the classic blue one that cleans the birds when there's an oil spill
Lemon Essential Oils: it has antiseptic properties and smells amazing – my first bottle of this lasted me years because you only use a few drops at a time
Water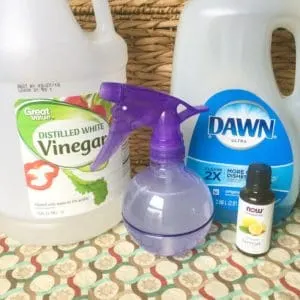 Fill your spray bottle halfway with vinegar. Add one drop of dish soap and about five drops of lemon essential oil. Fill the bottle the rest of the way with water.
I like to shake it up a little each time I use it since the oil likes to separate from the water. #science
If you're worried about the vinegar smell, don't be! It goes away very quickly and you're left with the fresh lemon scent. Also, over time, you'll get used to the vinegar smell and it won't bother you as much.
If something is extremely dirty or we have pizza sauce dried onto the stovetop, I just spray the cleaner on and let it sit for a few minutes before I wipe it up. Waiting a few minutes makes for less elbow grease. Work smarter, not harder 🙂
Related Posts:
How to Earn Cash Back on Fruits, Veggies, & Non-Name Brand Foods
My Biggest Secret to Keeping Our House Clean

Shower & Tub Cleaner
If your shower isn't that bad and you clean it regularly, the all-purpose cleaner will probably take care of it for you. If you're like me and remember to clean the shower on the rare event that you have company coming to visit, you'll want this heavy duty cleaner. (Can you tell I'm not the greatest housekeeper?)
Ingredients:
This is more of a paste, and you'll need a brush to scrub with (something like this).
Start with about 1/2 cup of baking soda in a bowl and mix in enough dish soap to make a thick paste. Then, slowly add in the vinegar to thin the paste a little. Use the brush to scrub your shower or bathtub. Rinse well with water when you're done.
I like to start with a small amount and then make more if I need it so that I don't waste any. I don't store this. I just make it up when I'm going to clean the tub.
Confession Time
I do buy toilet cleaner from the store. We have terribly hard water and I have a hard time keeping out toilets clean (gross).
I buy the nasty, super strength toilet bowl cleaner because it works best for me. If you have hard water and use something less chemical-y, please let me know in the comments!
Related Posts:
16 Ways to Simplify Your Life Today (in 30 minutes or less)
The One Thing You're Forgetting to Do When You Declutter
3 Chores to Do Every Weekend for a Better Week
You can follow me on Facebook, Pinterest, Instagram(for pictures of everyday life around here), and/or Twitter. You can also Subscribe Via Email in the right-hand column to make sure you don't miss out on new blog posts.
⇒ Have you tried making your own cleaners yet?
---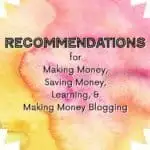 Be sure to click over to my Recommendations Page to see some of the ways I save money, make extra money, learn new skills, and make money with this blog.
If you're interested in starting a blog, click over to read why I think you should do it! Plus there's a tutorial to get you started.
---
If you find this page helpful, please pin or share it :)