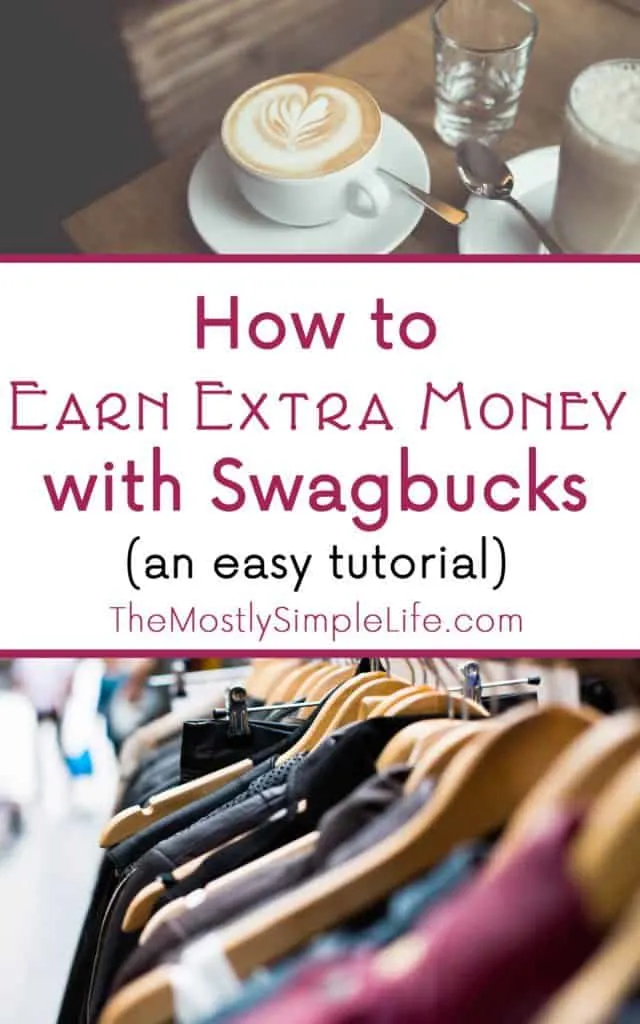 We're all looking for ways to earn a few extra bucks, right?
With pretty minimal effort, I've been earning points with Swagbucks that can be cashed in for gift cards to tons of different places.
I'll be honest, I don't try too hard with Swagbucks, so my earnings aren't huge. I don't think anyone is replacing their income with this, but there are people who make $75-100/ month by putting in some effort and being consistent. That's pretty awesome! I'm pretty stoked that I've already got enough points for a few lattes.
The Swagbucks website says that they've paid out over 140 million dollars to their members, so why not get in on some of that?
In general 1,000 points(SwagBucks) converts into a $10 gift card. They do runs sales on certain gift cards where you can get them for less than the normal amount of points.
You could save up your points all year and then get gift cards to purchase Christmas presents with. Or if money for a date night or fun money isn't in your budget, you could earn points to go out to eat or buy random fun stuff from Target.
How to Earn Extra Money with Swagbucks
Sign Up!
Haha, of course you have to sign up first!
Click here to get started with Swagbucks.
You'll enter your email address and create a password. Then you'll have you go into your email to verify your email address so you can start earning points!


Start Earning Points
You can earn points in a whole bunch of different ways, which is great, but also a little overwhelming at first.
So here's a little breakdown of what to look for to get started:
The To Do List
When you're signed in to Swagbucks, you'll see the To Do List in the left-hand column. You can click on each task to complete it each day.
There's a daily poll, videos to watch, their search engine to use, and a few other things. Completing each task will get you one or more Swagbucks. If you complete six out of the seven tasks on your To Do List, you'll earn a bonus.
You could easily do this while you're sitting around watching TV at night.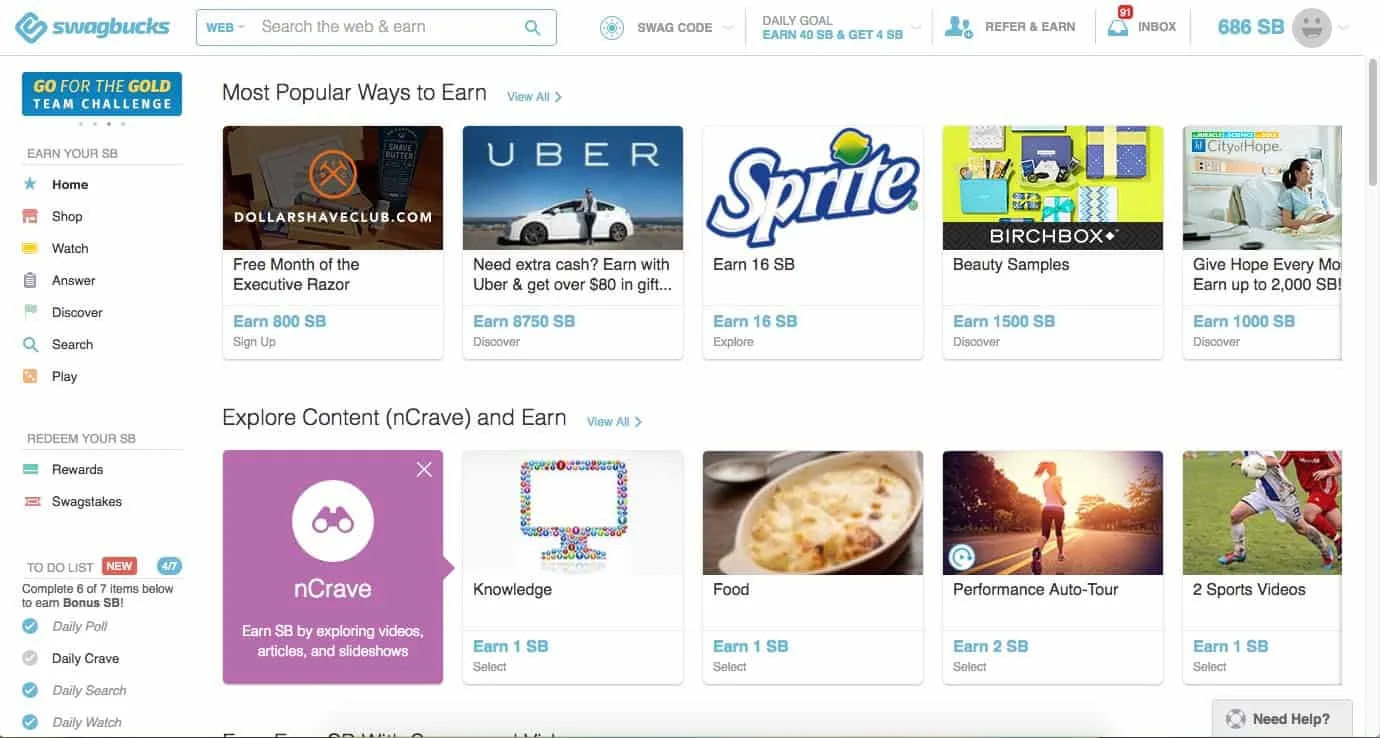 Related Posts:
Our Actual Budget: $1500/month
The Simple Way We Track Our Spending on a Tight Budget
The SwagButton
If you use Google Chrome as your main web browser, you can get the SwagButton: aka, the Swagbucks Chrome extension. To find this, look on your SwagBucks home page. It is under 'Quick Links' in the left-hand column.
The SwagButton extension is cool because it alerts you of ways to earn more SwagBucks.
A big way to earn is to get cash back on online purchases. If you have the SwagButton installed, an alert will pop up if there are currently cash back offers for whatever website you're shopping at. Since we do almost all of our Christmas shopping online, I'm excited to see how much cash back we'll be able to earn.
You can also click on the SwagButton to use the Swagbucks search engine. When you use the SwagBucks search engine, you will occasionally be rewarded with points. Since I'm a lazy SwagBucks user, this is one of the main ways I earn points.
The SwagButton also has alerts that pop up if there are opportunities to earn points on social media. Sometimes, SwagBucks will post on Facebook and give a special code that will earn you some points. If they do this, an alert will pop up and you can quickly go over to that site, copy the code, and paste it into your Swag Code box.
I have to give SwagBucks credit for not making any of these alerts obnoxious or in the way. I can't stand when I get alerts and emails 50x per day from somewhere. When an alert happens, a small box will show up in the corner of your browser. If you don't want to participate, you can simply close the box and move on.
The Search Engine
Like I said, I earn most of my points the lazy way, by using the SwagBucks search engine.
In whatever web browser you usually use, you can go into the settings and set the SwagBucks search engine as your default. This way, whenever you search something, you are using their browser and you raise your chances of earning more points.
The App
You can use the SwagBucks app to search, shop, answer surveys, and watch videos.
I like to go to the 'Watch' section and turn on the featured videos. A lot of times, I play the videos and turn off the volume and just let them run for a while.
I think you can reach a limit or at least run out of new videos to watch, so you can't just let them play 24 hours a day, but this is a great way to earn points.
Related Posts:
16 Ways to Simplify Your Life Today (in 30 minutes or less)
The 5 Biggest Ways We Save Big Money
Creating a Home Organization Station
Other Ways to Earn SwagBucks
Surveys – You can always take surveys to earn points. On the SwagBucks home page, in the left-hand column is the 'Answer' section. There will be surveys to take. Most of them ask a few introductory questions to see if you qualify for the survey. If you don't fit what they're looking for, you'll still earn a few points for trying.
Games – Go to the 'Play' section in the left-hand column. Don't get sucked into the games you have to pay for or the sweepstakes you can enter. Look for the free SwagBucks games at the bottom of the page.
Refer – On the top toolbar on the webpage, you'll see the 'Refer & Earn' section. If you refer friends to SwagBucks, you'll earn points every time they earn points.
Ok, are you ready to earn some extra money?
If you haven't signed up for SwagBucks yet and would like to, Click Here Now.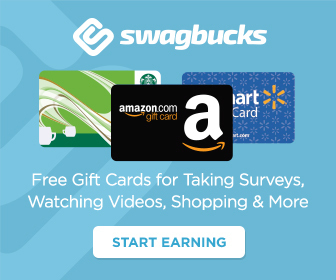 ⇒ Have you earned gifts cards SwagBucks? What other programs do you use to earn some extra on the side?
---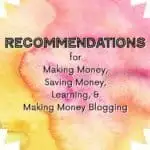 Be sure to click over to my Recommendations Page to see some of the ways I save money, make extra money, learn new skills, and make money with this blog.
If you're interested in starting a blog, click over to read why I think you should do it! Plus there's a tutorial to get you started.
---
If you find this page helpful, please pin or share it :)