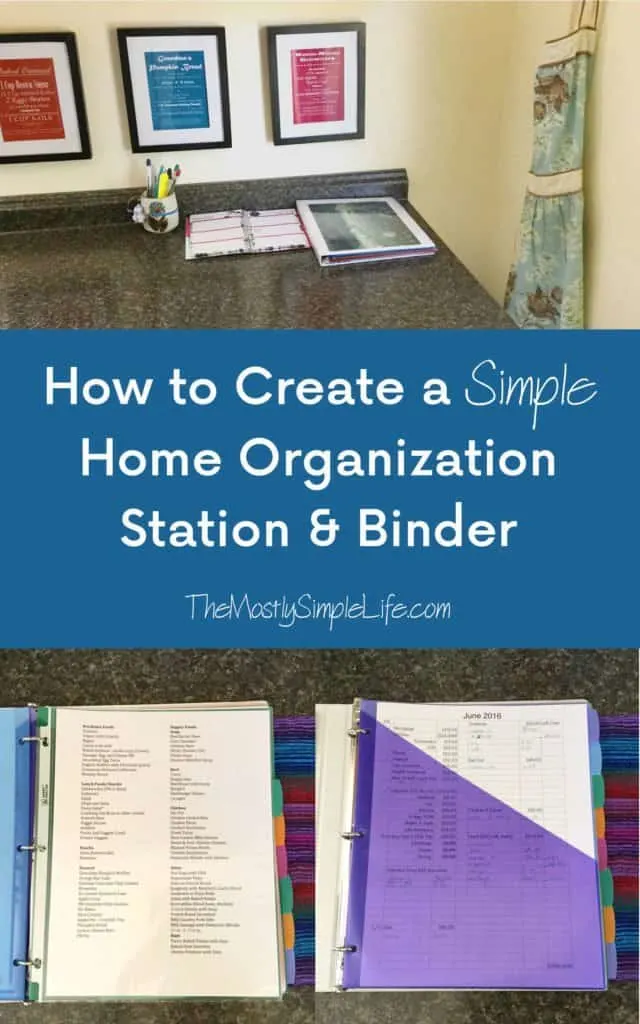 Today I wanted to share my simple home organization station and binder.
Emphasis on the simple. I know a lot of people out there have impressive home binders with cute printables and such.
My little home organization station and binder aren't all that cute or impressive. But it's simple and functional and you could whip up something similar for your home very quickly.
Having all of this information in one place helps us stay organized and saves time and energy, which is why I think something similar might benefit you too!
When we walk into our house, we walk right into the kitchen. Of course, that means that the kitchen is where most things get dropped, which also makes it the best place to put a "home organization station".
I have desk in our office upstairs, but some things just don't make it that far. I try to work with my natural tendency to look at things in the kitchen, and just put a little organizational spot there.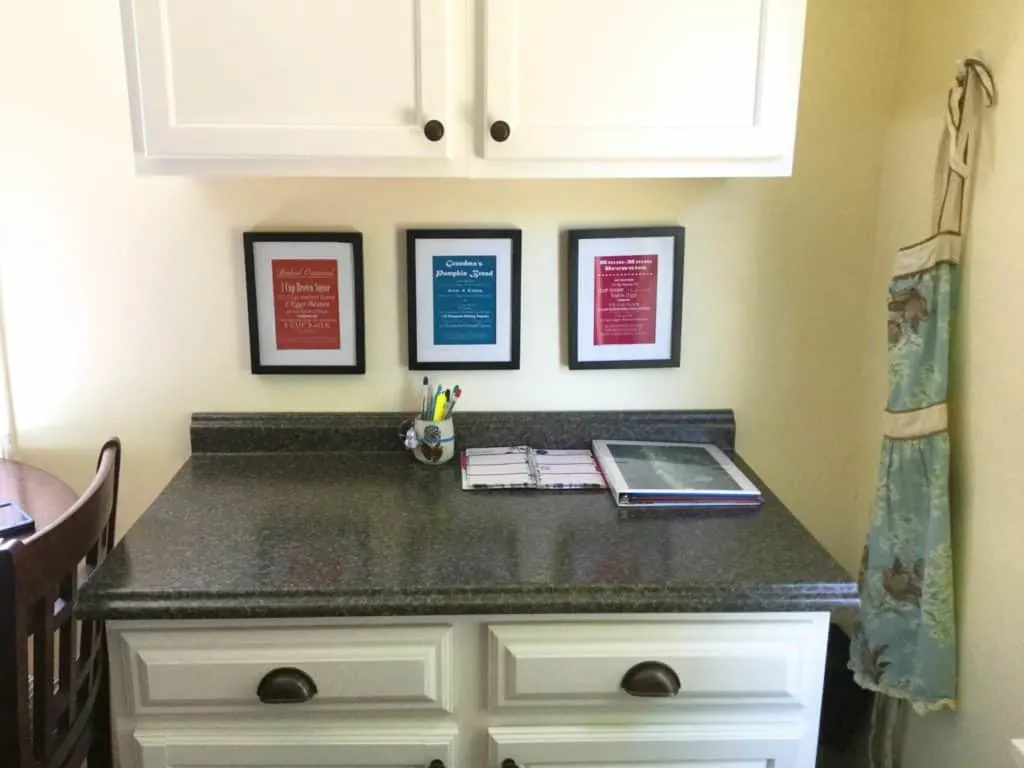 Here's what's included in my home organization station and binder:
Day Planner
Every year I buy a cheap day planner to keep track of appointments, birthdays, and other important stuff. I keep this calendar in the kitchen where it's easy to check and write down new things.
Every year when I get my new day planner, I transfer over birth dates as well as important phone numbers (like for our doctor).
Supplies
Most of my office supplies are at my desk upstairs, but I keep a few things in the kitchen.
I have a mug of pens and pencils as well as a small notebook and some sticky notes for list making. These are my favorite pens ever.
Can you see the tiny penguin on the coffee mug? That's my flash drive (here's the link to it)! I got sick of my flash drives being borrowed and not returned, so I got one that everyone would know is mine and I have it rubber banded to the mug so that I always know where it is 🙂
The Binder:
I have a 1-inch binder that keeps all of the papers that I tend to reference often. Everything else is filed away upstairs in the office.
I use binder dividers with pockets to keep things separate. The pockets are super handy for my budget worksheet and other things that I don't want to put in a page protector or use a 3 hole punch on.
Here's what I keep in my home organization binder:
Budgeting Worksheet
Our entire monthly budget/spending tracker is on one piece of paper.
I keep it in the very front of the binder so that I am more likely to write down when we spend money. It makes it so easy to see where we're at with our finances throughout the month.
Also, Austin and I both have easy access to it.
Related Posts:
Our Actual Monthly Budget: Less than $1500/month
The Simple Way We Track Our Spending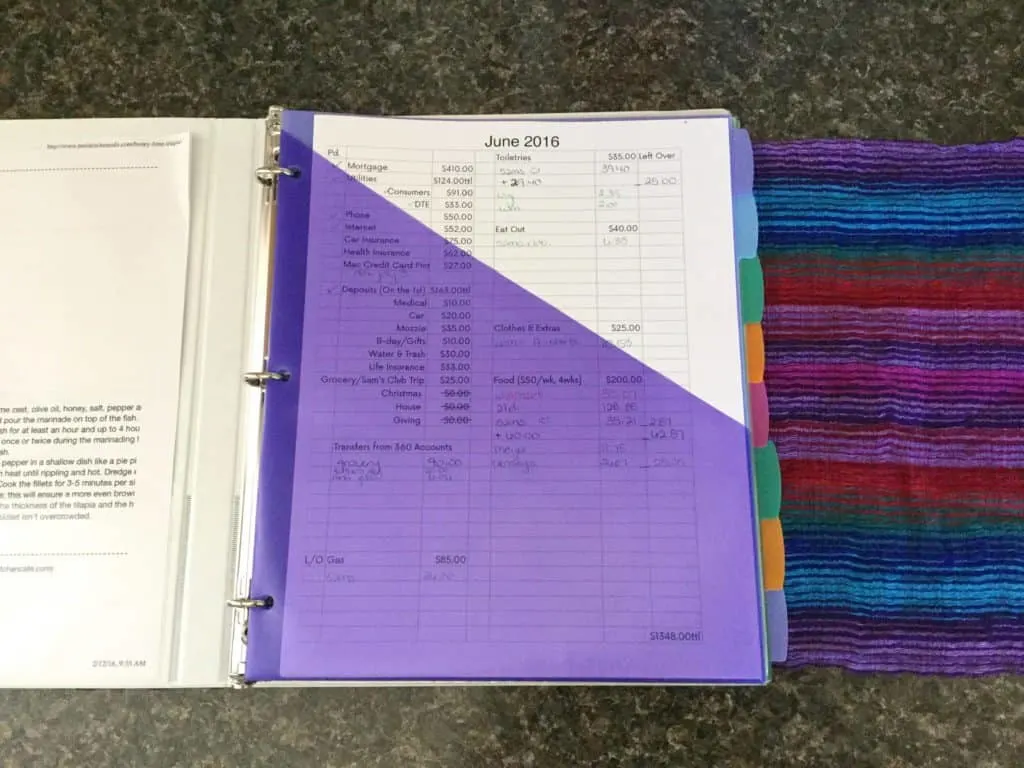 Work Schedules
When Austin was working a weird work schedule, I kept his schedule in the binder so that I could see far in advance if he was working when I needed to make appointments.
Meal Planning Papers
I have a big list of the meals we make most often so that I can have some inspiration when I'm meal planning and making our grocery list.
I keep the list in a page protector in the binder for easy reference.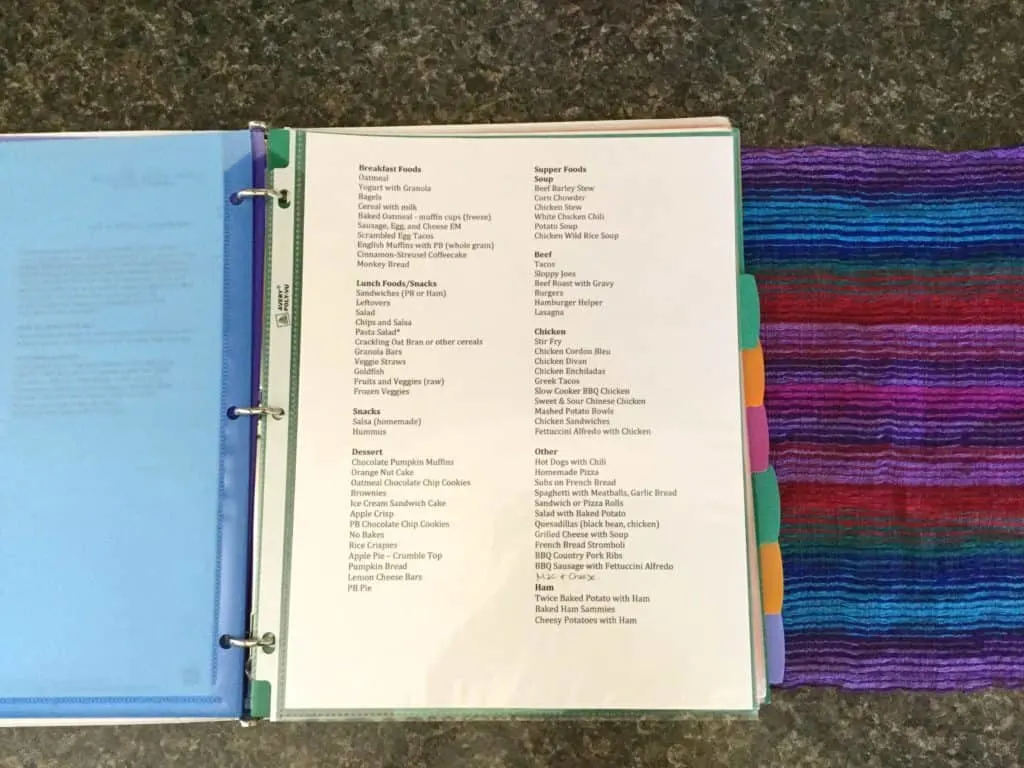 Receipts
Sometimes there are receipts that I want to save for a month or so just in case I might need to return something.
I throw the receipts in one of the pockets of the binder dividers so I know just where to find them.
Things to File
I usually end up paying our bills at the kitchen table on my lappy, so I write "paid" on each bill and throw it in a pocket to be filed upstairs later.
Every few months I go up and file everything all at once. In the meantime, I know those bills are paid and I can find them if I need them.
Takeout Menus
Important. Very important.
Goals
I write down my goals for the year and place them inside the front cover of the binder. This way I'll see them often.
Things to Remember
I've got other things to remember inside page protectors and the pockets in my binder.
Things like return address labels, city recycling and brush pickup guidelines and schedules, new recipes I want to try, passwords… All of the important things that are easy to lose are all in one spot.
For me, it's worth it to take up a small corner of my kitchen with a simple home organization station with the information I need to reference most.
Related Posts:
How to Fix Up Your House When You're Broke
The 3 Best Places to Find Cheap Organization Products
How to Make Decluttering Easy & Painless
⇒ Do you have a home organization station or binder? What do you keep there?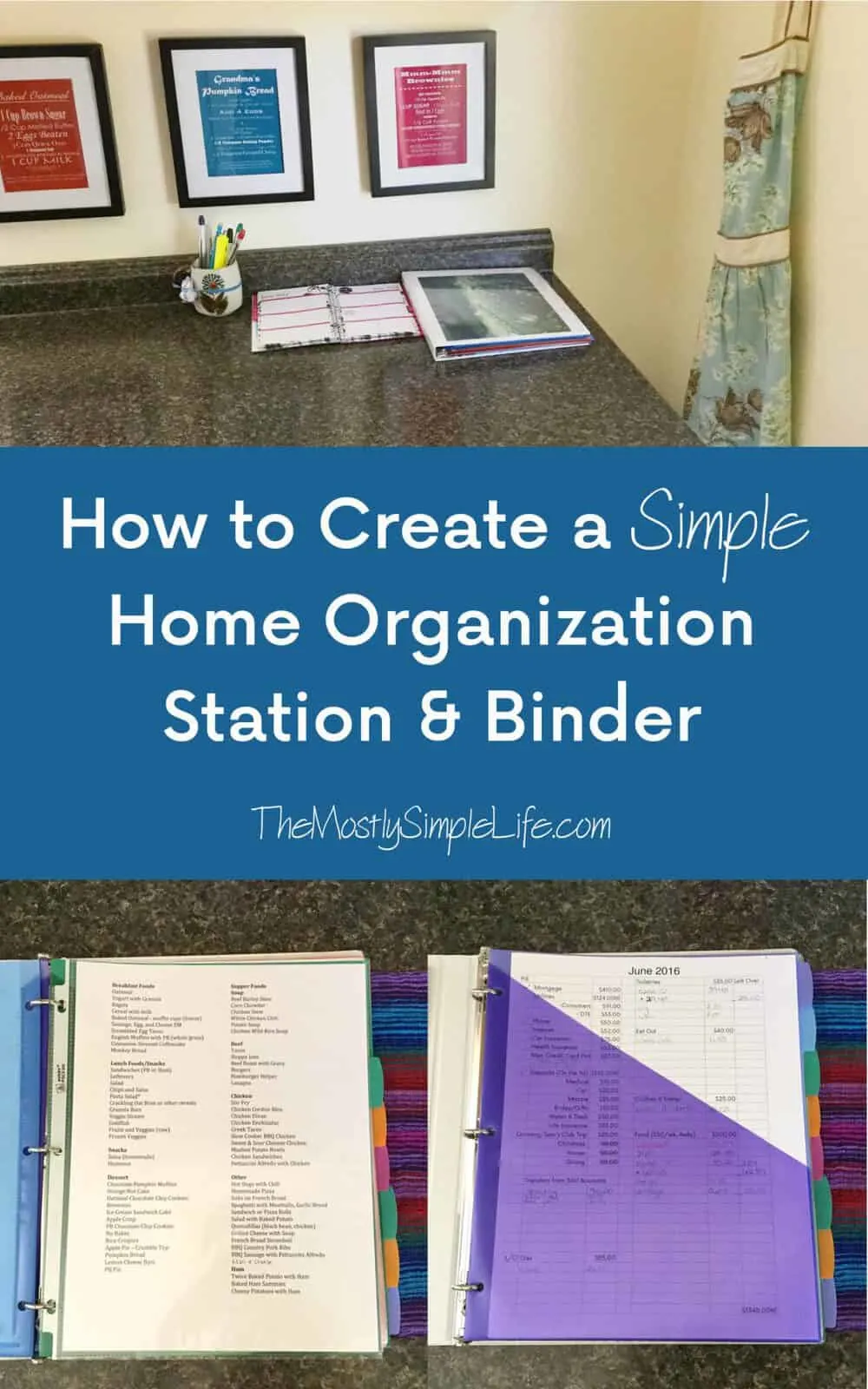 If you find this page helpful, please pin or share it :)