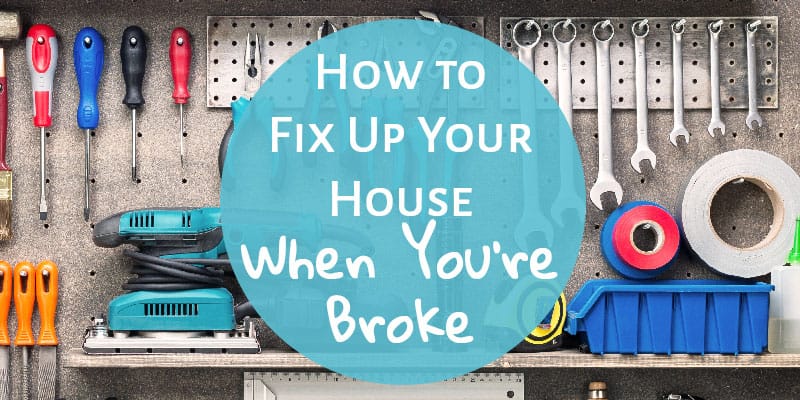 Update: I wrote this post about our first house a few years ago and it has been a popular post ever since! It's got a few updates for you. I still gaze lovingly at the "after" pictures of that kitchen. I loved it so much!
When we bought our house, it needed some work a ton of work.
Our county has a program to help first-time homeowners purchase their home. We bought a foreclosure home and then this program paid to have everything brought up to code and to fix things that were a health or safety hazard. It was absolutely amazing. They made our house livable.
However, just because our house was safe to live in did not mean it didn't need any work.
Every room needed to be painted. The kitchen was ugly and not very functional, and a lot of small updates needed to happen.
It was actually kind of funny because blue is my least favorite color and everything in this house was blue. Blue walls, blue kitchen counters, and blue carpet. I'm glad to say that not much of the blue remains!
Update: I talked all about fixing up your house when you're broke in a Facebook live session within our private community group (click here to join the group, we'd love to have you!). You can watch the replay below:
How to Fix Up Your House When You're Broke
Make a List
Everything can be made better by creating a list, right?
A new house is overwhelming! Write down everything that you would like to fix or change.
Even little things like replacing lighting in the bedroom take time and money, so put it on the list. If you need to purchase any appliances, add those to the list too.
It's ok if your list is five pages long because you'll decide what's most important next.
Set Priorities
It's time to focus.
We had all kinds of ideas for our house about adding a second bathroom and putting on a deck. While those things would have been great, we needed to set our priorities.
Decide what's most important.
We focused on painting each room first. It's relatively inexpensive to do and makes a house feel like it's yours. We also bought a washer and dryer, the scratch and dent ones from Sears, so that we could finally do laundry at home (hallelujah!).
Since we had a tiny income, we lived in our house the way is was for a while after that. We had a long list of projects, though, and the #1 priority was the kitchen.
Create a Project Budget
I did a ton of research to figure out what we needed to do to our kitchen and estimated how much it would all cost. I came up with a budget of $1000 to update the kitchen.
Research what needs to be done and come up with a budget for your next project.
Don't forget to add in the little things. All of the tiny finishing touches don't cost much by themselves, but they all add up.
Read these Posts to Save Money on Birthdays & Groceries:
Save On Your Groceries with this $50/Week Cheap Grocery List
How to Make Birthday Special When You Are Broke: 50+ Cheap Birthday Ideas
Save Up
If you already have money saved up for projects, that's awesome! Stick to your project budget and make it happen.
If you need to save up, start working on that. Work bonuses or tax returns are an awesome way to get money for a project.
I'm all about paying cash. Save up the money beforehand so that you don't go into debt working on your house or have to stop halfway through because you ran out of money.
Do It Yourself
Do as much of the work as you can by yourself. Paying for labor is expensive!
We've been lucky enough to have family help us with most of our house projects, and it is a huge blessing. Some things are best left to the professionals, but you'll save a chunk of money if you do a lot yourself.
Read some tutorials and watch YouTube videos to learn how to do your project yourself. You might be surprised what you can do and how easy some of it is.
(Sorry for the bad quality "before" pic, but you get the idea, right 🙂 )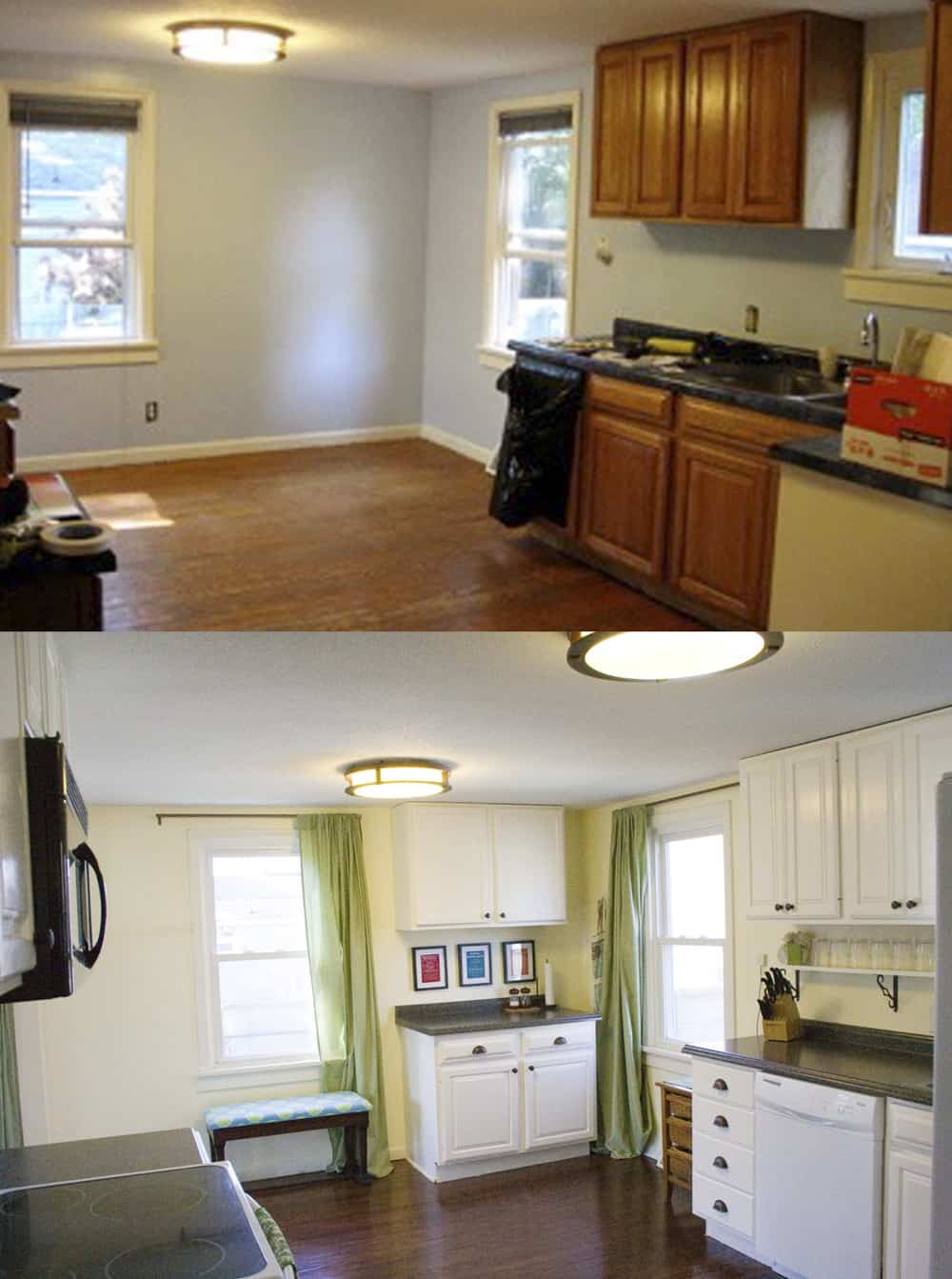 Shop Holiday Sales
Hardware stores usually have good sales around the holidays.
We've gotten paint buy 1 gallon, get 1 free on Memorial and Labor Day weekends.
If you're going to order anything online for your projects, check Ebates to see if you can earn cash back. I earned cash back for ordering our washer and dryer, plus window treatments. There are SO many stores that you can earn cash back at through Ebates, so it's always worth checking.
Even if you're not ready to do the work yet, start checking the sales for what you need for a month or two before you start. You might be able to save money by hitting up a good sale.
We saved money on our kitchen by shopping the sales at big hardware stores and buying stock cabinets and counters. If you buy what's in stock, it's always much cheaper than choosing custom finishes.
Shop Resale Stores or Free Sites
Just because someone else didn't want it doesn't mean it's bad!
Shop around at resale shops, especially at a Habitat for Humanity resale shop, for materials. There may be discount home improvement stores in your area to check. We've seen nice bathroom vanities, lighting, and doors going for a fraction of what they cost new.
Austin's uncle redid a bathroom with materials from the free section on Craigslist. He got some nice stuff, and it turned out great.
The more time you have leading up to a project, the more time you have to be on the lookout for good deals.
A tight budget doesn't mean that you're stuck with your house the way it is. By setting priorities, doing most of the work yourself, and finding ways to save money, you can do quite a lot!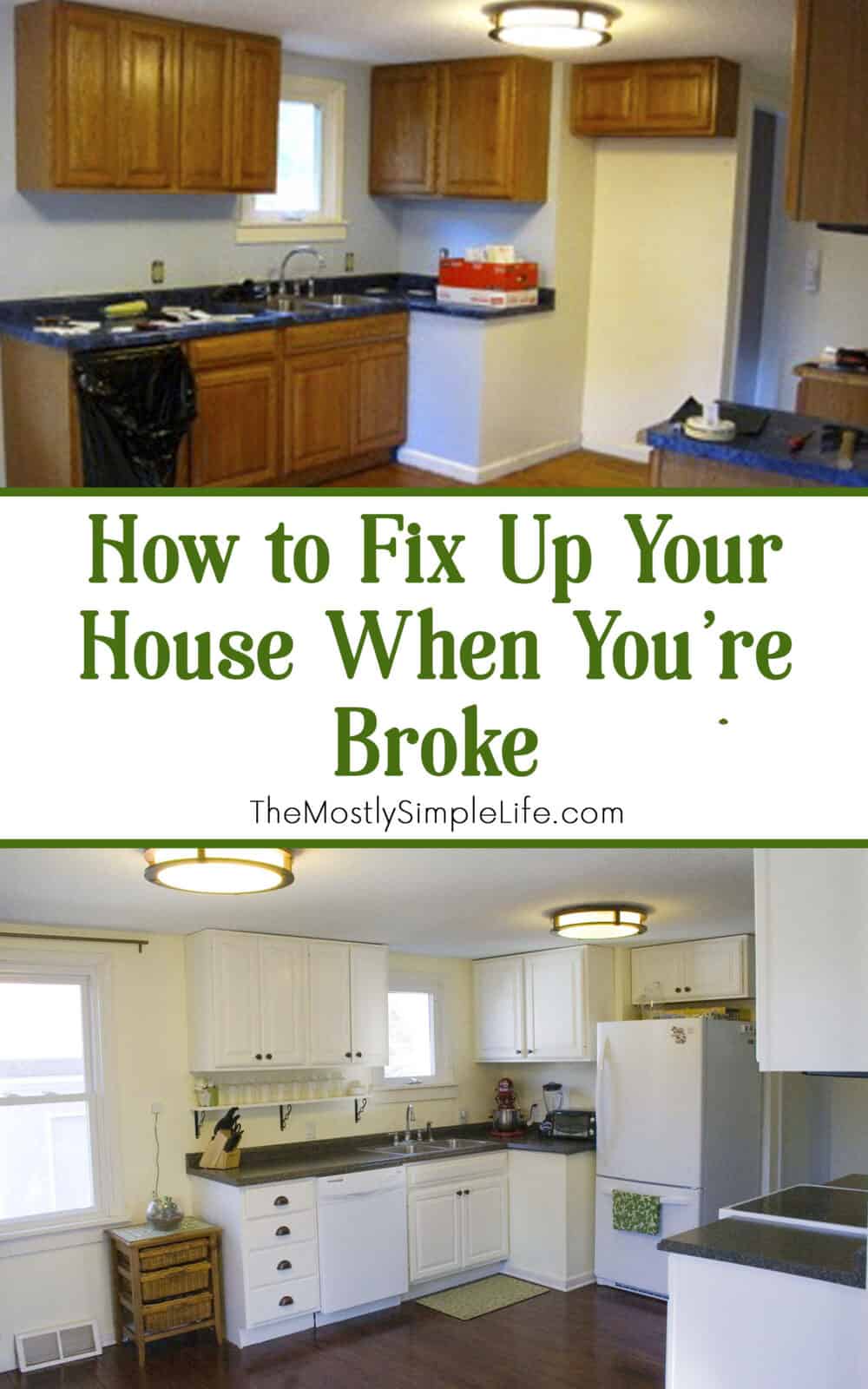 Related Posts:
Living on $2500/month: Look at Our Actual Budget
The Huge Financial Benefits of Staying Home
How & Where to Cut Your Budget
⇒ How have you saved money on home improvement projects?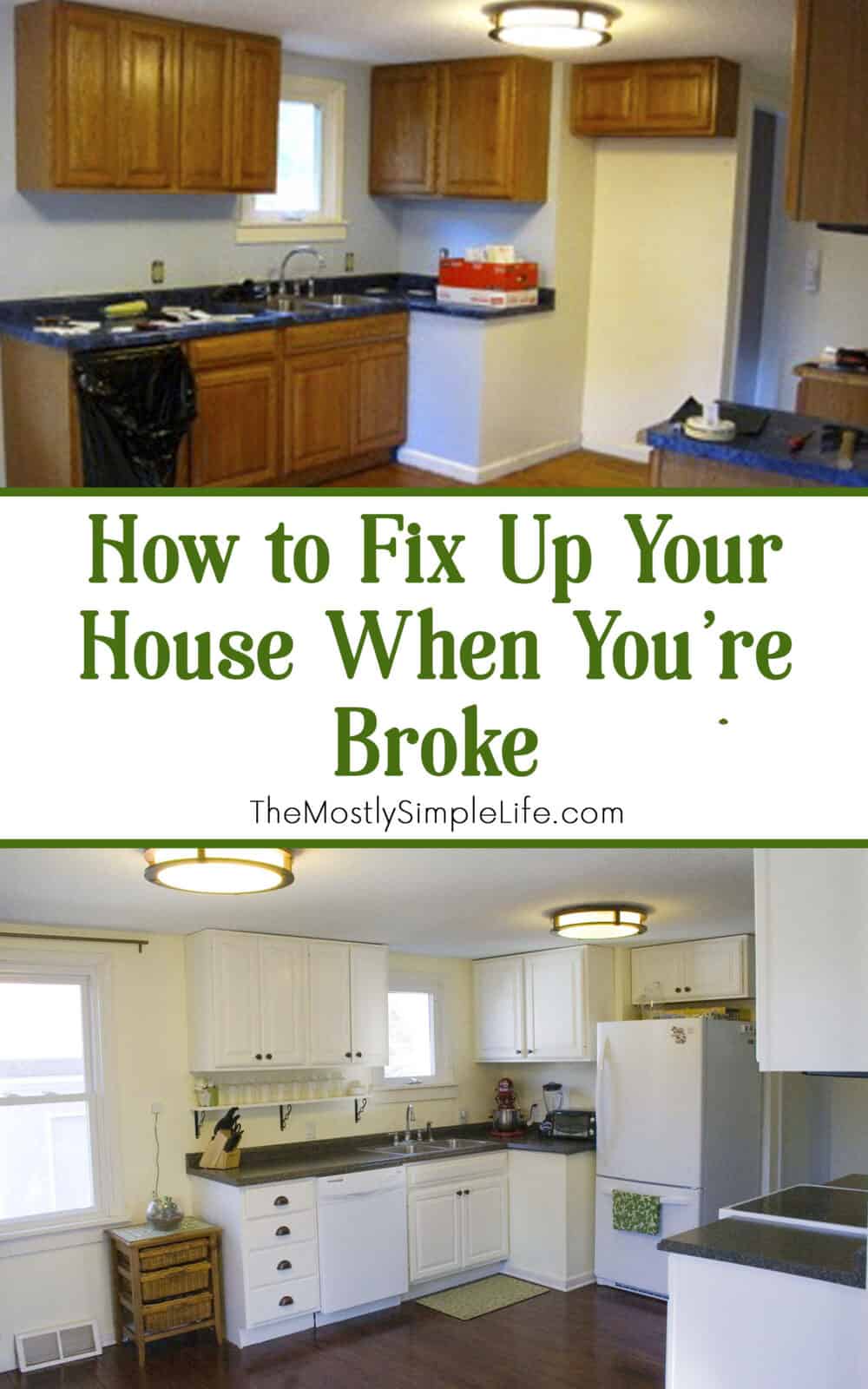 If you find this page helpful, please pin or share it :)