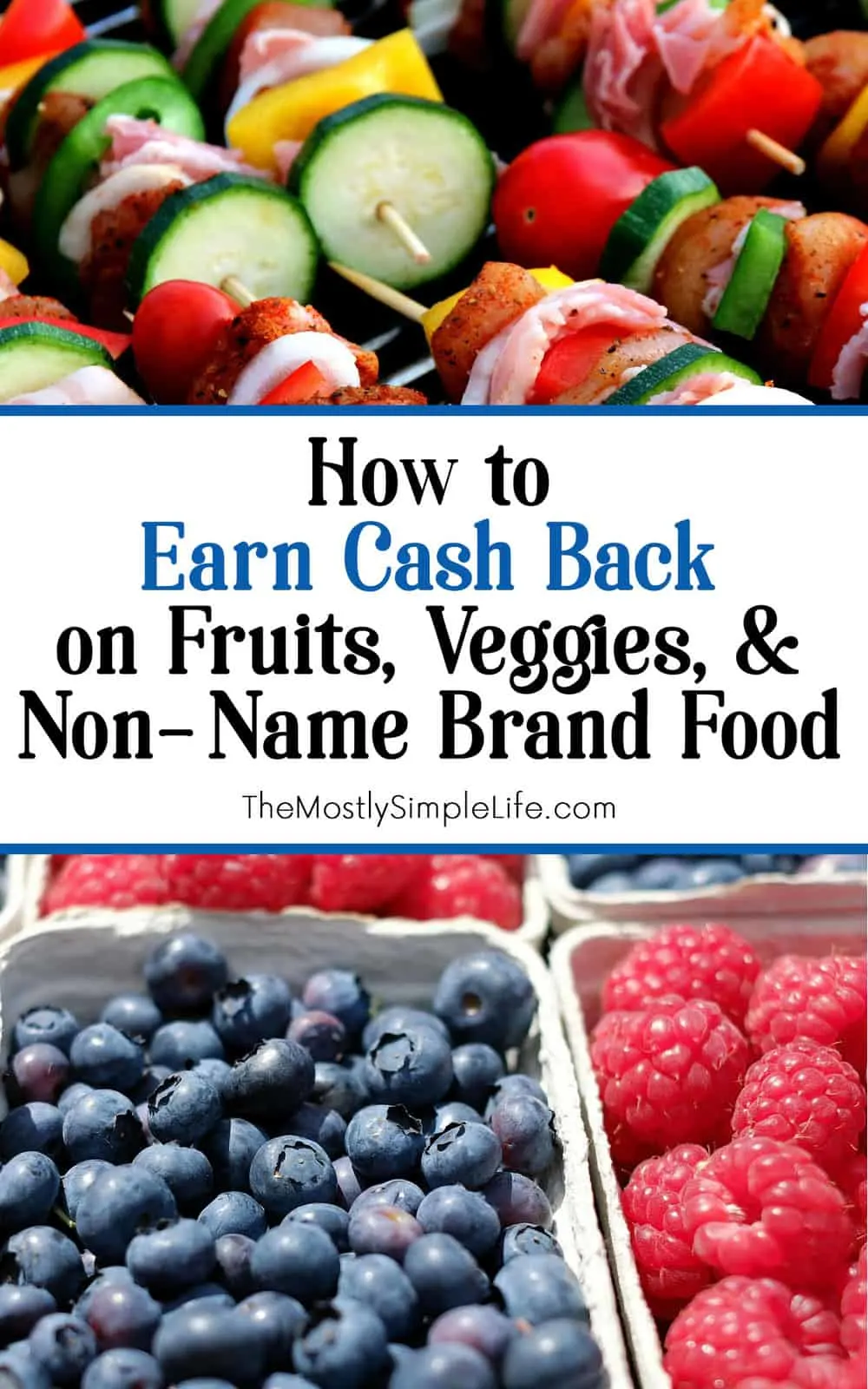 I find couponing to be so frustrating. I understand the concept: you clip the coupons and match them up with the sales to get a really good deal.
After all of the effort of clipping and organizing and checking sales, I usually get to the store only to realize that even after the sale and my coupon, it's still cheaper to buy the store brand. Frustrating.
Plus, most of what we buy is fruits and veggies, and it's pretty rare to get coupons for those.
I don't even bother with coupons anymore.
I've been earning cash back for buying fruits, veggies, and non-name brand foods, though! I'm going to walk you through what I do so that you can too.
Related Posts:
How to Earn Cash Back on Fruits, Veggies, & Non-Name Brand Food
The app I use for this is Ibotta. It can be used if you live in the US or Puerto Rico.
After you make a purchase, you scan your receipt to redeem rebates for all kinds of items.
There are rebates for foods, cleaning supplies, makeup, toiletries, baby stuff, alcohol, and even clothing. They work with tons of different stores too (although not Aldi, unfortunately).
To get started, you just need to download the app and create an account. Click here to get started.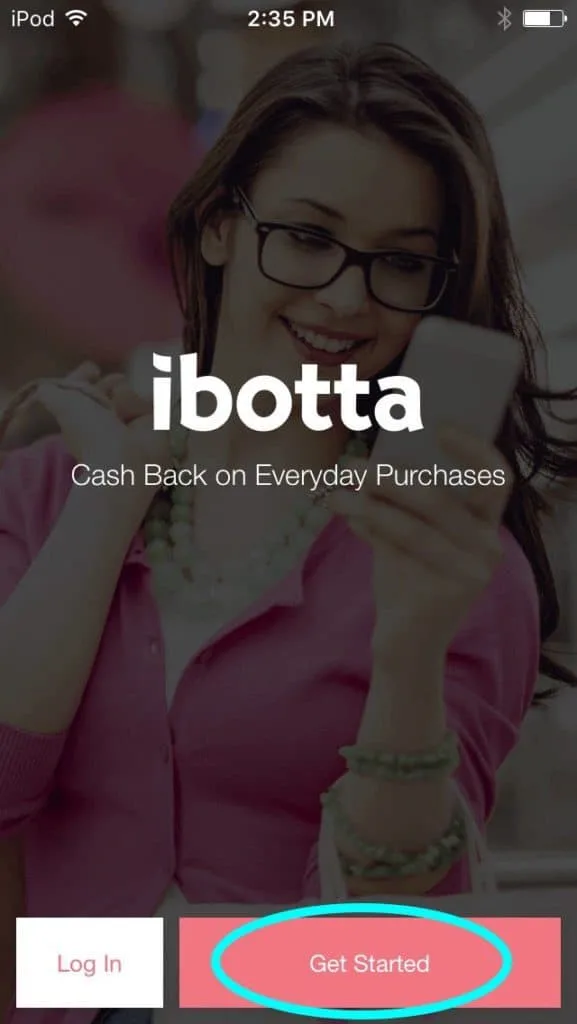 You can sign in with Facebook or with an email address. I took a screenshot of what the page looks like if you create an account with you email address.
Ibotta wants to know your ZIP code so that it can find the stores in your area.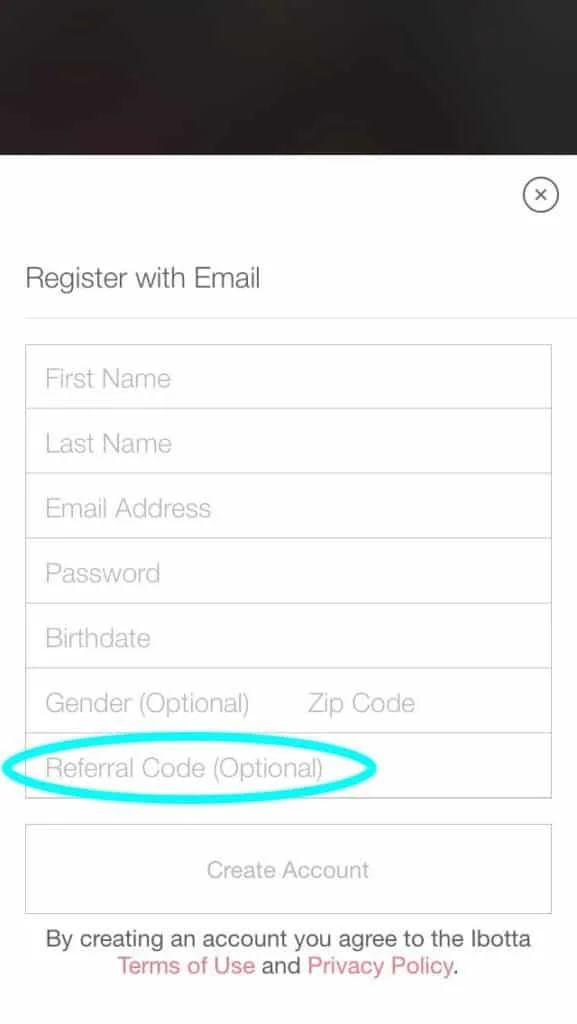 Below is what the home screen looks like when you first open up the app. The three lines on the top left are where you'll find your account info, how much money you've made, and some other stuff.
The bell symbol in the top right shows your activity as well as the activity of people on your team. If you have Facebook friends using Ibotta, they are on your team, as well as people that you refer to Ibotta.
You can see there are some featured stores and deals as well as the categories at the bottom.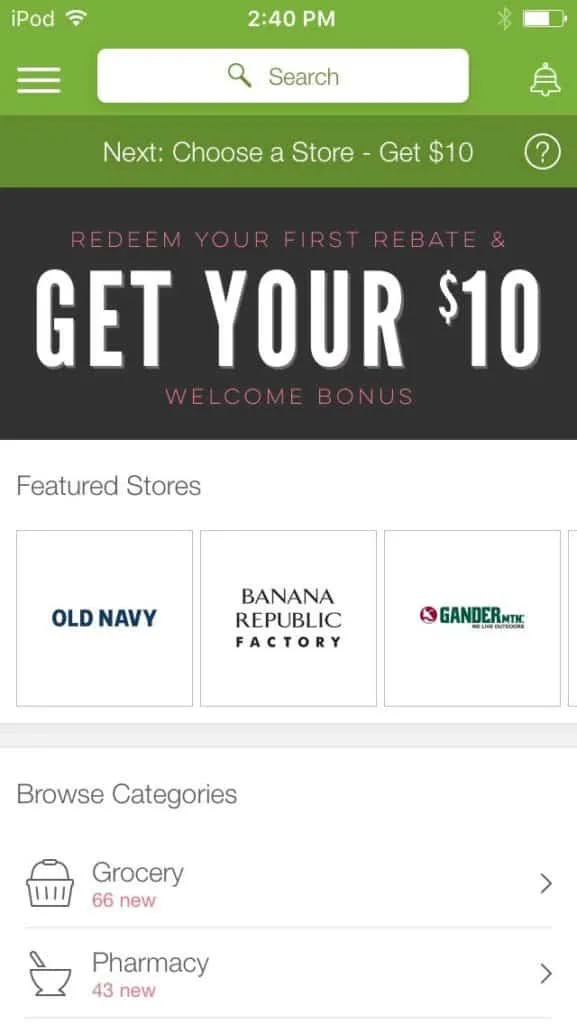 To save on our fruits, veggies, and non-name brand items, we need to go to the groceries section.
You can see that there are quite a few categories where you can earn cash back, so be sure to check them all out.
If you're doing some back to school clothes shopping, be sure the check the clothing category as there are some handy rebates in there.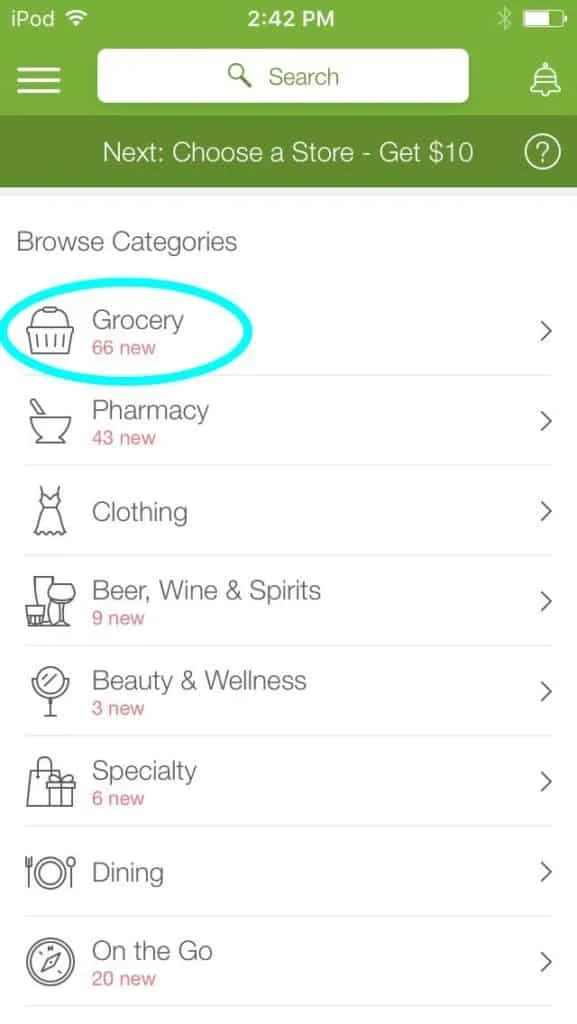 Once you select the Grocery category, Ibotta wants to know where you are shopping. It will come up with a list of grocery stores near you.
If you want to see all of the stores that they work with you can switch from 'Nearby' to 'All' at the top.
For this example, I'm going to select Walmart. You can see that there are 439 rebates available at Walmart.
Even though we're in the Grocery category, they still include other rebates like Household and Personal Care items.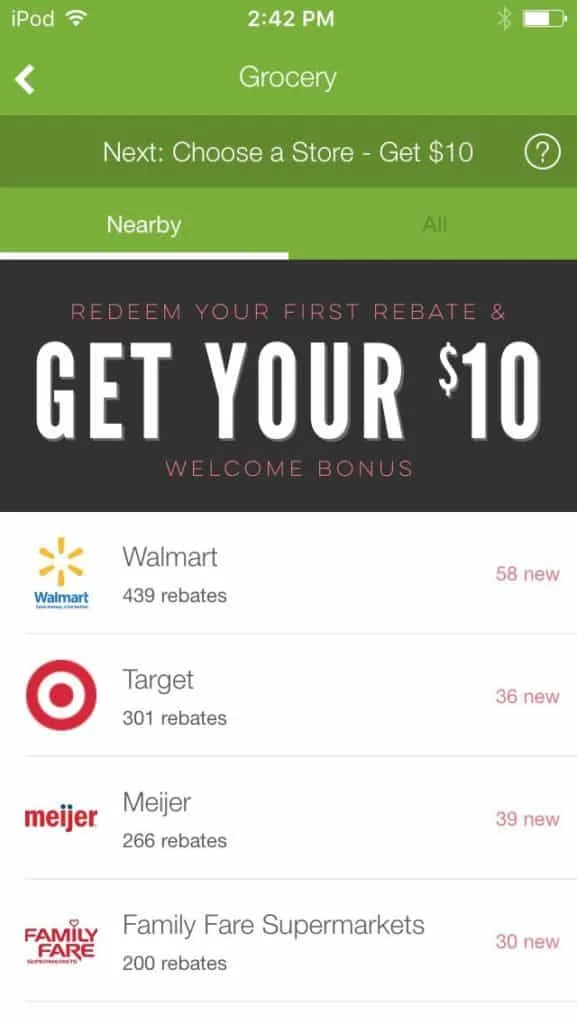 You can scroll through to see all of the rebates available at that store, all separated by category.
To find the fruits, veggies and non-name brand items, we need to use the search bar at the top after we've selected our store.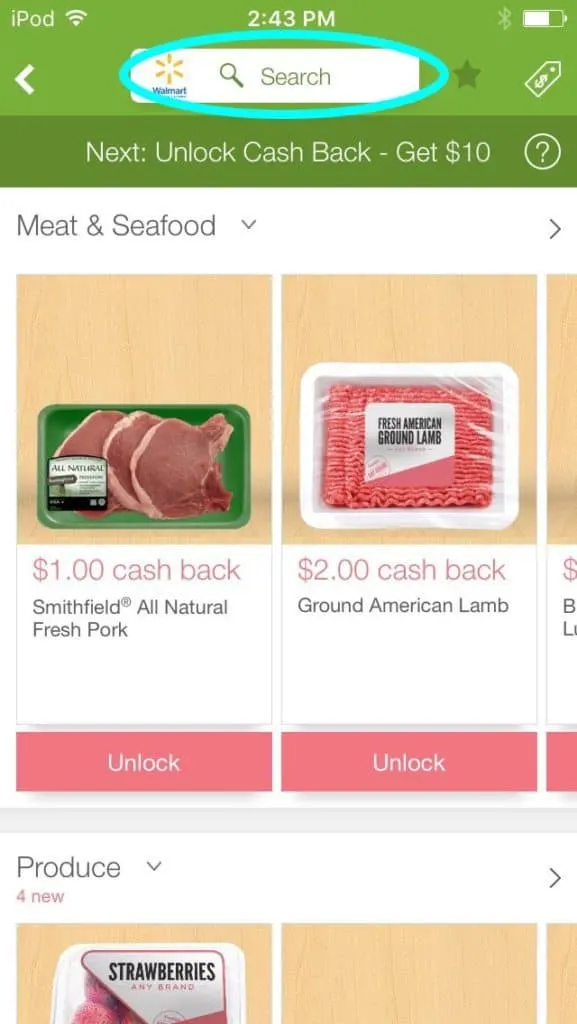 Type in the word "any" press return. It will come up with all of the rebates available that can be purchased in any brand.
All of the rebates change weekly, so it's good to check regularly. We've gotten rebates on all kinds of "Any Brand" items like milk, eggs, cereal, fruits and veggies, cheese… You never know.
Sometimes there are combo rebates like the one you can see below where you have to buy a certain brand of something (usually alcohol) along with any brand of something else.
When you find a rebate you want to submit for, click on it.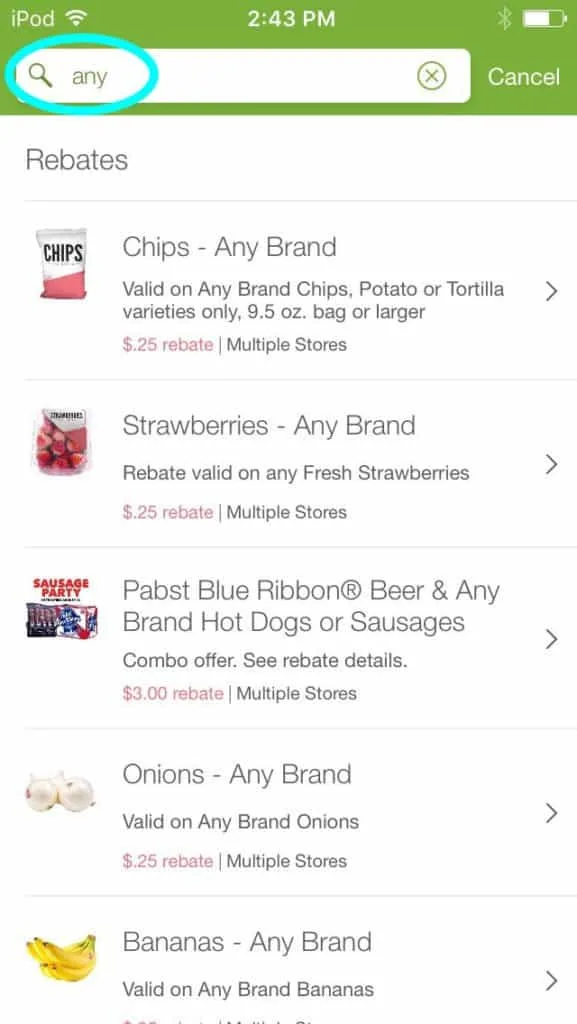 When you click on an item you want to submit for, you'll go to that item's page. You'll see the specific detail about the rebate.
Click to unlock the rebate. It might as you to answer a random question to unlock it, no big deal.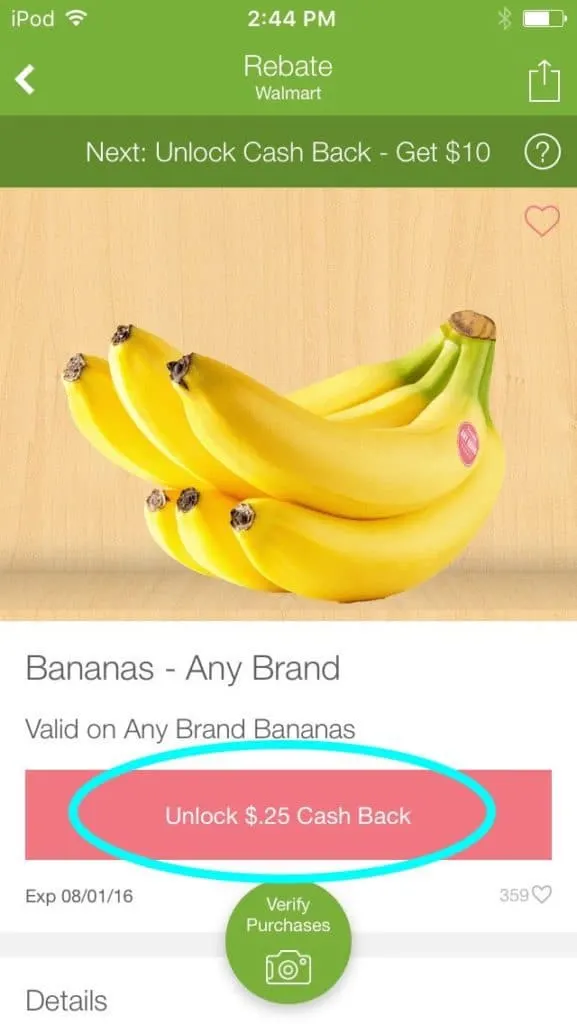 Once you've unlocked all of the rebates that you want to submit for, you can select the green 'Verify Purchases' button from the bottom of almost any page. This is where you will scan your receipt to prove that you bought the items that you're submitting for.
It will ask you to select exactly what rebates you want to submit for, in case you unlocked a bunch of them but you only want to submit for a few. It may ask you to scan the barcode on the actual items you purchased.
Lastly, you will capture the receipt. For Walmart, you just have to scan the QR code on the bottom of your receipt with the camera on your phone or tablet. For other stores, you take a picture of the receipt.
You should see the money in your account within 24 hours if your rebate is confirmed. If you used my referral link, you will also see your $10 show up after your first rebate is confirmed!
You can take your money out once you reach $20. You can get the cash by being paid through PayPal, or you can get a gift card to a bunch of different stores.
A few tips:
I recommend that you submit for rebates right away when you get back from the store. I've forgotten so many times. It only takes two minutes. I'm trying to do it right after I get the groceries put away.
Ibotta lets you submit for a rebate if the purchase was made in the last 7 days (they check the date on your receipt), so you may have a receipt sitting in your wallet that you could use right now.
They prefer for you to check what rebates are available before you shop so that you can earn cash back on more things. I like to do this because there is a local store that Ibotta doesn't work with. If I need tomatoes, and there is a rebate for them, I'll make sure to buy them at a store that Ibotta works with.
You have to have the receipt in order to submit for a rebate, so make sure to save those.
If you submit a restaurant receipt, it needs to be itemized to show the specific purchases. You can ask your server for this if a restaurant doesn't typically supply it.
Ibotta doesn't work with online purchases, but if you're headed out clothes shopping, be sure to check what rebates are available.
The rebates available change often, so keep checking. There are usually some high value rebates available for cosmetics and personal care items, so make sure to look at everything.
⇒ Have you tried Ibotta yet? Do you have any questions? What other apps do you use to save money?
If you find this page helpful, please pin or share it :)