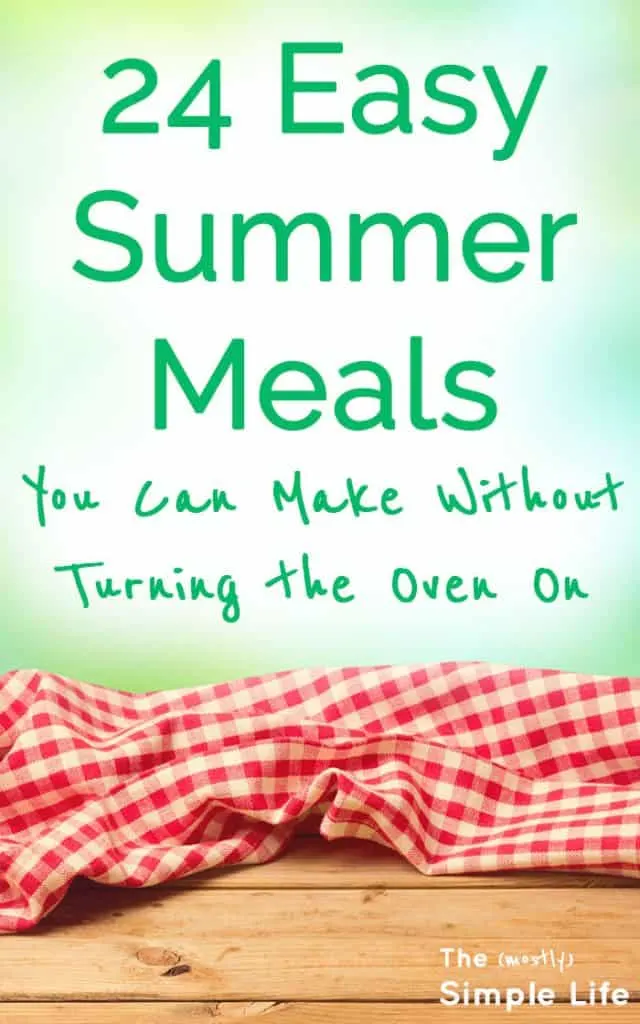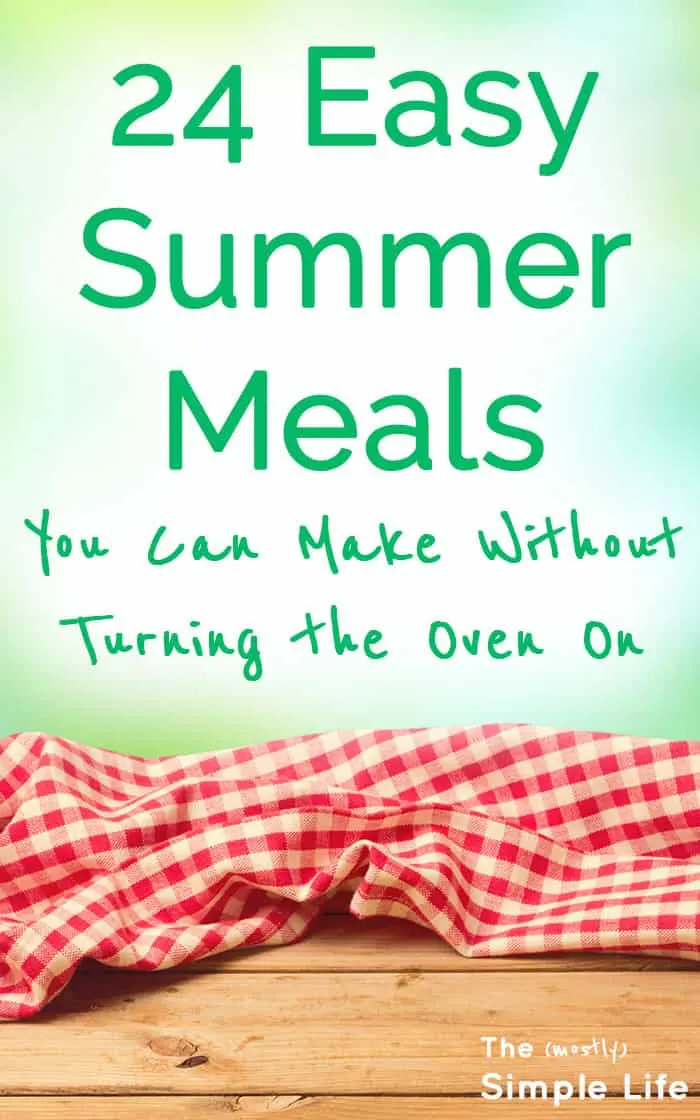 I'm pretty excited to be able to start complaining about the heat instead of complaining about the cold 🙂 Just kidding, I'm soaking in the heat. And when I get too hot, I'm soaking in the A/C.
I know I'm not the only one who avoids turning the oven on in the summer. It heats up the house like crazy!
The only time I'm willing to turn the oven on is to make biscuits for strawberry shortcake #worthit 🙂
Luckily, there are a lot of delicious meal options for the summer that can all be made without an oven. And to make it even better, all of the meals below are simple and quick! Most of them are so simple that you don't even need a recipe.
SIDENOTE: You can get the meal planning printable I use each week by entering your info below!
[convertkit form=830245]
The Big List of Simple Summer Meal Ideas
Grill
My newest must-have grill accessory is this meat thermometer. We were having such a hard time telling if things were fully cooked and now we know for sure. It has been so helpful!
Burgers: Some of our favorite burgers are made from frozen burger patties grilled with some Montreal Steak Seasoning. So easy.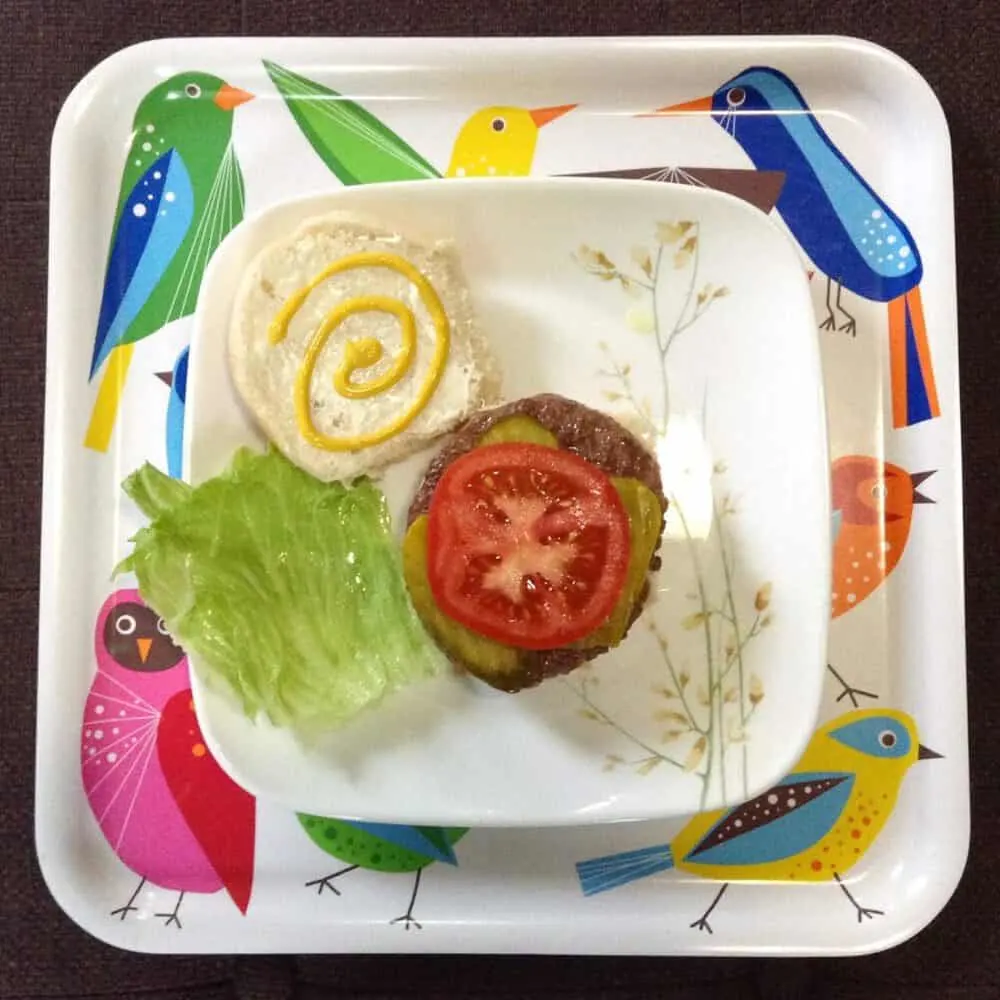 Hot Dogs/Chili Dogs: I love the all-beef hotdogs from Sam's Club. I think they're Ball Park brand. We buy a huge pack and freeze them in bags of 6 or 8.
Brats: Fresh brats are so amazing. Austin loves them piled high with sauteed onions.
BBQ Chicken: Just brush with your favorite BBQ sauce while you grill.
Balsamic Chicken: We marinate chicken breasts in balsamic vinaigrette salad dressing overnight and then grill them. It is seriously amazing. We use the chicken to make paninis, quesadillas, or mashed potato bowls. This chicken has so much flavor.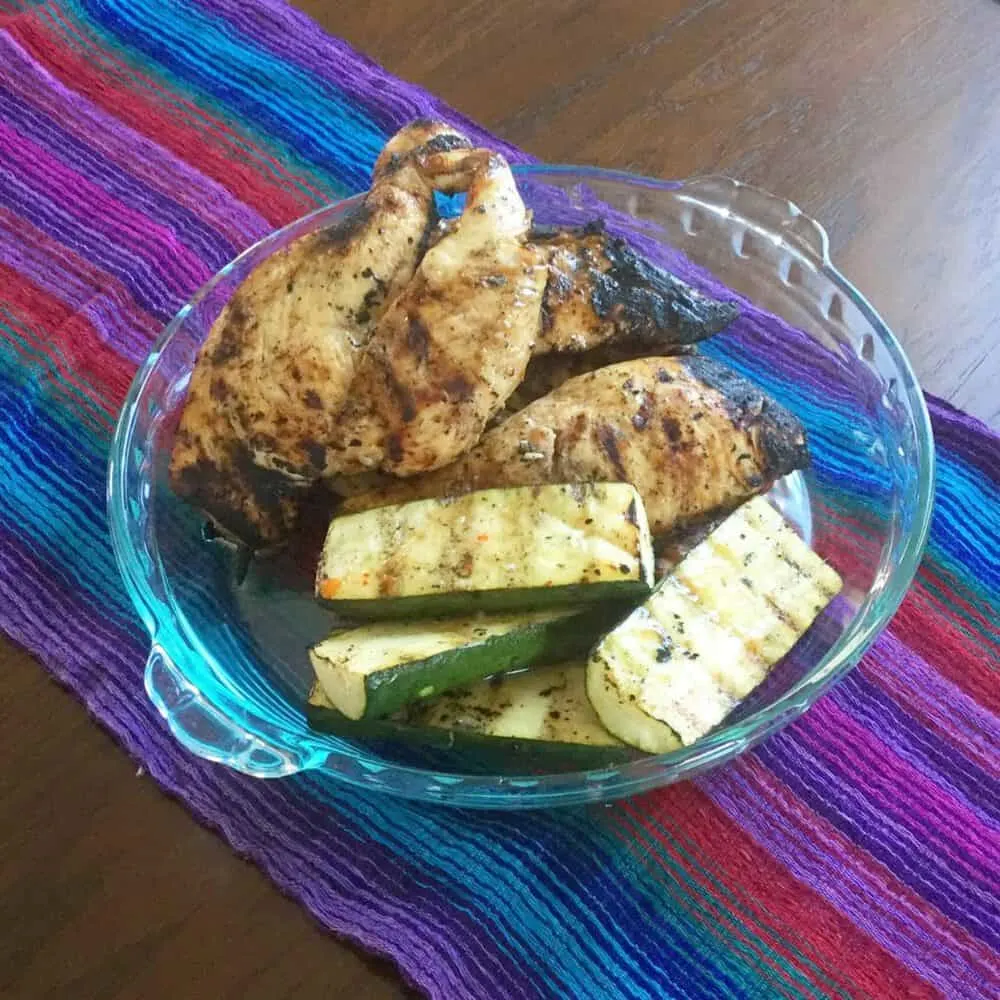 Smoked Sausage: Smoked sausage is really good on the grill. You can brush it with BBQ sauce if you want.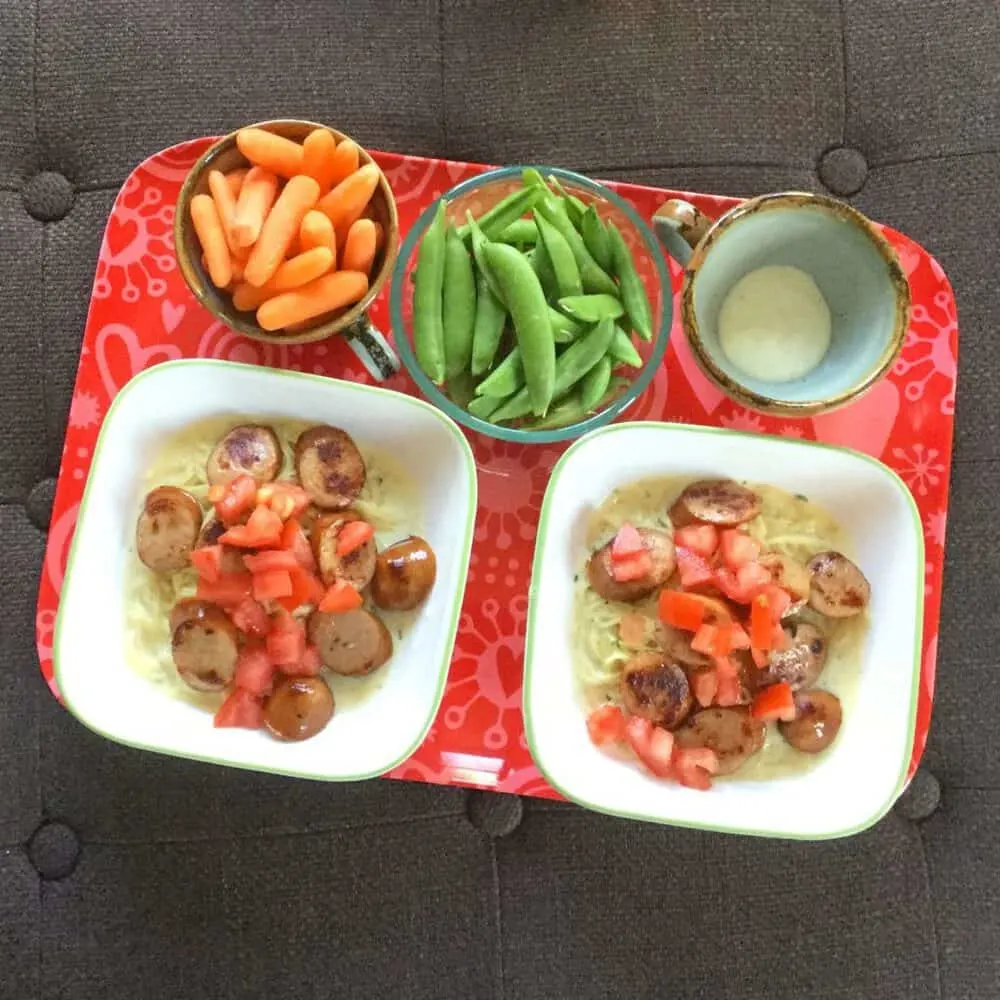 Stovetop
Tacos: Make taco meat with chicken or ground beef and a packet of taco seasoning (Aldi taco seasoning is my favorite). We serve tacos with lettuce, tomato, light sour cream, blender salsa, and sometimes refried beans.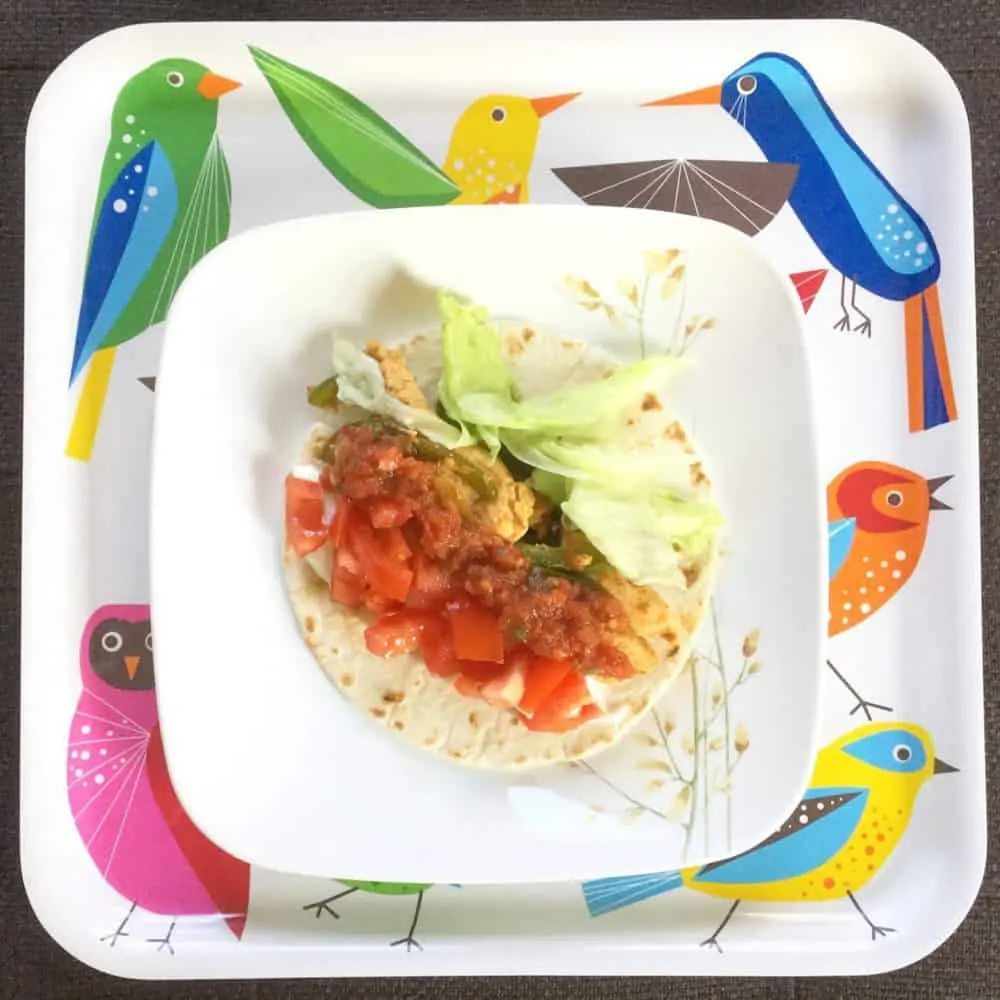 Sloppy Joes: You can make your own sloppy joe sauce with some sugar, vinegar, Worcestershire sauce, mustard, ketchup, and BBQ sauce.
Hamburger Helper: We use half the meat and add in a bunch of frozen corn about 5 minutes before it's done.
Stir Fry: In the freezer section, buy the huge bag of frozen veggies that comes with a packet of stir fry sauce. Cook up the veggies on the stove and add in some cooked chicken or shrimp. Serve over rice.
Fettuccini Alfredo with Chicken: Chop up some grilled or slow cooker chicken and serve with tomatoes on top of fettuccini alfredo. To make it really simple, we use jarred sauce or Pasta-Roni (aren't we so fancy?).
Paninis: We've been loving these grilled sandwiches made with balsamic chicken, swiss cheese, tomatoes, pesto, and light mayo. Seriously good.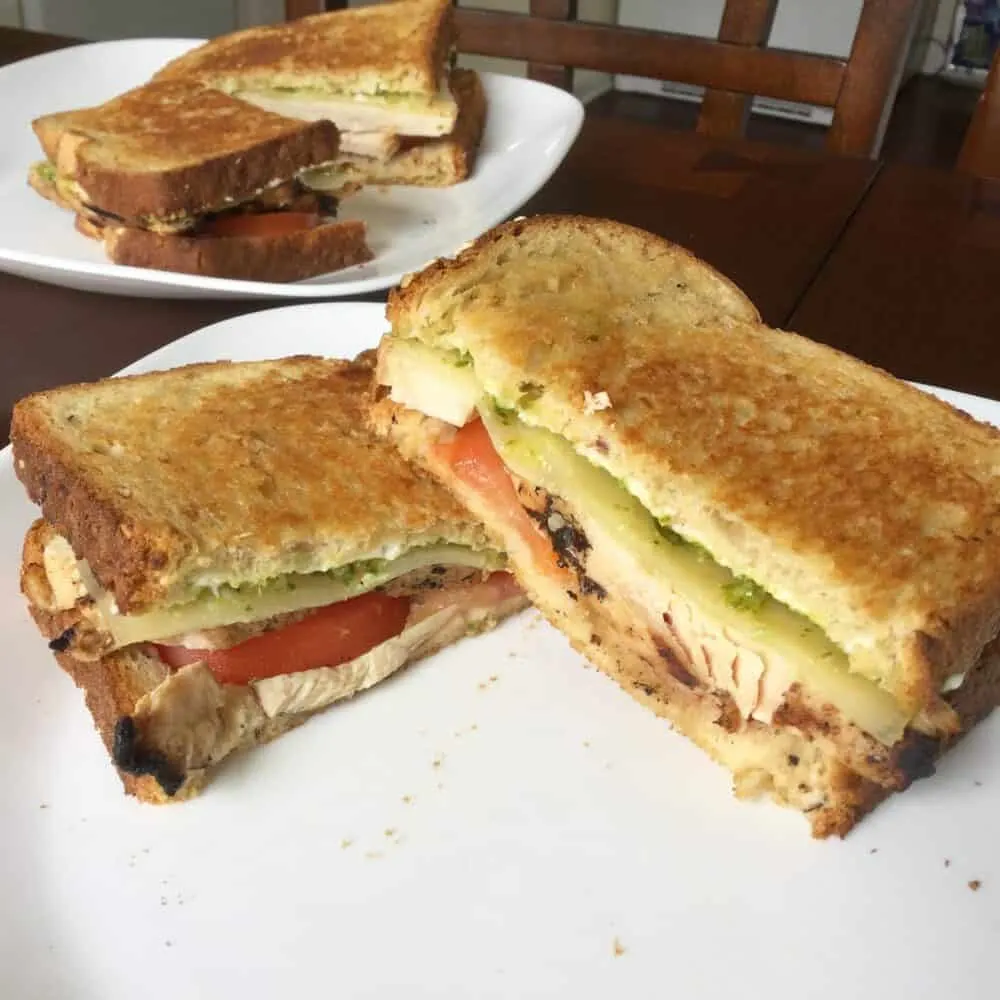 Pancakes & Scrambled Eggs: Who doesn't love breakfast for dinner? Crazy people, that's who!
Breakfast Tacos: Sauté some green peppers, onions, and mushrooms. Then add in the eggs and scramble it all up. Serve it on a tortilla with salsa.
Spaghetti with Meatballs: I cheat and buy frozen meatballs. I microwave a few meatballs for each person right before serving. Aldi has my favorite spaghetti sauce.
Quesadillas: I make my quesadillas by spreading a thin layer of refried beans on a tortilla. Sprinkle with a little taco seasoning. Add some cooked, shredded chicken. Then top with shredded cheese and the last tortilla. Heat it all on a pan or griddle until golden brown.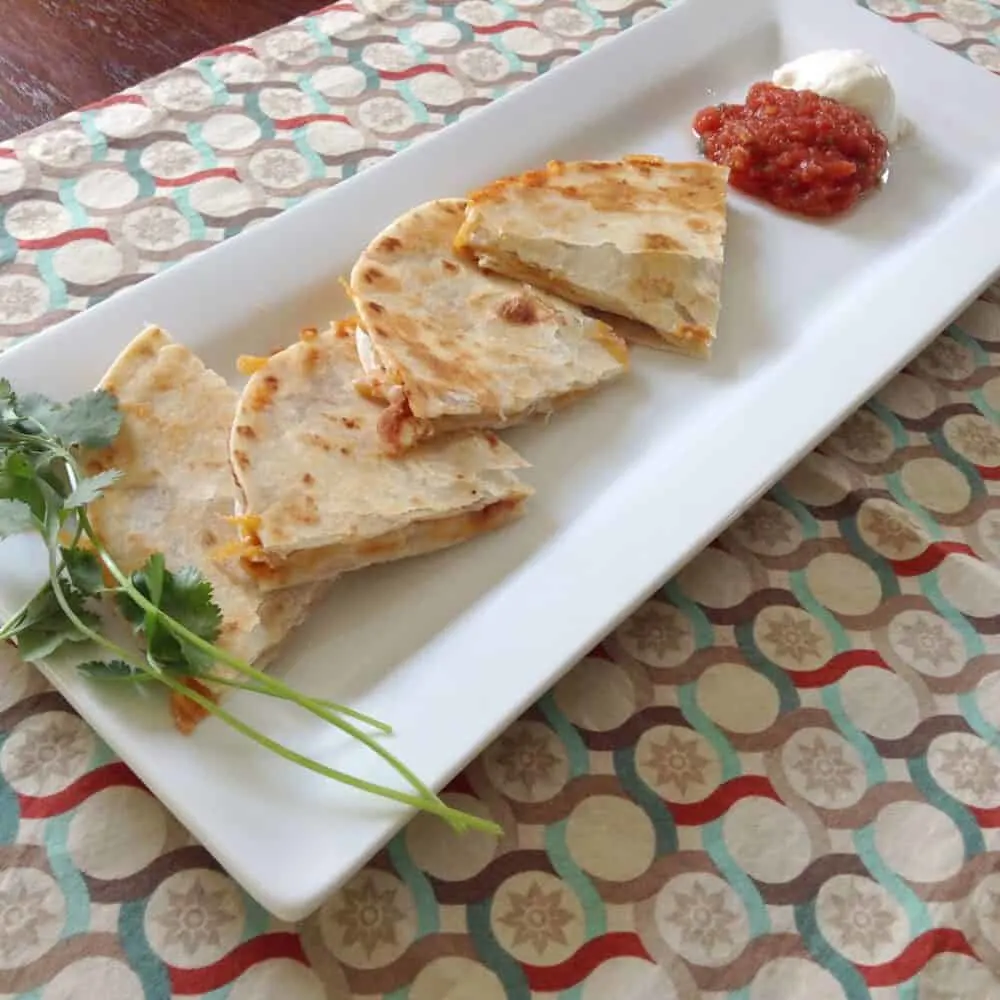 Ham Slices: Heat up a slice of ham per person in a skillet with a little brown sugar on top. This goes great with potatoes and other veggies.
Fish: Just sprinkle your fish with whatever seasoning you like and cook it in a pan with a tablespoon of olive oil.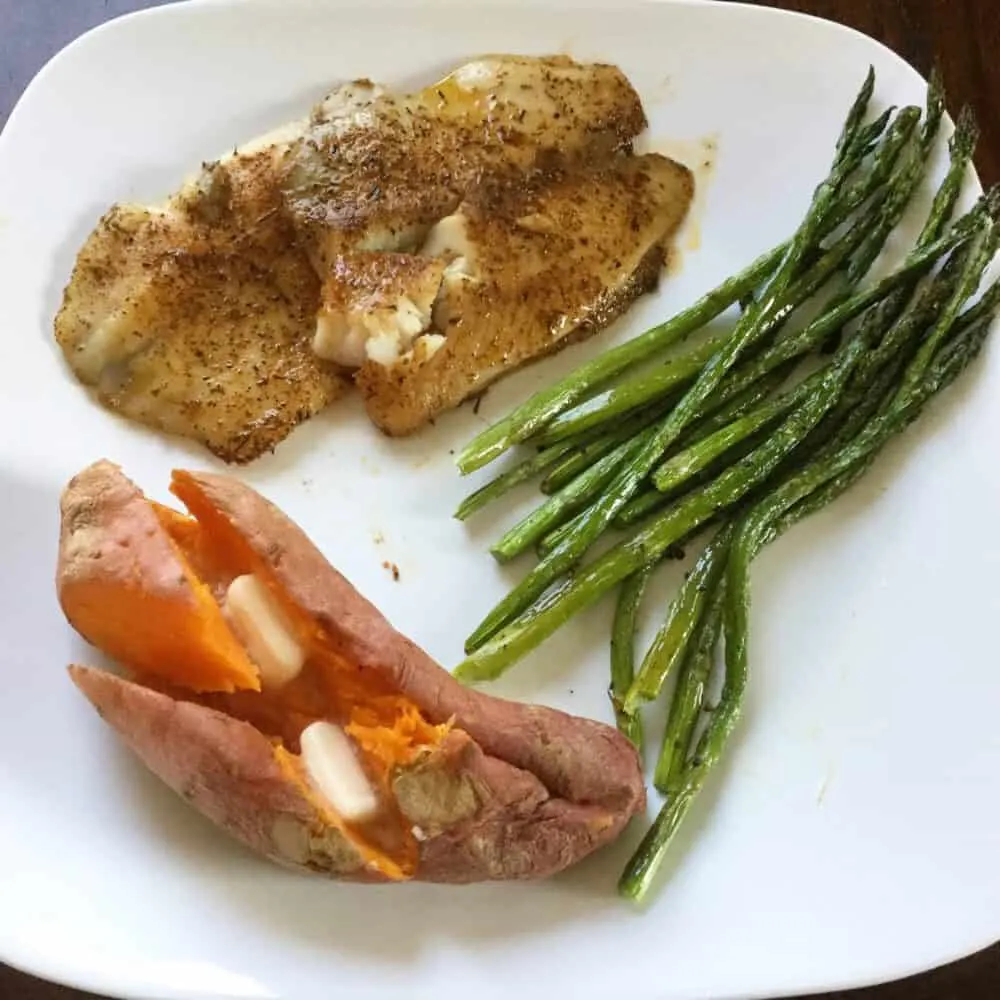 Slow Cooker
Cooked, Shredded Chicken: This isn't really a main course. To always have cooked chicken on hand for other recipes, we cook a bunch of chicken breasts in the slow cooker. We use the chicken later in sandwiches, casseroles, stir fry, quesadillas, etc. Here's how to make it.
BBQ Chicken: Cook chicken breasts, BBQ sauce (1 cup), Italian dressing (1/4 cup), brown sugar (2 Tbsp), and Worcestershire sauce (1 Tbsp) in a slow cooker for 5 hours on low. Shred the chicken with 2 forks and let it keep cooking for another 30-60 minutes. Serve on hamburger buns.
Extra Easy Food
Mashed Potato Bowls: Make up a packet of mashed potatoes. Top it with cooked chicken, frozen corn (that you've heated up), and some chicken gravy (from a jar). It's like a super easy chicken dinner in a bowl, and it's really filling. We just microwave each ingredient and then let people make up their own bowl.
Chicken Sandwiches: Make a sandwich with whatever leftover chicken you have. We do this on regular bread or burger buns. It's really good with ranch or caesar dressing, plus lettuce and tomatos.
Salad & Baked Potato: Make up a salad with spinach, lettuce, and whatever veggies you have. Prick each potato with a fork and microwave them for 5 minutes or until they're done. Top the baked potatoes with whatever you like. I'm a ranch dressing kind of girl.
Subs: We love making subs with some good french bread. We usually have Italian subs with ham, salami, lettuce, tomato, green pepper, mayo, mustard, and the secret ingredient: a bit of apple cider vinegar. So good.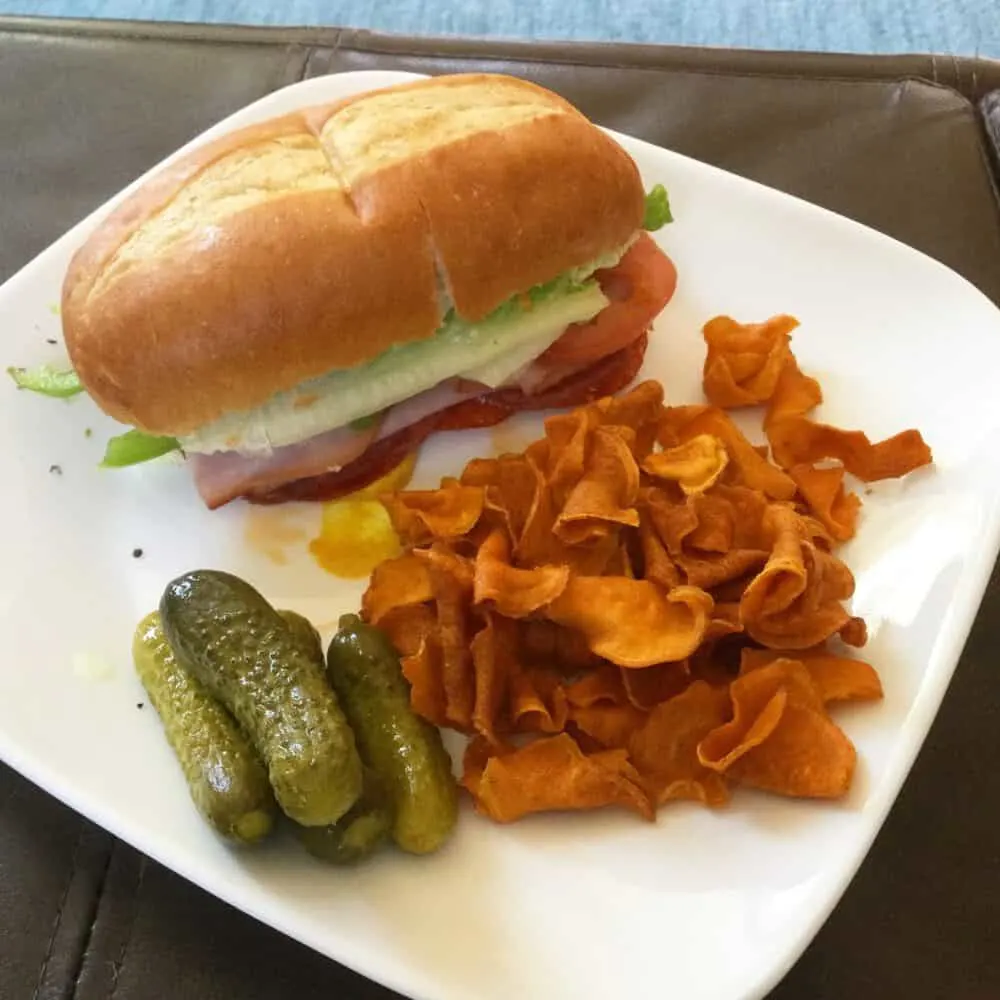 Side Dishes
Fresh Fruit: Don't be fancy about it. Just eat lots of fresh fruit while it's in season.
Salad: I like a simple spinach salad with lots of veggies.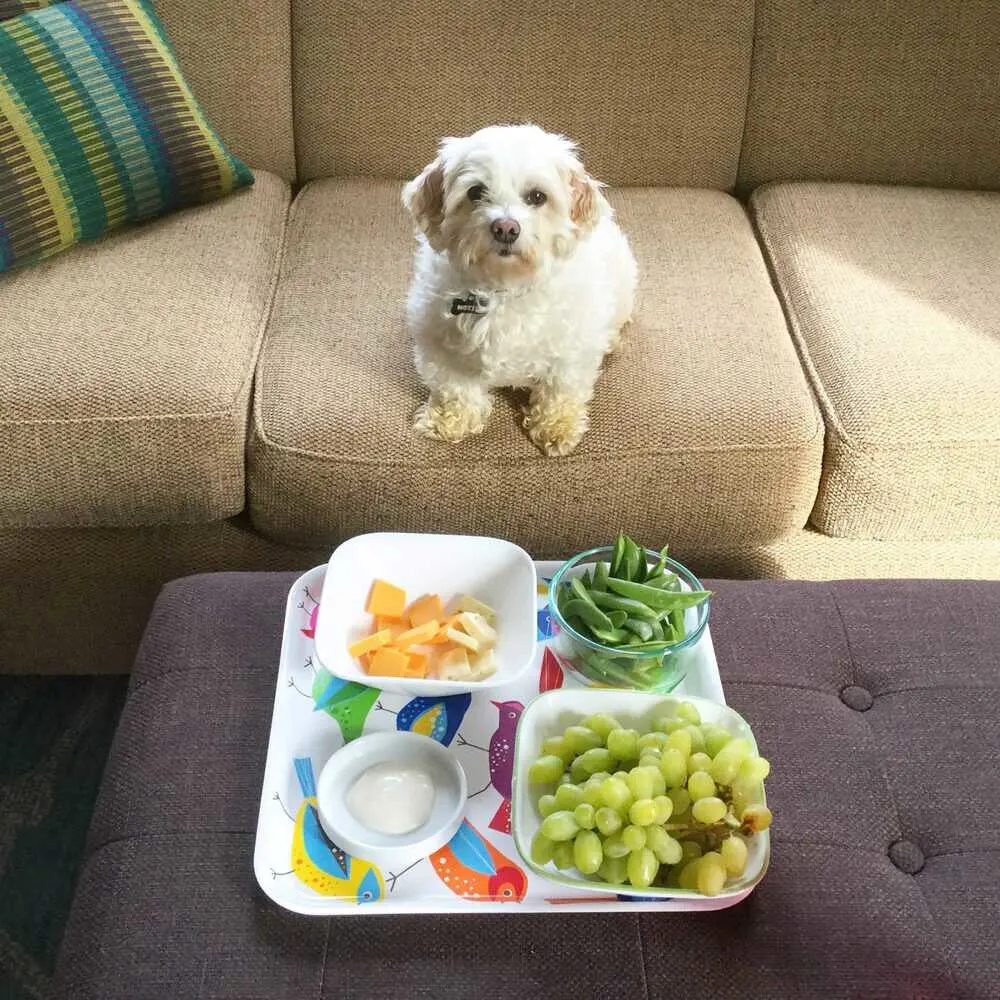 Veggies & Dip: Simple, raw chopped up veggies are easy and healthy.
Chips & Fresh Blender Salsa: Yum.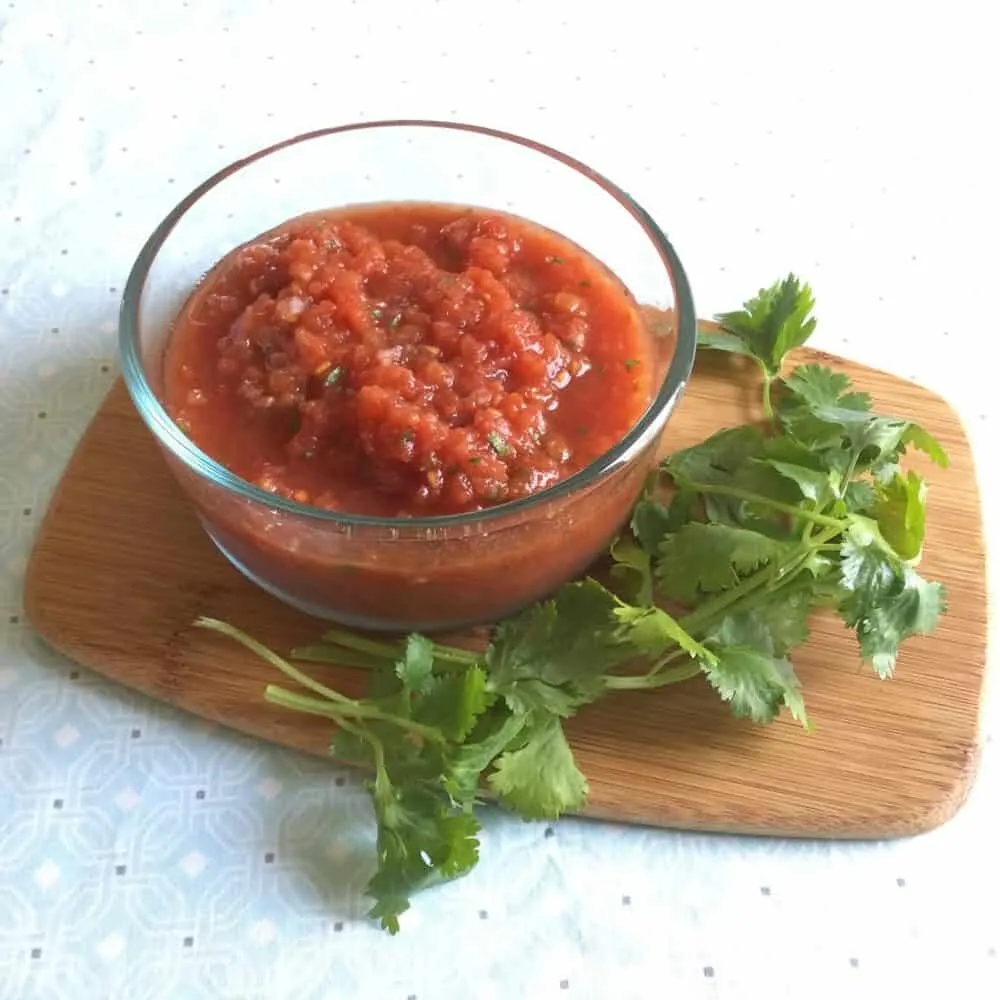 Hummus with Chips or Veggies: We make our own hummus with this recipe. It is easy and so much less expensive than store bought hummus.
Rice: Plain white rice or rice-a-roni works.
Pasta Salad: After you cook some pasta, rinse it with cold water. Mix in Italian dressing, chopped veggies, and pepperoni cut up into small pieces.
Coleslaw: Bought is ok. Homemade is delish.
Veggie Straws: Always a crowd pleaser over here. They're really yummy with veggie dip.
Desserts
Ice Cream: Austin turns cheap vanilla ice cream into gourmet soft serve ice cream and it's sooo good. Here's how he does it.
No Bake Cookies: No baking!
Rice Crispies: 6 cups of crisp rice cereal, 1/4 cup of butter, and a 10 oz bag of marshmallows. Melt, mix, and mold.
Don't forget to check Ibotta to earn cash back on your groceries. All you have to do is scan your receipt, so it's super easy. When you sign up and redeem your first rebate you'll automatically get $10 if you sign up with this link!
I'm starting to adjust my meal plans each week so that I can make everything without turning on the oven. These simple and quick meals are our go-to choices all summer long!
⇒ What are your favorite summer meals? Do you hate turning the oven on in the summer too?
Related Posts:
6 Healthy & Inexpensive Food Swaps
13 Secret to Saving Money on Food
How to Stick to a Weekly Grocery Shopping Routine
Meal Planning Just Got 5X Easier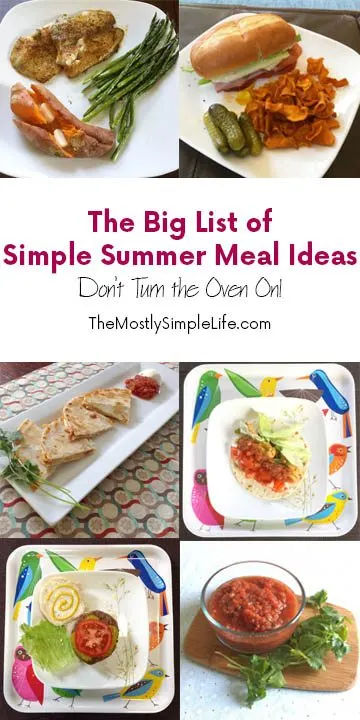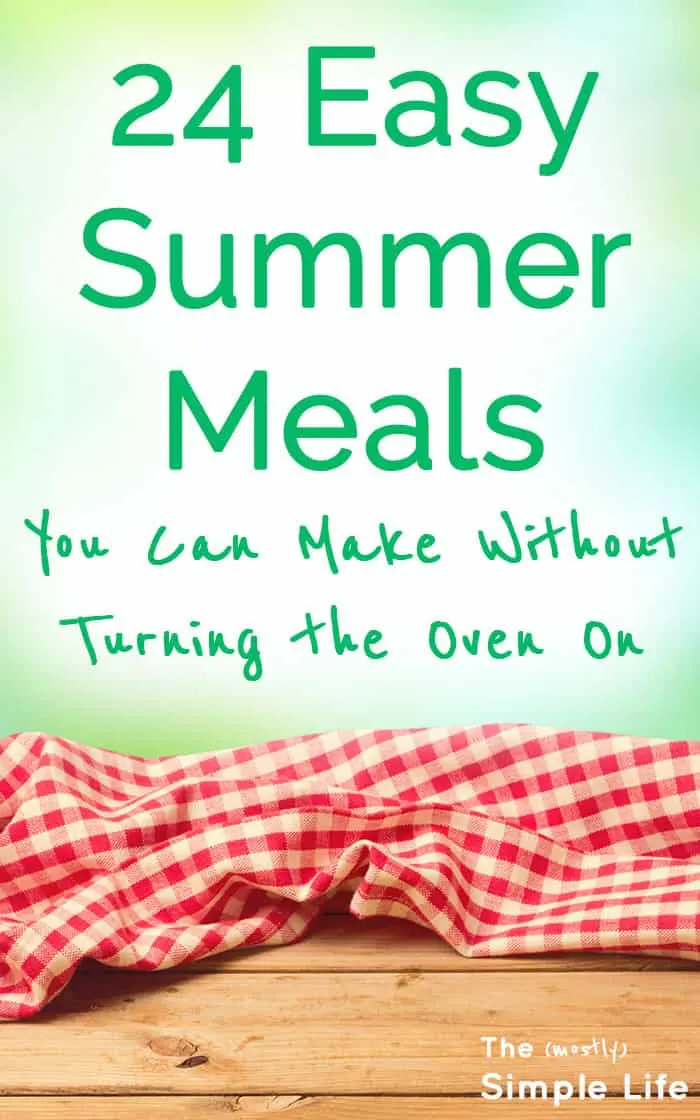 If you find this page helpful, please pin or share it :)