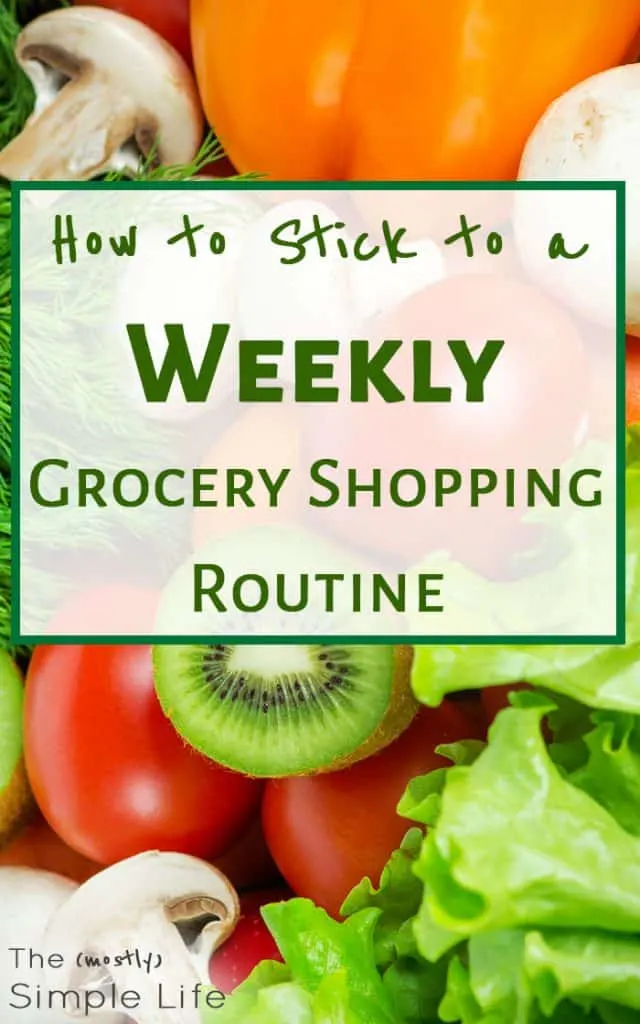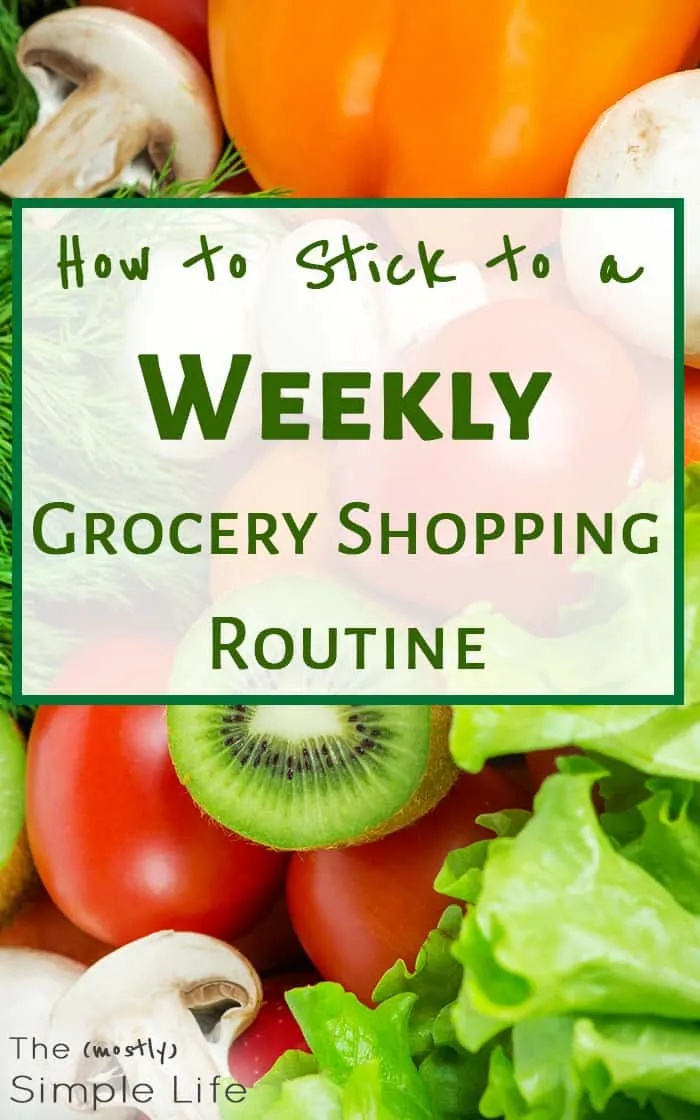 We all know that grocery shopping is one of those adult tasks that has to happen. It's not all that fun or exciting but people gotta eat, right?
My current grocery shopping routine has been working really well for us.
Since we buy a lot of fresh produce and we're very close to our favorite stores, we grocery shop once a week. Only once a week.
It only takes me a few minutes to make my meal plan and grocery lists and we are in and out of the stores we need to hit in about an hour and a half each week.
Here's how we make it happen:
How to Stick to a Weekly Grocery Shopping Routine
Ongoing List
Austin and I both don't like to shop. Since we share a car, it's pretty inconvenient for me to shop often and he doesn't like to stop at a store after work. Because of all this, we only shop once a week.
I keep an ongoing list throughout the week of things we need or have run out of. If we're out, we're out until we shop again. If we need something, I want to make sure to write it down because if I forget about it, it will be another week until I buy it.
A simple sticky note on the kitchen counter or list making app on my phone is all it takes (I've been using a list making app called Listonic lately).
Meal Plan + Grocery List
Meal planning is where it's at! It allows me to shop less often, save money, and know what our meal options are. Triple win 🙂
Meal planning does not have to be complicated at all. You're simply making a list of meals that you will buy groceries for, so that you have all of the ingredients you need.
I make my meal plan and grocery list for the week simultaneously. Plus, I add any items from my ongoing list to the grocery list.
I often do this the night before I'm going to shop so that all I have to do is head out the door and shop the next day. Dividing up the task makes it seem like less of an ordeal to me.
Sidenote: You can get the meal planning printable I use each week by entering your info below!
[convertkit form=830245]
Visit 2 Stores at Most
Since we moved to a bigger city, I'm amazed at all of the places to shop! Trader Joe's, Meijer, Aldi, Sam's Club, Fresh Thyme, and other local markets…. It's kind of awesome! However, I could spend all day hitting each store for what's on sale.
I rarely shop at more than two stores each week. Sure, I miss out on some deals but my time and sanity are worth a lot to me.
I always go to Aldi each week for the bulk of our groceries (see my list of what to buy at Aldi here), and then I either go to Meijer or Sam's Club for my second store depending on sales and what we need. (Meijer is a local "everything" store. It's huge and is similar to a Super Walmart in that they have food, housewares, clothing… Everything.)
Since I only go to two stores each week and I'm shopping with a list, I can get in and out of each store very quickly. My shopping trip is usually less than an hour and a half all together! If I stopped at more stores, it would take a lot longer.
Don't Wander
This is super important if you don't want grocery shopping to take much time.
I don't wander or browse.
I have my list and know exactly what I need. Since I shop at the same few stores, I usually know where to find things and don't have to spend a long time looking.
Part of why I love Aldi so much is because there isn't much to look at. If you need mustard, there are maybe two choices, not an entire wall of possibilities where I have to calculate which is the best deal. I know I'm getting a good deal and can quickly grab what I need.
Again, I don't love shopping, so I'm not all that tempted to wander. I do have to remind myself not to browse too much at Meijer though. I stick to my list and hopefully stick to my budget by not browsing.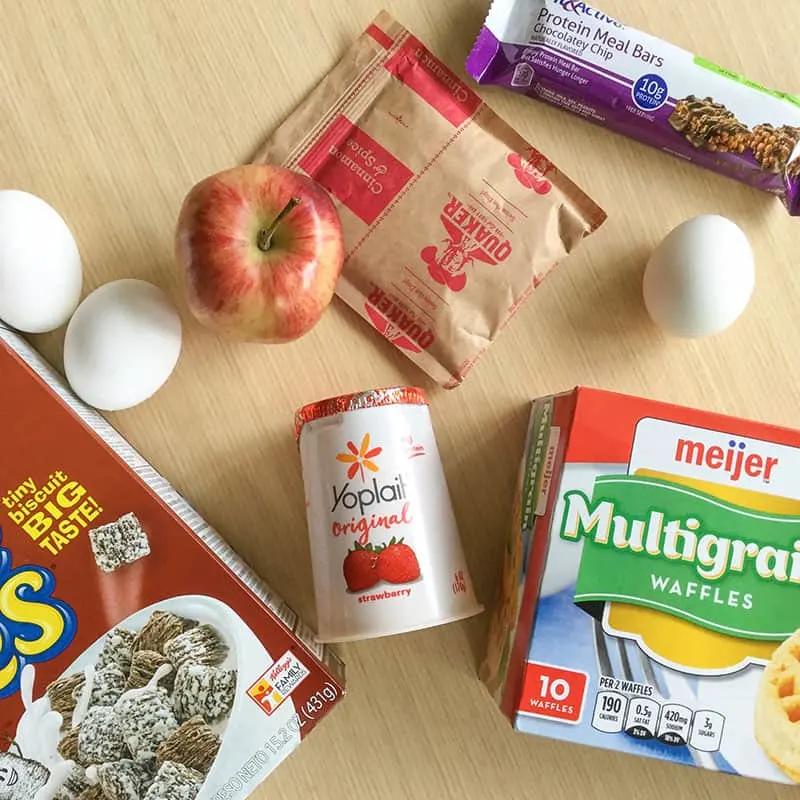 Time It Right
Another way to make weekly grocery shopping easier and more efficient is to time your shopping trip well. There are certain times that the stores are super busy and traffic trying to get to them is awful.
This doesn't always work, but I try not to shop at busy times. I can get in and out of the stores so much faster when they're not super busy. Plus, I'm in a better mood when I don't have to deal with crowds of people.
Don't forget to check Ibotta so that you can earn cash back on your groceries! You can often earn cash back on fruits, veggies, and store brand foods. I try to scan my receipts for any rebates right when I get back from the store to make sure I don't forget.
By sticking to this grocery shopping routine, we are able to go to the stores just once a week for about an hour (maybe an hour and a half).
Since neither one of us loves to shop, our super efficient routine is great! We can get what we need and get home to enjoy the rest of our time off.
Related Posts:
Meal Planning Just Got 5X Easier
13 Secret to Saving Money on Food
Money Saving Strategies for the Grocery Store
⇒ What's your current grocery shopping routine?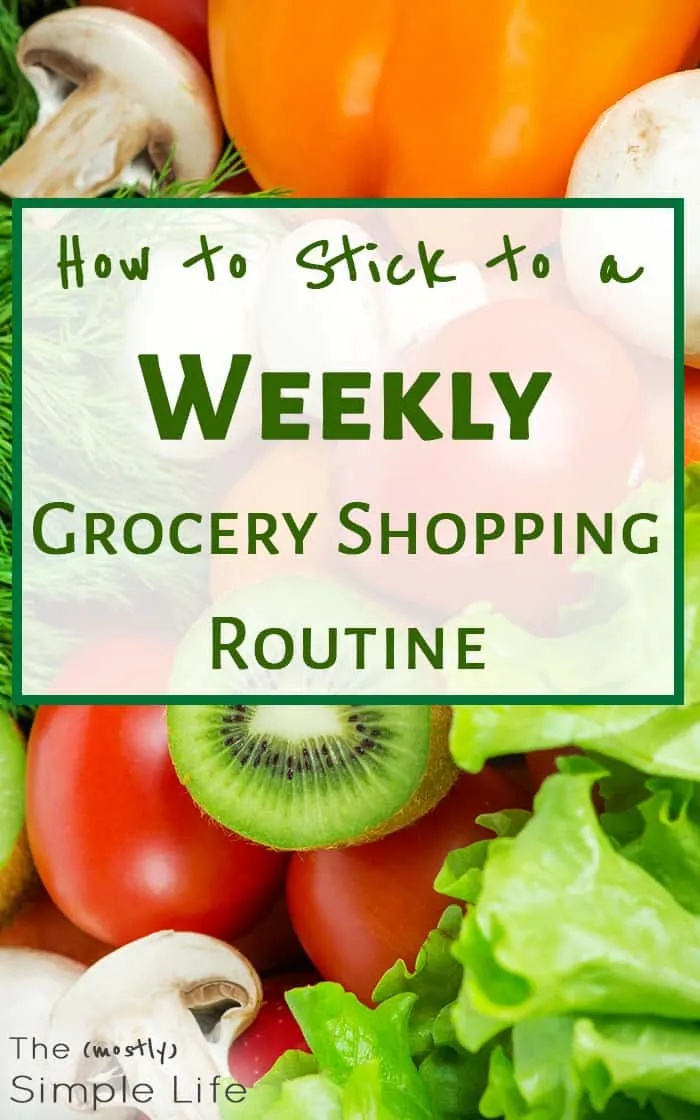 If you find this page helpful, please pin or share it :)