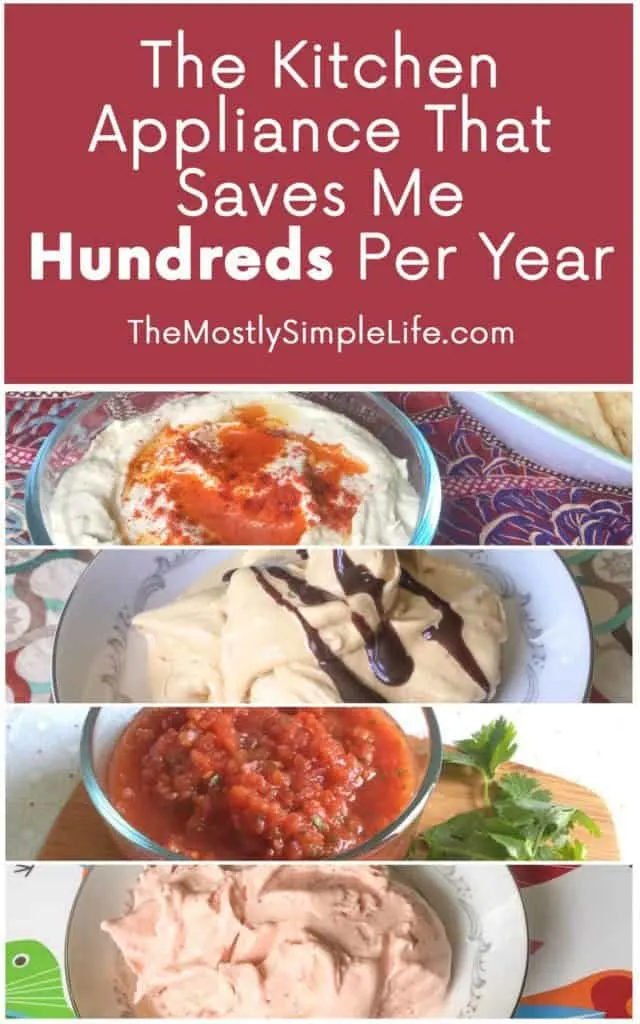 There's one kitchen appliance that gets used more than any other at our house. And no lies, it saves me hundreds of dollars per year. Plus, it's just the most handy appliance we've ever owned.
I use it to help make soups, to save money on snacks, and to make special dessert treats.
So what's this awesome appliance? It's my Ninja "Master Prep" Blender.


Before you ask: No, this is not a sponsored post. Ninja has no idea I'm writing this post. I just adore this thing and think everyone should own one because it does so much for me.


We got a classic blender/food processor for our wedding and it was terrible. It blended the bottom inch of the container and did nothing to the rest. Every blender I see promises that it will rotate what is inside so that it all gets blended, but I've never seen one that actually does. Plus the blender from our wedding broke after a few uses. Not great.


The reason I love my Ninja is because the blade goes all the way through the container, so everything really does get blended. There are a lot of pieces, but I like that it all comes apart and can all go in the dishwasher. Just be careful of those blades because they are crazy sharp.
One thing I don't love is that the blender lid has some crevices that are tough to clean. What works best for us is to rinse all of the parts immediately after we use it, and then it comes clean really well in the dishwasher.
I know people swear by the Blendtec blenders, and I've never used one so I don't know, but holy crap, they're expensive. The Ninja works great for me for a much lower price.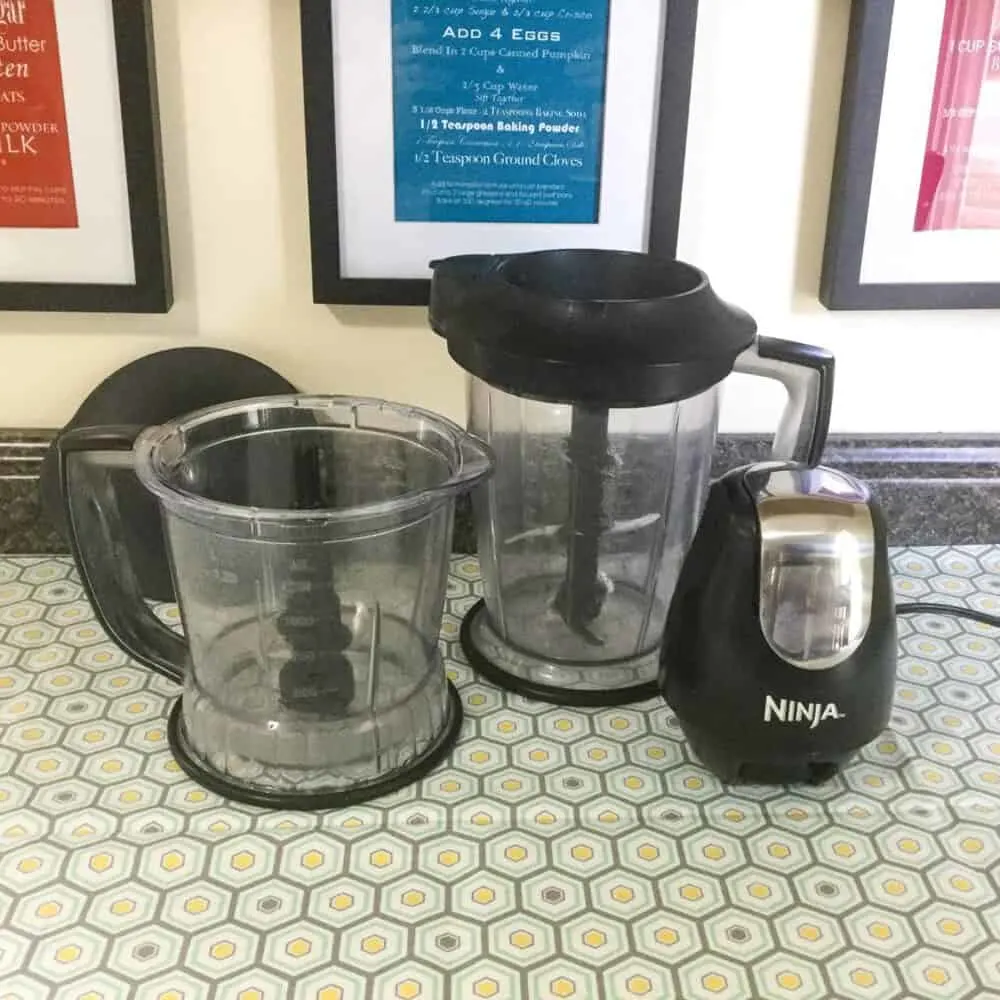 Ok, so how do I save so much money with this thing?
We use our Ninja "Master Prep" Blender to make frugal snacks and treats at home.
Going out for ice cream and buying hummus at the store are both super expensive and those are two of the biggest ways we save money.
Related Posts:
Chicken Taco Quesadillas Recipe
Flavored Ice Cream
The big gallon-sized tubs of ice cream at the store are always the best deal, but we always get sick of the flavor we pick before we can eat it all. Then the tub of ice cream sits in our freezer for weeks or months and gets freezer burnt like crazy.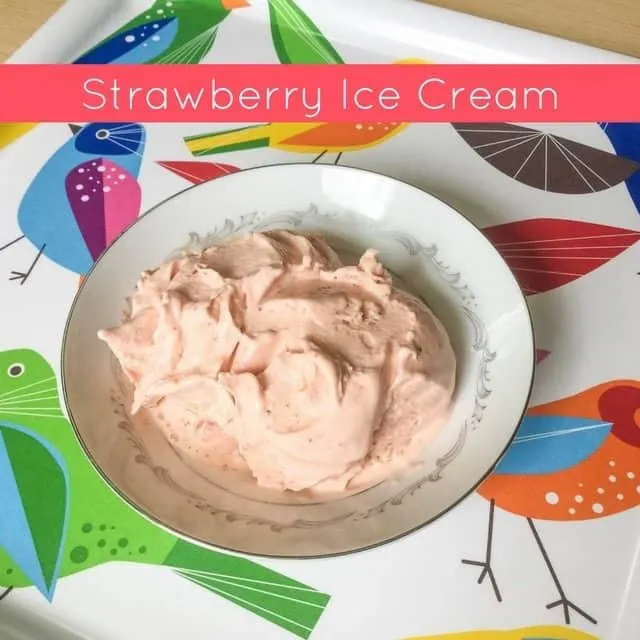 We have started buying gallon containers of plain vanilla ice cream though, which we turn into gourmet ice cream at home.
We scoop the vanilla ice cream into the Ninja, along with a bit of milk and whatever "flavorings" we want and it basically blends into gourmet soft serve.
It works best to blend the milk and flavoring first, then add the ice cream and blend some more.
Here are the mix-ins we've tried (plus some pro tips from Austin, who is my ice cream maker 🙂 ):
Strawberries – This might be my favorite: Strawberry ice cream made with fresh strawberries! Don't add any milk with this one. The strawberries have enough liquid in them.
Cherries
Peanut Butter and Chocolate Chips – it's like Reese's ice cream y'all. So good.
Peanut Butter – Adding nuts is amazing.
Chocolate Chips
Coffee – Amazing. Blend a serving of instant coffee granules (small spoonful) into the bit of milk and then add in the vanilla ice cream. Some chocolate syrup on top is not a bad idea.
Nutella
Oreos – I haven't tried this yet, but I need to!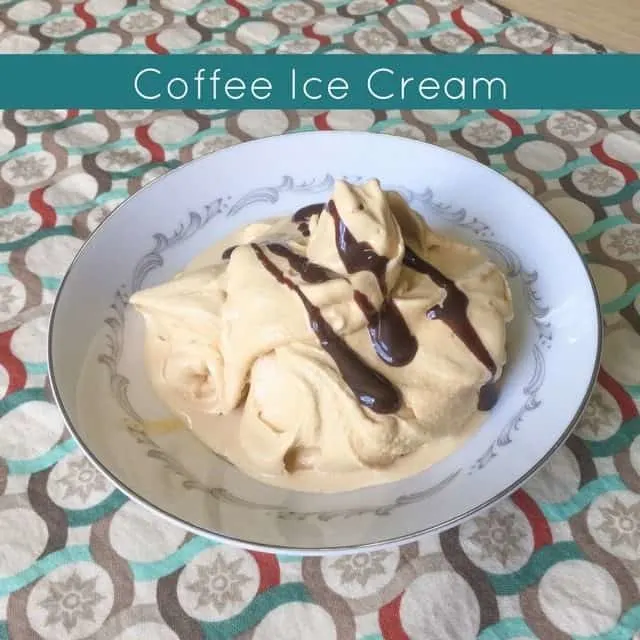 We have had so much fun trying new flavors. It's a delicious at-home treat. For how much we eat ice cream (and how much we used to go out for ice cream), the Ninja saves us a lot of money.
Snacks
I've shared with you my recipe for Blender Salsa, which I have been completely addicted to for a few years now. It's so easy and tastes so fresh.
Every time I make it for a crowd, I get asked for the recipe. It only takes me about 5 minutes to blend up.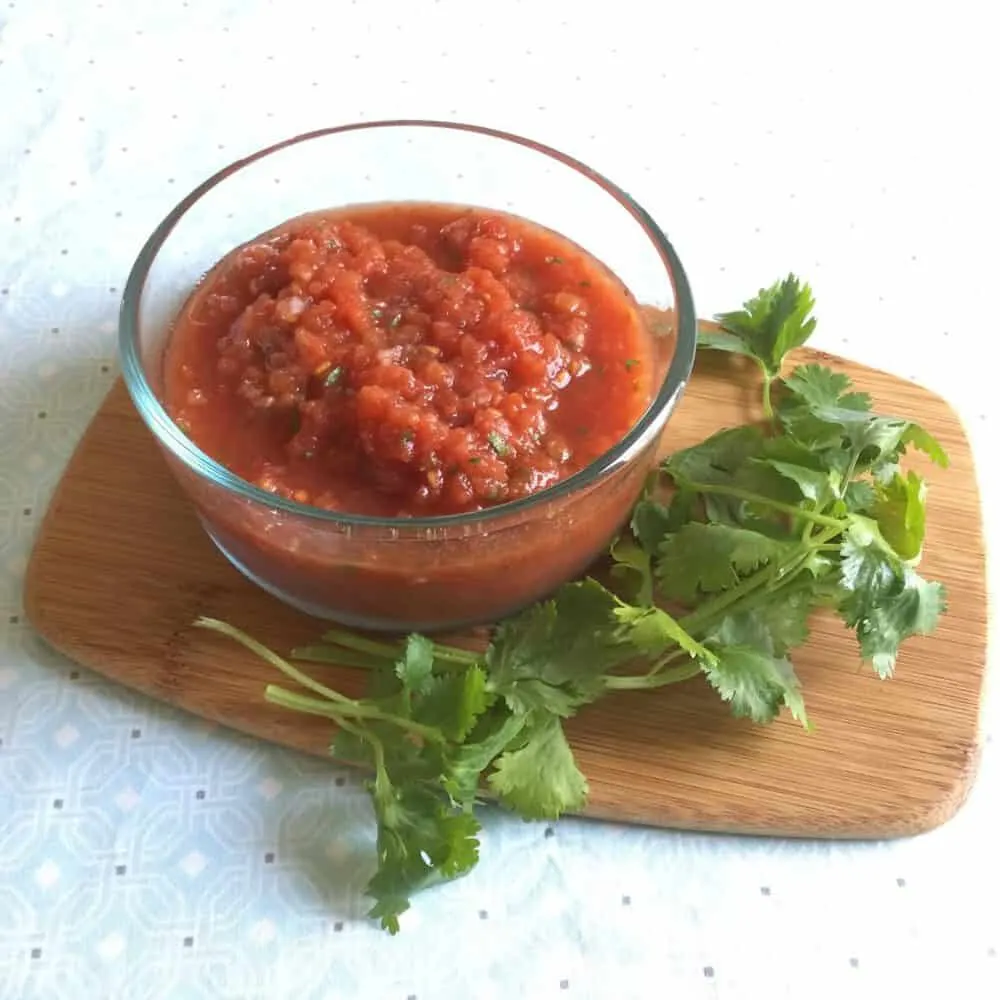 I make hummus at home too. I am shocked at how much the stores charge for a tiny container of hummus when it is so inexpensive to make yourself. And easy too.
Here's the link to the base recipe that I use: Hummus Recipe
You can tweak it and add different toppings to customize it for yourself. I like ours with just a little olive oil and smoked paprika on top.
The recipe I use calls for tahini, which is sesame seed paste. It can be a little hard to find at the store. It's either by the peanut butter or in a Mediterranean foods section. Some people substitute peanut butter or leave it out. I've never tried either, so let me know if that's how you do it. I'm curious.
Basically, all you do is blend everything together. Once you make it yourself, you're going to wonder why you've been paying so much for it.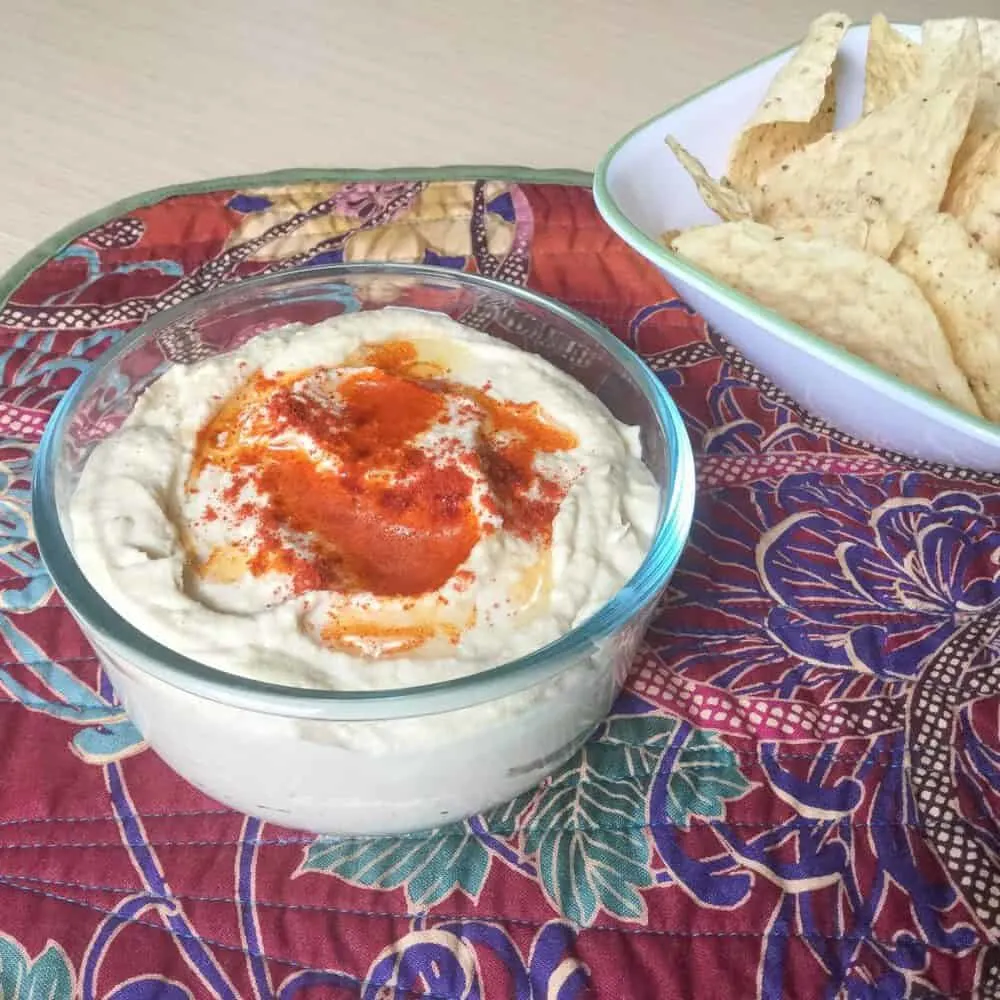 Related Posts:
Soup
This last one is more of a time saver than money saver, but 'time is money' right?
We eat a ton of soup throughout the long, long, long cold seasons here. If you just press the button on the Ninja real quick a couple of times, it chops veggies up nice and little to throw in a soup.
I still use a knife to chop potatoes or veggies I want in bigger chunks, but the Ninja works well if you want smaller pieces.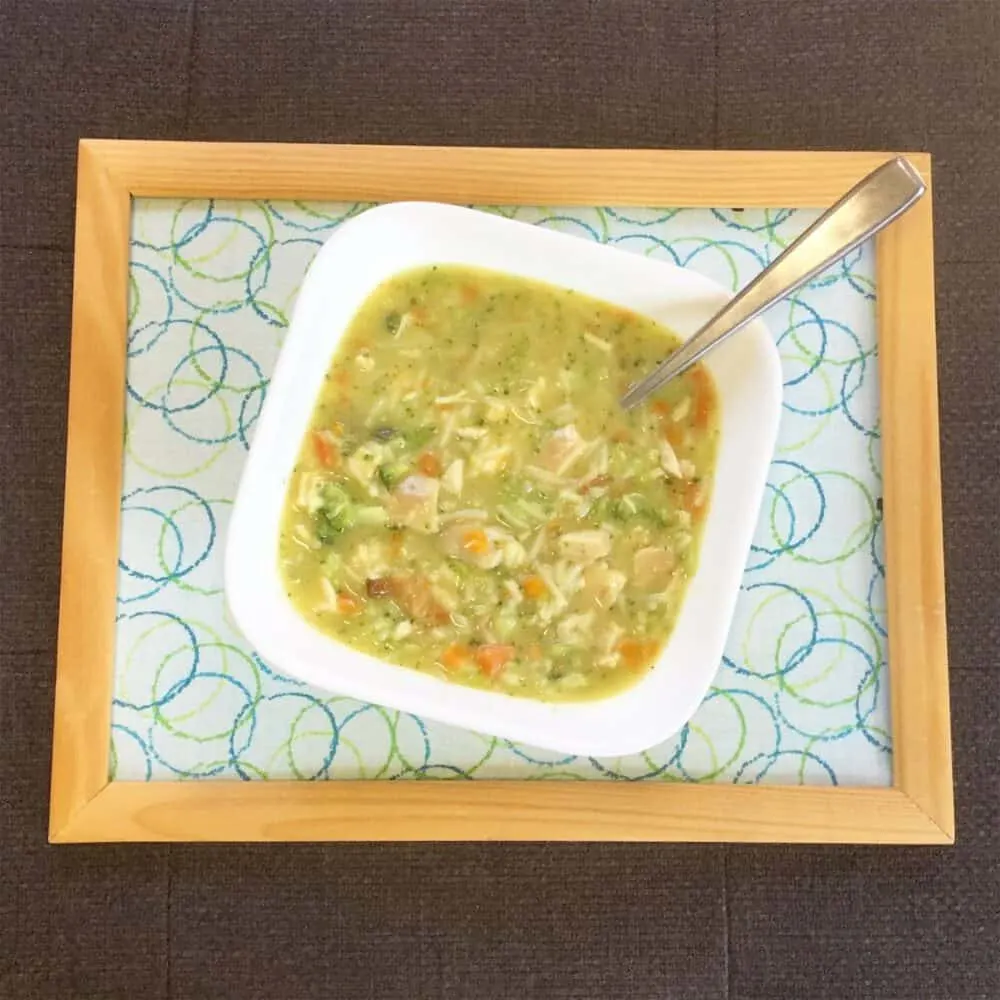 If you want to take a look at the Ninja I have, here's the link.
⇒ What's your favorite kitchen appliance? What's your secret to saving money on treats and snacks?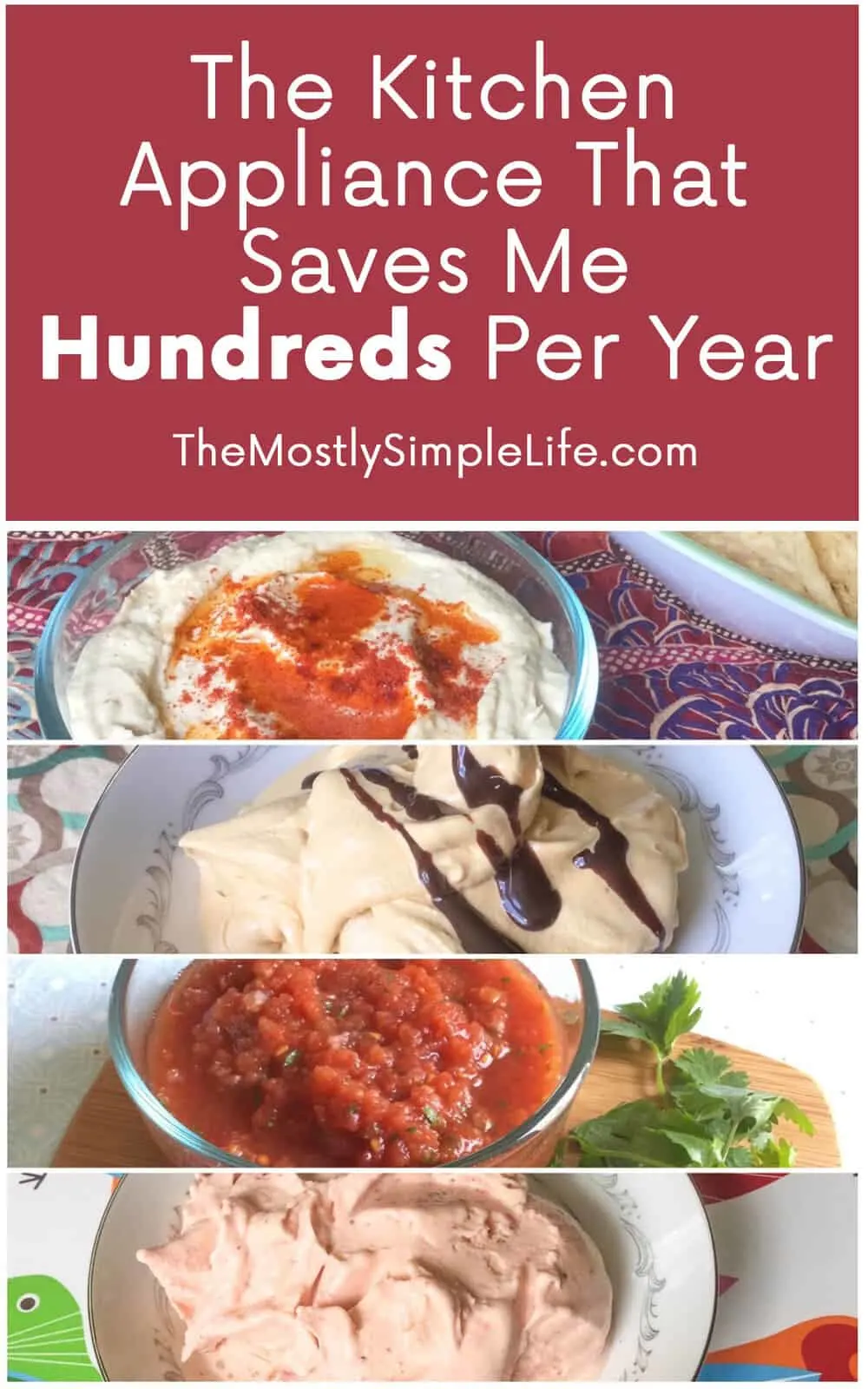 If you find this page helpful, please pin or share it :)