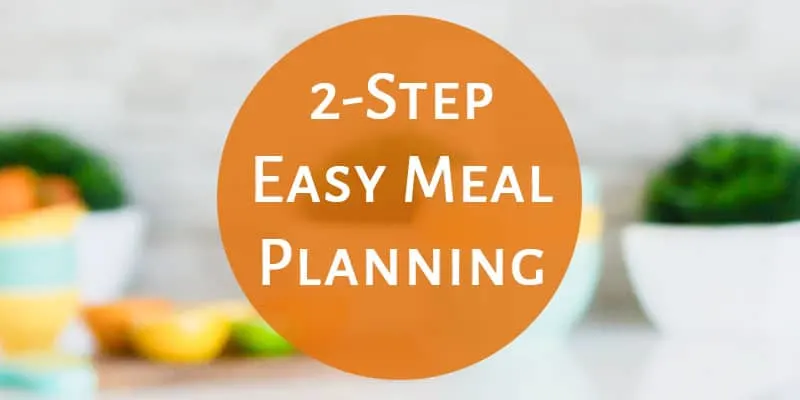 Update: This is a repost of one of my oldest posts! I love how it breaks meal planning down into its simplest form.
Does anyone else think that "meal planning" has turned into this huge task that everyone tells you that you should do, and it sound like it will take forever and be so hard? Eeesh.
Well, yes… you should plan your meals. But no… It's not hard. It can be quick and simple.
For me, meal planning is just one step you add to making a grocery list.
Why make a meal plan? Well, to reduce waste and save money. Also, to make figuring out "what's for dinner" easy. If you're going grocery shopping, you should have a list of what you need to buy so you don't forget anything.
Meal planning is just a step that goes with making your grocery list that says, "I'm going to buy all of this food which can be turned into all of these meals."
Update: click here to get the meal planning printable I use each week.
Let's Make Meal Planning Simple
1. Create a list of meals you eat often
I keep a document on my desktop with all of the meals we commonly eat. Of course I sometimes make crazy Pinterest recipes and the meals on the list aren't all we ever eat, but it's a list of things we have fairly often.
If I make a new recipe that we love and will probably eat a lot, I add it to the Common Meals List. I have this list printed off and in the kitchen so I can refer to it for ideas of meals to make for the week to come. Here's what my list looks like: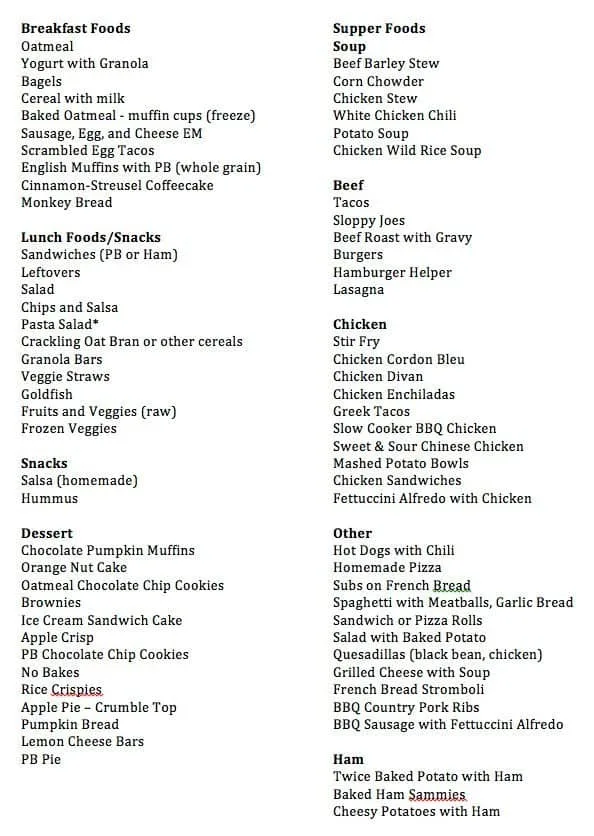 I've got mine divided up into a few categories. I do it this way because if I have chicken in the freezer, I can easily see what recipes I might make.
It's nothing fancy. It's really just to give me ideas of what to make and a reminder to make sure I have enough breakfast and lunch foods for the week.
Keep in mind that I'm just looking to figure out the "main course". I always pick up fruits and veggies and other things to have as side dishes that I might not write down.
This is the most time consuming part of meal planning, and you just do it once and then update it every once in a while.
Don't Miss These Other Meal Planning Posts:
2. Make your grocery list and meals list
at the same time

.

So, at the same time that I'm making my grocery list for the week, I make a list of the meals we can make from those groceries.

I grocery shop weekly, so I need to make sure we have groceries to make 6-7 meals. For us that's enough meals to make dinner every night and have leftovers for lunches and such. Plus, I add in enough breakfast foods for seven days of quick, simple breakfasts.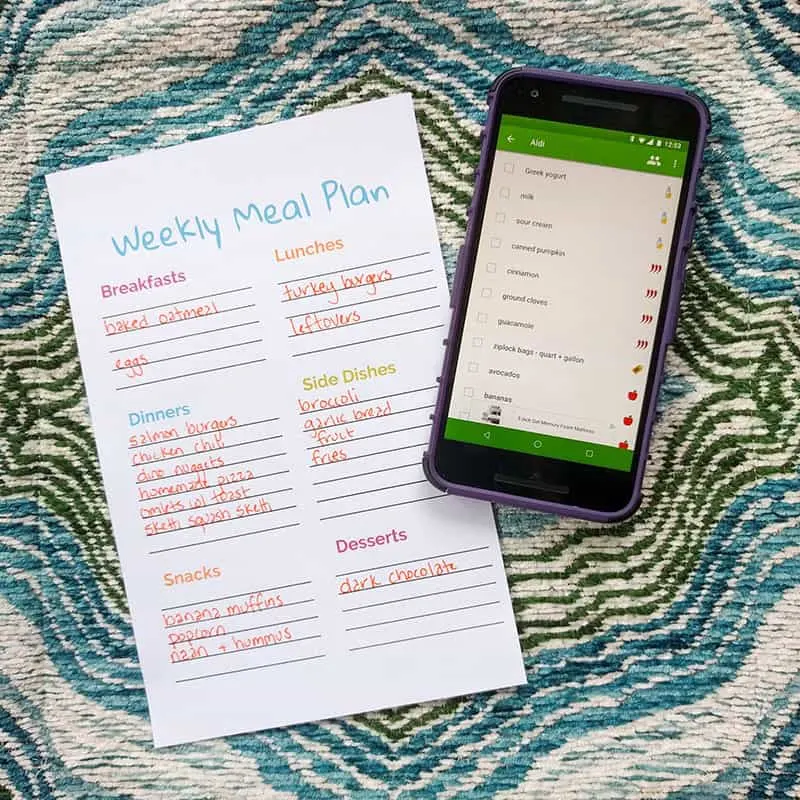 There's a few things to check while making these lists:
Your cupboards, refrigerator, and freezer: Check what you have on hand so that you don't buy extras of things that you already have. If you have lunch meat in the fridge that will go bad in a few days, make sure you plan a meal that will use that up. If you have lots of ground beef, plan a meal or two that uses ground beef so that you don't spend tons of money buying other meats when you already have some.
Sale ads: Plan you meals around what's on sale to keep your grocery budget under control. I don't plan on making apple pie in March when apples are super expensive. But when they are majorly on sale in the fall, you better believe we eat some apple crisp and apple pie. Yummmm…
That's really all there is to it!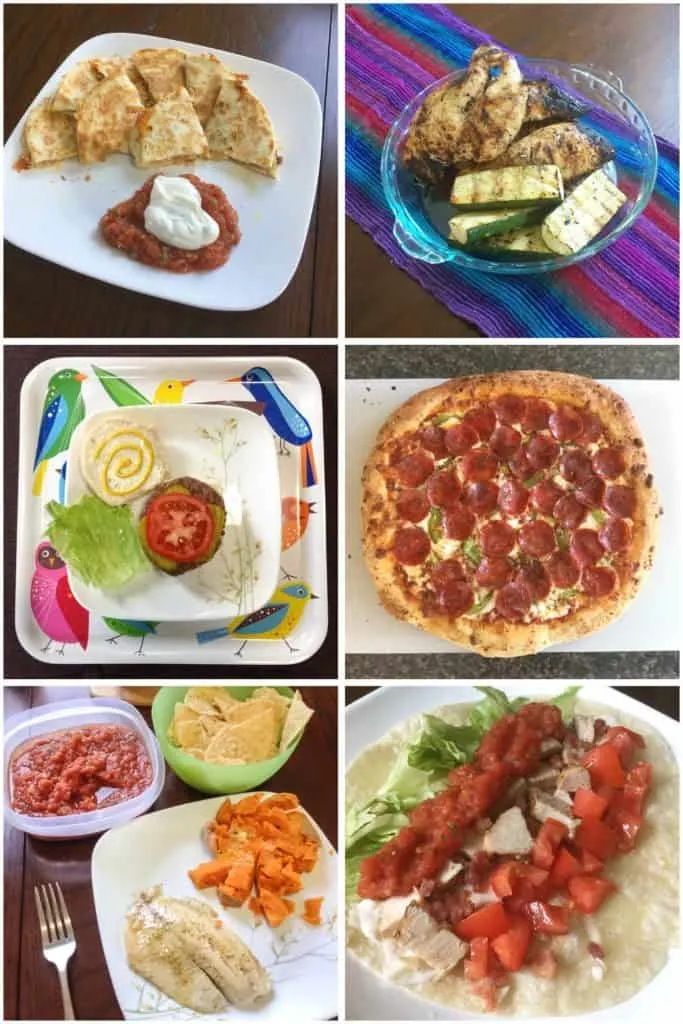 Example: So this week, I knew I had some ground beef in the freezer and I decided I wanted to make lasagna. Next, I checked and found that I had just enough noodles in the cupboard and an extra jar of sauce as well. I dug out some shredded mozzarella from the freezer and realized that all I need to buy was cottage cheese. We've got plenty of frozen veggies in the freezer to go with it (I always stock up when we go to Aldi every couple of months), and I picked up some french bread to make garlic bread too. By using what we already have on hand, we only needed to buy two ingredients to make this meal. I go through this basic process to pick out what meals we want to make: see what's on sale and check what ingredient we already have.
The last thing that I do is post my meals list on the fridge so that I can see all of the meals that we have ingredients for. This also makes me think twice about getting take-out since I know we have food to eat at home.
Making my grocery list and planning our meals for the week takes me about 10 minutes.
For us, it's easiest to just pick a meal off of the list to make depending on how much time we have and what we're in the mood for. If you want to be more detailed, you can absolutely take things a step further and print out a calendar to assign each meal to a specific day.
I use Ibotta to get money back on our groceries. They have rebates for fruits, veggies, and store brand foods (just search "any" in the app to find these rebates). You will get $10 added to your account when you scan a receipt for your first rebate. You may have a receipt in your wallet right now that will work!
You Might Like These Posts Too:
⇒ Have you tried meal planning? What methods do you use?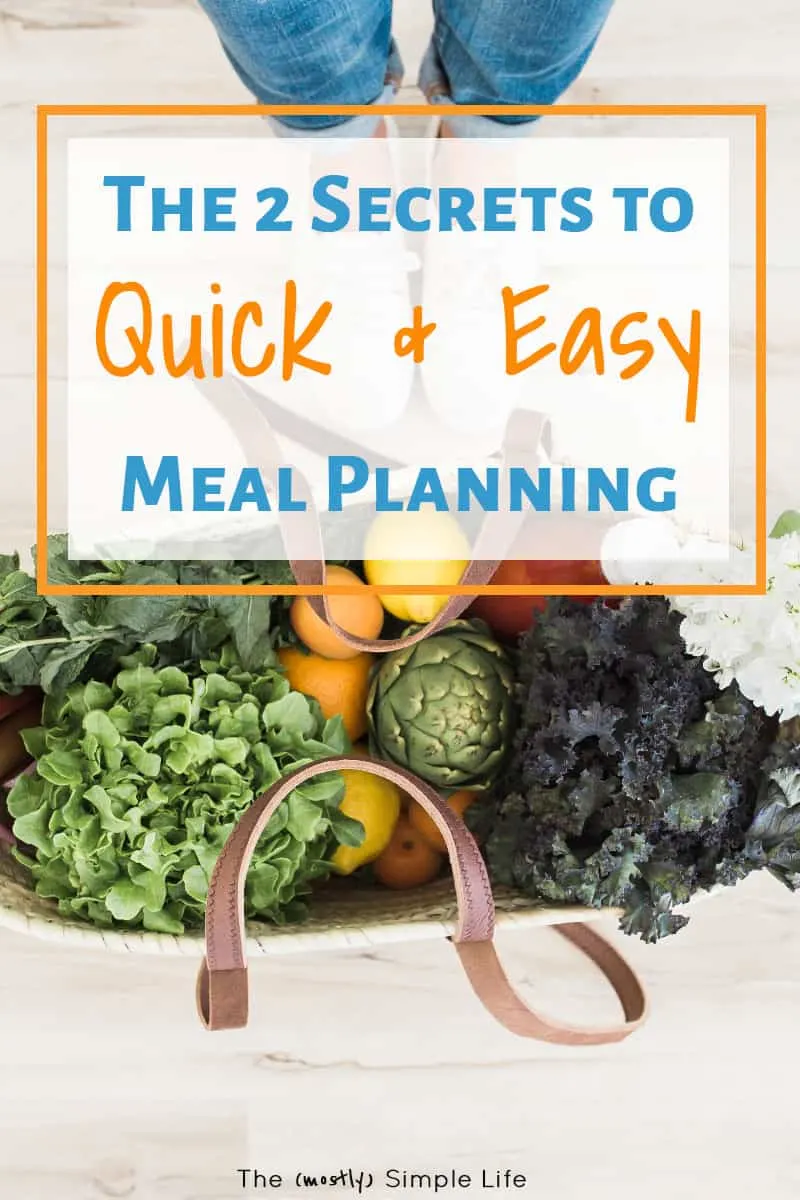 If you find this page helpful, please pin or share it :)