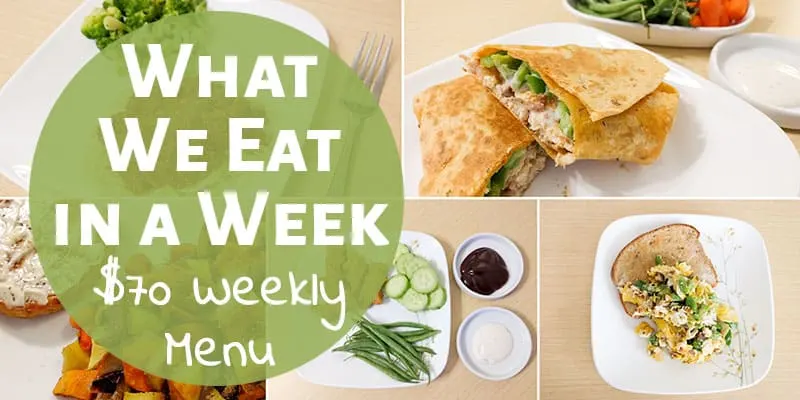 I wanted to share exactly what our meal plan for a week looks like these days: what we're planning to eat, where we shop, and how much we spend.
A few notes on our diet:
We don't have any severe food allergies. Austin doesn't do well with dairy, so we don't eat dairy-heavy foods (except pizza) and we buy almond milk for him.
We eat what I think is a fairly healthy, balanced diet. Yes, there is room for improvement. Yes, we still have treats and the occasional processed foods.
For two adults, we try to spend about $70 per week on groceries. (That's just food we eat at home. I budget separately for household supplies and eating out.)
Since I budget monthly, I multiply $70 by how many weeks there are in the month. This month, I budgeted $350 for groceries. As you'll see, we went a bit over $70 this week to stock up on meat that will last a while, so next week we'll have to spend less for everything to even out.
UPDATE: You can get the meal planning printable I use each week by entering your info below!
[convertkit form=830245]
The Meal Plan
Breakfast:
Cereal + Coffee
Lunch:
Austin's work lunches: Chopped raw veggies, chicken or salmon, sparkling water, a fiber bar, and a banana.
Christine: Scrambled eggs with veggies and toast or leftovers.
Dinner:
Balsamic Chicken Wraps: We fill sandwich wraps with cooked chicken, shredded cheese, sliced green peppers, ranch dressing and hot sauce and warm them in a skillet. If we have it, they're even better with bacon bits and cilantro added in.
Chicken Nuggets with Raw Veggies: Yeah, we bought dino nuggets and we eat like toddlers 🙂
Salmon Burgers with Roasted Veggies: I'm completely addicted to the salmon burger patties from Sam's Club — cooked in a skillet, spread with a little mayo, and sprinkled with salt and pepper. For roasted veggies, we chop carrots, onions, and potatoes (regular and sweet). Drizzle with olive oil. Sprinkle with salt, pepper, and garlic powder. Bake at 450° for about 40 minutes, flipping halfway through.
Blueberry Pancakes with Scrambled Eggs: We have sooo many frozen blueberries, so I've been adding them to pancakes. Breakfast for dinner is my favorite!
Homemade Pizza: This is like a family activity. I make the dough during the day from whatever recipe I pick online. Then we put it together when Austin gets home. Sometimes we get fancy and try to do stuffed crust or a chicken-ranch pizza. This is the best pan we've found for baking homemade pizza.
Spaghetti and Meatballs with Broccoli: I either use frozen meatballs or mix some cooked ground beef into the jar of sauce. Frozen broccoli can be heated in the microwave, making this whole meal super simple.
Snacks:
Hard Boiled Eggs
String Cheese
Applesauce
Dessert:
Dark Chocolate Squares
Mini Peanut Butter Cups (Aldi's chocolate sections is so good.)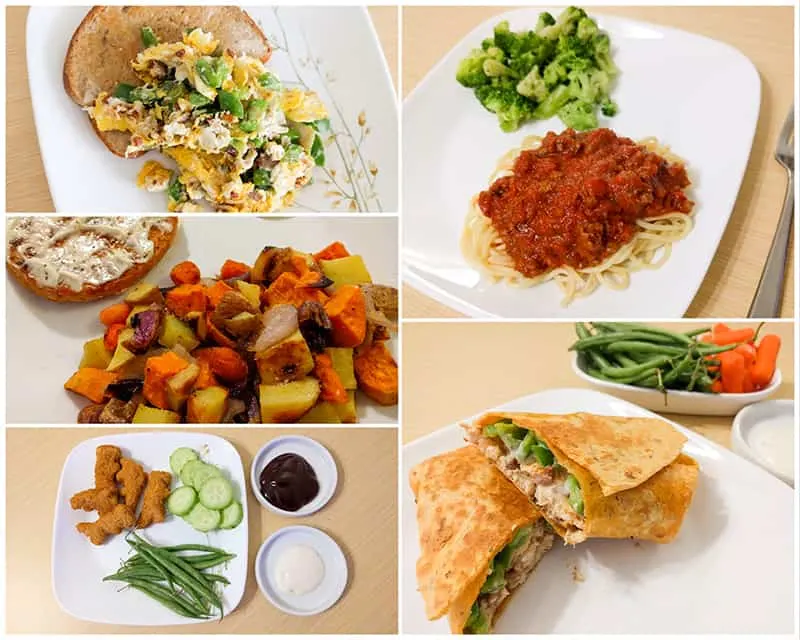 ---
Of course, we didn't have to buy every single item to make all of this for the week. Some of the ingredients were already in the cupboard or fridge. I bought a few things that I don't necessarily need this week, but that I like to keep on hand.
We shop at Aldi every week for the bulk of our groceries and then stop at either Sam's Club or Meijer for a few extras. This week we needed meat, so we went to Sam's Club because I like to buy chicken breast and salmon burgers there.
Here's what we bought:
Sam's Club
Boneless Skinless Chicken Breast: $12.73 ($1.98 per pound)
Frozen Salmon Burger Patties: $15.98
Sam's Club Total: $28.71
Aldi
Milk: $2.19
Almond Milk: $1.99
Shredded Mozzarella: $2.49
Eggs: $1.24
Pears (3lb bag): $3.49
Cucumbers: $.19 x 2
Green Beans: $1.39
Green Peppers (3 Pack): $.99
Baby Carrots: $.99
Bananas: $.91
Whole Grain Chicken Nuggets: $3.99 x 2
Pepperoni: $2.19
Sparkling Water (12 Pack-Like LaCroix): $2.49
Fiber Bars: $1.69
Chocolate: $2.49
Beef Broth: $1.79
Chicken Broth: $1.89
Spaghetti Noodles: $1.45
Cereal: $1.69
Pasta Sauce: $.99
Soy Sauce: $1.49
BBQ Sauce: $.99
Aldi Total: $44.39
Grand Total: $73.10
We went a few dollars over the ideal $70 weekly budget, but the chicken and salmon burgers will last a few weeks, so we should be a bit under budget in the coming weeks.
As you can see, we each eat pretty much the same thing for breakfast and lunch each day. This really helps to simplify our shopping and keeps us from wasting food.
Most of our dinners hardly require a recipe. They're simple combinations of foods we enjoy with fruit or vegetable side dishes.
This week's meal plan is what a pretty average week looks like. I hope this real life weekly meal plan example is helpful for you! If you have any questions, please just ask in the comments.
You Might Like These Posts Too:
24 Healthy Foods Under $1 Per Serving
How I Stick to a $70 Per Week Grocery Budget
Money Saving Strategies for the Grocery Store
⇒ What's on your meal plan? What are your favorite go-to meals?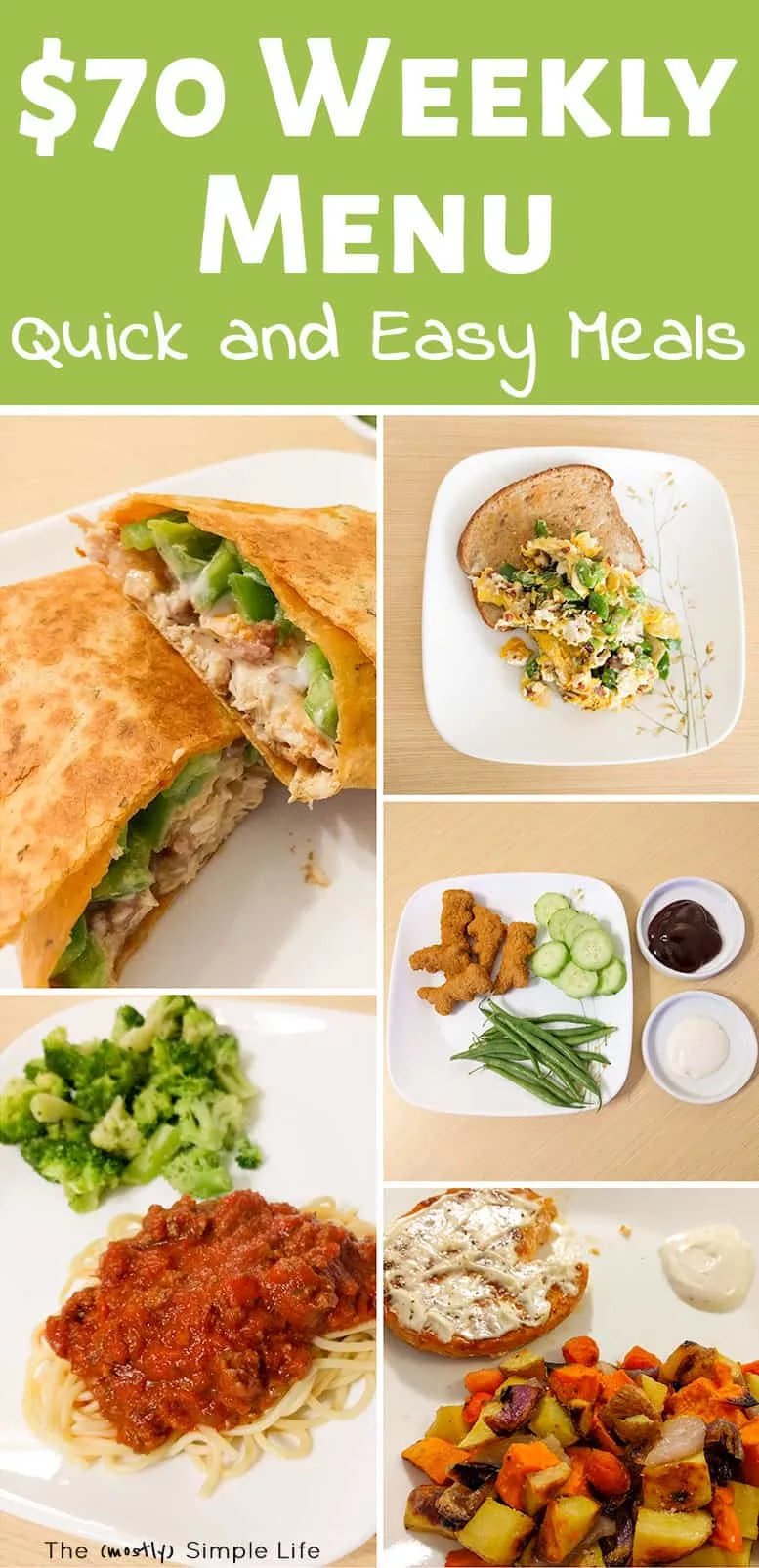 If you find this page helpful, please pin or share it :)