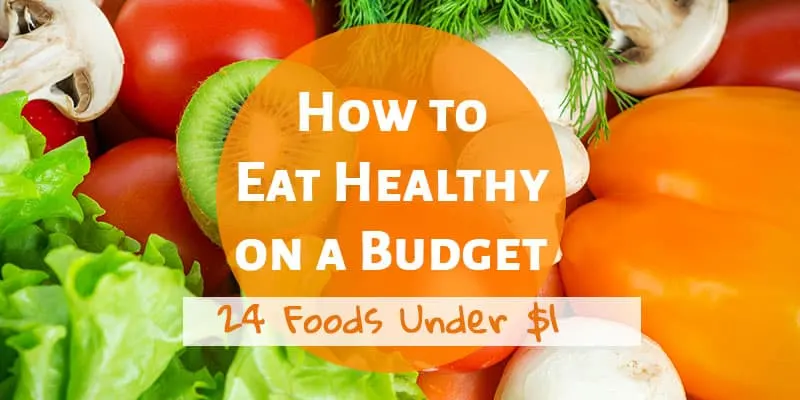 I get some form of this question more often than any other: How do I eat healthy while keeping my food budget low? And I love getting this question! There are a lot of inexpensive healthy foods that I recommend.
Austin and I have both lost weight this year while keeping our grocery budget around $70 per week (that's just for food, no household items or eating out), so I definitely believe it's possible to eat healthy on a budget. I want to share some of our favorite inexpensive healthy foods and how we serve them to give you some ideas!
NOTE: I've listed the price per serving next to each food. My prices are based off of what I can find in my area. I know prices vary by area and not everyone has an Aldi nearby. Even if your prices are higher or you don't have Aldi where you live, I think you'll find that these foods are still inexpensive options compared to other foods.
Of course, none of these makes an entire meal by itself, but if the majority of your meals are made up of these ingredients with some extras added in in small quantities, you'll be eating balanced meals for a low price.
A few examples would be:
Chicken Stir Fry: Frozen stir fry veggies(#14) with the sauce included plus boneless skinless chicken breast(#2) and rice.
Chicken Wraps: Boneless skinless chicken breast(#2) in a sandwich wrap(#22) with green pepper slices(#12) plus a little ranch dressing, shredded cheese, and hot sauce.
In fact, the list below is what makes up 90% of our grocery list each week! We buy these ingredients more often than anything else.
Sidenote: Meal planning is one of the most important things we do to save money on groceries. You can get the meal planning printable I use each week by entering your info below!
24 Inexpensive Healthy Foods Under $1 Per Serving
Protein
1. Eggs: 6¢
Eggs are an extremely inexpensive way to get protein. I have a few eggs over easy with a whole wheat mini bagel for lunch throughout the week. We almost always have hard boiled eggs on hand for a snack as well.
2. Boneless Skinless Chicken Breast: 50¢
This is one of the least expensive meats in our area. It's the meat we eat 95% of the time because of that. We have it in wraps, soups, and quesadillas often. Pay attention to your serving sizes here. A serving of meat is around 4 ounces, yet the chicken breasts we get can be up to a pound each!
3. Salmon: 95¢
While salmon isn't super cheap, we have found that the price really isn't too bad if you buy it frozen. It's extremely filling so we don't find ourselves overeating with it. We cook it either in a skillet or on the grill with some lemon pepper seasoning (super simple) and serve it with roasted veggies. I always use my meat thermometer when I cook salmon so that I don't under- or over-cook it.
4. Beans: 20¢
I've been gradually trying to eat more beans because of how inexpensive and healthy they are! You can read some of my favorite strategies for getting yourself to eat more beans (or tricking your family to eat more beans).
5. Homemade Hummus: 49¢
Hummus at the store isn't cheap. Luckily, it's super easy and inexpensive to make yourself! You literally just blend everything like crazy until it's smooth. Here's my go-to hummus recipe.
Veggies
We use fresh and frozen veggies. I like to use frozen veggies because they go on sale all the time and often come in steamable bags so I can cook them in minutes in the microwave – inexpensive, healthy, and easy!
6. Sweet Potatoes: 25¢
You can heat sweet potatoes up in the microwave and eat them like a baked potato. Our favorite way to eat veggies in the winter is to chop sweet potatoes, onions, and carrots and roast them in the oven. Just drizzle olive oil on them and sprinkle salt, pepper, and garlic on top. Bake in a single layer on a pan for 30-40 minutes at 450°, flipping halfway through.
7. Carrots: 20¢
Raw or roasted!
8. Onion: 15¢
Onions are very inexpensive and can be a good addition to any meal.
9. Potatoes: 20¢
We most commonly roast these in the oven, though there are a million ways to eat potatoes.
10. Broccoli: 22¢
Austin puts fresh broccoli in his salads which is very filling. We buy a lot of frozen broccoli because it's so inexpensive and easy to cook in the microwave for a few minutes for a healthy side dish.
11. Cucumber: 23¢
We go through a lot of cucumbers. Such a yummy snack.
12. Green Pepper: 28¢
In salads, for a snack, sauteed with scrambled eggs… We go through a lot of green peppers.
13. Pumpkin: 25¢
I bake with a lot of canned pumpkin. It's inexpensive and very filling. Pumpkin wheat pancakes, chocolate pumpkin muffins, pumpkin bread… It adds some nutrition to baked goods.
14. Frozen Stir Fry Veggies: 31¢
Frozen veggies of all kinds are so convenient to have on hand and they go on sale regularly. We keep a bag of frozen stir fry veggies on hand because they make for a quick dinner. The bag includes stir fry sauce and we can throw in some leftover chicken to make a full meal in 10 minutes.
Fruit
Unless they're in peak season, berries are very expensive. We get much better deals on bananas, apples, and pears.
15. Bananas: 22¢
We put bananas in smoothies a lot. They make a great snack too
16. Apples: 31¢
We put apples in lunches or slice them for a side dish at dinner.
17. Pears: 44¢
I can't get enough pears! Fresh pears for lunch, a side dish, or a snack. Canned pears are great in smoothies.
18. Applesauce: 18¢
Natural applesauce (without sugar added) makes a great snack or side at dinner.
Grain
19. Wheat Mini Bagels: 16¢
Aldi has whole wheat mini bagels and I'm in love with them. They're good with breakfast of course, but I also dip them in soups or spread them with a little peanut butter and nutella to satisfy my sweet tooth.
20. Whole Grain Tortilla Chips: 22¢
These do cost a bit more than regular tortilla chips (though not too much more if you shop at Aldi). They're so much healthier and more filling though, so I find them to be worth it.
21. Whole Grain Frozen Waffles: 26¢
Around here, the whole grain frozen waffles go on sale along with regular frozen waffles, so they're not any more expensive! They have a bit of a different texture and flavor depending on the brand, so it's good to find out which brand you like the most. They make for a filling breakfast, either with a little syrup or spread with some peanut butter.
22. Sandwich Wraps: 33¢
We don't eat many sandwiches because we try to avoid lunch meat. We do like to use sandwich wraps and leftover chicken to make chicken wraps. The sandwich wraps are generally fewer calories than two slices of bread would be.
Dairy
23. String Cheese: 16¢
Sam's Club has giant packs of string cheese for a good price. We like to have it on hand to put in lunches and for a quick, filling snack.
Other
24. Peanut Butter Powder: 17¢
We recently discovered peanut butter powder! There are not weird ingredients in it and it literally has 90% less fat and 1/3 of the calories of normal peanut butter, mostly because there isn't tons of oil in it. You can mix it with a bit of water to spread it on something but we most often use it in smoothies because it's so easy to add a scoop of powder to the blender. You can find it for the best price in large containers at Sam's Club or Amazon.


It can feel confusing and expensive to try to eat healthier. As much as we've tried on and off to eat super healthy and change our eating habits all at once, I've found that it makes a more lasting difference when we gradually make changes and substitutions over time.
If you're looking to make changes to your diet, I'd recommend looking for ways you can adjust the foods you're used to eating to be a little bit healthier. It'll take some time for you to get used to each change and then you can make another change, and then another.
Without feeling like we've made big drastic changes, we actually eat very different meals than we did 5 years ago. Small adjustments over time have become permanent changes that equal much healthier eating.
You Might Like These Posts Too:
⇒ What inexpensive healthy foods do you rely on? What are your tips for eating healthy on a budget?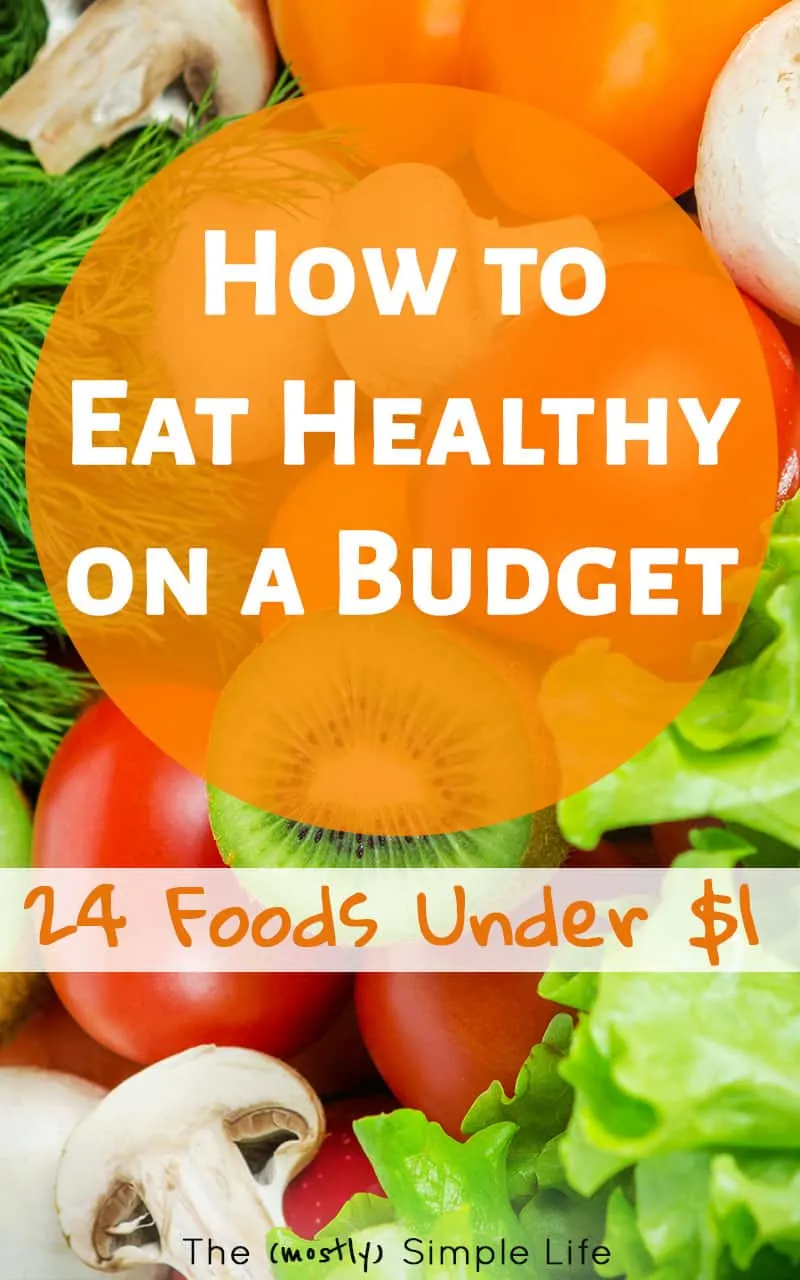 If you find this page helpful, please pin or share it :)