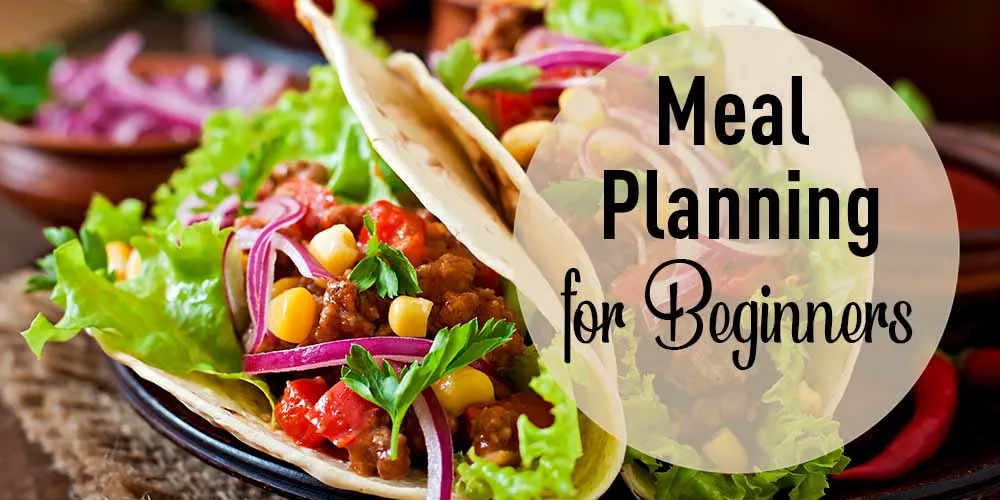 If you are just getting started with meal planning, you have found the right page. I have been perfecting my meal planning method for 10+ years, basically since the day I got married, and I know that meal planning is the #1 not-so-secret secret to spending less on food.
But I've found that many people find the idea of meal planning overwhelming and they don't know where to start.
I will show you how to start your first meal plan in about just 10-15 minutes, with a free template for beginners, and a few quick videos to explain the process.
First, let's make sure you know why meal planning can help you.
Why Should You Meal Plan?
The food category of our budget has always been our second-largest expense each month, just after our mortgage! And while we can't change our mortgage payment without moving, I do have control over how much we spend on food. And meal planning is a really important part of making sure we keep our food bills LOW.
Meal planning can help you:
Save money: Meal planning saves money because you can plan for "cheap" meals ahead of time (see our $50/week budget grocery list). You can go to the grocery store to only buy items that work with your budget.
Have more fun: plan for fun, but healthy and inexpensive options: how about tacos? or grilled salmon burgers? what else sounds good to you? Planning delicious meals means you will have more fun and will be looking forward to your meals.
Eat more healthy meals: When you don't plan your meal, you are more likely to eat (unhealthy) take-outs, or pig out on naughty food. When you plan your meals for the week, you are more likely to pick healthy options.
An Easy Meal Plan Template for Beginners
If you're going grocery shopping, you should make a list of everything you'll need beforehand so you don't forget anything. Meal planning is just a step that goes with making your grocery list that says, "I'm going to buy all of this food which can be turned into all of these meals." Here is what a weekly meal plan looks like in our household: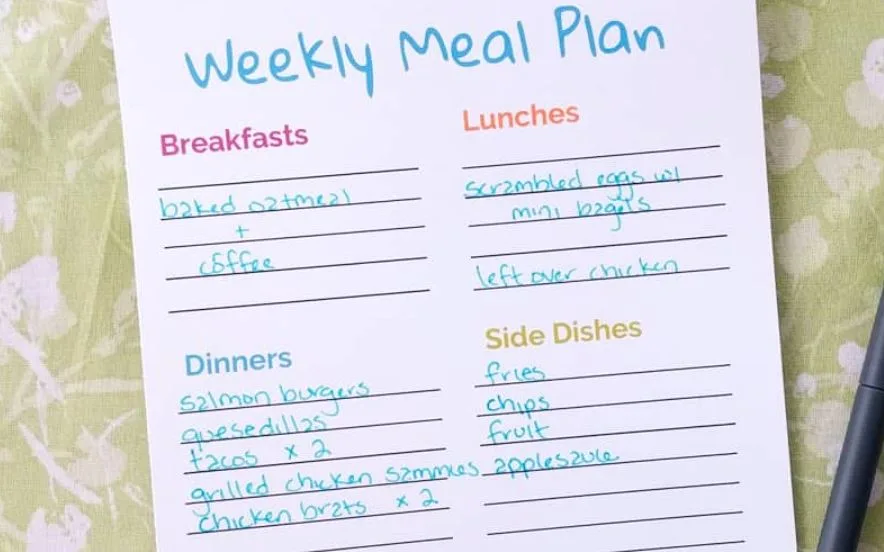 FREE PRINTABLE: Easy Meal Planning Template for Beginners. Download the free weekly meal plan printable I use every week.
And… I have more freebies to share with you, and they are SO GOOD!
Meal Planning Freebies!
I created a series of three training videos to help you learn how to save money on food with easy meal planning!
Eliminate the overwhelm by understanding how meal planning works in its most basic form.
Learn eight reasons why your grocery bill is too high and how to fix them.
Discover how to avoid the most common meal planning mistakes.
Video 1 of 3: How "Basic" Meal Planning Works
I hope you found the info in video #1 helpful. The idea of meal planning can feel instantly overwhelming, which is why I like to simplify it into making two lists: your grcoery list and your meals list.
Next, is a video all about the reasons your grocery bill is too high. There are a whole lot of great money saving ideas in this video! You might want to grab a pen and paper to take a few notes.
Video 2 of 3: Reasons Your Grocery Bill Is So High
Remember, learning to save money on groceries means that you'll have to make some changes to your habits, which is hard! But as my mom always tells me, "You keep doing what you're doing, you'll keep getting what you're getting." If you're frustrated by how much you're spending, be prepared to make some changes so that you can get some different results.
As you watch the video, think about one or two tips that you can apply over the next few weeks. Once those money saving habits stick, start working on a few more. Over time, you'll see some great results!
Video 3 of 3: Common Meal Planning Mistakes to Avoid
I love this video about avoiding the most common meal planning mistakes. A bunch of them stem from not being realistic about your time, energy, and everyday life. That's why I like talking about it: I feel like anytime we can make things easier on ourselves is a win! And if you can avoid a bunch of these common meal planning mistakes, you will definitely make meal times easier!
I've rounded up the meal planning mistakes I see most often (and have made myself). By learning to avoid these mistakes, you will make meal planning and cooking easier on yourself!
If you find this page helpful, please pin or share it :)