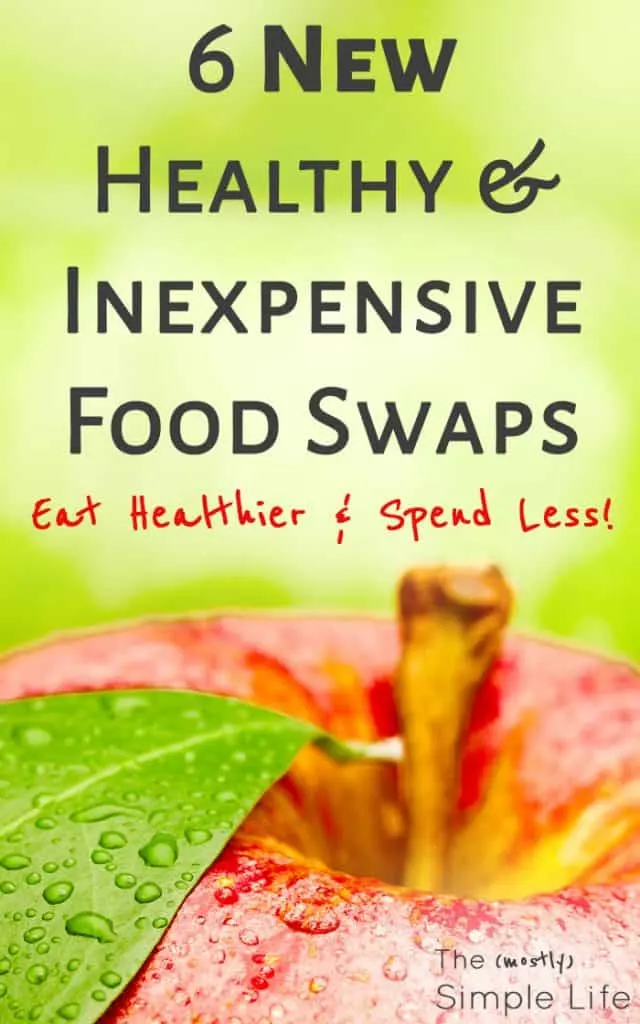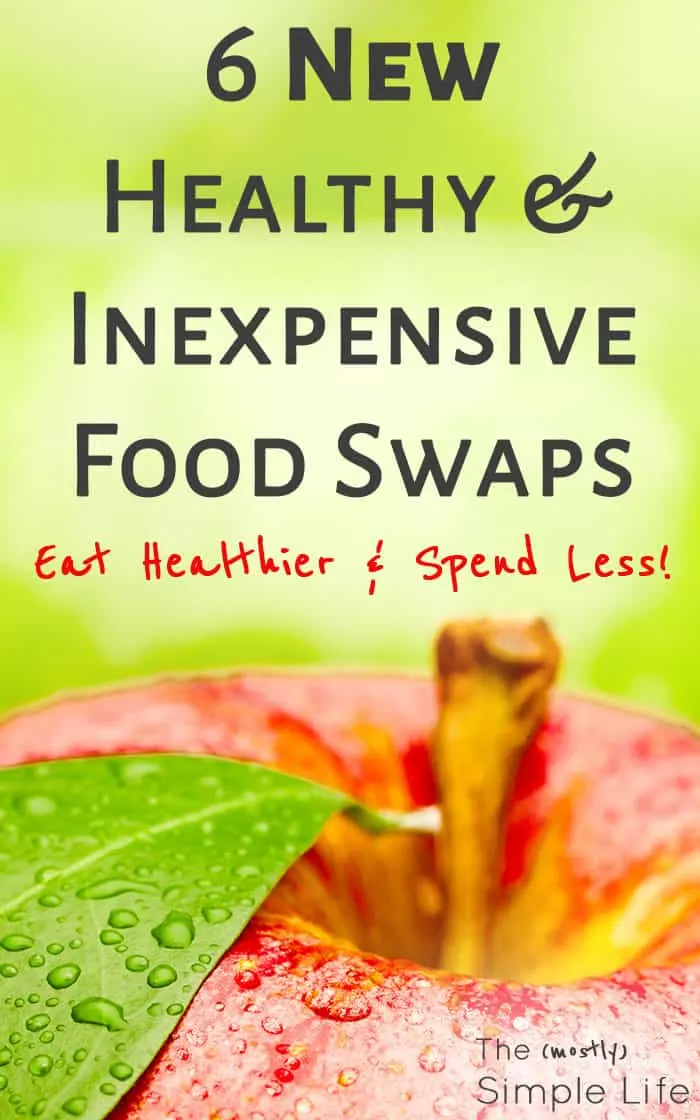 I really think it's a myth that eating healthy is super expensive.
I suppose if you're comparing regular granola bars to fancy, fiber, organic granola bars, then yes, those cost more. But if you focus on eating more lean meats, fruits, and veggies, it doesn't have to cost a ton.
In fact, it's when I buy unhealthy chips, chicken nuggets, and pre-made desserts that I destroy my budget.
In an effort to get our grocery budget under control (see my 2017 goals), we've made some "swaps" that are healthier and costing us less!
Sidenote: Meal planning is one of the most important things we do to save money on groceries. You can get the meal planning printable I use each week by entering your info below!
[convertkit form=830245]
6 Healthy & Inexpensive Food Swaps
1. Protein Bars ⇒ Hard Boiled Eggs
I was buying Austin protein bars because he gets hungry at work in between breakfast and lunch. They seemed like a good, though expensive, option because they're filling.
A few months ago we started paying attention to how much sugar we were eating. I was pretty shocked to find out that the protein bars, which seemed to be somewhat healthy, had a whole lot of sugar in them!
Austin, being the healthy eater that he is, said that he didn't want me to buy them anymore. I decided that hard boiled eggs would be a great substitute. They're naturally sugar free, a great source of protein, and super inexpensive.
I've been making a batch of hard boiled eggs a few times per week and we've both been eating them. They're so cheap and filling!
2. Soda ⇒ Sparkling Water or Drink Boxes
Yes, I know, I could substitute soda for plain ole water and that would be free. However, I like to have a fun, non-water drink everyday at lunch.
Austin and I have both worked hard to kick our daily soda habit.
It turns out that he really just liked the carbonation. He's been drinking sparkling water instead. Aldi has their own brand of the La Croix water that literally only contains carbonated water and flavors, no sugar or fake sugar. It costs about the same as soda, so while we're not saving a ton of money, it is much healthier.
I, on the other hand, am addicted to the sugar part of soda. I'm trying to consume less sugar, so I've substituted my daily soda for a daily drink box. It's has about a third as much sugar and is quite a bit cheaper!
3. Deli Meat ⇒ Boneless Skinless Chicken Breast
Deli meat is so pricey! We're talking at least $3 per pound. We hardly ever buy it anymore.
Instead we cook large batches of boneless skinless chicken breast to put in sandwiches, salads, and casseroles. I can get chicken for less than $2 per pound.
The chicken has fewer calories, less sodium, and no preservatives, so it's healthier too.
(The photo below is of of a grilled chicken pesto sandwich: cooked chicken breast, Swiss cheese, pesto, light mayo, and tomatoes. Mmmmmmmm)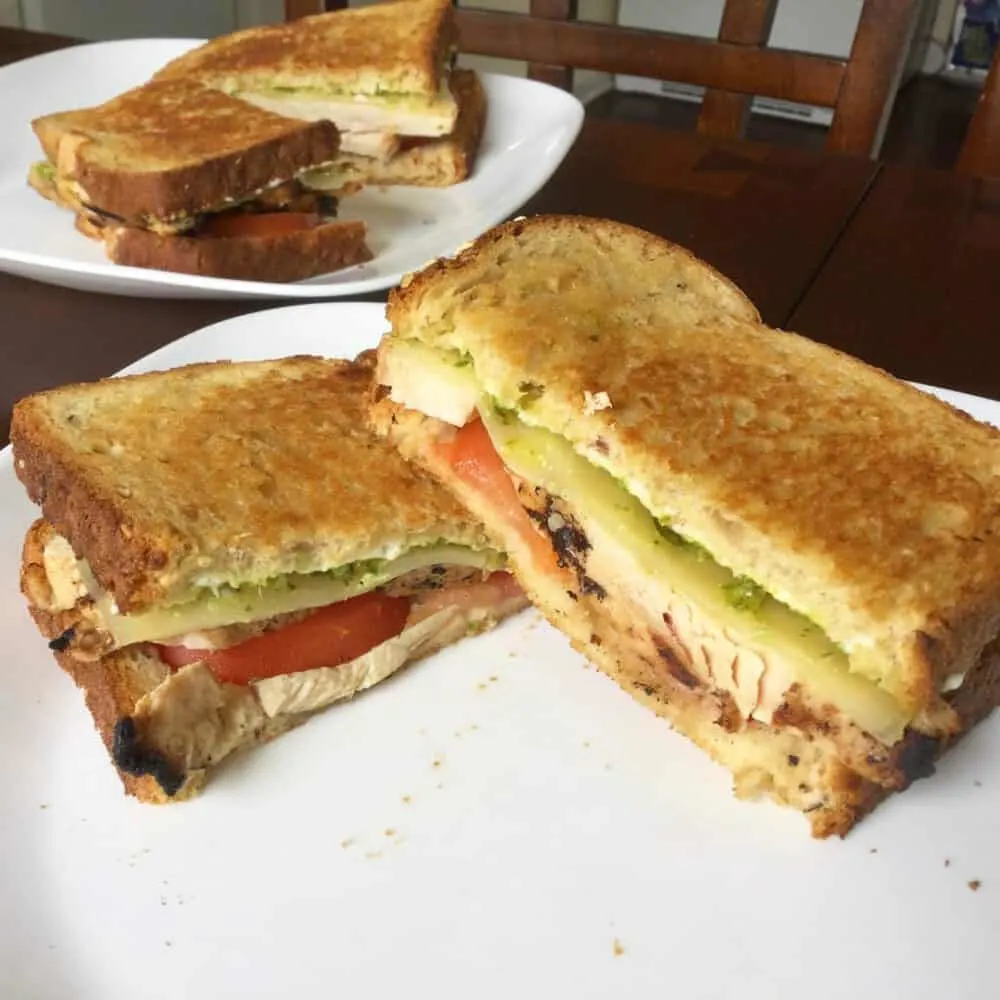 4. Bacon ⇒ Real Bacon Bits
Ok, this one is a bit of a cheat. Bacon is quite expensive and gets eaten way to quickly in this house (by me!).
We've switched to buying real bacon bits instead. The Aldi ones are great! They're inexpensive, which is wonderful. Plus, if you add a small amount to scrambled eggs, a salad, or a casserole, you get the wonderful bacon flavor without spending so much.
I'm sure they're not any healthier than regular bacon, but since I eat so much less and am able to exercise more self-control, I think that counts as a win.
5. Chips ⇒ Popcorn
I'm not much a salty snack person, but Austin is. Bags of chips blow a grocery budget so fast without giving you any nutrition or filling you up.
Instead, we buy popcorn. It's still a salty snack but it's far less expensive and healthier too. You can buy the microwave kind or cook it on the stove. The stove top method is even cheaper, though we've done both.
Sometimes you just want to munch and munch and munch. Popcorn works great for that!
6. Dessert ⇒ Coffee with Cream
I figured out this healthy little cheat a few weeks ago. I have the most ridiculous sweet tooth and always want ALL THE DESSERTS in the evening when we're hanging out.
Lately, I've been brewing myself a cup of decaf coffee with a solid amount of creamer in it. The sweetness of the creamer satisfies my sweet tooth without giving me near as many calories as a full dessert.
Since desserts can get expensive, it's saving money too . My cup of coffee with cream only costs a few cents! (The picture shows my little pour over coffee maker. It makes THE BEST cup of coffee!)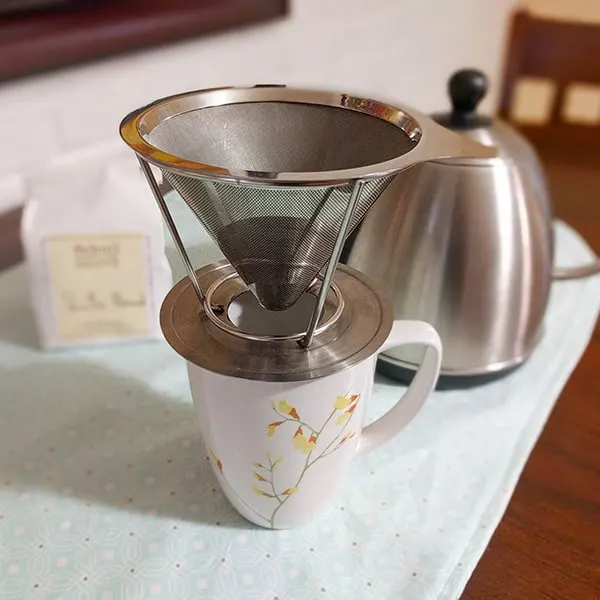 Don't forget to check Ibotta for any cash back rebates when you shop. All you have to do is scan your receipt to redeem them, so it's super easy. When you sign up and redeem your first rebate you'll automatically get $10 if you sign up with this link!
We actually save money by eating healthier.
Of course, we still have to be careful about what we buy: think in-season produce and sale shopping. But I've found that when we eat less healthy foods, our budget goes up.
These simple swaps can make a difference in your health and wallet.
Related Posts:
How to Stick to a Weekly Grocery Shopping Routine
Meal Planning Just Got 5X Easier
13 Secret to Saving Money on Food
Money Saving Strategies for the Grocery Store
⇒ What healthy swaps have you made that have saved you money?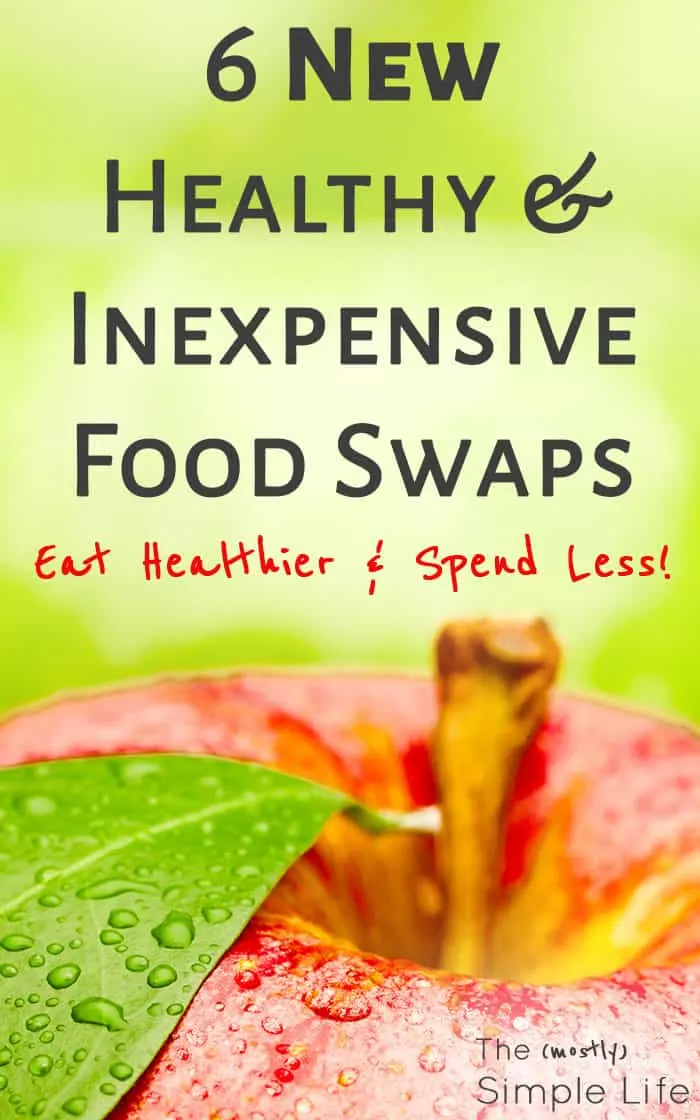 If you find this page helpful, please pin or share it :)