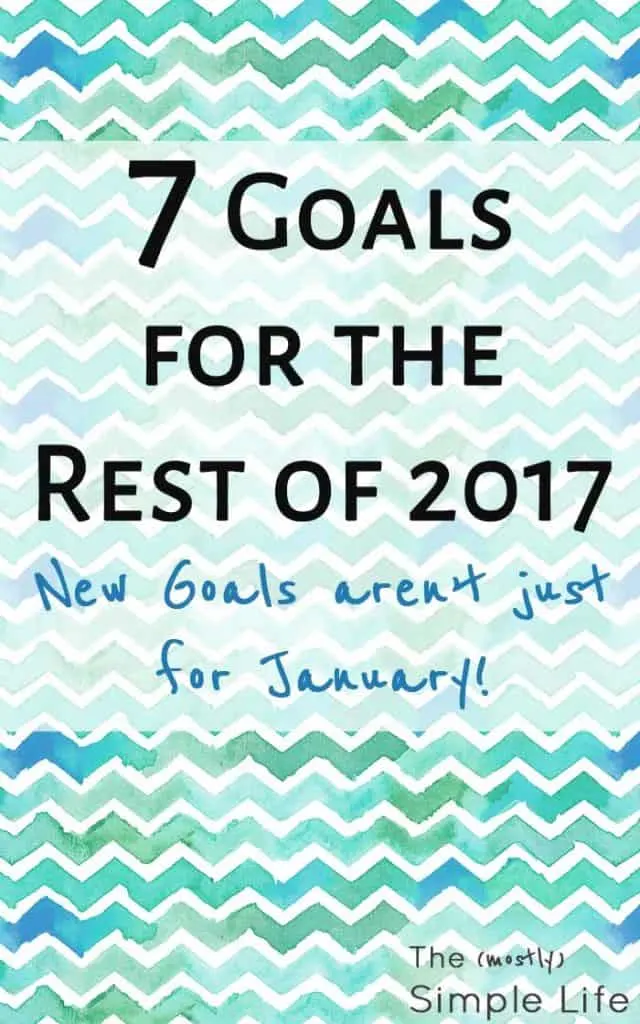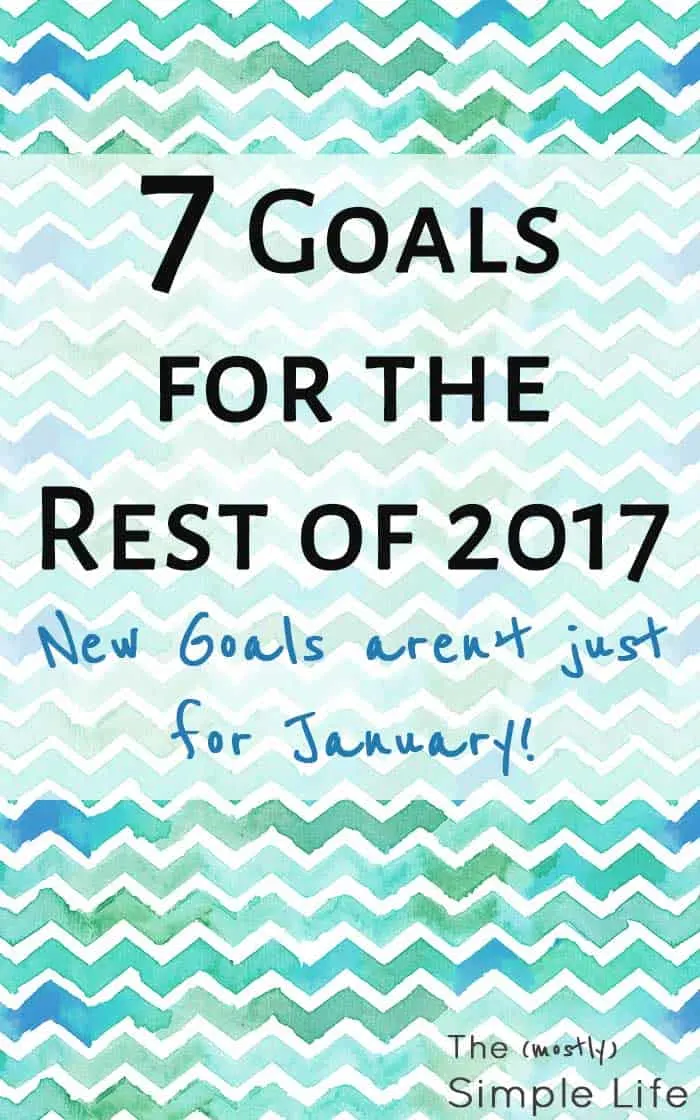 Yup, you read that right. It's the end of March and I'm just now setting goals for 2017.
The last few years I have eagerly set goals for the coming year by the beginning of January. In fact, as I was cleaning out my desk in January of this year, I found where I had written down my 2016 goals. I accomplished almost every one of them!
I'm super late to the party this year for a few reasons.
Austin was in the hospital at the end of December and was still extremely sick for most of January while the doctors tried to figure out what was wrong. It was an insanely stressful and exhausting time for me and it took all of my strength to do the bare minimum.
The other reason I waited to set goals was because our main focus has been to purchase a house. Tour our new house here. We saved all of the money we could and our spare time was spent looking at houses. Between those two things, I had no time or energy to think about other goals.
Now that we have a house and are healthy again, I've been thinking about what I want to accomplish during the rest of the year.
Click here to get some ideas on great goals to set.
Please leave a comment letting me know what your current goals are. If you've recently accomplished a goal, tell me about it so I can celebrate with ya!
My Goals for the Rest of 2017
1. Emergency fund to $12,000
The craziness of the last six months (new job, moving, illness, house buying, moving again…) has left our emergency fund much lower than I'm comfortable with.
Plus, the mortgage for our new house is twice what our previous mortgage was. Our new house really wasn't that expensive, our first house was just insanely cheap.
My current #1 priority is to increase our emergency fund to $12,000. We previously kept it around $9,000, but with the higher mortgage I want a bigger fund.
This is about six months' worth of expenses for us if we're careful. A lot of people keep their ER fund at three months' worth, but I feel more comfortable with this.
Posts Related to Budgeting & Emergency Funds:
Our Emergency Fund (my favorite part of our finances)
Our Actual Monthly Budget: Less than $1500/Month
The 5 Biggest Ways We Save Big Money
2. Pay cash for all house projects
We've got a lot of house projects that we'd like to complete on our new house.
We've already done a lot of things that needed to be taken care of right away. The rest of them are more preference-type projects than necessary safety-type projects.
We always pay cash for house stuff (our credit cards gets paid off every month), so our goal is to continue to work on our house as we have the money.
3. Lower grocery bill
Our grocery bill has been creeping up over the last six month. I've got excuses as to why, but it's time to tighten things up again.
I'm so thankful to have a big, beautiful kitchen in our new house and I plan to use it!
I want to do better with meal planning (Plan to Eat has been helping for the last few months) and cook more from scratch instead of relying on more expensive convenience foods. I don't even want to tell you how many times I've eaten frozen pizza this year.
I try to keep our grocery bill at around $60 per week for the two of us, but I've been going over that pretty much every week. My first goal is to actually stick to spending $60 per week. If I can manage that, then I'll see if I can get it any lower.
I budget for eating out and household supplies separately, so that amount is only for food.
Posts Related to Saving Money on Food:
Meal Planning Just Got 5x Easier
13 Secret to Saving Money on Food
Money Saving Strategies for the Grocery Store
4. Save half of my blog income towards new furnace and roof
The biggest bummer about our new (to us) house is that we will probably need to replace the roof and furnace within a couple of years. Since those are both super expensive things to replace, I want to start saving for them immediately.
I want to save half of my blog income each month towards a new furnace and roof.
I'll probably just put the money in a single account and we'll use what we need for whichever one needs replacing first. I really don't want to finance either one of those, so I'm pretty determined to make this happen.
Hopefully, we'll have 2+ years to save up, but we just don't know. I want to do everything we can to be ready.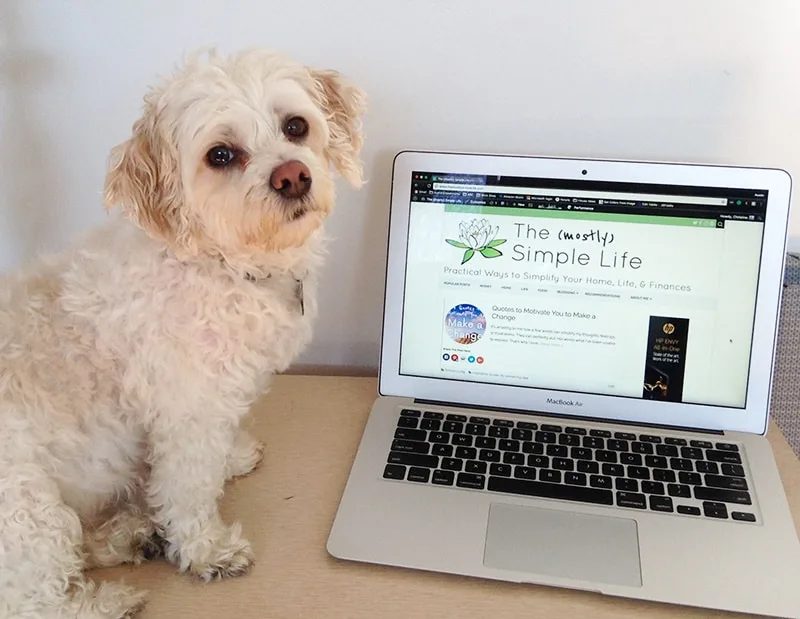 5. Earn $3,000 in one month on blog by end of year
This is the biggest goal on my list.
I want to really stretch myself and strive for something that seems out of reach. I'd like to have at least one month in 2017 where my blog earns $3,000. I've been averaging at about one third of that, so it's definitely a stretch.
I'm hoping to achieve this by creating even better content and working harder at marketing.
Don't worry, you won't see any more ads than normal and I'll still never recommend products unless I believe in them.
Blogging is my way to contribute to our family's finances, and I want to do the very best that I can so that we can achieve the financial goals that I've listed above.
Posts Related to Blogging:
5 Things I Wish I Knew When I Started Blogging
The #1 Reason Why You Need to Start a Blog
6. Listen to or read 1 book each month
I love books but I have a hard time making reading a priority. It just doesn't happen most of the time.
I want to read or listen to at least one book per month for the rest of the year. I usually do much better listening to books than reading them because I can listen while I cook, clean, or do yard work.
I use my library card to rent audiobooks for free. You should definitely check and see if your library offers a similar service.
Audible is another great place to get audiobooks. If you do the free trial, you can get two free audiobooks with Audible.
I recently discovered that a great time to listen to books is when I take Mozzie for his walk. I walk him pretty much everyday. If the weather is nice, we walk twice a day. That's 15-30 minutes each day that I could be listening to a book!
Austin got me some awesome wireless headphones for Christmas that I've been using to listen while I walk. I just keep my iPod in my pocket and I can adjust the volume or press pause right on the headphones. It's super handy.
7. Eat less sugar!
O man. I am a sugar addict. Cereal for breakfast, a soda with lunch, chocolate for dessert… I know I need to eat less sugar, but it's. so. hard.
I thought I just liked the fizz in my daily soda, so I tried switching to sparkling water. It didn't work. I don't need the fizz. I need the sugar.
Austin is encouraging me to cut back which I know I need to do. The AHA recommends that women have no more than 25 grams of sugar per day. My can of soda has 47! Plus, I'm discovering that sugar is in everything. It's even in healthier things like whole grain bread and pasta sauce.
If you've successfully cut back on sugar, please let me know what worked for you!
My goal isn't very specific at the moment, but I'm going to try to make little changes.
This week, I'm trying to drink a small amount of juice at lunch instead of soda. I know if still has plenty of sugar in it, but it's less than half the sugar of what's in a can of soda, so it's progress.
Those are my goals for the rest of 2017! It feels good to have some new focus. Some of them are going to be quite difficult, but I'm excited to work towards them.
⇒ What goals are you currently working on? What victories have you had recently?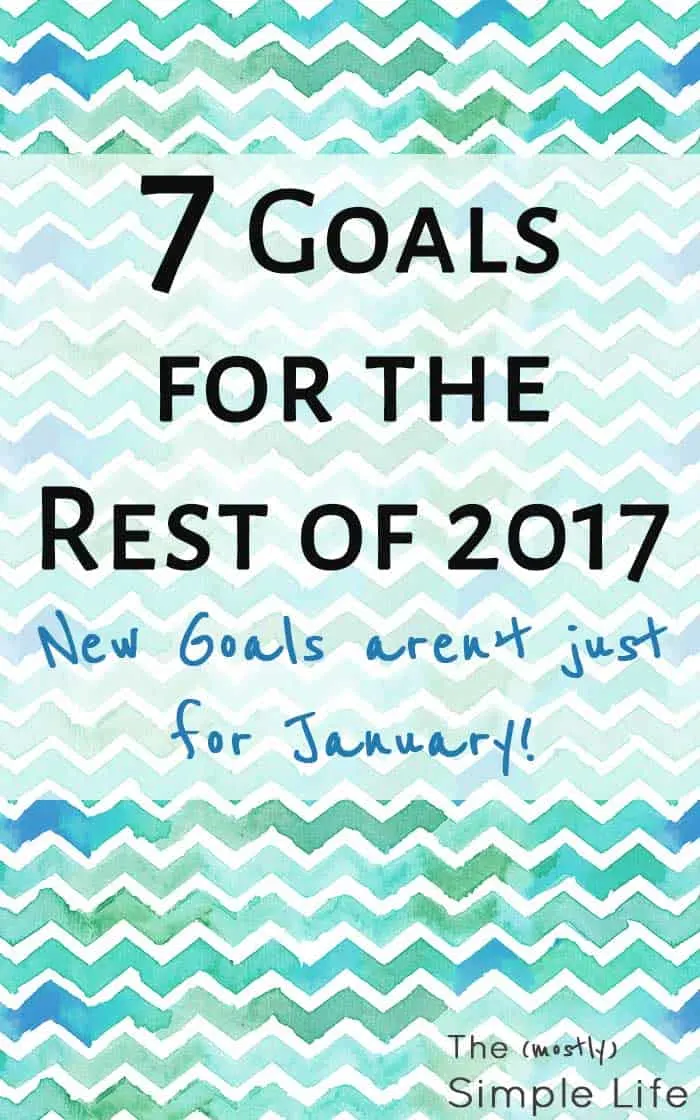 If you find this page helpful, please pin or share it :)