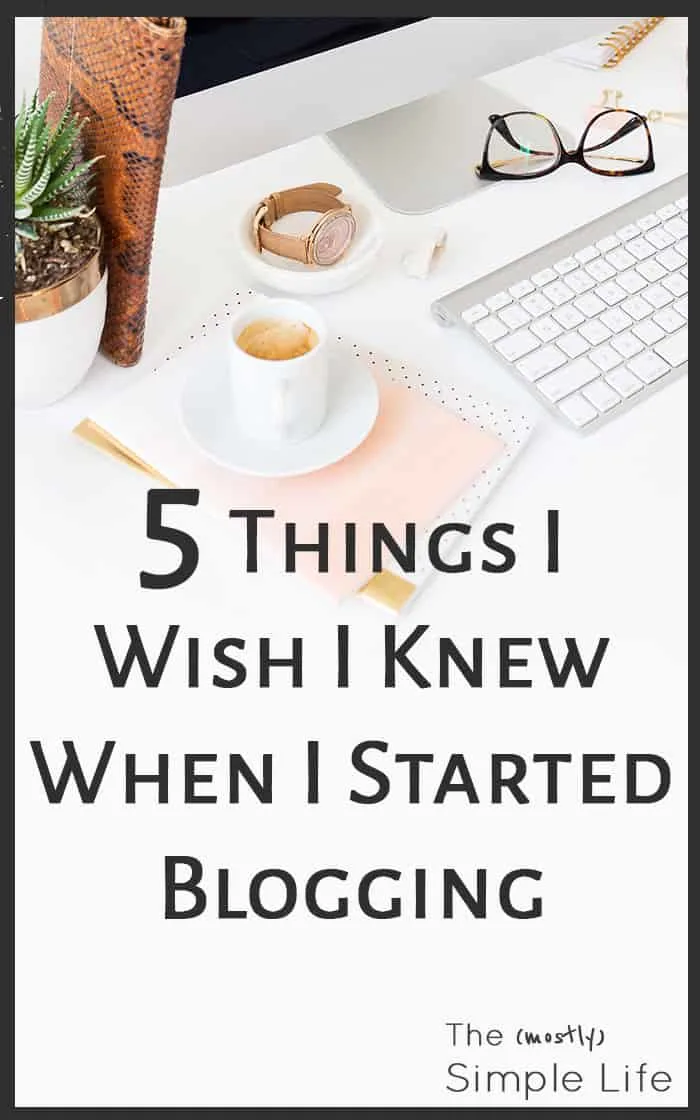 It's time for a blog post about blogging again! It happens occasionally. If this kind of info isn't your thing, then feel free to skip this post.
If you're a blogger, or just curious about blogging stuff, read on!
Since I've been blogging for over a year and have almost replaced my previous income, I thought I'd chat about a few things that would have been handy to know when I got started.
I really enjoy blogging and think that anyone interested should give it a go!
When I first got started, the hardest part was trying to dig through the loads of advice and information out in internet-land. Some of it was helpful, but most of it was distracting and made me stressed, feeling like I needed to be working on 5 millions things at once.
Update: Don't miss this mini-guide about how I nearly quadrupled my blogging income in one year! You'll be able to apply 5 income-boosting tips to today!
[convertkit form=820737]
5 Things I Wish I Knew When I Started Blogging
1. Start
Rule #1: Just start!
When I started blogging, I didn't want to do things wrong. But really, it just takes time to learn things. You learn things best by doing them.
My first posts certainly weren't perfect. My attempts at social media marketing were dicey. The pictures I used were nothing special. But I learned by doing it. You can do all the research in the world, but until you start it doesn't matter.
The best thing is to get started, do what you can, and learn as you go.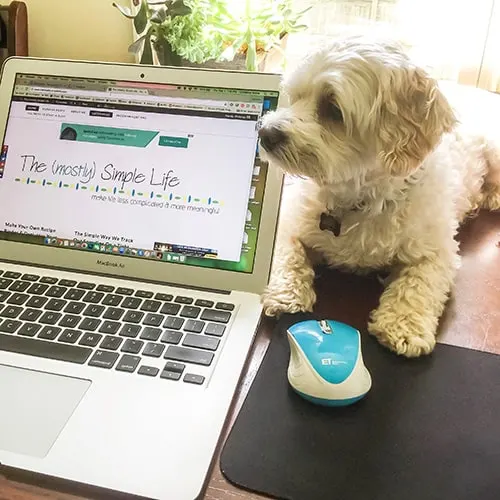 2. Not All Ad Networks Are the Same
Ad networks are a pretty easy way to make a little money off of your blog.
The most common ad network is Google AdSense. Most people start with them because they don't have a minimum pageview limit for you to be able to sign up. I started with them.
AdSense made me pennies per day. Literally.
I figured that was just how ad networks worked and that you'd never make much from them. Because of this, I didn't try too hard to find a better ad network. Mistake.
Eventually, I switched to Mediavine Ads. I had enough monthly pageviews to switch to Mediavine for months before I did it. I didn't pursue it because I didn't think it would make much difference. I regretted this once I did switch and saw that I could make $10+ per day instead of being lucky if I make 50 cents.
Switch to the best ad network you can as soon as you are able to.
3. Busyness Doesn't Always Equal Productivity
There is SO much you can do to try to get more people to read your blog. It's not all worth your time.
I was constantly busy trying to market my blog, but it wasn't productive busyness.
I participated in blog link parties quite often. Those parties took up a chunk of my time to properly participate in but I hardly got any traffic or readers because of them.
When you're trying to get your blog going, it's important to use the time you have wisely. It's always good to try new things but if those things aren't paying off for you in the way you would like, they're not worth your time.
4. Paying for Courses is Worth It (if you choose carefully)
It's was hard for me to decide to pay for my first blogging courses and books. My blog wasn't making much money yet and I didn't want to waste a chunk of money on something I wasn't guaranteed would pay off.
The thing is, if you choose carefully, there are some great ebooks and courses that 100% worth your money.
Professional bloggers don't spill all of their best secrets for free. They're trying to make a living, so of course they charge for their hard-earned knowledge.
The key is to choose what you pay for carefully.
I only purchase books and courses from bloggers who have been around for a long time and have a great reputation. I also like to check with other bloggers to see if they've take the course (or read the book) and felt it was worth it.
So far, these are the resources that have been worth it to me:
Making Sense of Affiliate Marketing: Michelle makes over $50,000 per month (!!!) from affiliate marketing, so if there's one person you want to teach you the ins and outs of affiliate marketing, it's her. This if the first big course I bought and it was SO worth it. I started seeing an increase in my income quickly after I started implementing her strategies.
Blog Traffic eBook: This book is very popular among bloggers. Lena shares the strategies she used to go from 17k pageviews to 350k pageviews per month. There are tons of actionable steps to take to get more people looking at your blog.
UPDATE: I now highly recommend that you take Elite Blog Academy (make sure to get on the waiting list ASAP) and Pinning Perfect. As a full time blogger, these two courses, along with Making Sense of Affiliate Marketing, have made the biggest difference in my blog. Read more about each of these courses here.
If you're going to purchase an ebook or course, my biggest tips for being successful are to only go through one resource at a time, take your time to go through it, and implement each piece of advice as you go.
The knowledge isn't worth anything unless you take the time to put it into action.
5. Affiliates are Important
Lastly, I wish I had started focusing on affiliates sooner. The Making Sense of Affiliate Marketing course helped me focus on this and create a real strategy.
I have a hard time finding and promoting affiliates because I don't like to share anything unless I truly like and use something. Because I'm super picky, it takes me a long time to do affiliate marketing. It would have been good to get started with this sooner.
You Might Find These Helpful Too:
The Only 3 Blogging Courses You Need to Take
Recommendations (scroll down to the section on blogging)
⇒ If you're a blogger, what do you wish you had you had known when you started? If you're not a blogger, are you thinking about trying it? What questions do you have?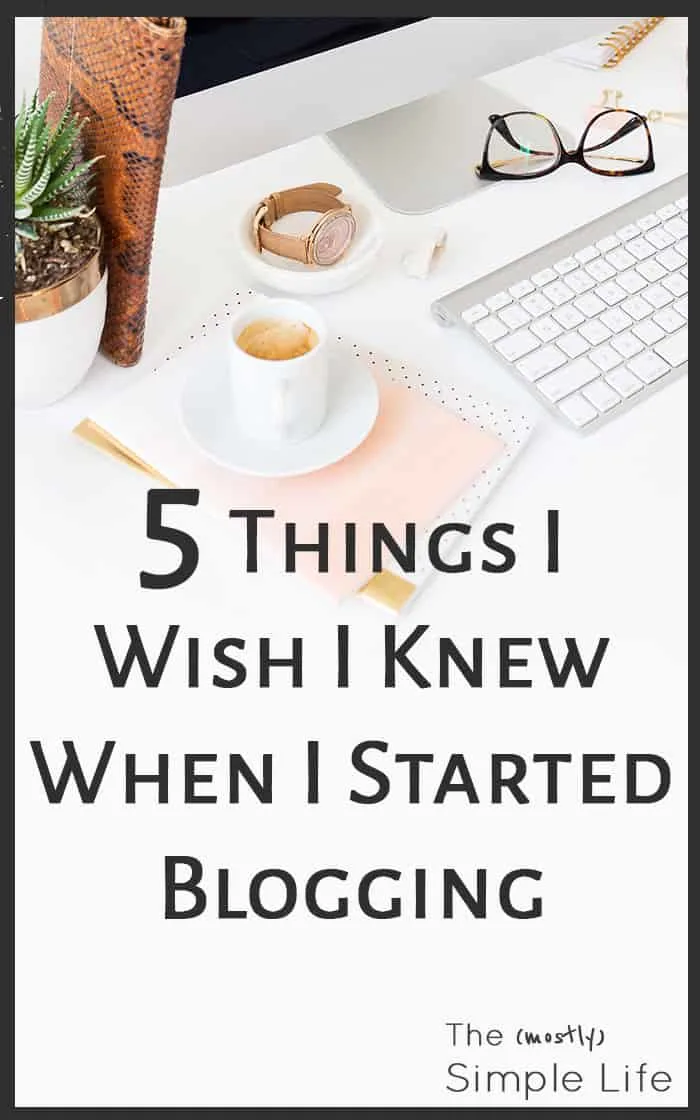 If you find this page helpful, please pin or share it :)