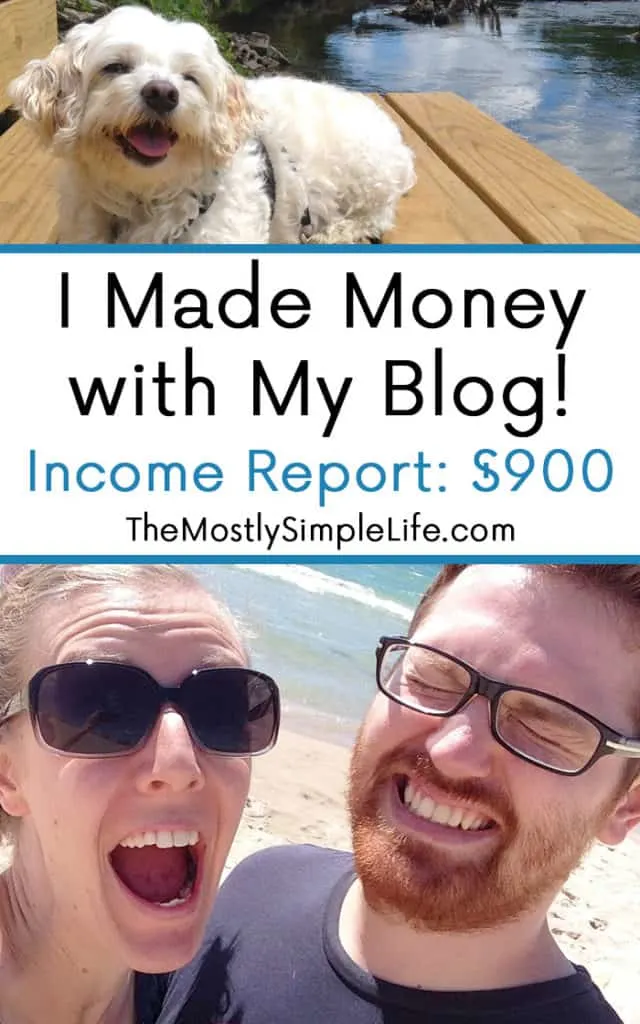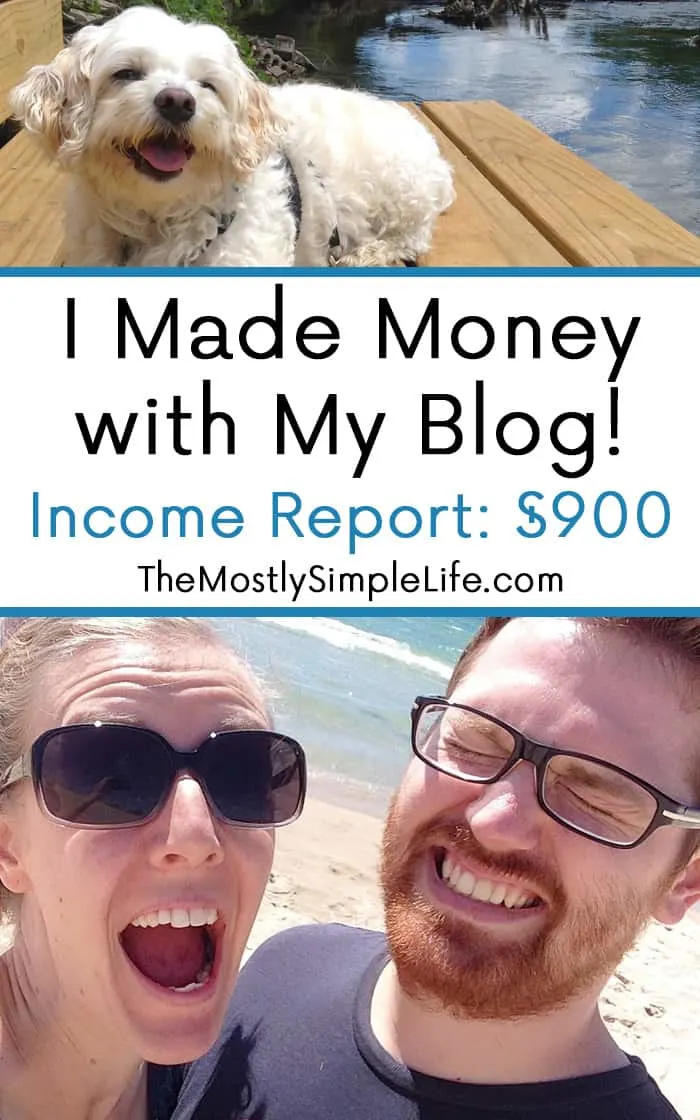 One of my goals this year was to start making money from home.
I left this goal pretty open-ended and have tried many different things. I even almost got scammed by some kind of money laundering scheme through a freelancer website!
It's been exciting stuff guys, and not for the faint of heart. It's been a roller coaster of emotions. I've been discouraged, excited, overwhelmed, and stressed, among other emotions.
I started blogging in January of this year. I have tried to approach it more as a job than as a hobby, though my motivation for starting was mostly to have a creative outlet. I have posted three times per week almost every week since I started. I have made small amounts of money here and there, but not much.
In August, I finally started to see the money-making potential in my blog and made some income. Just over $900 before expenses and taxes! That's some pretty legit money, ya'll.
Now, I don't talk about blogging stuff on the blog very often, and I don't plan to. However, if you're curious how bloggers make money or what's working for me, I wanted to give you a peek behind the scenes at what I've been doing to make money from my blog.
I'm not planning to do monthly income reports or talk about blogging stuff very often, so I'm going to squeeze in as much information as I can into this post. If you're not interested in blogging stuff at all, we'll be back to our regularly scheduled programming soon.
Update: Don't miss this mini-guide about how I nearly quadrupled my blogging income in one year! You'll be able to apply 5 income-boosting tips to today!
[convertkit form=820737]
Income Breakdown
Total: $940.70 (!!!)
Affiliate Income
Bluehost $70 – I use Bluehost to host this blog and have no reservations recommending it to others. If you're thinking about starting a blog, you can read why I think you should do it (plus a few reasons why maybe you shouldn't). There's also a tutorial on how to get set up.
Ibotta $770 – If you're looking to save money on fruits, veggies, and even store brand items, Ibotta is the way to go. You can check out my tutorial here. I talk about Ibotta way more than any other company, so I'm sure that's why most of my income came from them.
Amazon $74.57
Ads
Google Adsense $23.33
Page Views
My page views actually dropped significantly in August compared to July.
I had 45,920 page views in August, down from 67,450 in July. So that's proof that your income isn't completely tied to your traffic. Of course, more traffic isn't a bad thing and I am working on getting my traffic up again.
Make Sure To Read These Posts Too:
5 Things I Wish I Knew When I Started Blogging
The Only 3 Blogging Courses You Need to Take
Recommendations (scroll down to the section on blogging)
Best Blogging Resources
As I'm starting to see an increase in my blogging income, there is also an increase in my expenses.
Some of these are more technical things, like paying for a social media scheduler and email service. Another expense comes from paying for courses and books to learn how to improve as a blogger.
There are so many different things to learn about blogging and there is always room for improvement. I've been seeking out courses to take and books to read to become a better blogger and it has helped me so much.
I want to be able to connect better with you (my reader) and provide helpful information for you, and I've learned so much already on how to do that. And the better this blog gets and the more helpful it is, the more my income increases as well, so it's all good stuff.
Making Sense of Affiliate Marketing Course
As you can tell from my income breakdown, almost all of my income came from affiliates, aka the places that give me some kind of compensation when my readers sign up for their services. There's a good reason for this!
Over the summer, I went through the Making Sense of Affiliate Marketing course, created by Michelle from Making Sense of Cents.
Michelle made over $90,000 last month from her blog. Crazy, right? Most of her income comes from affiliates and she created a course to teach other bloggers how to increase their affiliate income as well. Basically, if you're going to learn about affiliate income, she's the person you want to learn from!
I learned a ton from this course and obviously it shows in my income, which is so amazing. I made this cool infographic to show you all of the things you will learn if you decide to go through the Making Sense of Affiliate Marketing course:
UPDATE: I now highly recommend that you take Elite Blog Academy (make sure to get on the waiting list ASAP) and Pinning Perfect. As a full time blogger, these two courses, along with Making Sense of Affiliate Marketing, have made the biggest difference in my blog. Read more about each of these courses here.
⇒ Since I don't blog about blogging very often, here's your chance to ask me any questions you have in the comments. If you're a blogger, I'd love to read what courses or books you have learned a lot from recently…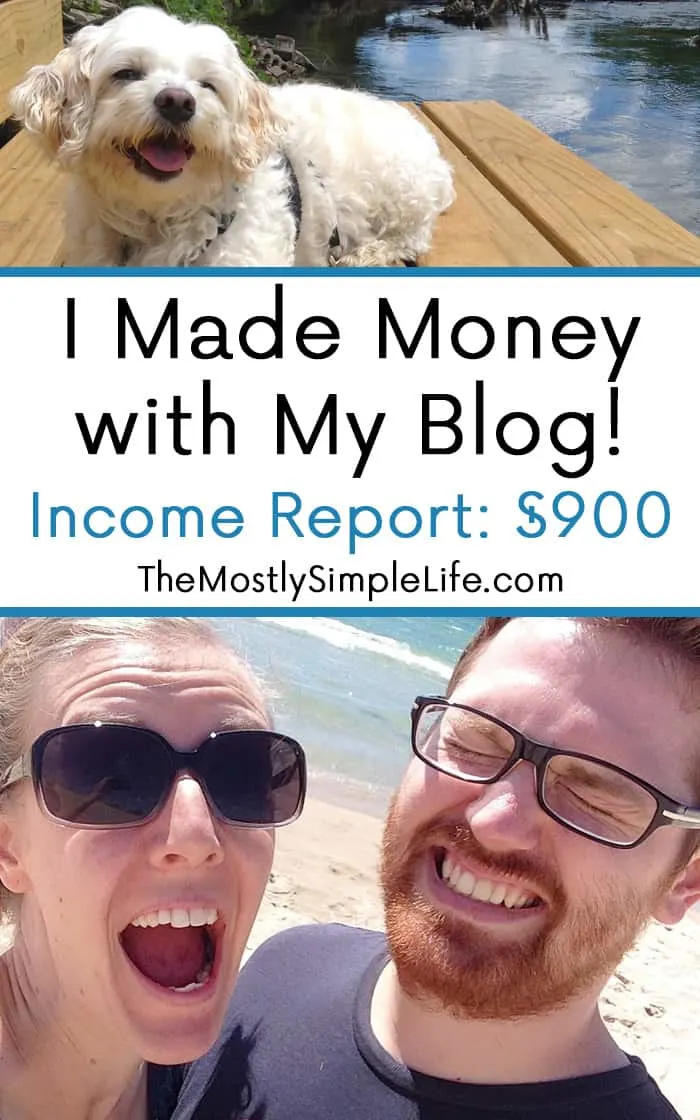 If you find this page helpful, please pin or share it :)