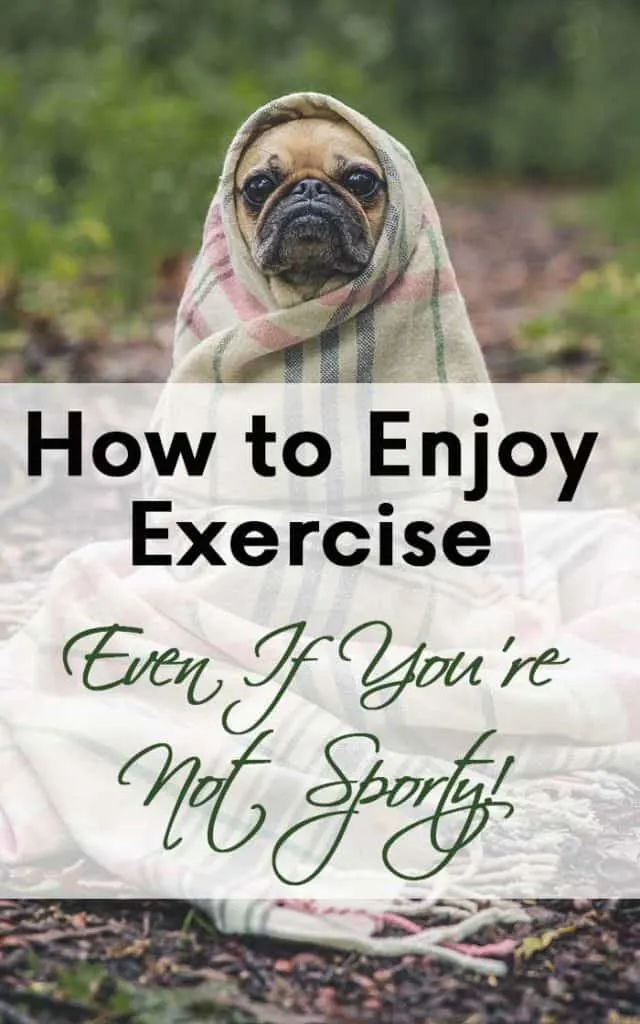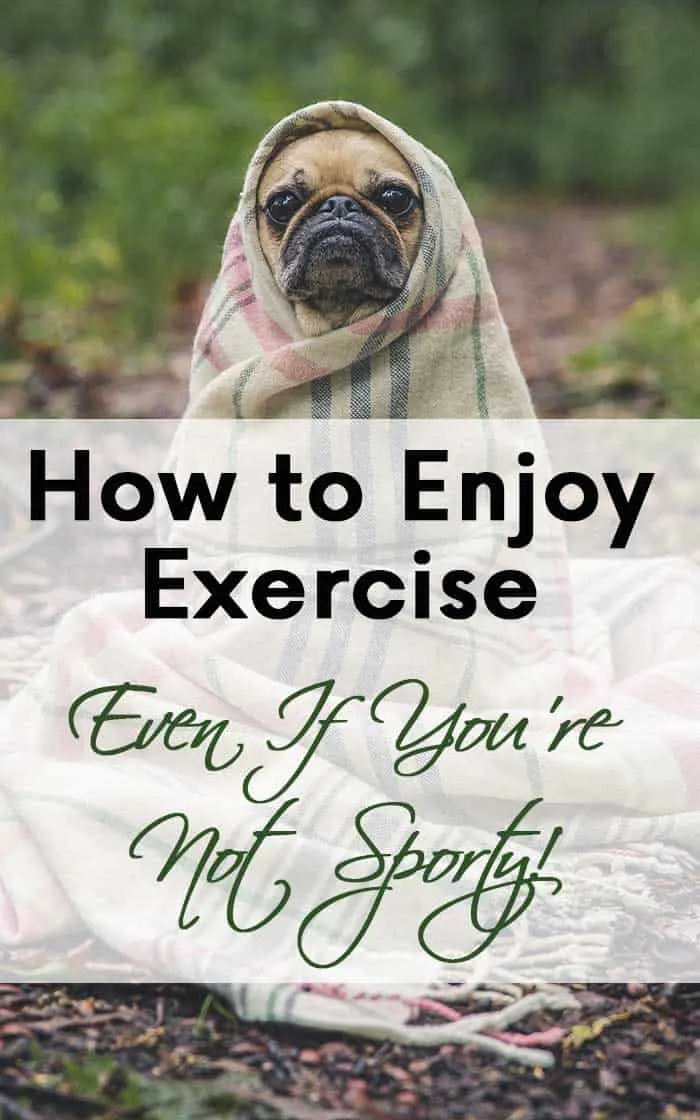 I've been focusing on my health more in the last few years. I'm exercising more than ever and attempting to eat healthier, though I still must have pizza at least once a week. Who's with me on that?
I've never been a super athletic person. I played sports in middle school, but just didn't care that much about it.
In general, I've avoided exercise and classic workouts. But more than anything, I hate running. I absolutely can't stand it. I know a lot of people want to become runners or feel like they should, but not me. I have no desire to go for a run.
It seems like most sporty people are runners, probably because most sports involve running.
In the last year, I've learned that I can exercise and be healthier without being sporty and without having any desire to be a runner.
I've even started to enjoy exercise, which is pretty impressive for me.
Enjoy Exercise – Even If You're Not Sporty or Athletic!
Focus on How It Makes You Feel
If you've ever exercised consistently for any period of time, you probably started to notice how good it made you feel!
Now, when I haven't exercised in months and I do a tough workout, I don't necessarily feel better afterwards. Usually, I just feel super sore and want to take a nap, and maybe eat some cookies.
It's when I get into a routine of consistent exercise, even just 10 minutes a day of strength-building moves, that I start to realize how good it makes me feel. I want to keep exercising so that I can keep feeling good!
If you're not all that sporty or don't generally enjoy exercise, focus on how it makes you feel. If you can make it a mental challenge, you can overcome your dislike of exercise by concentrating on the benefits.
Energy
When I exercise daily, I have more energy. I don't get tired hauling loads of laundry up and down the stairs. I also feel motivated to get more done.
The more active I am, the more I want to be active.
Self-Esteem
I'm sure I don't actually look any different after a 20-minute workout, but I've got to tell you: I look in the mirror and I think I look so much better!
It's kind of crazy, but I feel so much more confident about my body each time I look in the mirror after I exercise. And that confidence about how I look gives me confidence in other areas of my life too.
Just the other day, I was feeling kind of down about myself and I realized that I hadn't exercised in a few days. My weight hadn't changed, and other than possibly losing a tiny amount of muscle, I'm sure I looked exactly the same as four days ago, but I sure didn't feel the same. Exercise is a powerful thing!
Sleep
I haven't been sleeping well at all for the last few days. Ugh.
We've been so busy and stressed with showing our house and getting ready to move and family in town to visit that I've missed a few workouts.
I'll sleep well for about four or five hours, then I wake up to go the bathroom and I can barely sleep the rest of the night.
I know the problem. I need to get moving! I sleep so well when I exercise daily. I have energy and motivation during the day and then I sleep solidly all night long.
Related Posts:
8 Tips for Living a More Active Lifestyle
How to Create a Workout Routine that Works for You
The Easiest Way to Eat Healthy on a Budget
Don't Call It a Workout
To enjoy exercise if you're not sporty or athletic, don't call it a workout.
This may sound like a ridiculous tip, but if "workout" is a dirty word in your mind, call it something else. Do you dread the idea of a workout or does it sound miserable? If yes, then "workout" has negative connotations in your mind.
When I first started exercising regularly, I tried not to think, "It's time for my workout." Instead, I made an effort to "get moving" everyday.
Whether it was going for a long walk, doing 100 jumping jacks and some stretches, or riding our exercise bike while watching Psych, I told myself that I needed to "get moving" everyday.
Was it essentially exercise and a workout? Yes. But My goal to "get moving" daily was mentally less horrible than the idea of a daily "workout".
So call your exercise time something positive! Things like:
Daily dance party
Time to get that sexy body
Get moving
Setting a healthy exampe for my family
Playtime with the kids
TV time while I stretch and get stronger
Daily walk
Make it Fun (or at least distracting)
I'm not thrilled by the idea of spending an hour at the gym lifting weights. The best way to exercise if you're not super sporty or athletic is to make it fun or distracting.
Make exercise fun with these ideas:
Family Dance Party! Every night, turn on some music and keep moving and dancing for at least three songs in a row.
Try a class with a friend: Find a friend to go to an exercise class with weekly. It's so much more fun together.
Go for a walk: I love going for walks. It's always fun when my husband or mom go with me and we just talk the time away. It's even better when we drive somewhere pretty to go for a walk with a view, like to the lake shore or somewhere with beautiful fall colors. (How cute is that pic of Mozzie walking with his pals, the collies)
Just Dance Games: We have a few of the Just Dance video games and they are a super fun way to sweat! Sometimes I do them by myself and other times we have a competition with Austin's family. It's hilarious and it gets your heart going.
Pump the music! When I do tough, strength-training workout, I make it more fun by playing my favorite music. Create an awesome playlist to make a big workout more enjoyable.
Make exercise distracting with these ideas:
Ride while you watch: One of my favorite ways to exercise is with our exercise bike. A few years ago we bought an exercise bike that is completely silent. I usually ride it every other night while we watch TV. I'm so wrapped up in whatever show I'm watching that the time flies by.
Listen while you walk: If you want to go for a really long walk, turn on an audiobook. I am a huge fan of audiobooks. They keep my attention so much better than music does. Put on your headphones, throw a leash on the dog, put kids in strollers, and head out on a long walk.
Related Posts:
My Simple 20-Minute Workout Routine
How to Create an Energizing Morning Routine that Works for You
⇒ How do you make exercise fun or distracting? In what ways does exercise make you feel good?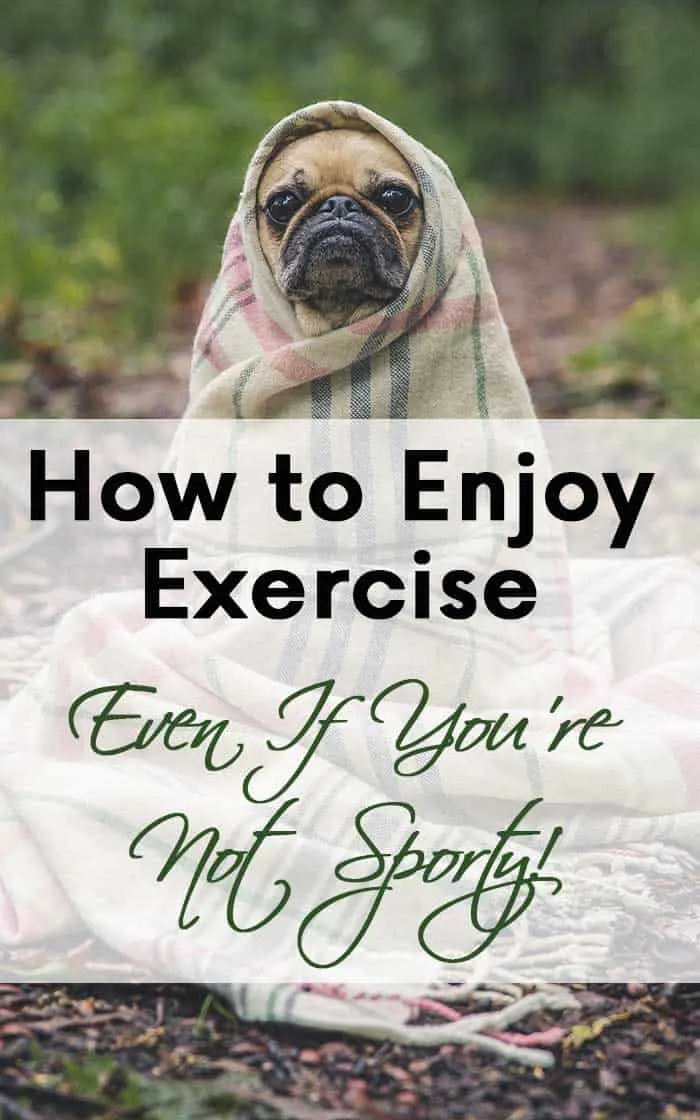 If you find this page helpful, please pin or share it :)