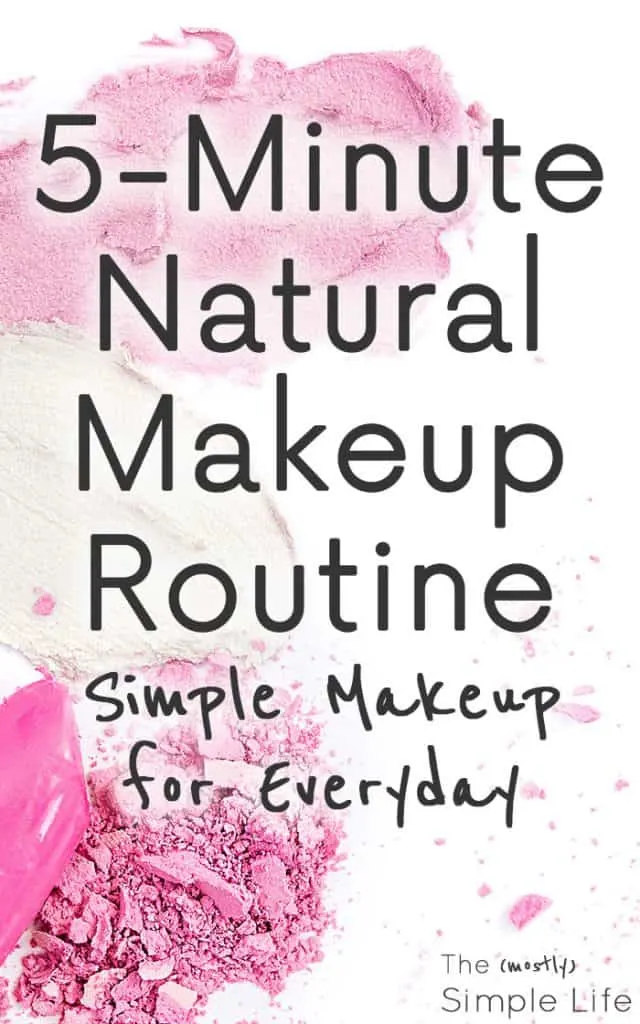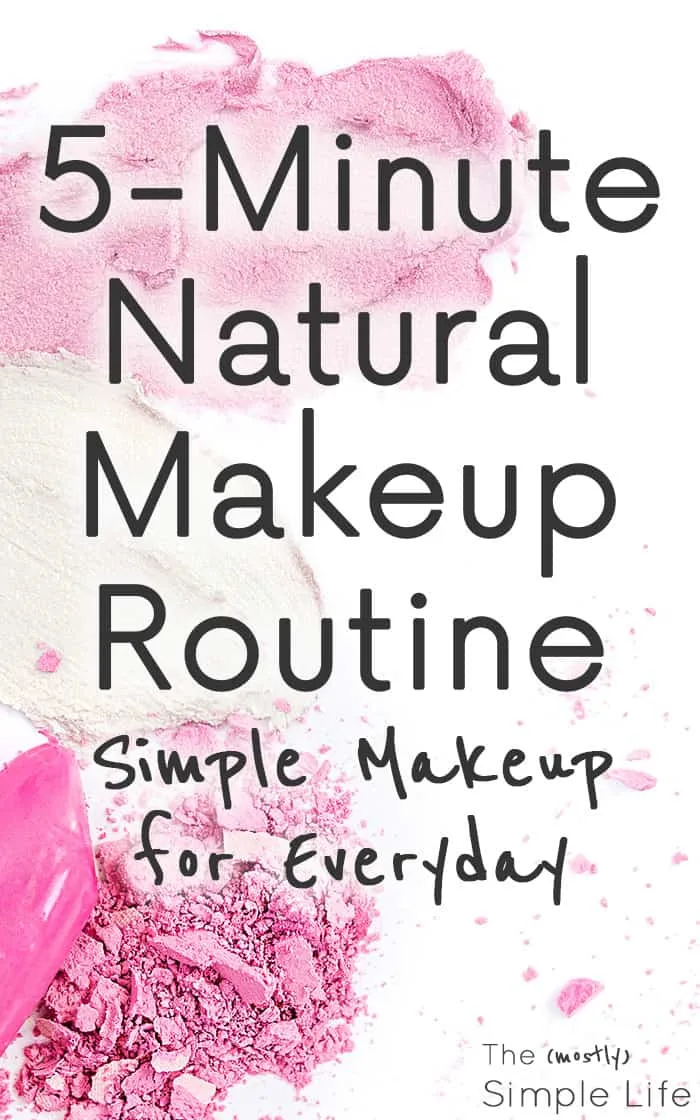 I'm all about a simple beauty routine. On an average day, I spend about 5-10 minutes doing my hair and 5 minutes putting makeup on. Truth be told, I don't usually wear any makeup if I'm staying home all day.
I'm not what anyone would consider "high maintenance". I still want to look put together though.
I wanted to share my super simple makeup routine in case you're looking to simplify your routine or are having a hard time finding the right products for your skin.
My main goals with makeup are to lighten dark circle under my eyes, smooth out my skin tone, and highlight my eyes.
The biggest struggle I have with doing my my makeup is finding products that work with my extreme paleness. Haha! Seriously though, it took me years to find a "pale enough" foundation.
Sidenote: I like going for a natural look because I don't want to look shockingly different when I don't wear makeup. I don't want to feel like I need to have makeup on to feel confident.
My Simple Makeup Routine
aka: Simple Makeup for Super Pale People
Makeup
My 5-minute makeup routine consists of:
Dabbing concealer under my eyes
Applying foundation or BB cream
Brushing on a smidgen of blush
Applying mascara
In case you thought I was lying about the "5 minutes" part, I think it's hilarious that Mozzie is in the exact same place in the back of each photo. He doesn't stay still for very long, so that's my proof, haha!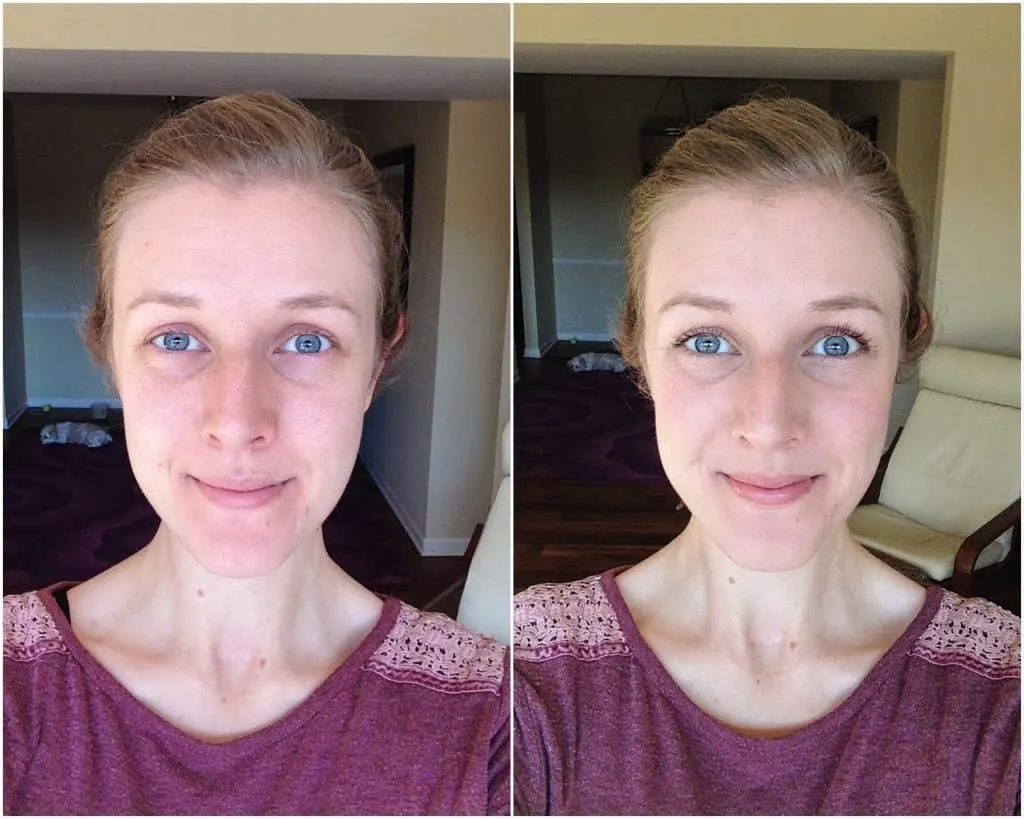 So here are the products in my makeup bag. If you're super pale like me, you might want to check these out.
I just buy drugstore makeup. Spending a lot of money on makeup has never been in our budget and it's not something that's super important to me, so I'm fine with frugal options.
Concealer: I use L'Oreal True Match concealer in "Fair/Light Warm". I think L'Oreal works best for me because they have really light shades that are divided into warm and cool tones, so it matches my skin better.
Foundation or BB Cream: I switch back and forth between foundation and BB cream. The foundation has better coverage but is a little thicker. The BB Cream feels lighter but still evens out the look of my skin.
For foundation, I use L'Oreal True Match Lumi in Porcelain/Light Ivory. It's the best color match I've ever found for my super paleness.
The BB Cream I use is L'Oreal Magic Skin Beautifier BB Cream in Fair. It's not quite as perfect of a match, but I like how light it feels and I can put it on without anything else and still feel like I look good.
Blush: I'm not super picky about blush. Peach colors tend to look best with my skin and I like mineral-type products. Right now I have Physicians Formula Multi-Colored Blush that's apparently meant for blondes 🙂 I just started using this one and I like it a lot. I think it's going to last a very long time.
Mascara: I'm not too picky on mascara either as long as it works well. I attempted to use an organic mascara recently and it was horrible. I was super disappointed. I've had good luck with Cover Girl for a long time. I got a great deal on L'Oreal Mascara this time I have no complaints about it.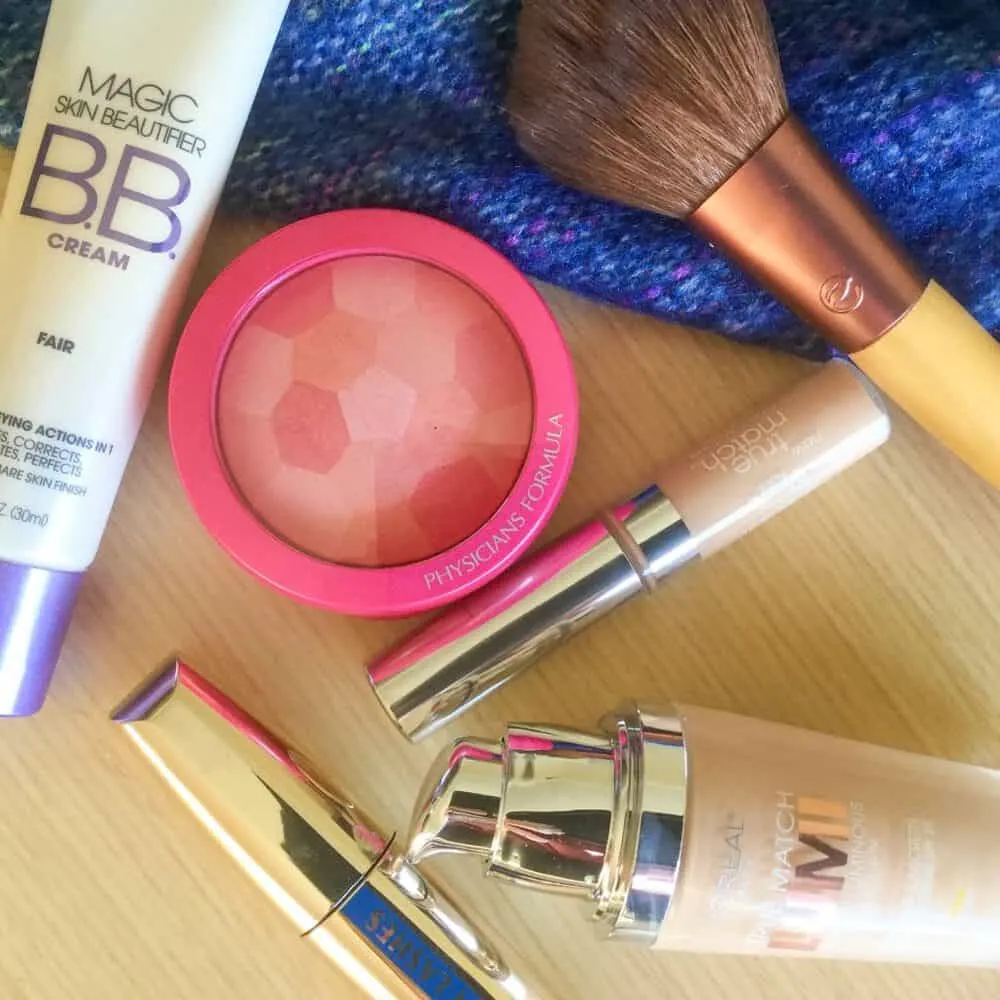 Also in my makeup bag are eyeliner, eye shadow, and colored lip balm/stain.
I'd love to transition to using more organic and cruelty-free cosmetics, but I don't want to spend a ton and I want to make sure I'll like something before I buy it. If you have any recommendations, please leave me a comment!
Brushes
I have a few ecotools makeup brushes that I use to apply blush and eyeshadow. They're inexpensive and have lasted a long time.
Bag
I always keep all of my makeup in a bag. We've actually never had a bathroom vanity with drawers for me to to keep makeup in.
I really like keeping everything in my makeup bag though, because sometimes I'll do my makeup in our bedroom or in the living room so that other people can use the bathroom. If we go anywhere, I can just grab my makeup bag and I'll have everything I need.
Keeping all of my makeup in one bag simplifies my routine for me.
The bag I use has two sections: One for brushes and one for makeup. I love this setup becasue it keeps everything organized and in one place. They don't sell the same bag I have anymore, but this one looks similar.
My simple 5-minute makeup routine makes it easy for me to get ready quickly and feel like I look put together.
⇒ Do you have a simple makeup routine? What are your favorite products?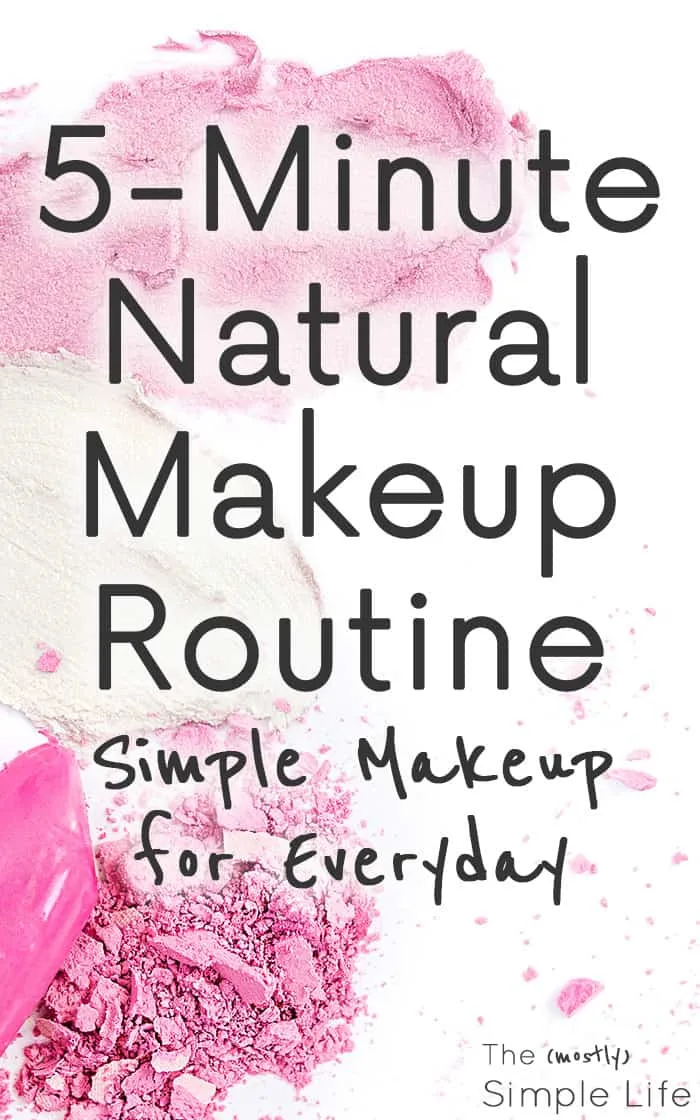 If you find this page helpful, please pin or share it :)