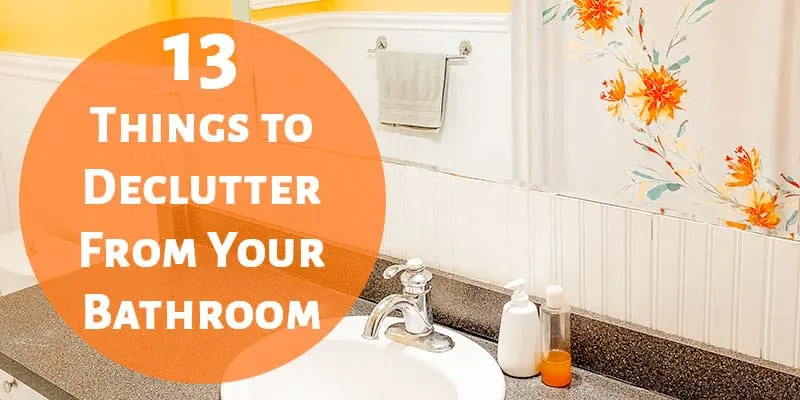 Bathrooms collect a lot of stuff. Every time I declutter and re-organize our bathroom (once or twice a year) I'm surprised at how much we've accumulated! It all hides in drawers and cabinets and you don't notice all of the things multiplying until you can hardly shut the doors.
So let's go through the list of items you can declutter from your bathroom.
I find that it's especially important in the bathroom to go cabinet by cabinet and actually empty everything out of each space.
This way, you can clearly see if you have multiples of something and can organize it all in a way that makes better sense. Plus, you can wipe down the inside of cabinets and drawers once they're empty. Bathroom cabinets can always do with a good wipe down.
13 Things to Declutter From Your Bathroom
Towels.
We buy new ones, don't get rid of the old worn out ones, and end up with 30 towels for 2 people. Sound familiar?
Decide on a reasonable number of towels for your family.
We are down to eight bath towels. I figured if we have my parents staying with us, that's two towels per person. Even when we had six adults and two kids staying here over Christmas it wasn't a problem. I made sure to wash towels more often, but we had plenty.
Hair Products.
I have found hair gel in our cabinet before that must've be six years old.
You know, you buy new products to see if they'll work for you. They don't really work but it would be wasteful to toss them. So six years later, here you are with a cabinet full of crazy-old, 5% used hair products that no one uses. That can't be just me.
Get rid of it if you don't remember when you bought it or no one is using it on a regular basis.
Cosmetics.
These things should not be kept indefinitely. They grow bacteria or get nasty over time.
Most makeup should only be kept for a year. Mascara is more like 3-6 months. Take a look at this list if you want to know how long you can keep something.
Over the Counter Medicine.
Pain killers, creams, ointments… They all have an expiration date listed on them and they probably do not last as long as you would think.
I've found some truly shocking expiration dates when I've gone through our meds. Like, a cream that expired five years ago!
If it's something you want to have on hand, add it to your shopping list and replace it.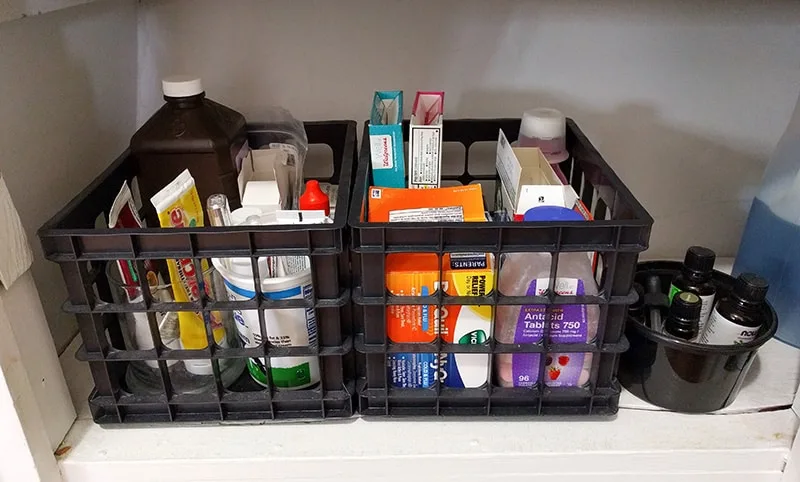 Prescriptions.
Make sure to get rid of old prescriptions no one is using. They are causing clutter and can be dangerous to use.
Most pharmacies will collect old prescription meds. There are also some Walgreens locations that have a secure drop box.
Stock Ups.
Declutter your stash of items you've stocked up on. Maybe you got a great deal on toothpaste or body wash and bought five.
Make sure whatever you're stashing is still a product your family uses and that you will be able to use it before it's been sitting in storage for too long.
Hair Accessories.
Go through hair ties, pins, scarfs, headbands, etc. Make sure they are still being used. Throw out anything broken.
You know how hair ties get stretched out then you put them back in the drawer and avoid grabbing those ones in the future? Throw them out!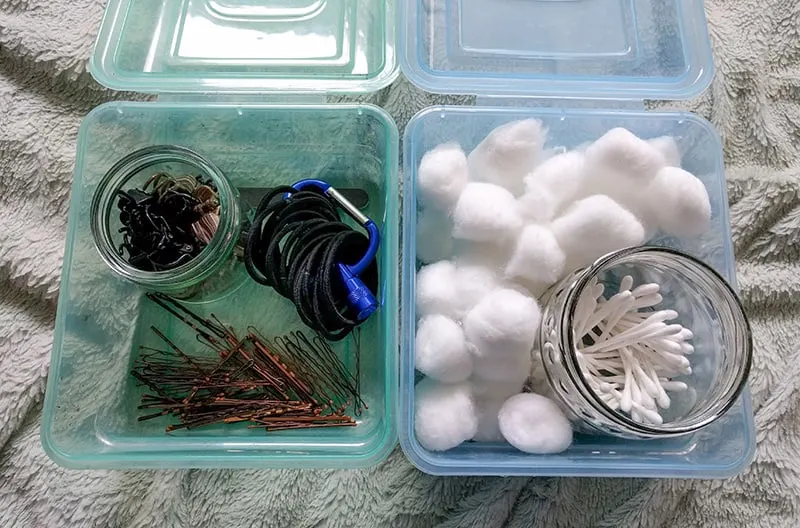 Skin Care Products.
If you're not using it daily or at least weekly, you're probably not using it.
We all have face washes, lotions, and creams that we expected would make us look 19 again and then they got pushed to the back of the cabinet when they didn't. Only keep what you're using.
Appliances.
We have an electric shaver that doesn't work well but it's still in the bathroom. Why?!
A while ago I realized that I never cared to take the time to straighten my hair, so I sold my hair straightener. I haven't missed it at all!
The idea of a foot bath was great, but it's been taking up too much space for a few years now, right? Be ruthless!
Counter Clutter.
Take stock of what has been permanently living on your bathroom counter. Make sure it deserves the prime location.
I refuse to keep anything but hand soap and face wash on our bathroom counter because I know that stuff breeds more stuff. With a clear bathroom counter, everyone in our house understands that nothing is supposed to be left out. It all gets put away after use.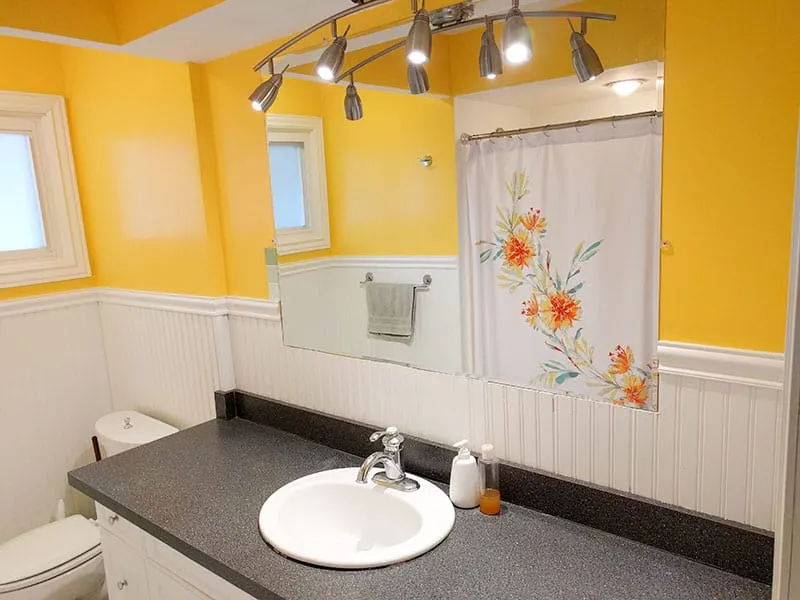 Travel Sizes and Samples.
It's so wasteful to throw out samples and travel sized things right? But then you stash them for the next time you're traveling and forget about them.
It's not a surprise to find 5-10 year old shampoo samples in a bathroom. Throw out the old stuff. You may be able to donate unopened items to a shelter or just use them yourself.
Don't buy new toothpaste and use the travel sized one every day until it runs out. Put the shampoo samples in the shower and use them up. Keep one of each if you know that you will actually be traveling in the near future, but that's it.
Kid Stuff.
Only keep bath toys and other baby/kids stuff if your kids are still at the age of taking baths and using the kid stuff. Simple.
Cleaning Supplies.
Make sure you're using what you've got. Throw out any brushes or sponges that are gross. It takes quite a while to go through a bottle of cleaner, so make sure you're not stashing away too many extras.
Inside the Shower.
Don't forget to look inside your shower when you declutter.
There may be empty bottles that haven't been thrown out or products that no one actually uses taking up precious shower space. This happens to us all the time! Throw out mangey razors. Recycle empty bottles. Makes sure everything inside the shower is getting used regularly.
Don't Forget the Last Step…
The last step is to look at your piles of trash and donation items. Let's analyze those because that's all stuff that has been causing wasted space and is a waste of money, right? Try to figure out where your big problems are.
Is it makeup or new beauty products? Maybe you need to purchase more carefully or use what you have before you try something new.
Did you buy in bulk and then not use it up? I bought toothpaste in bulk once. It takes two people forever to go through a tube of toothpaste! Now I'm very careful of what I buy in bulk because I don't want it to sit for years before we get to it.
Analyze your clutter for a moment and try to understand how it all accumulated. Think of how you might change your shopping habits so that you don't have as much waste in the future. There's always a need to declutter the bathroom here and there, but a few changes might mean there is less waste and less to declutter next time.
If it's been a while since you've decluttered your bathroom, you might be due for this project. The good news is that it doesn't take too long and will make finding what you need as you get ready in the morning so much easier!
Don't Miss These Decluttering Posts:
⇒ When is the last time you decluttered your bathroom?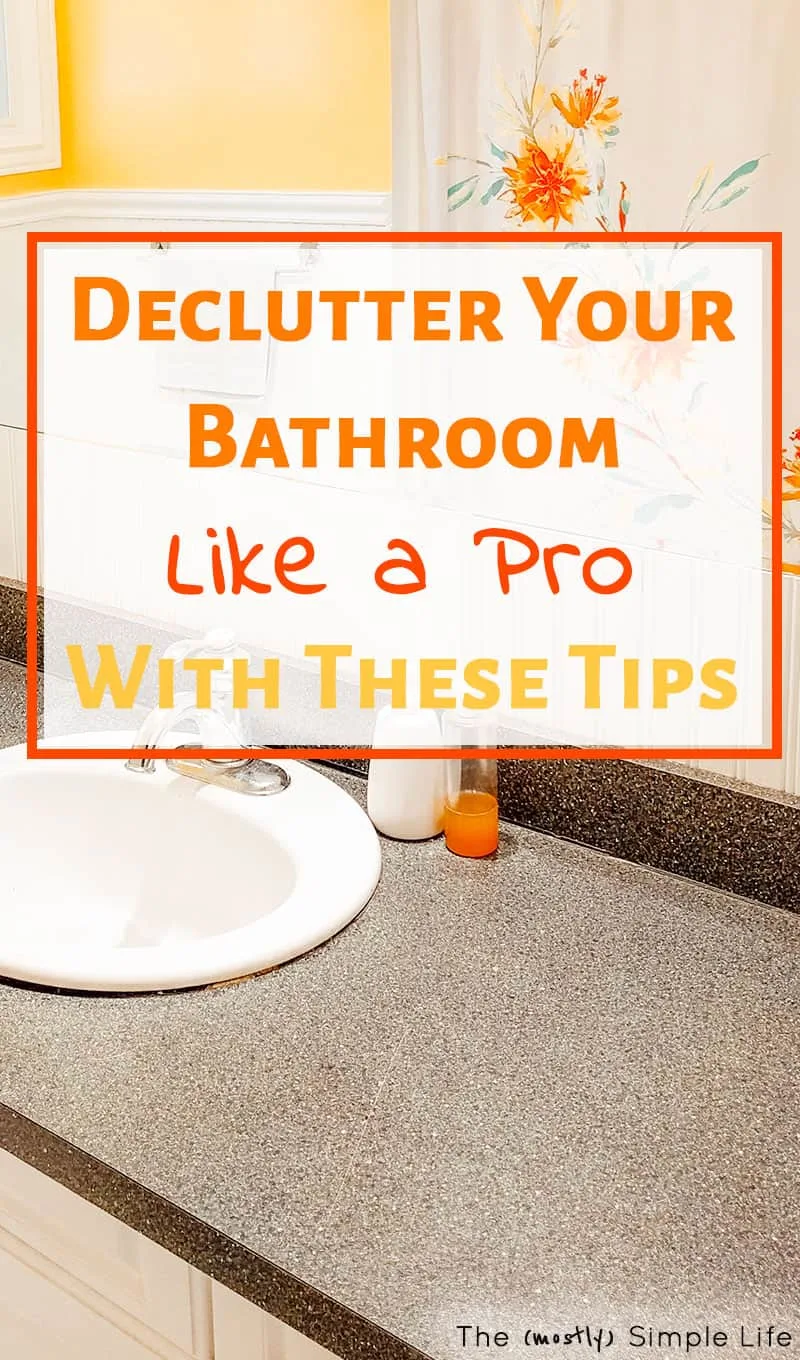 If you find this page helpful, please pin or share it :)