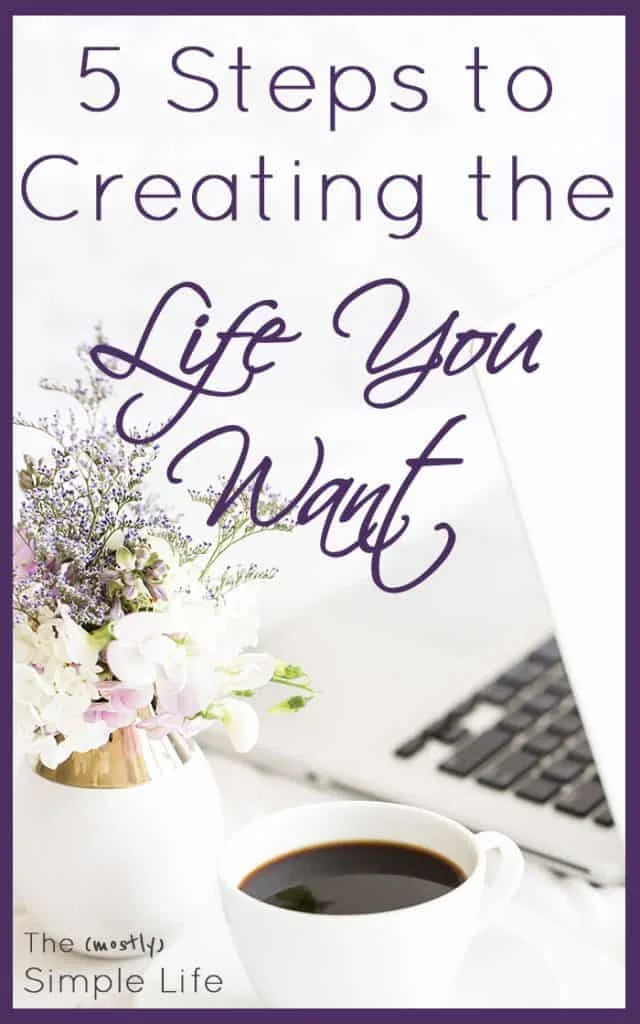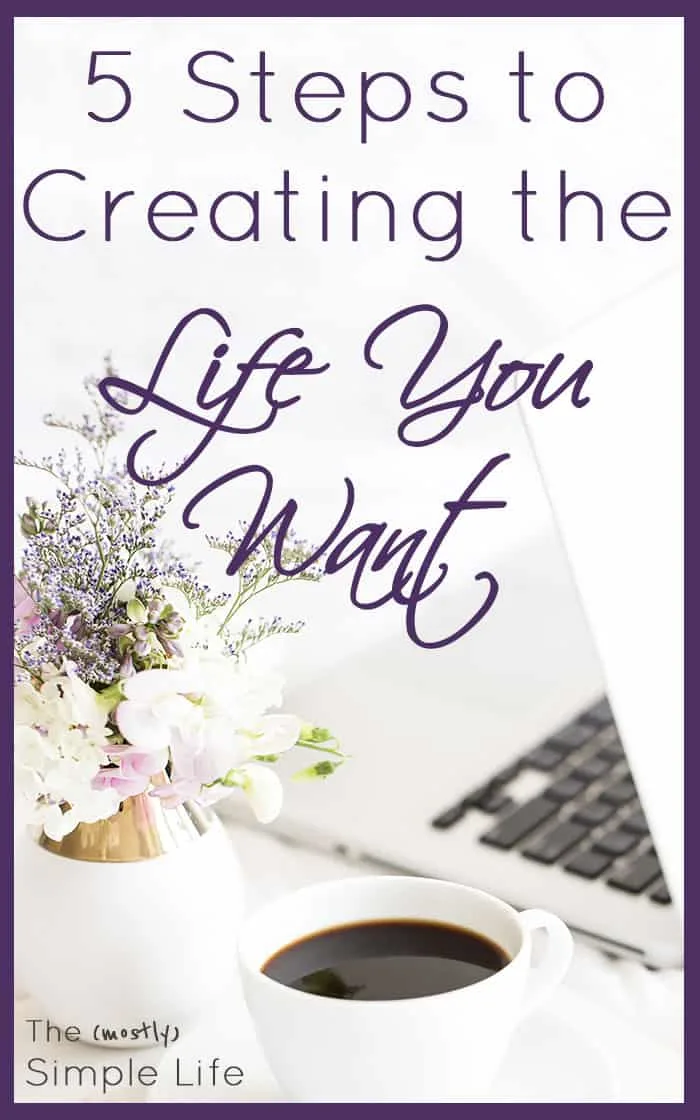 The past year has been life-changing for Austin and I. After years of struggling with low paying jobs or jobs that we just plain hated, we have both changed careers.
Austin had never gone to college before we got married. He was a hard worker, but had only worked minimum wage jobs and didn't have any skilled training.
Over the first 6 years of our marriage, he worked a long list of jobs including sales, customer service, warehouse, factory, management, and retail work. A few of those jobs paid decently, but they all had one thing in common: he hated them.
He took classes off and on for years to finally finish his degree in web development. He got a great job right after graduating last September, and most important of all: he likes his job!
I spent four years in college before we got married, but only finished with an associate of arts degree because I changed my major so many times. It didn't help me get a job.
I've waitressed, worked at a movie store, and done office work. While I didn't mind any of those jobs too much and I worked with fun people, they weren't want I really wanted to be doing. I wanted to be home more and I wanted to do something somewhat creative.
I started blogging last year as a creative outlet and quickly decided that I wanted to be able to do it full time. With Austin almost done with his degree, we took a leap and I quit my job so that I could work hard to make a living off of this website.
It has been so much hard work to get to where we are right now, and it's certainly not like every day is rosy, but gaining jobs that we wanted and enjoy has improved our lives and our marriage so much.
When I look back on the past six years, I literally get this mental image of us trying to climb our way out of a deep hole in the ground.
It hasn't really been about money. We are making a bit more money these days, which is nice, but my goal all along was just for us to each enjoy what we do and have pride in our work.
Anyways, here are the 5 steps that helped us create the life we wanted for ourselves:
5 Steps to Creating the Life You Want
1. Decide what you want and research
You're shocked, right? To create the life you want, you have to decide what you want. Who saw that coming? 🙂
Seriously though, if you're not happy where you're at, spend some time deciding what you want instead. Read about other careers and take some tests that match your personality with jobs that would best suit you.
Really sit down and think about your end goal.
It took me a long time to decide what I wanted. I researched a lot of jobs and found some that I think I would have enjoyed and been good at, but at the end of the day, what I really wanted was to be home more. Why spend the time and money to start a career if it didn't give me what I really wanted?
If your end goal is to make more money, then you need to weight the costs of the education you need versus how much money the job will make you.
Once you've decided what you want, do a lot of research to find out how to get it. The research is key because you need to make sure that the time and money you spend working towards something will actually get you there.
Austin knew that he wanted some kind of programming job. He was leaning towards software development, but after some research we found that an associates degree wouldn't be enough to get him a job. Most job listings required a bachelors degree which we didn't have the time or money to make happen. However, with web development (a different kind of programming), we found that an associates degree would be enough.
Do the research to find out what degree or skills or experience you need to get what you want. I found it really helpful to look at job listings for your ideal job to see what requirements they have.
A great deal of jobs don't require a degree at all. If you have the proper skills and experience, that often means more than a degree.
I 100% recommend that you take a look at courses available on Udemy.com. Austin actually went through quite a few Udemy courses while he was in college because they were more current and gave him extra experience. His degree has helped open doors for him, but it's his skills and experience (most of which he gained from Udemy and his internship) that actually got him his job.
I took a Udemy course that helped me get my blog set up. I've also taken courses on dog training, photography, and foreign languages. If you've never checked it out, you really should because they have courses for everything. Some courses are even free! Click here to take a look at Udemy.
If what you want to do doesn't require a degree, you may be able to gain the knowledge and skills you need from Udemy courses or other trainings.
It's worth researching because online trainings, internships, and alternate methods of education are usually far less expensive than college courses.
2. Set specific goals and list tasks
Once you know what you want and have researched how to get it, it's time to set goals.
Are you going to take one class at a time?
Are you going to make some calls to get an internship?
Are you going to spend 3 hours per week working through a Udemy course?
I'm a list maker, so I like to list out everything I need to do: every task and every class.
When I started blogging, I made it my goal to post three times per week. I made lists of all of the skills I wanted to learn and courses that I wanted to take.
Try to set a realistic goal for how long it will take you to accomplish each thing on your list and set a goal for when you will be done with it all.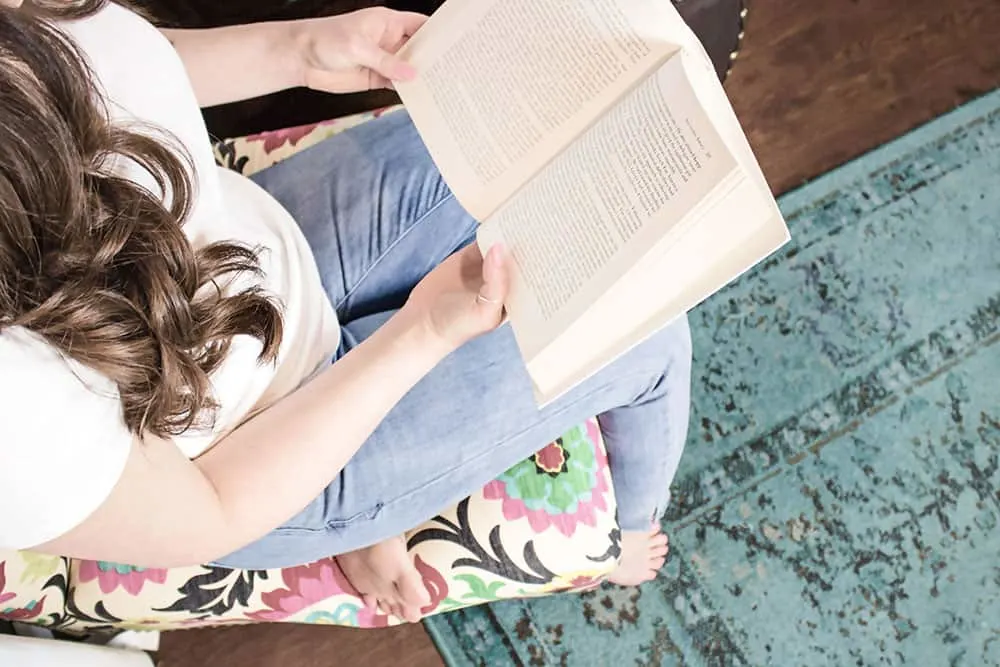 3. Squeeze out time and make it a priority
This is where the rubber meets the road. You have to make it happen.
To be completely honest, the only way to make it happen is to want it badly. It is so hard to squeeze out the time in your busy life to work towards something big and hard. It has to be a priority or else it won't happen.
Austin took college classes for years, one at a time, working on it each night after work when he was completely exhausted. At the beginning of last year, I spent every weekend writing blog posts and marketing my blog to gain some traction.
It was all worth it, but in the moment it was hard.
4. Use your time wisely
When you have so little time to work on your goals, it's extra important to use your time wisely.
With blogging, it can be so easy to get distracted with extra things you'd like to learn or new tasks to add onto the to do list. When I was short on time, I made sure to only focus on what needed to get done. My priority was creating three good posts per week. If I had some extra time after getting those done, then I could think about extra stuff.
With Austin's degree, there were a lot of extra classes that he would have liked to have taken and that would have taught some good skills. At the end of the day, the goal was to get the degree. We knew that after he had his degree, he would be able to go back and learn extra skills. The degree was what would help him get that first job, so we focused on that before anything else.
Constantly remind yourself of your goals and stay focused. Don't get sidetracked with extra tasks. Those extra tasks may be helpful or valuable, but they will distract you from your end goal.
Just for fun, I have to share the fabulous graduation cake I got for Austin when he finished college (Toy Story was his favorite growing up and I thought the other graduation cakes were too boring 🙂 ). I surprised him with a small family party and it was the perfect way to celebrate.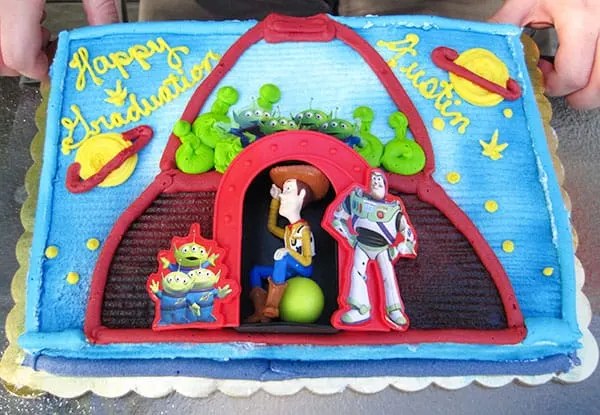 5. Just keep swimming
Here's the quote that has kept me going:
"Don't let the fear of the time it will take to accomplish something stand in the way of your doing it. The time will pass anyway; we might just as well put that passing time to the best possible use." ~ Earl Nightingale
If you don't work towards something new, you will stay stuck where you are.
It took Austin five years of taking classes on and off, and often one at a time, to finish his associates degree. It was a long journey, but now that it's done, I'm so glad he kept working at it.
Working at something slowly is still always better than doing nothing at all.
This is one of my longest blog posts yet, but our lives have changed and improved so much because of the steps we have taken. I want those wonderful things for you too!
Decide what you want and figure out how to get it
Set goals and list the tasks you need to complete
Make it a priority and make the time to accomplish it
Use your time wisely
Don't stop – slow is always better than nothing
Related Posts:
16 Ways to Simplify Your Life Today (in 30 minutes or less)
How to Achieve What You Want in Life
How to Stay Positive When Life Sucks
⇒ What do you want most? What are you doing to make it happen?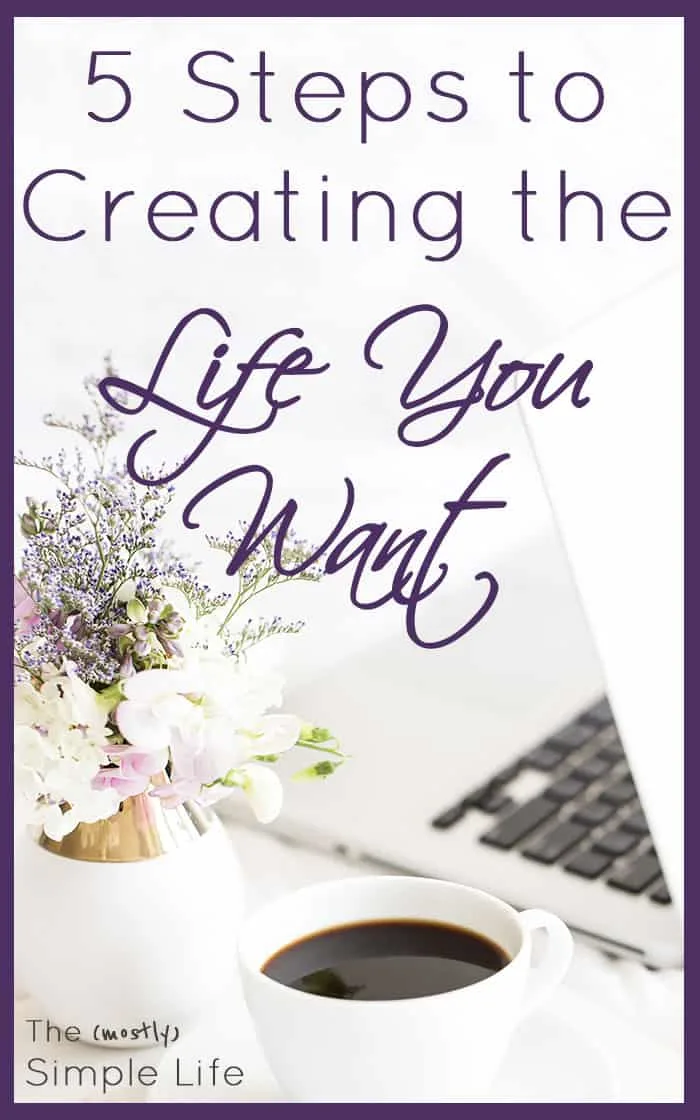 If you find this page helpful, please pin or share it :)