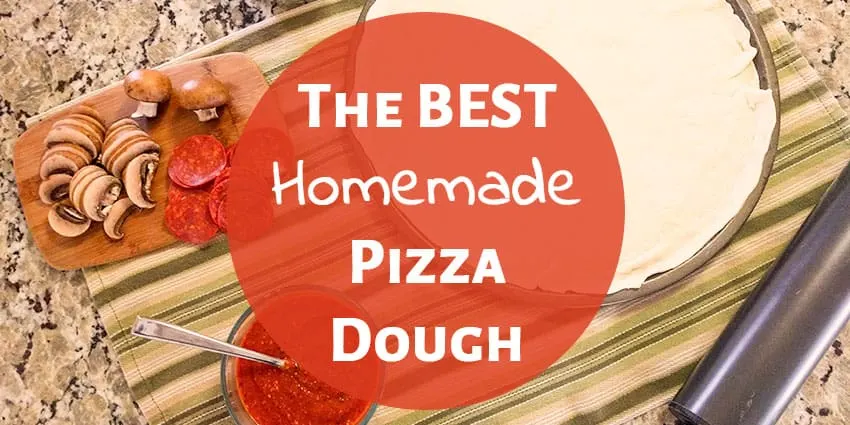 Austin and I have been making homemade pizza together since we were dating! It's a fun meal/activity for us and we're constantly trying to perfect our homemade pizza.
We're always on the lookout for a better dough or sauce recipe. We also want our pizza to taste great (without taking shortcuts), but needed the recipe and baking process to be reasonably quick as well.
For a long time we were buying frozen dough balls from Sam's Club because we couldn't find a better or quicker dough recipe. I had the hardest time getting the dough to rise and could never get the right combination of chewy and crispy crust.
Well this last winter, I finally found a winner. I've been using the same dough recipe for a few months and it's so quick and good! The crust is crispy on the outside, chewy on the inside. I haven't had trouble getting the dough to rise. It's awesome!
Pizza Night: A Quick Homemade Pizza Dough Recipe
I originally found the recipe here and have made a few tiny changes.
Kitchen Gear Used: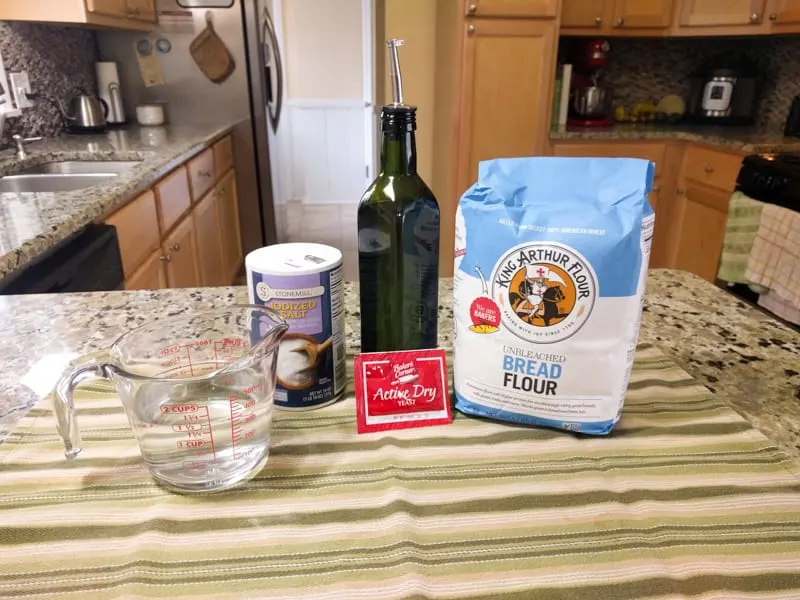 Ingredients:
3 1/2 to 4 Cups of Bread Flour (Bread flour is the key to the crispy/chewy crust.)
1 teaspoon Sugar
1 Packet Instant Dry Yeast
2 teaspoons Salt
1 1/2 Cups Water at 110° F (The water temp is what makes the dough rise properly. I use the microwave and our meat thermometer to get the right temp.)
2 Tablespoons Olive Oil
Non-stick Cooking Spray
Instructions:
Combine 3 1/2 cups of the bread flour, the sugar, yeast, and salt in the bowl of a stand mixer.
Add the 2 tablespoons of olive oil and warm water and stir together. (I use the dough hook and my KitchenAid mixer. You can do it all by hand but it will take some extra muscle.) Scrape down the sides as needed and mix until it forms a ball. If it's super wet and sticky, add more bread flour, one spoon at a time.
Let the mixer run for an extra minute, kneading the dough ball, or you can turn the dough out onto a floured surface and knead by hand.
Spray a large bowl with non-stick cooking spray and place the dough ball in the bowl. Cover it with plastic wrap that has also been sprayed with cooking spray.
Place the bowl in a warm area and let it rise for 1 to 1 1/2 hours, until it has about doubled in size.
This recipe makes enough dough for 2 thin crust pizzas. After it has risen, I divide the dough and freeze half of it for the next week. To thaw it, I place it in the fridge the night before and then set it on the counter to come to room temperature a few hours before dinner.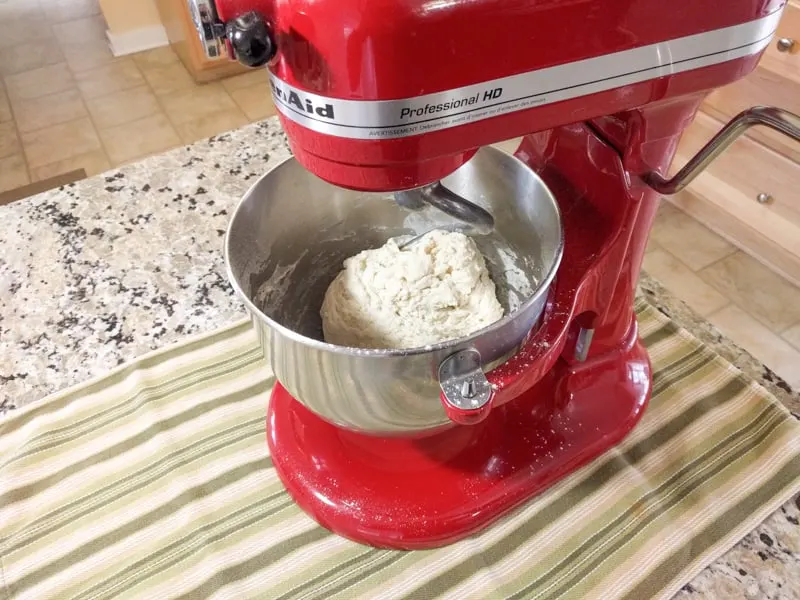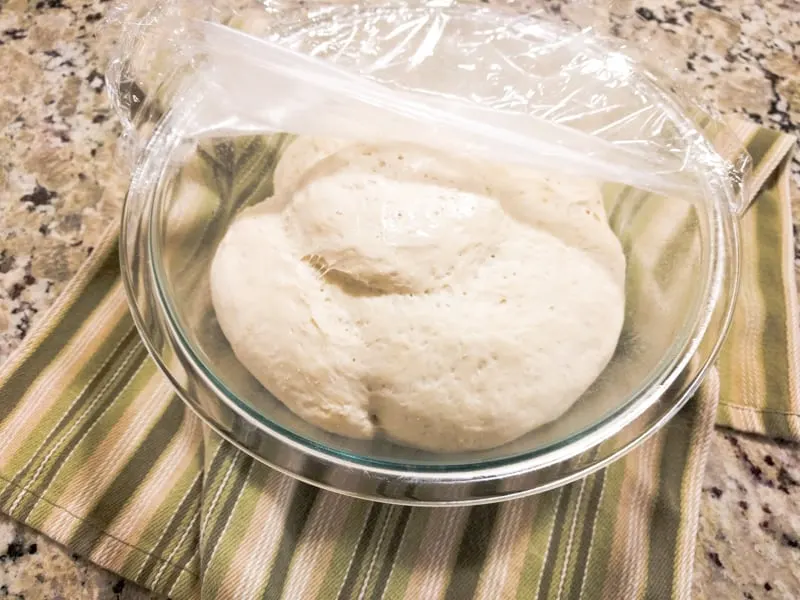 Cooking the Pizza:
To cook the pizza, preheat the oven to 500°.
Roll out half of the dough from the recipe.
Place the dough on the pan and top with your favorite sauce, cheese, and toppings. We've had the very best luck with nonstick perforated pizza pans. The small holes in the pan allow the crust to cook better.
How quick is the pizza dough to bake?
You can bake it for 10-12 minutes, until the cheese is bubbly and crust is golden brown underneath.
You can also cook at 450° for 12-14 minutes.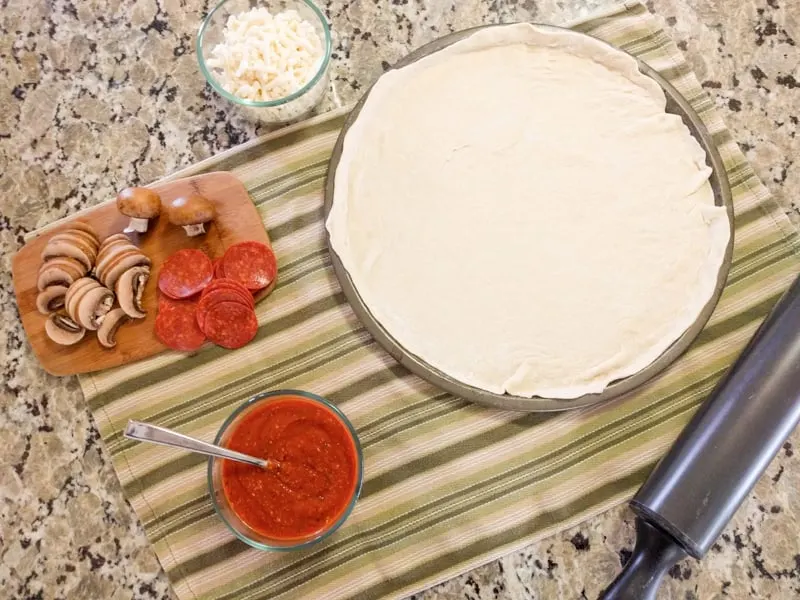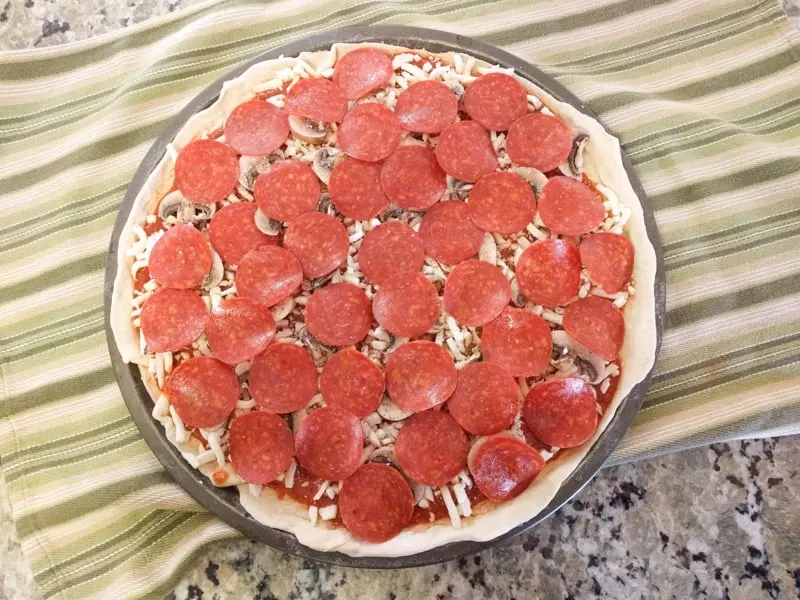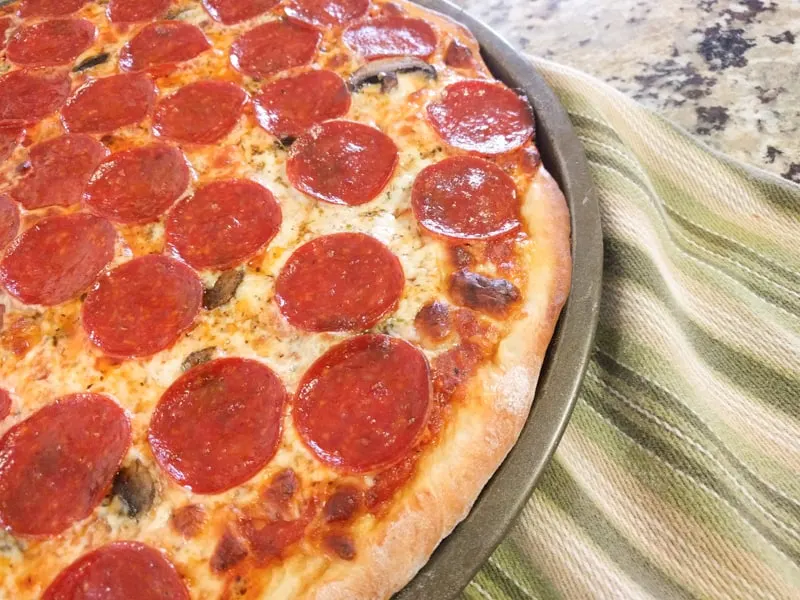 This is the absolute best homemade pizza dough recipe we've tried! We've been making homemade pizza every Friday night lately, which is much less expensive than takeout. It's far more fun too.
I also finally found the perfect sauce recipe, which I'll be sharing next!
You Might Like These Posts Too:
My Honest Review of Dinnerly (the most affordable meal-kit delivery service)
9 Reasons Your Grocery Bill is Too High + How to Fix It
What We Eat in a Week: Our $70 Meal Plan
⇒ Do make have homemade pizza nights? If you try this recipe, I'd love to know what you think!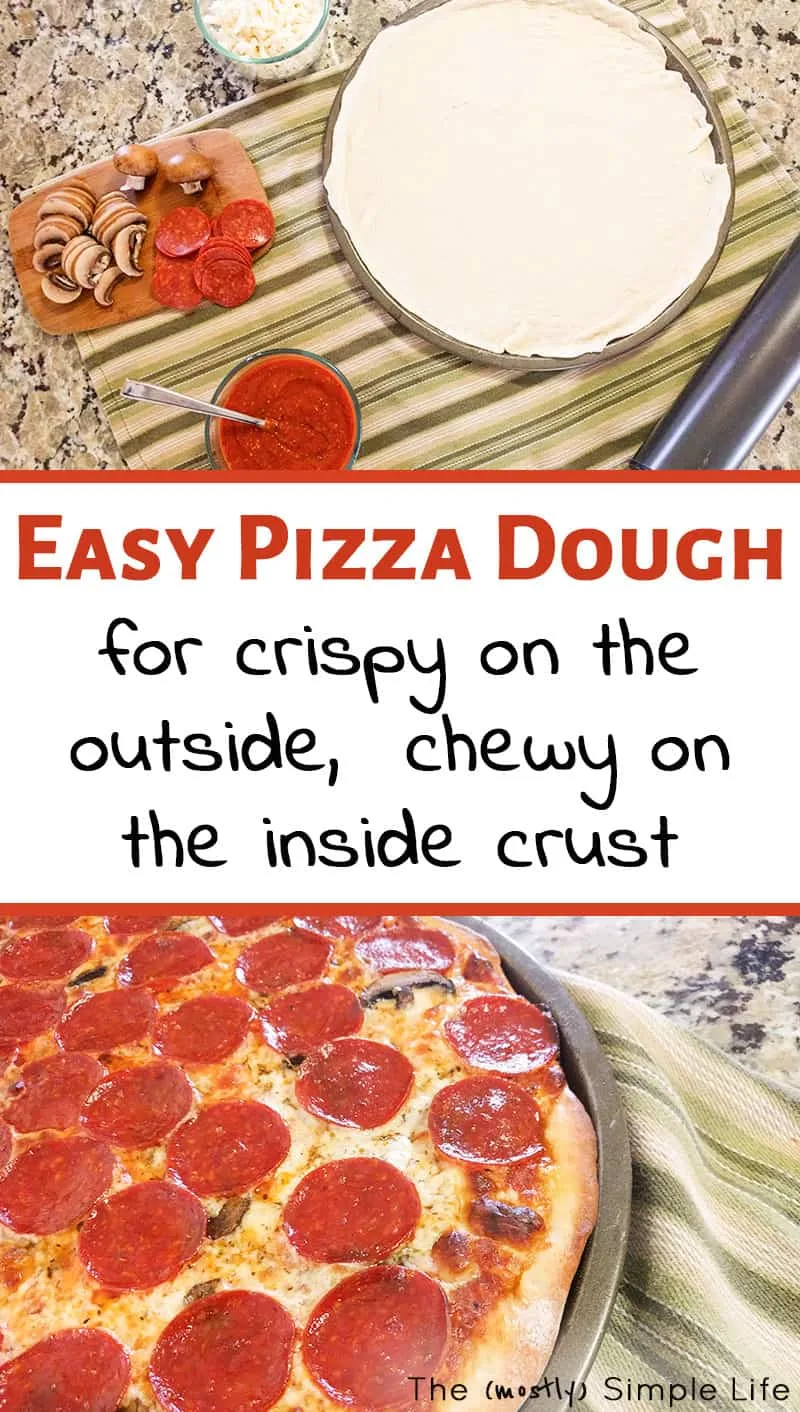 If you find this page helpful, please pin or share it :)