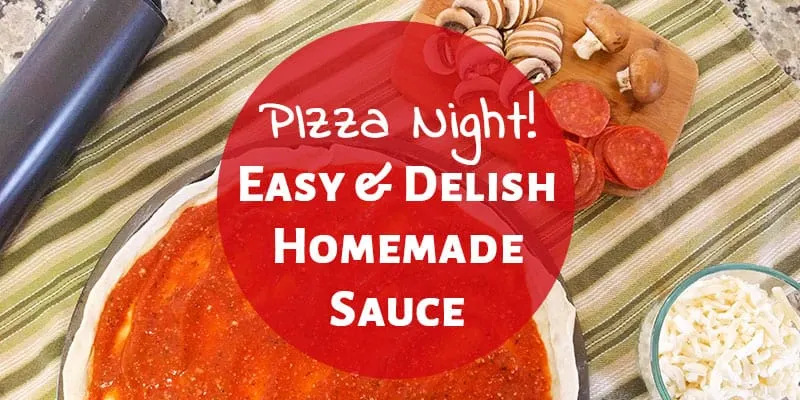 Last week I shared my favorite homemade pizza crust recipe, so now we need the sauce!
I've tried multiple pizza sauce recipes that I didn't love. Then for a long time, I just used jars of spaghetti sauce. Everything I tried was just kind of -meh.
This recipe has great flavor! Between the garlic, the parmesan, and the tiny bit of kick from the crushed red pepper flakes, I just think it's perfect.
Sidenote: You can get the meal planning printable I use each week by entering your info below!

[convertkit form=830245]
Homemade Pizza Sauce
I found the original recipe here and have made some tweaks.
Kitchen Gear Used:
Only the basics!

Ingredients:
2 teaspoons Olive Oil
1 Tablespoon Butter
3 teaspoons Minced Garlic (I always buy the jar of minced garlic. It has fresh flavor and lasts a long time)
1 3/4 teaspoons Onion Powder
1/4 teaspoon Red Pepper Flakes (Use 1/2 teaspoon if you want more kick!)
3/4 teaspoon Dried Basil
1 teaspoon Dried Oregano
2 – 8oz Cans of Tomato Sauce
4 Tablespoons of Tomato Paste (There is usually close to 8 tablespoons in a can, so I freeze half for next time.)
2/3 Cup Water
1/3 Cup Parmesan Cheese
2 Teaspoons Brown Sugar
1/4 – 1/2 teaspoon each of Salt and Pepper (Start with 1/4 and add more to taste. I usually end up with about 1/2 teaspoon of salt and 1/4 teaspoon of pepper.)
Instructions:
Heat the olive oil and butter in a large saucepan over medium-low heat. Add the minced garlic.
After about a minute, add in all of the dried herbs and spices: onion powder, red pepper flakes, basil, and oregano. Give it a quick stir and then pour in the tomato sauce, tomato paste and water.
Stir in the parmesan cheese, brown sugar, salt and pepper.
Bring the pot to a light boil and then turn it down, cover the pan and let it simmer. You can use it right away, but it's best if it has about an hour to simmer.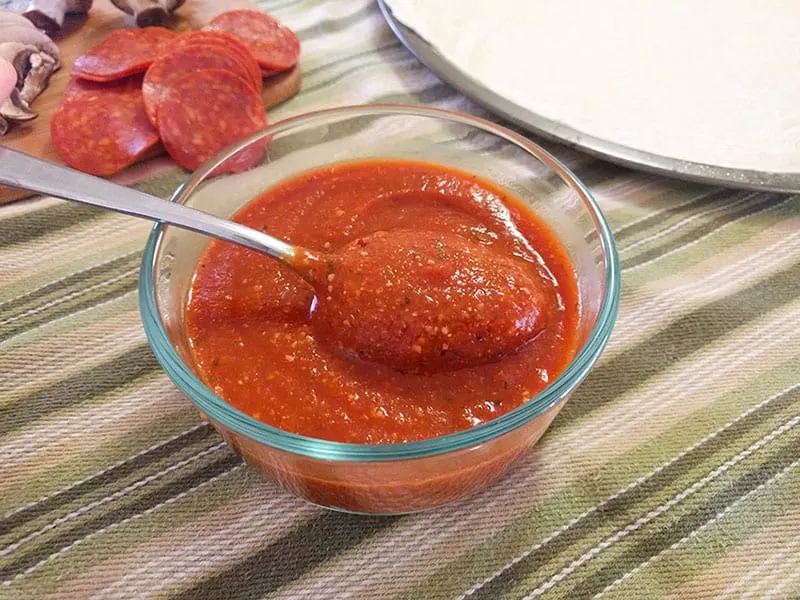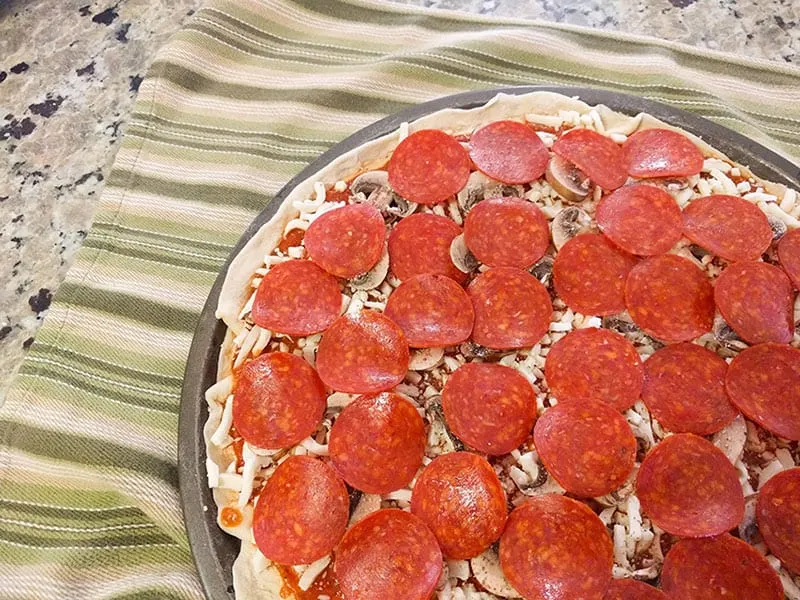 This recipe makes enough sauce for two pizzas. I use half and then freeze the rest for next week.
OK, I've now divulged my favorite homemade pizza crust and sauce recipes. Go forth, and create delicious pizzas and have fun pizza nights! 🙂
You Might Like These Posts Too:
6 Ways to Use Meal Planning to Eat Healthier
What We Eat in a Week: Our $70 Weekly Meal Plan
All-Time Favorite: Easy Blender Salsa
⇒ If you try this recipe, let me know what you think!!!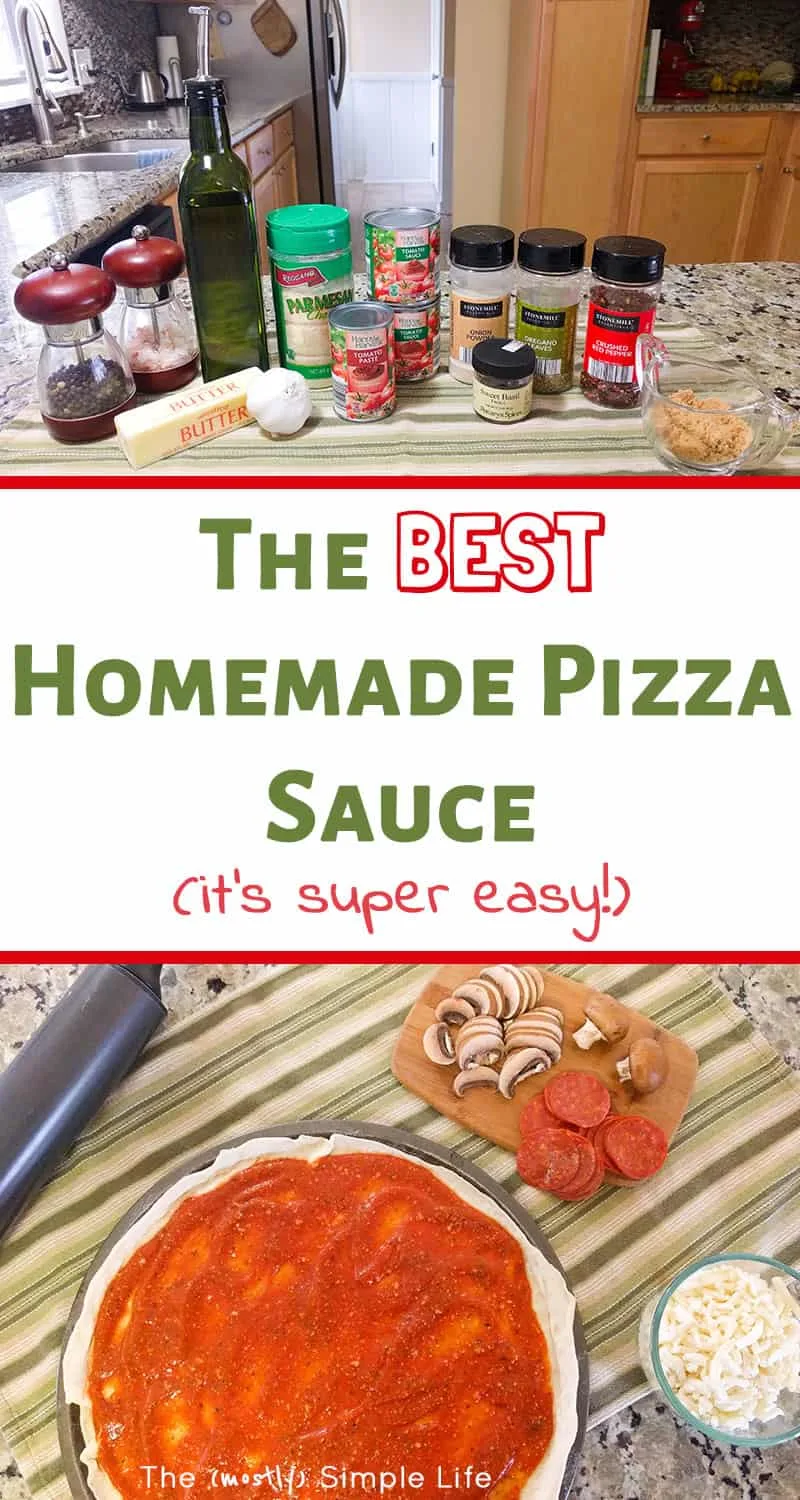 If you find this page helpful, please pin or share it :)