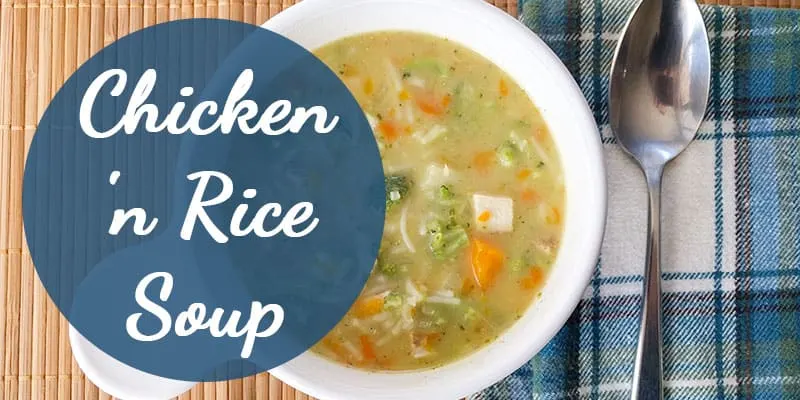 It's officially soup season! How do I know that? Because I keep craving soup!
We love soup at our house because it's filling, is a complete meal (with meat, veggies, and grains), is inexpensive, and can last for multiple meals.
This recipe is one of my mom's and it's so easy. Plus, you can change it up every time you make it by using a different kind of rice, whatever veggies you have on hand, or different seasonings. Basically, you'll never get sick of it because it's a little bit different every time.
You Might Like These Posts Too:
A Few Notes:
Yes, I cook with boxed rice. Using convenience foods like this can make it easier and faster for me to cook dinner. #noshameinmygame
If you have a Ninja Blender (we adore ours!), it's super handy to use to chop all of the veggies! Before I saute the onions and carrots, I pulse them in the blender a couple of times and they're good to go. Same with the broccoli. So quick!
The recipe calls for cooked chicken. I often cook a whole bunch of boneless skinless chicken breast at once (either on the grill, in the oven, or in the crock pot) so that it's ready to go for all kinds of recipes. It's a huge time saver.
Sidenote: You can get the meal planning printable I use each week by entering your info below!
[convertkit form=830245]
Chicken Rice Soup Recipe
1 Box Rice-a-Roni – wild rice, fried rice, or chicken flavor
1 Can Cream of Chicken Soup
2 Cups Cooked Chicken, Chopped
1/2 Cup Carrots
1/2 of an Onion
1 Tbsp Olive Oil
1 Package Frozen Broccoli
3-4 Cups Chicken Broth (or water with chicken bullion)
1/2 tsp. Poultry Seasoning of your choice (to taste) – I like Adobo Seasoning
Dash White Pepper (optional)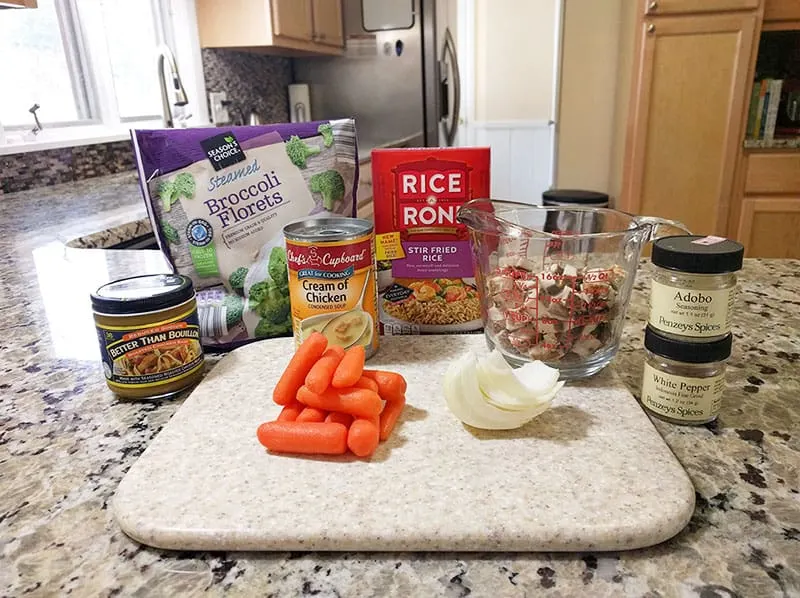 Instructions:
Chop carrots and onions. Saute them in a small pan with 1 Tbsp olive oil until soft or saute them with the rice if your box of rice says to saute it first.
In a large saucepan, cook the box of rice according to the instructions. If you sauted the veggies with the rice, leave them in the saucepan as you boil the rice.
Heat the package of frozen broccoli in the microwave and roughly chop it.
Combine carrots, onion, broccoli, cooked chicken, cream of chicken soup, and chicken broth in the saucepan with the rice.
Add in seasoning to taste. We like a pinch of white pepper and some kind of poultry seasoning (like adobo seasoning)
Simmer for 10-20 minutes until heated through.
Variations: You can substitute whatever veggies you have on hand but I prefer to always make sure we have broccoli. Celery and corn make good additions. You can also stir in shredded cheese at the end. Add more broth if it's too thick for you.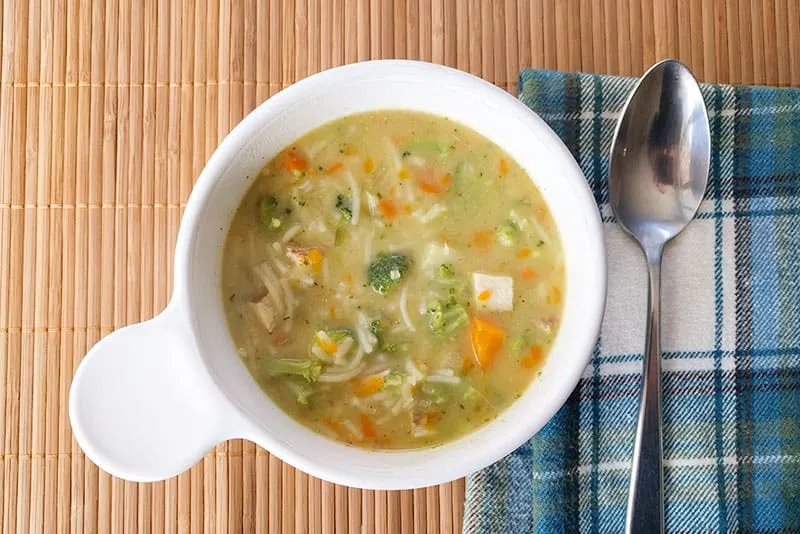 I'm planning to share a bunch more soup recipes throughout soup season (didn't you know "Soup Season" is a real season of the year?).
Chicken Rice Soup is one of my favorites because it's so easy, filling, and delicious! Let me know if you try it and how you like it!
⇒ What's your favorite kind of soup?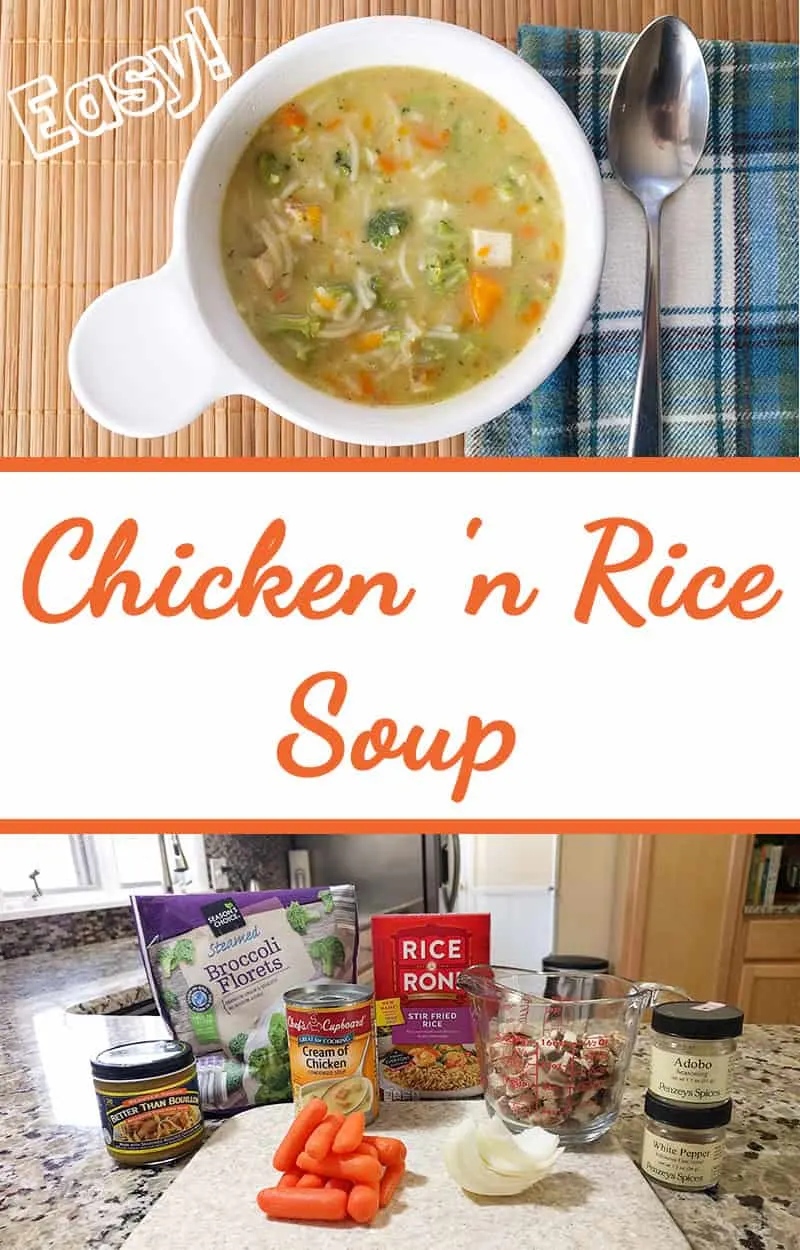 If you find this page helpful, please pin or share it :)