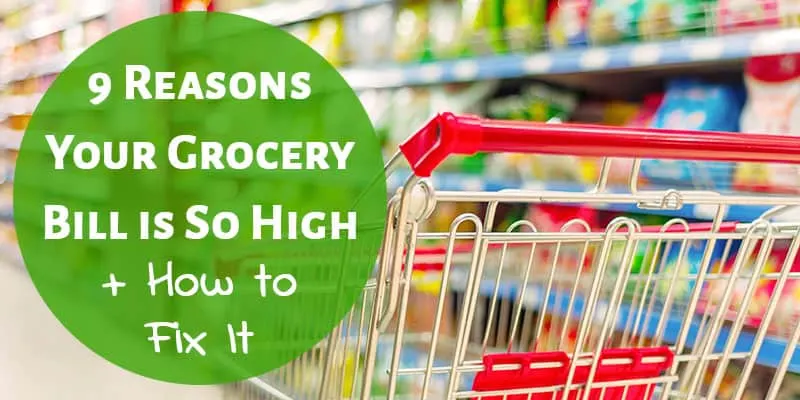 How much money do you spend on groceries each month? Or each week? It's not a small number, right?
If you're frustrated by how high your grocery bill is, I want to look at 9 of the reasons you might be spending more than you need to.
Of course, I have to mention that if you have food allergies, have jumped on board with the Keto diet (or any other trendy diet), or only eat organic, your grocery bill will probably be higher than the average family. BUT, that does not mean that there is not room for improvement! I've heard a lot of people use their diet preferences as an excuse for their high grocery bill. The truth is, if you want to improve your spending, you absolutely can while still sticking to your diet.
I'd encourage you not to compare your spending with someone else. Instead, compete with yourself and try to do better this month than you did last month.
9 Reasons Your Grocery Bill is Too High + How to Fix It
1. So Much Meat
I've grown up in the Mid-West, where most people lean towards meat-centric, heavier meals.
Meat is the most expensive part of any meal, though. And truly, most of the time, what gets served as a main dish is about 2x as large as a serving of meat should be.
As we've incorporated less meat into each meal, our grocery bill has started to shrink. We do this in a couple of ways:
Don't serve meat as the main course. We rarely have a piece of chicken for dinner. It's usually chicken inside of a wrap, quesadilla, salad, or soup. By making the meat part of the main course, not the entire main course, you can use less and stretch it further.
Serve filling side dishes. Just becasue you're feeding hungry people doesn't mean you need more meat. You can fill people up more affordably with broccoli, cauliflower, potatoes, sweet potatoes, rice, whole grain pasta, and more.
If you're on a low carb diet, make sure you're getting enough low carb veggies before you fill up on meat. This will help your wallet.
(The pic below is of my Cheater Lasagna)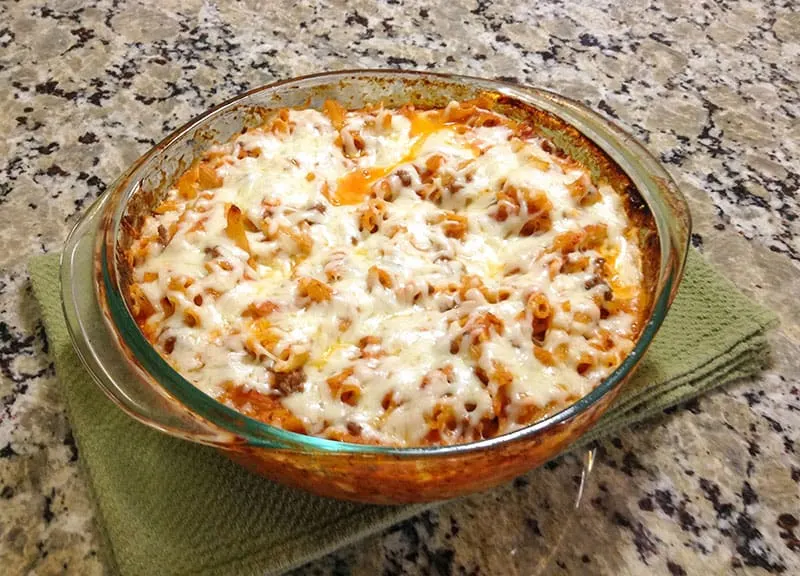 2. You're Not Shopping Your Kitchen
Are you throwing out food that has gone bad? Do you have expired cans and boxes in your cupboard? These are signs that you're not shopping your kitchen before you shop the store.
I like to open all of the cupboards, peek into the fridge, and then sit in the middle of the kitchen while I make my meal plan and grocery list. This way, I can see what meals to plan so that we can use up foods that are about to go bad.
If there is cheese and cilantro that won't last much longer, I'll plan to make quesadillas with homemade salsa.
The other night, I was about to cook some frozen salmon burgers when I realized that we had really good leftovers in the fridge. Why cook up frozen food that will last for months when I have something fresh that will go bad in a few days if I don't eat it?
You'll save money and waste less by working with what's already in your kitchen first.
3. Too Much Stocking Up
But aren't I supposed to stock up when there's a great sale? Maybe. Too much stocking up can really blow your grocery budget.
It's best to only stock up if you know that you're getting the best price possible. Also, only buy as much as you know you will use before it goes bad.
I've stocked up on canned goods before and had them go bad before I could use them. Canned goods can usually last a year or two, so I definitely bought too many if they went bad! Or they got pushed to the back of the cupboard when I bought more. Either way, I was buying more than I needed at some point.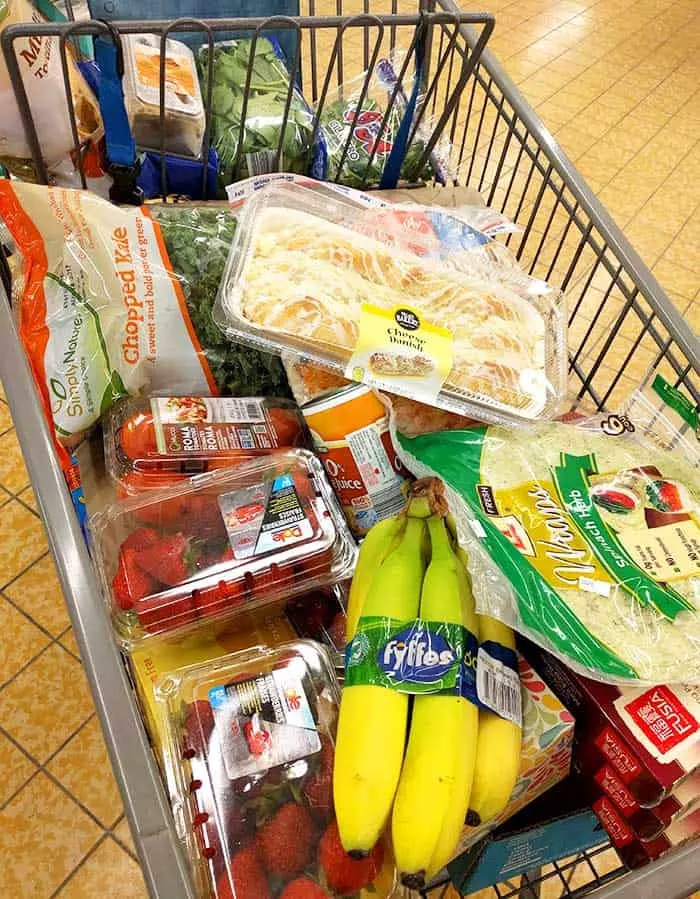 4. Shopping Warehouse Stores
O, how I love shopping as Sam's Club. I don't know what it is about buying things in bulk, but I think it's so fun! And to sit in the little restaurant area and watch what other people are buying in bulk… It never ceases to entertain me.
The thing with warehouse stores is that you might be buying more than you can use before it goes bad. Plus, each impulse buy isn't an extra $3 like at a regular grocery store — it's an extra $10-15!
We used to blow our grocery budget every time we shopped at Sam's Club. Now, I have a very small list of what I buy there. I know the foods that are the best deal and that we will be able to use before they go bad: boneless skinless chicken breast, string cheese, and frozen salmon burgers are our most common purchases.
5. Fancy "Health Foods"
Anything marketed as a "health food" comes with a bigger price tag. Those fancy granola bars can cost $4 each!
In general, we avoid health foods completely and stick with simple, whole foods so that we can eat healthy on a budget.
I wrote a ginormous post about eating healthy on a budget, so be sure to take a look at those tips!
If you prefer to buy organic fruits and veggies, make sure you know the best prices and shop in-season.
6. Ignoring Serving Sizes
A serving of meat is only 3-4 oz. That's the size of a deck of cards. If you haven't looked at a deck of cards in a while, go do it. I'll wait. Pretty small, right?
My bag of chips says it contains 10 servings. 10. We can eat an entire bag of chips in one day between the two of us if we're not careful.
The point is that your grocery bill with shrink if you start paying attention to how big a serving size is. Your waistline might shrink too, BTW.
Now, I'm not saying that you should leave your family hungry. I'm suggesting that you pay attention to serving sizes on pricier foods and make sure everyone fills up on the less expensive stuff.
We measure serving sizes fairly regularly on meat, cereal, chips, ice cream, and crackers. My digital food scale makes this easy-peasy.
We try to fill up more on veggies and whole grains, which as less expensive than meat and snacks.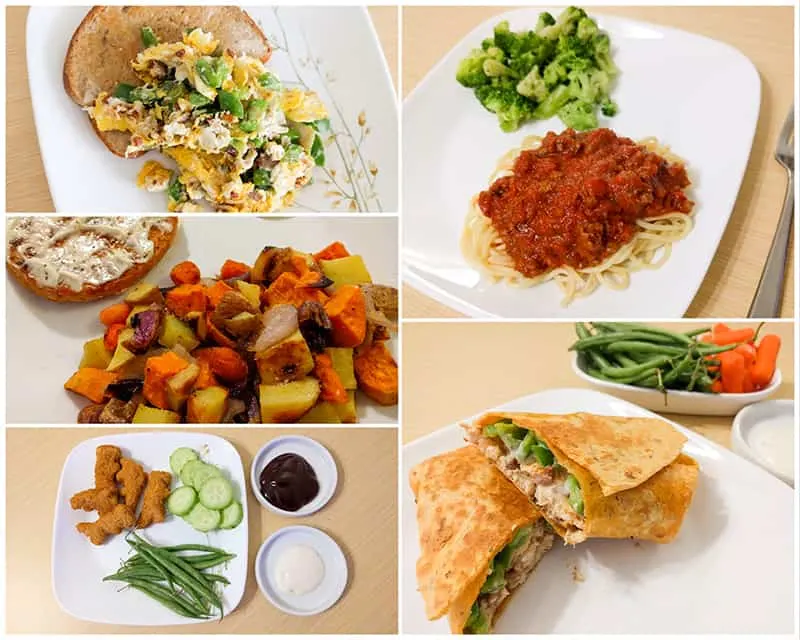 7. Not Shopping By Season
It is so much more expensive to buy foods when they're not in their prime season.
This most-definitely applies to fruits and veggies. Don't try to buy strawberries in November. They're crazy-expensive and don't even taste that good.
This also applies to other seasonal foods. Turkeys goes on sale around Thanksgiving, of course. You can find a great deal on ham around Christmas or Easter. There are a lot of treats you can get around the holidays that can be stored in the cupboard or frozen.
Be careful not to stock up too much, but these seasonal sales are a great time to buy certain foods at their best price of the year.
8. Shopping the Deals Too Much
I love a good deal, but I've found that sometimes a good deal causes me to overspend. If you concentrate too much on buying what's on sale and then still have to buy more groceries to complete your meals, you might buy much more than you need. Or you might buy things you don't even need at all.
A great deal on juice? Well, if you don't normally buy juice at all, then you're spending more than you need to.
It's good to check the sales so that you can buy what you need at a better price, but don't let sales cause you to buy items you don't need to buy at all.
9. No Planning
Can you believe I left this until the end?! Of course, you're spending too much on groceries if you're not meal planning!
If you go to the store and buy whatever sounds good and a random assortment of other stuff, you're likely to get home and not have the right foods to actually create meals. This leads to more trips to the store, spending more money, and wasting food.
Meal planning does not have to be complicated or time-consuming. It's simply deciding to make certain meals, and creating a grocery list of all of the foods you need to buy so that you can make said meals. That's it.
Each week, when I make our grocery list, I also make my meal plan: Let's say I decide to make tacos one night. I'll write 'tacos' down on my meal plan paper. Then, I look in our kitchen to see what we already have on hand and what we will need to buy so that we can make tacos. Everything we don't already have goes onto the grocery list. Simple! I'll do this until we have enough meals planned out for the week and then we shop. This whole process only takes me about 15 minutes.
Meal planning is one of the most important things we do to save money on groceries. You can get the meal planning printable I use each week by entering your info below!
[convertkit form=830245]
Did any of these sound familiar to you?
I know that stocking up a little too much and shopping at warehouse stores have caused our grocery bill to skyrocket on occasion. It's all about pinpointing the problem. Once we realized that not everything we bought at Sam's Club was a good deal (or that there was no way we could eat it all before it went bad), we started choosing more carefully what to buy in bulk.
If you feel like your grocery bill is too high, try working on one of these areas and see if it helps!
You Might Like These Posts Too:
What We Eat in a Week: Our $70 Meal Plan
The Ultimate Guide: How to Eat Healthy on a Budget
How I Stick to a $70 Per Week Grocery Budget
24 Healthy Foods Under $1 Per Serving
⇒ Which one of these might be causing you to spend too much on food? Are there any other reasons you can think of that I didn't mention?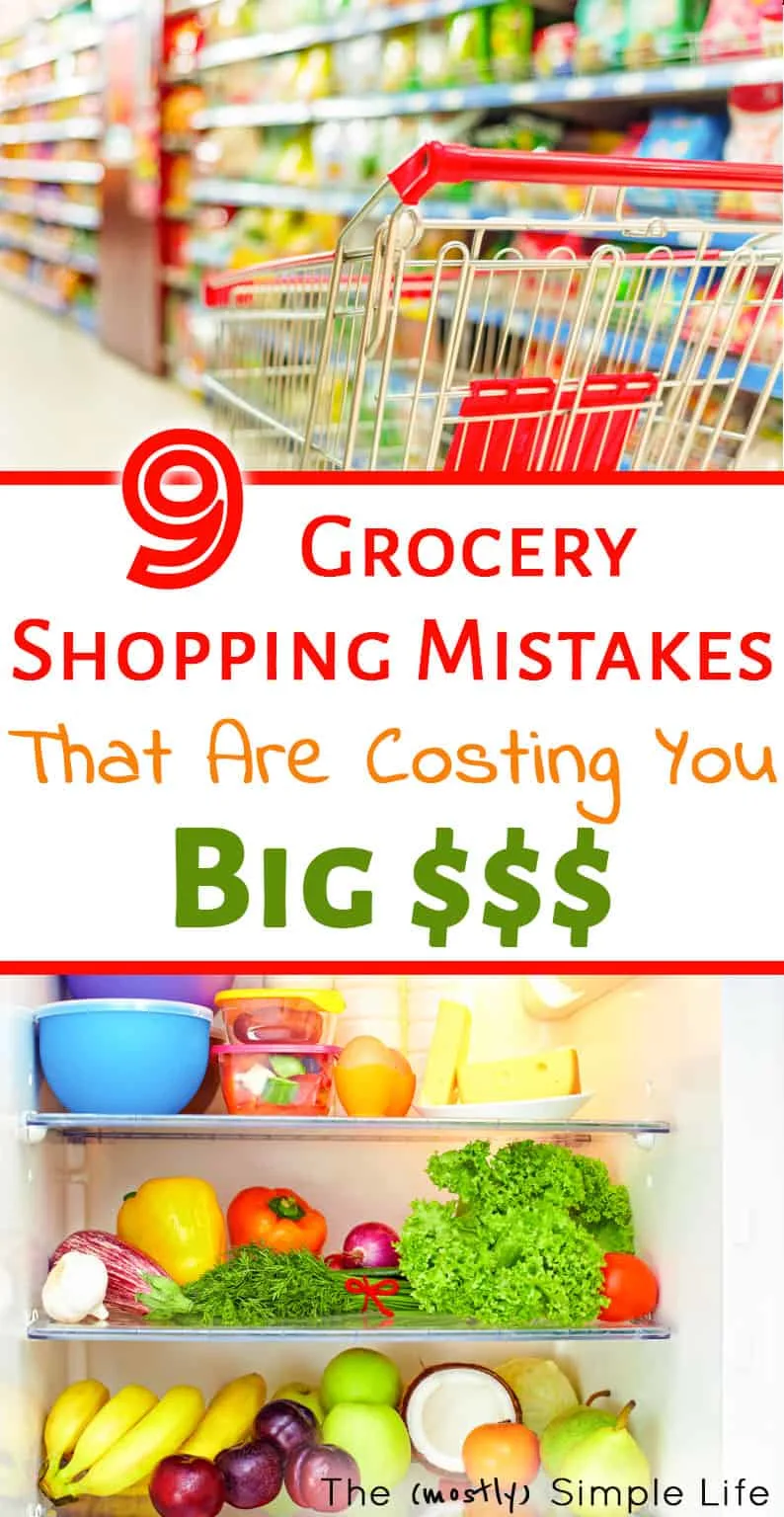 If you find this page helpful, please pin or share it :)