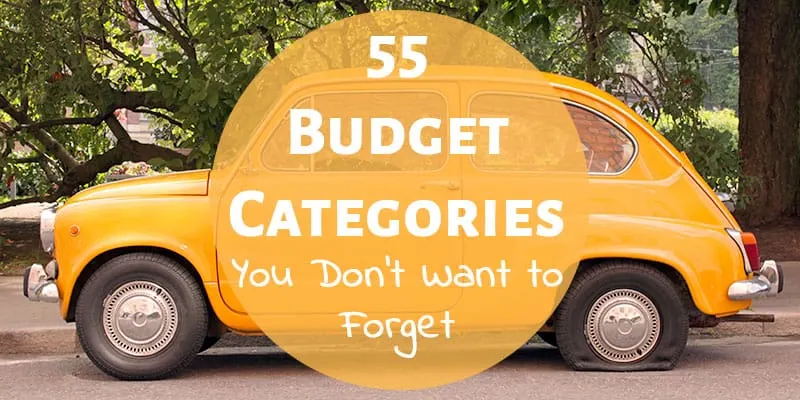 It's easy to forget about all kinds of expenses when you're trying to stick to a budget. Of course, it's easy to remember your mortgage, utilities, cell phone bill, and groceries. But there are so many other expenses that can sneak up on you.
This is especially frustrating if you're trying to stick to a tight budget and you don't have much wiggle room.
In order to accomplish our financial goals (this year we're trying to pay off all of our debt), or just because we had a low income, we've always worked with a very tight budget. There were times when something as simple as a $30 haircut meant that we spent more than we earned in a month. Frustrating!
The thing is that none of these should be a surprise! We should know that even little emergency events are bound to happen, which is why we have an emergency fund. We have a set of sinking funds (separate online savings accounts that we put money in each month) that we use to help with a lot of budget categories that can easily sneak up on us.
You can read more about what categories we put money into and how that works in my post about our $2500 per month budget.
Right now, I want to lay out a big list of possible expenses you might be forgetting about when you budget. Not all of these will apply to everyone.
If you have a little more wiggle room in your budget, then you probably don't worry too much about the little things like a haircut or medical copay. There are some larger expenses that you might have forgotten about, though.
It's good to go through the list, see which expenses apply to you, and make sure you have a plan in place for how you're going to handle them when they come up.
55 Budget Categories to Remember
Pet Costs
Food and Treats

Medication: Flea and Heartworm Meds

Yearly Vet Checkup with Shots

Toys 🙂
Vehicle
Car Registration/License Renewal

Oil Changes
Tires
Maintenance Repairs
Parking Fees
Saving for Vehicle Replacement
Medical
Copays
Prescriptions
Deductible/Out-of-Pocket Costs
Over-the-Counter Medications
Vitamins
Holidays
Obviously Christmas and Thanksgiving, but don't forget Halloween, Easter, and Valentine's Day too!
Food

Gifts

Cards + Postage

Decor

Travel
Summer Activities
Water Park Admission

Beach Days

Movies

Summer Camp

Extra Ice Cream Shop Visits
Birthdays
Party: Decorations and Food

Going Out to Eat

Gifts: For family, friends, kid's friend's birthday parties…
Once or Twice Per Year Costs
Life Insurance
Home Owners Insurance
Car Insurance
Property Taxes
Magazine Subscriptions
Memberships: Zoo, Museum, Water Park…
Kid Stuff
Babysitter

Activity Fees
Daycare
Field Trip Fees
Growing Out of Clothes and Shoes

Sports Fees & Equipment

School Supplies
Day Camp/Summer Camp
College Savings
House
Repairs
Improvements
Services: Snow Plow, Lawn, Termite Inspection…
Gifts
Wedding Gifts

Baby Shower Gifts
Birthday Gifts
Anniversary Gifts
Vacations
Clothing & Shoes
Charitable Giving
Gym / Fitness Class Fees
Haircuts
As I've budgeted over the years, I've learned that I need to think ahead about a lot of random expenses that pop up so that we're not thrown off by them.
You might be tempted to only worry about the big ones, like vacations and Christmas gifts, but I've found that a few little expenses sneaking up on us can be just as damaging to our budget.
It's frustrating when you can't stick to your budget or make any progress with your financial goals because of various expenses popping up that you didn't think about! By looking through this list, you can make sure that you have a plan for how to handle each and every one of these.
You Might Like these Posts Too:
⇒ What "surprise" expenses have snuck up on you in the past?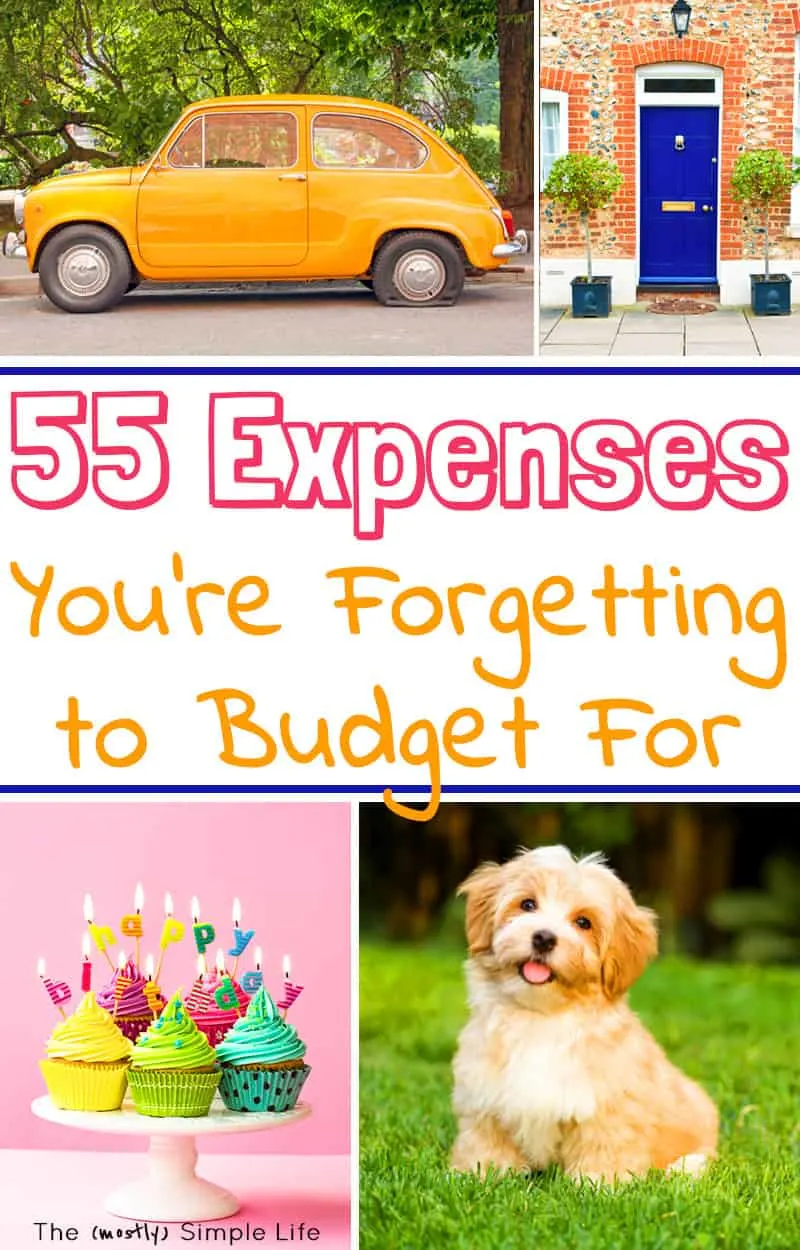 If you find this page helpful, please pin or share it :)