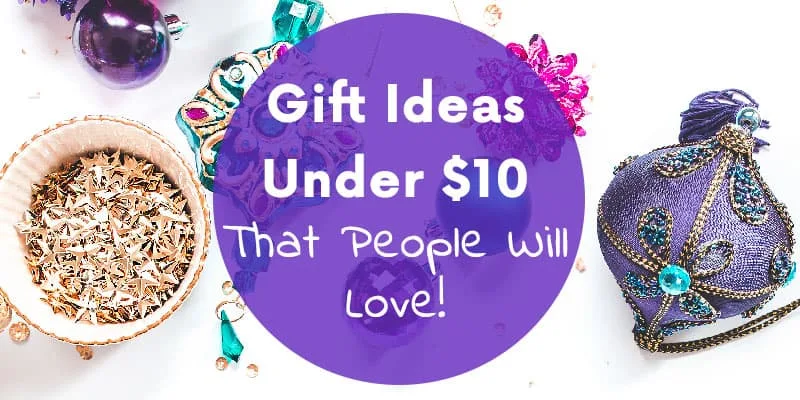 Gifts to buy and not much money on hand? You may wonder what you could get that someone would actually want with so little money, to which I say: Lots of things!!
Through the first years of our marriage, we only spent about $10 on most gifts for our parents and siblings. With a little creativity and some tricks to make each gift a bit more special (more on that part at the end of this post) we were able to give some great gifts that did not go to waste!
If you're on a tight budget, here are a bunch of gift ideas under $10 that people will love!
(Special Note: Prices change. All of the items on this list were under $10 when I wrote it.)
Gift Ideas Under $10 That People Will Love!
Useful Everyday:
I love giving something that I know will get used. I never want to cause someone clutter. Plus, when we use gifts like this it makes me remember the person who gave it to me often, which makes an everyday item a bit more special.
Love a good water bottle! You may be able to save money by purchasing a multi-pack like this and dividing them into multiple gifts.
Perfect for bringing on the morning commute if your giftee likes their coffee or tea. My husband loves the Contigo mugs because they hold their heat really well.
Food & Drink:
The key to giving a great food or drink gift is to get something a little fancier than someone would normally buy for themself. I always have chocolate at home, but truffles feel like a luxury! My sister-in-law often buys $3-4 bottles of wine, but a $10 bottle would be quite fancy! Get the idea?
Great places to find special food and drink are at local businesses or smaller grocery stores that sell international brands that you don't see many places.
For $10 or less, you can easily give a gift of:
Coffee Beans
Tea
Chocolate
Wine
Craft Beer
Steak (We actually gave both of our dads steaks for Father's Day this year and it was a hit!)
Gift Cards:
Before you say that gift cards are too impersonal, let me just point out: No one is ever upset with a gift card! Plus, you know that the person will be able to pick out something they like.
If you only have $10 the spend, the key is to give a gift card to a place where $10 is enough to actually get something. You don't want to give a $10 gift card to a place where the cheapest item is $50 because then they'll have to spend a lot of their own money to use their gift card. Not cool.
Ideas for giving a $10 gift card:
Video Games Console. If you know someone has a Playstation, you can get them a Playstation Store gift card that they can use to buy a game. Smaller games can be found for around $10. This also works for the Nintendo eShop if the have a Switch or Wii.
Used Bookstore
Coffee Shop
iTunes
Frozen Yogurt Shop
Home:
A Plant
I love giving and receiving plants! They last much longer than a bouquet of flowers. Depending on the plant, the giftee may be able to plant it in their yard to enjoy for years to come!
Our first house had many flowers planted in the flower beds that Austin had given to me as gifts through the years. We often buy plants for our moms on Mother's Day.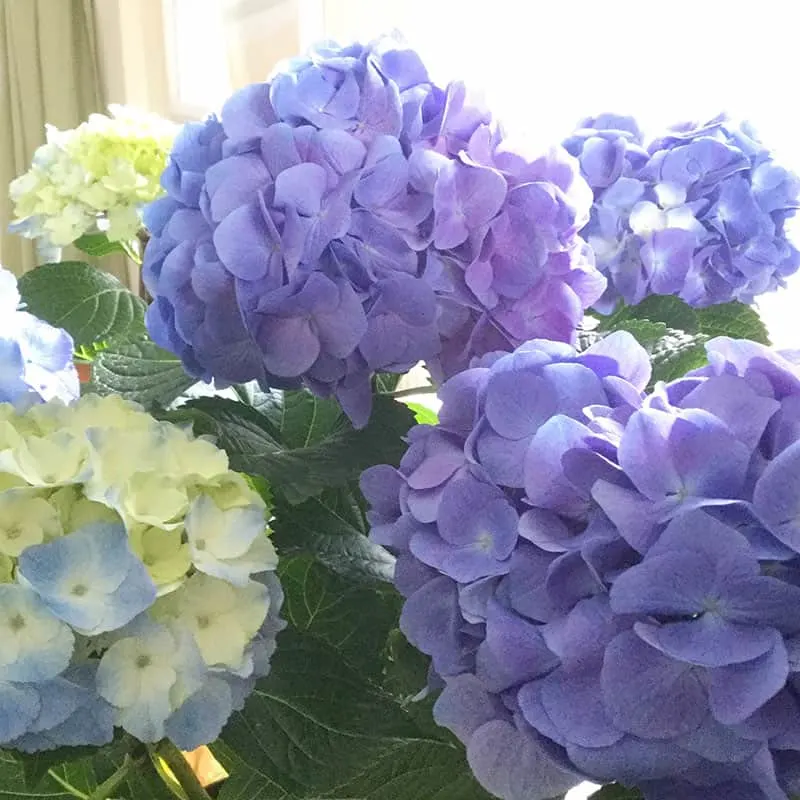 Spa Baskets:
Here's my plan for if you have a bunch of people to buy gifts for, like your daughter's teenage friends, a bunch of co-workers, or your mom pals. You could buy a few multi-packs of different spa treatments and then divide them into mini spa gift baskets.
Here's what to buy:
Give each person one lip balm, two face masks, and one bath bomb. Dollar Tree has small baskets that you could use to put it all in.
This would make eight gift baskets and you'd have four bath bombs left over for yourself 🙂 Based on the prices when I wrote this, each gift would only cost about $6.75! That's a really great gift with high quality, fancy-feeling products in it for a super low price.
Homemade:
Homemade gifts definitely show that you put in some time and effort, which makes an inexpensive gift feel really important. I have a couple of go-to homemade gifts that always get great reactions:
Candles
Do not be intimidated! Homemade candles are actually pretty easy. I make my own soy candles and people love getting them as gifts. Soy candles always seem fancier than normal candles, and the fact that they are homemade elevates them above a normal candle gift.
I have an entire tutorial written up to teach you how to make soy candles if you're interested. The last time I priced out all of the supplies, it was only about $3 per candle!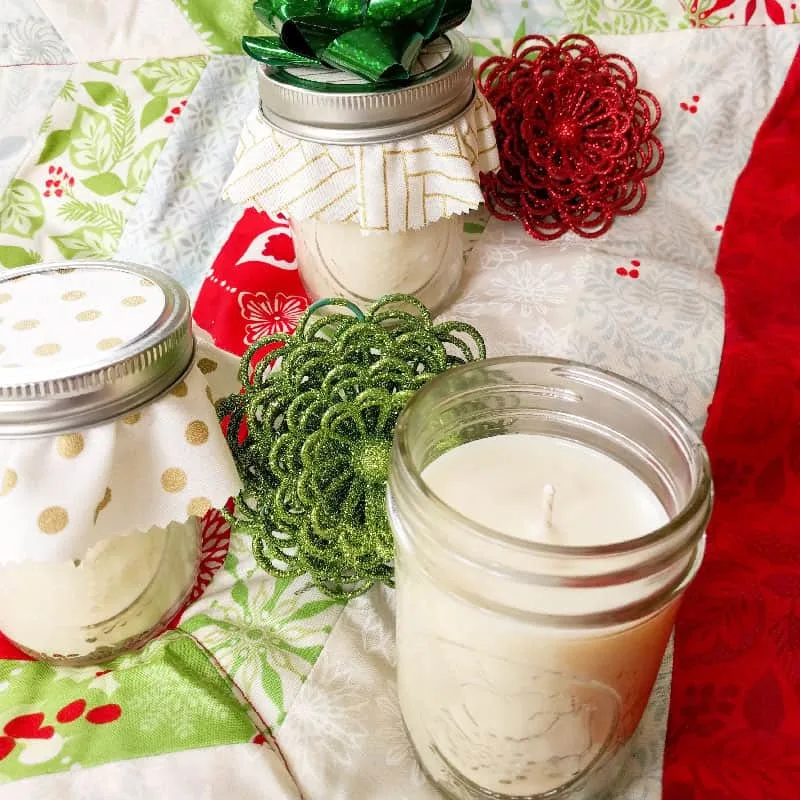 Baked Goods
If you know someone's favorite dessert, why not make them their own cookies or their own pie? It's made just for them, delicious, and thoughtful. Tell them they don't have to share!
Sewing
I'm not a pro, but I've made some simple sewing projects to give as gifts that have turned out great. Here are some of the tutorials I've used to make gifts: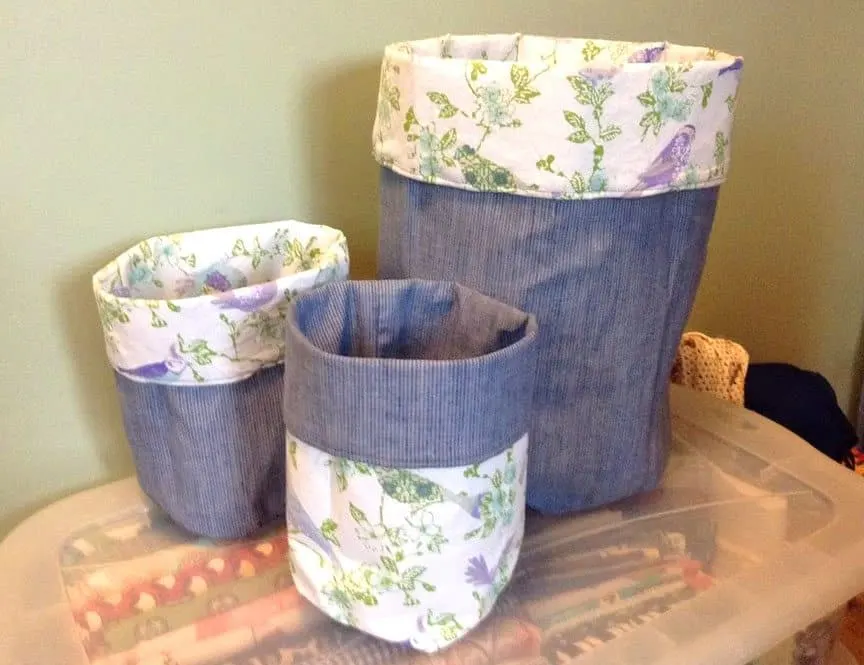 Make It Extra-Special
Looks Matter
Taking the time to wrap your gift nicely is a sweet touch. It's one extra way to show that even though the gift might not have cost much, it was thoughtful.
Add a Photo
No one prints pictures anymore! Instead of a gift tag, why not print a photo of you and the person the gift is to? It can be from a photo from the past year or you can dig out an oldie. They can keep the printed photo along with the gift. I know our parents and siblings would all love this!
Add a Homemade Card
The whole point of giving gifts is to show someone that you care about them. Making a card or buying an inexpensive card and adding some kind words definitely shows someone that you care and are thinking about them.
You can absolutely give a thoughtful and useful gift even on a small budget! By taking a couple of extra minutes to wrap it neatly, print a photo, or write a card, you can show how much you care without spending a fortune.
You Might Like These Posts Too:
⇒ What would you add to this list? What inexpensive gifts have you given or received?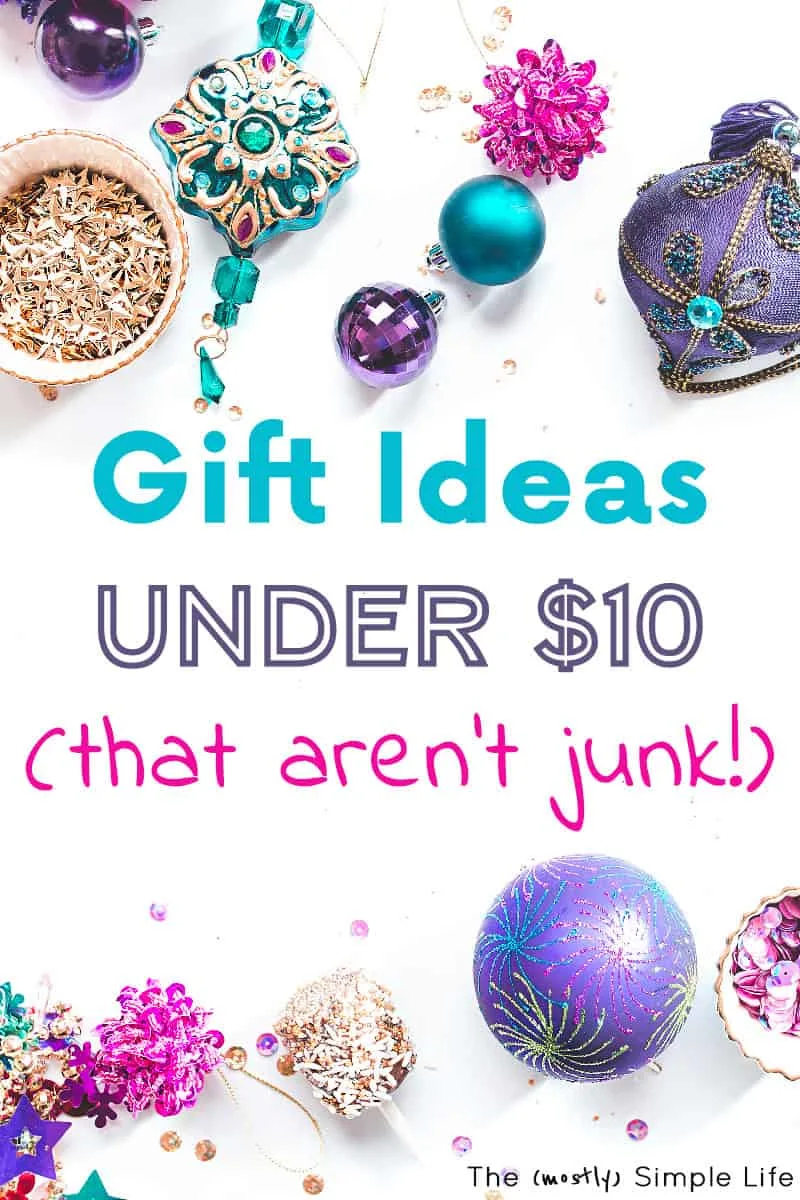 If you find this page helpful, please pin or share it :)