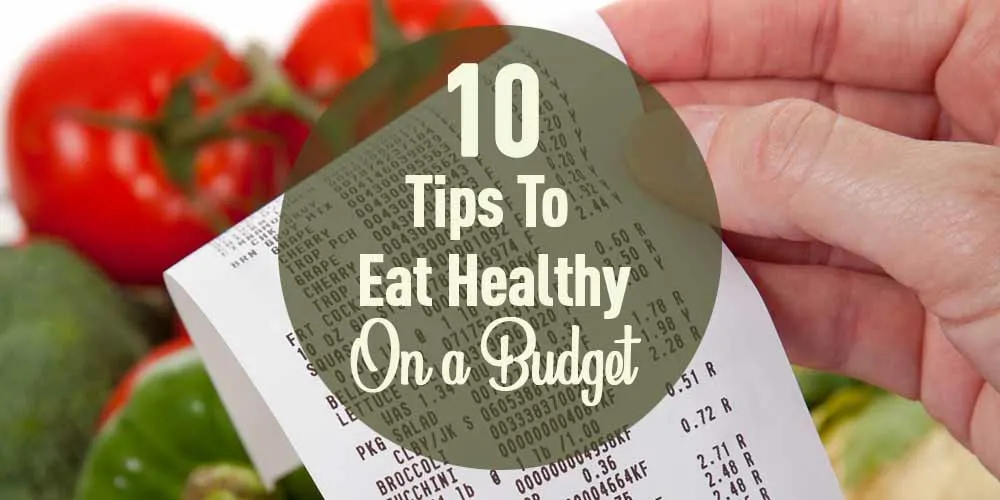 There is a misconception that eating healthy is more expensive. It's generally true but there are plenty of ways to save a lot of money on healthy food. We spend around $70 per week for groceries for two adults and I was able to lose weight and eat healthier than ever last year, so I know it's possible. Here are my top 10 tips: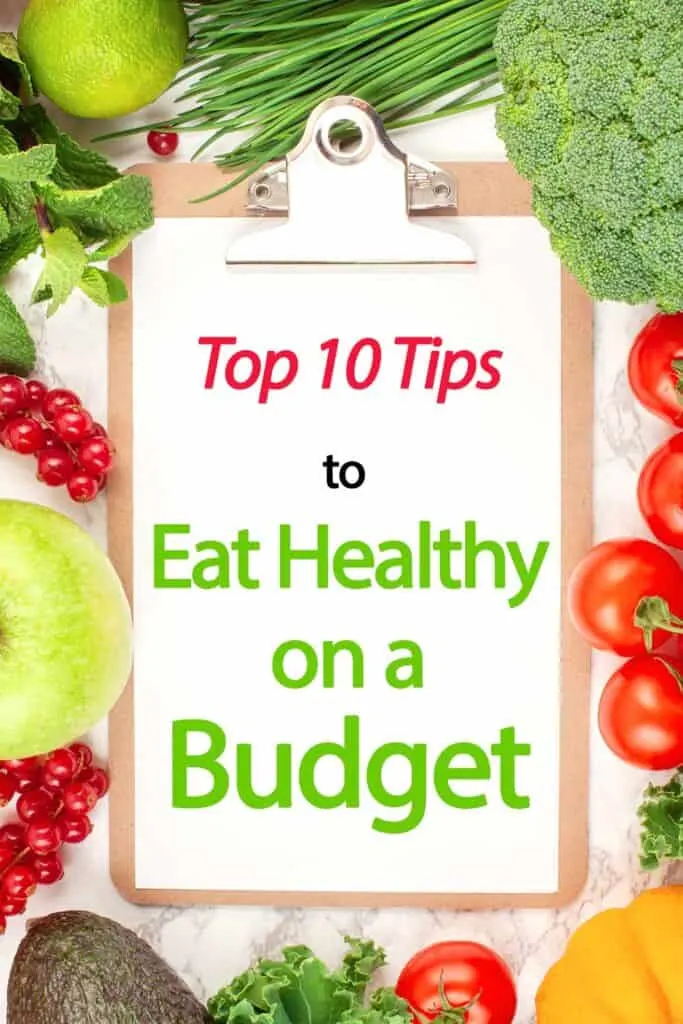 1. Buy More of These Cheaper Vegetables
We all know that vegetables are good for your health. But did you know that cooked green beans cost about 3x more than cooked carrots? That cooked green peas cost 2.3x more than cooked cabbage? When buying vegetables, it pays to do your research before going to the store.
And it's not just about comparing the price per pound at the grocery store. You need to take into account "shrinkage". For example, a pound of Fresh Corn gives you 0.54 pounds of actual corn to eat, but a pound of dried lentils gives you 2.7 pounds to eat after cooking! Figuring out which vegetables are the cheapest could end up being a real headache! Luckily, we have done all the research for you. Here are the 10 cheapest vegetables you can buy (see image below)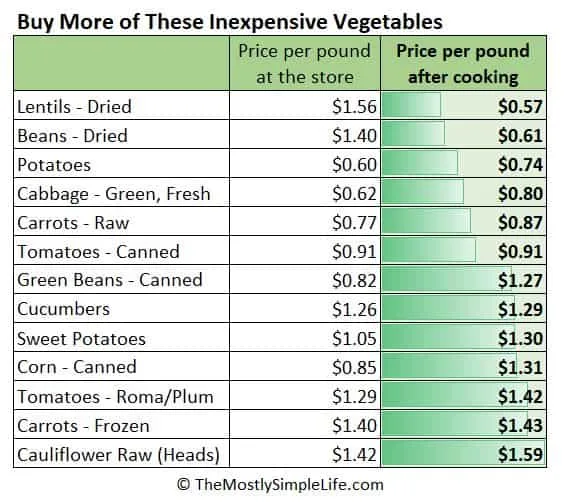 2. Buy Less of the Most Expensive Vegetables.
To eat healthy on a budget, you also want to make sure that you buy a little less of the most expensive vegetables. These vegetables listed on the table below are still great for you, but can cost 3-4 times more per pound (after cooking or preparing) than less expensive vegetables.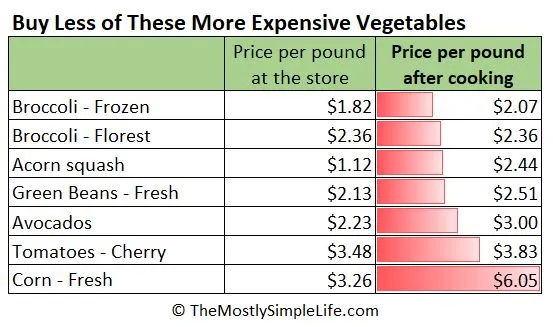 3. Buy the Cheapest Most Nutritious Food
Try increasing the use of healthy and inexpensive items such as eggs, whole wheat rice, beans or oats. The list of items below are all healthy, inexpensive and can be used to make great-tasting meals! All items are under $0.99 per serving. Adding these items to your grocery list will help you save money and eat healthy on a budget.
1. Eggs (6¢/serving). Eggs are an extremely inexpensive way to get protein.
2. Boneless Skinless Chicken Breast (50¢/serving). This is one of the least expensive meats in our area. It's the meat we eat 95% of the time because of that. We have it in wraps, soups, and quesadillas.
3. Salmon (95¢/serving). While salmon isn't super cheap, we have found that the price really isn't too bad if you buy it frozen. It's extremely filling so we don't find ourselves overeating with it.
4. Brown Rice (15¢/serving). Great with any meal. You can also try cold rice salads with a lot of chopped tomatoes, cucumbers and a bit of parsley.
5. Whole Wheat pasta (15¢/serving).
6. Quinoa (31¢/serving). Quinoa has more protein and amino acid than brown rice, but brown rice has more fiber (See Quinoa vs Rice Comparison). Both of them are great to eat healthy and keep your budget low.
7. Homemade Hummus (49¢ per serving). Hummus at the store isn't cheap. Luckily, it's super easy and inexpensive to make yourself. Here's my go-to hummus recipe.
View the entire list by viewing our Healthy and cheap grocery list to save money.
4. Buy in Bulk to Save Up to 50%
This is an obvious tip for most of us. But what a lot of us don't realize is how much you can save by consistently buying certain types of food in bulk. Buying in bulk can often save you 50%. I'm not kidding. Check out the two examples below.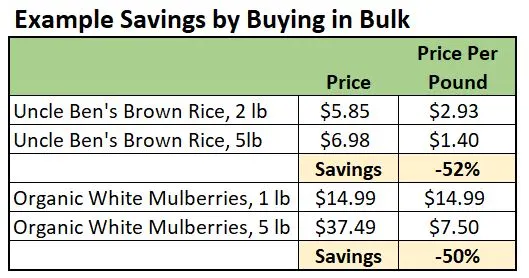 Buy staple food in bulk whenever you can : rice, quinoa, grains, cereals, lentils, dried fruit or oats, are all available in bulk and can be kept in your home for a long time. These are inexpensive items to start with, and can be used in a variety of healthy meals. Buying these staples food in bulk is a surefire way to save a lot of money.
However, do not make the mistake we did years ago: we used to have a Costco membership and would end up buying premium items in bulk or in big portions. Yes, that expensive French cheese is a lot cheaper per pound in bulk, but you still end up buying a lot more of an expensive item to start with.
5. Go to the Store with a Shopping List in Hand
This is a simple tip, but it worked wonders for us: it's so easy to get sidetracked at the store, and end up buying more expensive items on impulse. When you use a shopping list of healthy and inexpensive items, you enter the store with a solid plan to save money while stocking up on healthy food.
Take our Healthy and cheap grocery list with you to the store. It will help you buy more of the cheaper items, and that will save you a lot of money.
6. Go Grocery Shopping with a Budget in Mind (For example, $70 per week)
We stick to a $70/week grocery budget, and here is how we do it. Why have a number in mind? A grocery budget will make you more aware of what you're spending, help you prioritize where to spend the bulk of your money, and give you motivation to seek out sales or less expensive options. It will force you to find creative ways to save on food and be disciplined. But you can reward yourself if you hit your budget goals!
7. Prepare Healthy Meals that Center Around Inexpensive Ingredients
Preparing yummy meals centered around inexpensive ingredients is the best way to eat healthy on a budget. A few example healthy and inexpensive meal combinations would be (1) Chicken Stir Fry (Frozen stir fry veggies with the sauce included plus boneless skinless chicken breast and rice, (2) Chicken Wraps (Boneless skinless chicken breast in a whole-wheat sandwich wrap with green pepper slices plus a little ranch dressing and hot sauce), or (3) Roasted fish and veggies: Just roast potatoes, carrots, and onion (with a little olive oil and salt) on a baking sheet, place fish on top and roast in the oven (4) Oatmeal crepes: They are made of oats, milk and eggs, and can be both delicious and healthy.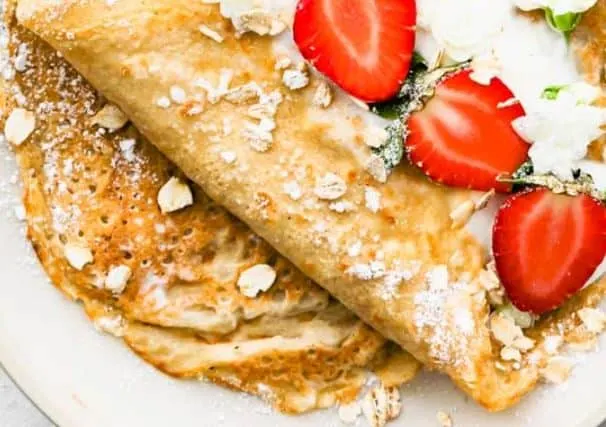 Learn more with my Fabulously Frugal Recipes, my favorite 23 healthy meals on a budget, or checkout the Food Network's list of 10 cheap healthy diners.
8. Keep Meat to a Minimum / Chop Your Meat
Meat is expensive, so we try to stretch it as far as we can. Here are some of the ways we do that: 1) Replace meat with new favorite items: We add beans to tacos and quesadillas so that we can use less meat. They're inexpensive, filling, and so good for you, 2) Chop your meat: Instead of serving a big expensive steak, add a little chopped meat over your meals. Or smaller steak slices. For example, add a bit of chopped ham to a salad and baked potato meal. Learn more with our post on The Easiest Way to Eat Healthy on a Budget.
9. Plan for Your Meals in Advance
A lot of people find planning your meals in advance a bit tedious. But planning your meals for the week in advance, and making a grocery list of the items you need for these meals, is one of the best ways to eat healthy on a budget. It's a real money saver and an effective way to eat healthy. Here is why: first, Planning for healthy meals mean you are a lot more likely to eat healthy meals. Second, just going to the store and buying a bunch of random healthy things is a sure way to spend more than what you should. Here is a link to my most popular article on meal planning: discover 2-step easy meal planning.

10. Know Which Veggies and Fruits Are in Season (Cheaper Now)
You can definitely save money by buying fresh fruits and vegetables that are in season. You can read my post "When to Buy Fruits and Vegetables In Season" or use this handy chart from The Budget Mom is very helpful to help you find which fruit and vegetables to buy now at lower prices.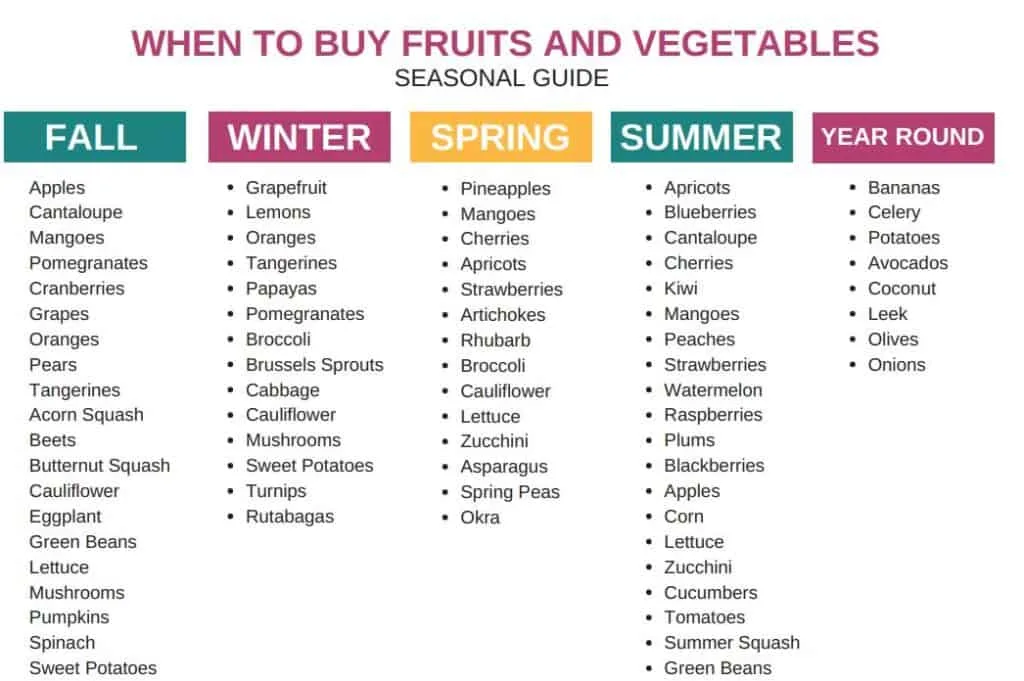 View the document from thebudgetmom.com\
If you liked this post, you will love: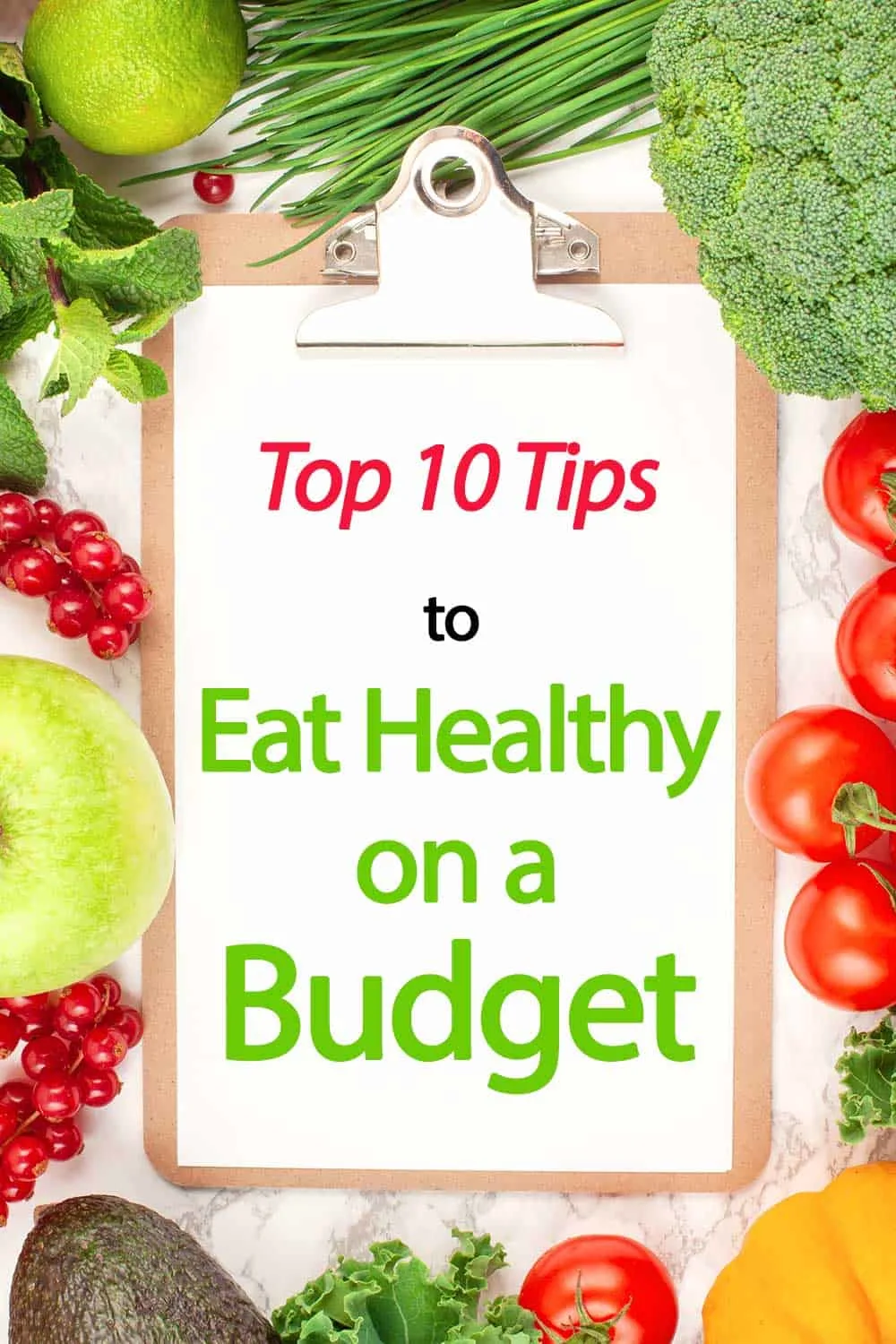 If you find this page helpful, please pin or share it :)