You can stick to a grocery budget and eat healthy at the same time. It does not have to be a one or the other situation! That's why I have put together a healthy cheap grocery list to help you save money at the store.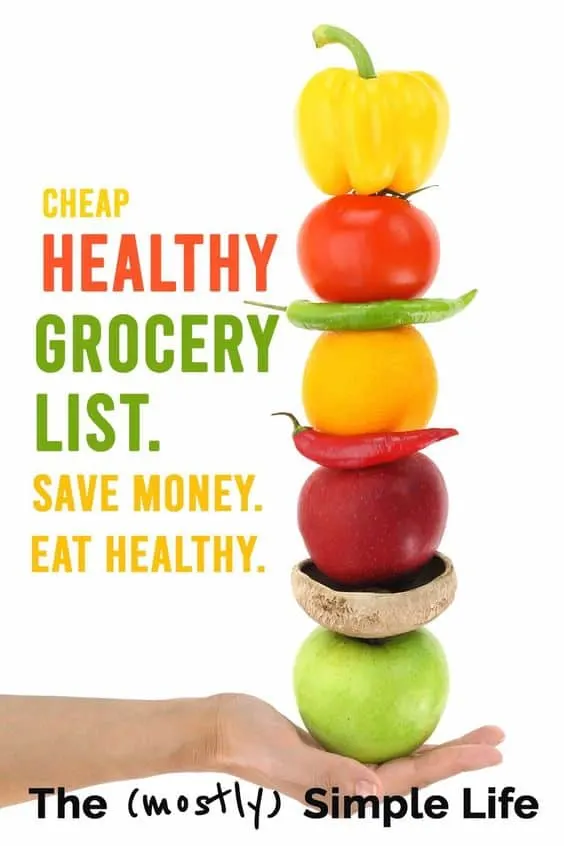 Healthy grocery items such as tomatoes, avocadoes or nuts can get very expensive, and it can feel challenging to eat healthy without breaking the bank. This healthy cheap grocery list contains items that cost less than $1 per serving, often as low as 7-15 cents. Taking a list with you to the store is part of the strategies I recommend to successfully shop for groceries on a budget.
We spend around $70 per week for groceries for two adults and I was able to lose weight and eat healthier than ever last year, so I know it's possible!
Healthy Grocery List with Inexpensive Ingredients – Under $1 Per Serving
I have listed below items that all cost well under $1 per serving (some as low as 7-15¢ per serving). Going to the store with this healthy cheap grocery list will help reduce your bill while still providing balanced and delicious meals.
The prices listed below are estimated prices per serving.
Proteins
1. Eggs: 6¢
Eggs were under unfair scrutiny for the longest time. Experts, reporters, and bloggers often spoke against eggs, claiming that consuming them often would raise our cholesterol and increase the risk of health issues down the road. But, as it turns out, eggs are perfectly fine (1). In fact, eggs offer some of the highest quality protein among all foods, making them a fantastic fitness and health food (2). Plus, eggs are inexpensive, delicious, satiating, and make for numerous recipes. Some nutritionists calls eggs a superfood because of the health advantages.
2. Liver: 60¢
Though most people prefer muscle meat these days, organs such as the liver are far more nutritious and pack nutrients vital for our health.
Because the liver plays such a vital metabolic part, it naturally stores more nutrients, making it much more beneficial for consumption. For example, an ounce of cooked beef liver is jam-packed with nutrients such as (13):
Vitamin A (178 percent of our daily needs)
Riboflavin (more than half of the daily needs)
Niacin (a fourth of our daily needs)
Vitamin B12 (three times as much as we need)
And other nutrients such as folate, pantothenic acid, and choline. To top it off, liver meat is also rich in protein, which is essential for good health and fitness.
3. Boneless Skinless Chicken Breast: 50¢
Chicken is an excellent low-calorie and low-fat source of high-quality protein. And it's usually one of the cheapest meats. It also contains tryptophan, which can raise serotonin levels. Serotonin is the "feel-good" chemical that can help improve your mood (learn more). Because of the health benefits and the affordability, it's the meat we eat 90% of the time. We use chicken in wraps and even soups quite often.
4. Salmon: 95¢
While salmon isn't always very cheap, we have found that it can really be very affordable if you buy it frozen (and on sale!). It's very, very filling so we don't find ourselves overeating with it. Salmon is one of the best sources of EPA/DHA, omega-3 fatty acids credited with many health benefits, such as lower blood pressure reduced risk of cancer and improved functioning of cells that line your arteries (according to healthline.com).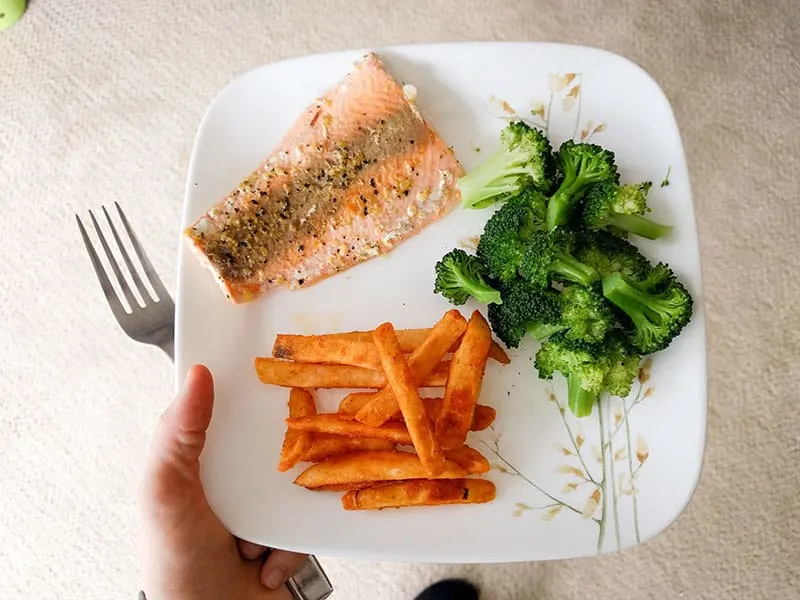 Vegetables
5. Garlic: 1¢
While not a food item per se, garlic is a fantastic ingredient that goes well in many dishes and recipes. But aside from its incredible ability to make our meals more delicious, garlic also boasts many health benefits. Most notably, garlic appears to lower blood pressure and LDL (bad) cholesterol (4, 6). Interestingly enough, garlic also increases HDL (good) cholesterol, which can have cardioprotective effects. Studies also find a correlation between higher garlic consumption and a lower risk of certain cancers, including that of the colon and stomach (7, 8).
The American Family Physician recommends in this article about 0.6g per day, which is about 1¢ per day.
Studies also find a correlation between higher garlic consumption and a lower risk of certain cancers, including that of the colon and stomach (7, 8).
6. Beans: 18¢
Beans are inexpensive and healthy! You can read some of my favorite strategies for getting yourself to eat more beans. Beans are a core staple food in some countries such as Costa-Rica, due to their affordability and health benefits. They are an excellent source of dietary fiber and nutrients such as folate and potassium.
7. Carrots: 20¢
Raw with hummus, or roasted in the oven. Carrots are a good source of biotin, potassium, and vitamins A, K1, and B6.
8. Homemade Hummus: 49¢
Hummus at the store isn't cheap. Luckily, it's super easy and inexpensive to make yourself! You literally just blend everything like crazy until it's smooth. Here's my go-to hummus recipe. Hummus can be healthy (when prepared without too much oil) and is a fun complement to raw vegetables. We love eating carrots with hummus!
9. Sweet Potatoes: 25¢
You can heat sweet potatoes up in the microwave and eat them like a baked potato. Our favorite way to eat veggies in the winter is to chop sweet potatoes, onions, and carrots and roast them in the oven. Just drizzle olive oil on them and sprinkle salt, pepper, and garlic on top. Bake in a single layer on a pan for 30-40 minutes at 450°, flipping halfway through.
10. Onion: 15¢
Onions are very inexpensive and can be a fun addition to any meal if you like grilled onions. Onions contain antioxidants and compounds that fight inflammation and reduce cholesterol levels, which may lower the risk for heart disease (source).
11. Potatoes: 20¢
We most commonly roast potatoes in the oven, though there are a million ways to eat potatoes.
12. Broccoli: 22¢
Austin puts raw broccoli in his salads or eat them with hummus. We buy frozen broccoli because it's cheap when offered on sale, and easy to cook in a few minutes for a healthy side dish (with fish or chicken).
13. Cucumber: 23¢
We go through a lot of cucumbers. Such a yummy snack. Try mixing cucumber with tomatoes and a touch of olive oil and salt. Super quick and healthy.
14. Green Pepper: 28¢
In salads, sandwiches with whole-wheat bread, or sauteed with scrambled eggs…
15. Pumpkin: 25¢
Pumpkin is inexpensive and filling. I bake a lot of canned pumpkin (Pumpkin wheat pancakes, chocolate pumpkin muffins, pumpkin bread…) as it adds some nutrition to baked products.
16. Frozen Stir Fry Veggies: 31¢
Frozen veggies of all kinds are so convenient to have on hand and they go on sale regularly. The bag we buy come with stir fry sauce or we make our own sauce when we want to eat more healthy. We often cook these veggies with leftover chicken or proteins to make a meal in 10 minutes.
Fruits
17. Bananas: 22¢
We put bananas in smoothies a lot. They make a great snack too. We also eat sliced bananas with yoghurt (and melted chocolate but that's not for our healthy grocery list!!).
18. Apples: 31¢
Apples can make for a quick snack to avoid the quick sugar snacks we used to take (cookies, etc) when hungry. Use sliced apples as a complement to your meals or as a delicious and healthy addition to salads.
19. Pears: 44¢
I can't get enough pears! We use them in smoothies or with low-fat yoghurt.
20. Applesauce: 18¢
Natural applesauce (without sugar added) makes a great snack or quick desert.
21. Blueberries: 65¢
Blueberries might seem like every other berry out there, but they are exceptional. Most notably, blueberries are jam-packed with antioxidants that boast numerous health benefits.
For example, some of the antioxidants present in blueberries are anthocyanins. According to research, these can pass through the blood-brain barrier and exert various positive effects (14). For example, they can lead to improved vision.
Blueberry consumption is also linked to the prevention of age-related conditions such as osteoporosis, neurodegeneration, diabetes, hypertension, and more (14, 15, 16).
Blueberries are also rich in fiber, vitamins C and K, and manganese (17).
Bread/Bakery/Grain Products
22. Wheat Bread: 16¢
Though varieties of break are healthier than others. We recommend sprouted whole grain or 100% whole wheat.
23. Whole Grain Tortilla Chips: 22¢
These do cost a bit more than regular tortilla chips, but are so much healthier and more filling.
24. Whole Grain Frozen Waffles: 26¢
Around here, the whole grain frozen waffles go on sale along with regular frozen waffles, so they're still pretty cheap grocery items to buy. They have a bit of a different texture and flavor depending on the brand, so it's good to find out which brand you like the most.
25. Sandwich Wraps: 33¢
We don't eat many sandwiches to avoid lunch meat, but like to use sandwich wraps and leftover chicken to make chicken wraps. The wraps are generally fewer calories than two slices of bread. However, you need to avoid wraps that have too much oil or sugar. Use avocado or hummus in the wrap as wraps can quickly become unhealthy if you use salad dressing such as ranch sauce.
26. Oatmeal: 9¢
Oatmeal is one of the cheapest foods and it is also good for your heart. You can prepare oats for breakfast, or mix oats with milk and an egg to prepare yummi galettes on the pan. Just make sure you don't use a lot of sugar or butter if you want to call them healthy!
27. Brown rice: 7¢
Prepare arown rice with roaster carrots and broccoli. Brown rice is healthier than white rice and not much more expensive.
Other
28. Dark Chocolate
I bet you didn't expect to find chocolate on this list, did you? Well, dark chocolate, particularly the kind with high cocoa content, is an incredibly healthy food you should add to any healthy grocery list.
For one, dark chocolate is loaded with precious minerals, including magnesium, iron, copper, and manganese (9). Dark chocolate is also rich in antioxidants. So much so that it scored highest among acai berries, blueberries, and various fruit juices (10).
Dark chocolate consumption is also linked to lower LDL (bad) cholesterol, lower blood pressure, improved blood flow, and more (11, 12).
Healthy Grocery Shopping That Won't Break the Bank
Check out our other articles to help you eat healthy and save money:
Grocery Shopping on a Budget
Find out how to save money on your bills: check out our strategies for Grocery Shopping on a Budget including cheap grocery lists (including a vegetarian grocery list), real-life example budgets, printables and other tips to reduce your bills.